Number 10 in the SynthMania quick tips series – here's one way to obtain the classic "Hi-NRG fast sequenced synths" used in many hits of the '80s.
Here's a good classic vintage example:
Dead Or Alive – You Spin Me Round
A short demo of EMW's new 4-track Trigger Sequencer module. In this video it is triggering 3 of their DIGI-DRUM modules and one simple Hi-Q sound made with our VCF-101, ADSR and the ECHO-DELAY module.
Just a small attempt to create a sequence in the style of D.A.F (Deutsch-Amerikanische Freundschaft) recorded with the camera microphone.
Gear used:
Korg MS20 and MS50 with Sherman filterbank to add some distortion.
Korg SQ10
Doepfer quantizer
Korg MS02 to go from the SQ to the Quantizer and back to the MS synths.
This video shows off the new feature of Cascadr which is the ability to save sequences to one of eight slots. It's possible to switch slots and tweak 'on the fly' while Cascadr is playing music. This now means it's pretty easy to make a simple song with Cascadr now, albeit with some live dodging about!
I'll be exploring this slot idea further for sure!
Shows Numerology's updated Launchpad mapping with realtime pattern recording into the DrumSeq, PolyNote and MonoNote sequencers. The laptop is running Ableton Live with three instances of the Numerology VST, as well as Camel Audio Alchemy for synth lead and NI Massive on pads. The drum sounds are from Numerology's DrumKit module with a patch designed by Jason Wolf of Tripl3Tone.
In this lesson we get into how to work with the drum sequencers, as well as playing around with different patterns in technoBox2.
About the application:
technoBox2 is the next version of our hugely popular technoBox adding many asked for features such as dual 303s and drum machines, export recordings of songs and SoundCloud integration. A performance page has been added which allows access to the most commonly used controls on one page. The drum machines now allow you to load your own samples (via iTunes documents). technoBox2 runs on iPad and retina displays with crisp native resolution.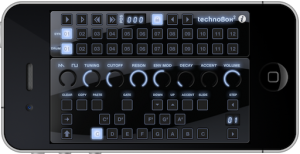 Feature overview:
Dual 303s and drum machines
Improved song sequencing with Start/End and Loop markers
Lock parameters to sequence bar
Export recorded songs (as .wav) via iTunes
Upload recorded song to SoundCloud directly and share
Load your own .wav and .aif samples (uncompressed 44.1kHz 16-bit) into the drum machines (via iTunes)
Performance screen with the most accessed controls on one page
Completely redesigned FX panel: You can now activate effects on any or all of the 4 machines
Improved tempo synced phaser and distortion effects
Global filter cutoff and per part decay added to the drum machines
iPad and retina display native resolution support
Chromatic Textures, by Unearthed Music, is "a study on the synesthetic nature of our senses of sound and sight."
Video input is used to produce generative musical phrases. The visual media is analyzed by the GMS (Gestural Music Sequencer) to create the musical forms in real-time.
http://www.vimeo.com/13114656
The software includes adjustable probability distribution maps for the scale and rhythm. Adjusting these settings allows familiar structures to emerge. The settings chosen for this piece cause notes within a particular scale to play more frequently, however, it is still possible for any note within the twelve-tone chromatic system to occur. As a result, dissonant or blue notes can be heard at rare instances throughout the piece.
The Gestural Music Sequencer is a free app for Mac & Windows.
Found an interesting post/article called the Sequencer wars, where the author had used Google trends over the past years to analyze which sequencers are gaining or loosing in market share. The result is shown in the graph below.
And the result shows that Ableton continues to grow as the most popular system going forward.
Losers:

Cubase started from a high in early 2004 and has seemingly experienced a steady decline ever since apart from a few short-lived spikes; most notably in late 2004 when the news graph shows that Steinberg announced an update to Cubase SX 3.0.1

(I initially thought this result was quite odd so I performed other searches based around the [Cubase ] search-word to see if there was a correlation… and there is! The search trends for Cubase SX and VST pretty much match the same downward trend as above.)

Cakewalk shows an even more dramatic fall. It starts from a higher spike than Cubase at the start of 2004, but ends lower than it did in the last quarter of 2006!

(Still a bit sceptical, I ran another for Cakewalk SONAR Although there's been a more volatile ride, ithe graph shows a similar start and end-point as above.)

Winners:

Ableton on average, has experienced a steady rise in search volume all through the timeline, reflecting its new-kid-on-the-block rise into the mind-share of electronic musicians.

Flatlining:

Pro Tools does end at a slightly lower point than when the resultset began, but the trend-line itself is pretty much even when you look at the spikes it has seen. However, 2006 shows a fairly strong downward trend that is seemingly breaking-away from the rest of the line!
Read the full article here and some of the "conclusions" >>
Thanks to The Whippingpost for sharing
At Combinator HQ a new refill has been uploaded that surely will be an asset to your next tunes. Travis Huckins has always provided good stuff so make sure to check this one out fast.
Included:
High energy trance leads, arps, sequences(Run), drums, bass, and fx. Also has some DnB patches. Combinator, Thor, Subtractor, malstrom, NN-19, and ReDrum patches, with samples.
NOTE: Free but requires registration
If you have seen it or bought it already don´t miss out on this limited edition from CM covering the gross part of Reason 4, good tutorials and quite a decent exclusive refill I msut say. There are some nice effects in the Loopmaster's refill.
This is what CM writes on their cover issue:
Reason 4: The Unofficial Guide
The long-awaited follow-up to our sellout Expert Guide to Reason has hit the newsstands in the UK and Europe. It's called Reason 4: The Unofficial Guide – here's a look at what's inside:
Step-by-step guides to using Reason 4's brand new features. Learn how to improve your workflow with the completely revamped sequencer, make mighty sounds with Thor, create impressive musical riffs with RPG-8, and inject your tracks with groove with the ReGroove Mixer.
Studio Sessions projects take you step-by-step through the process of composing, mixing and remixing a complete track. Learn how to get quality results from your setup that'll stand up to the best commercial tracks out there.
Masterclasses. Revisit some old favourites with this section of tutorials. Customise your setup with the Combinator, get down to some intricate drum programming with Dr.Rex, explore the many possibilities of CV routing, and get experimental making a granular synthesis patch. Also demonstrated is a pain-free procedure for incorporating vocals or other audio parts into your Reason compositions.
On the CD are two exclusive Reason 4 ReFills lovingly compiled by the sonic wizards at Loopmasters and TrackTeam Audio. More than 500 patches, samples, groove templates and Thor Combi's are featured, covering a wide variety of uses and genres, from vocals, d'n'b, hip hop and dubstep to ethnic, house, jazz, trance and more.