New tutorial with focus on Sequencing Drums
In this lesson we get into how to work with the drum sequencers, as well as playing around with different patterns in technoBox2.
About the application:
technoBox2 is the next version of our hugely popular technoBox adding many asked for features such as dual 303s and drum machines, export recordings of songs and SoundCloud integration. A performance page has been added which allows access to the most commonly used controls on one page. The drum machines now allow you to load your own samples (via iTunes documents). technoBox2 runs on iPad and retina displays with crisp native resolution.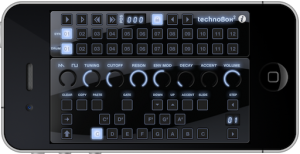 Feature overview:
Dual 303s and drum machines
Improved song sequencing with Start/End and Loop markers
Lock parameters to sequence bar
Export recorded songs (as .wav) via iTunes
Upload recorded song to SoundCloud directly and share
Load your own .wav and .aif samples (uncompressed 44.1kHz 16-bit) into the drum machines (via iTunes)
Performance screen with the most accessed controls on one page
Completely redesigned FX panel: You can now activate effects on any or all of the 4 machines
Improved tempo synced phaser and distortion effects
Global filter cutoff and per part decay added to the drum machines
iPad and retina display native resolution support
Comments