Playlist:
Waldorf Blofeld Tutorial: How to create a tone with Self Oscilating Filter
Waldorf Blofeld Tutorial: A different Way to Trigger the Comb filter
Waldorf Blofeld Tutorial: Create a One Shot Envelope out of LFOs
Waldorf Blofeld Tutorial: Create intervals with just one oscillator on the Waldorf Blofeld
Waldorf Blofeld Tutorial: Fun with Unisono
Waldorf Blofeld Tutorial: Fun with the Filter Envelope and Modifiers
Waldorf Blofeld Tutorial:How to Split the Keyboard in Performance Mode
For more info:
Learn more mixing techniques on our diploma courses :: http://ow.ly/Qie8z
Point Blank is The Global Music School, with courses in London, Los Angeles and Online. Voted 'Best Electronic Music School' by DJ Mag, learn Ableton or Logic via our online courses or in our state-of-the-art studios in London or LA :: http://www.pointblanklondon.com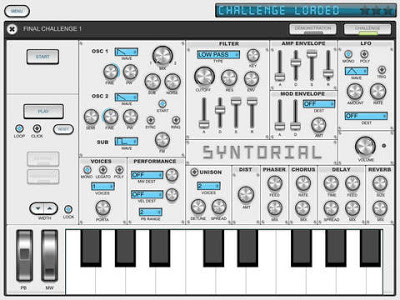 "Syntorial is the most direct route between hearing a sound in your head and knowing how to bring it to life." – Electronic Musician Magazine
"The most comprehensive and fun tool for learning synthesizer programming, hands down." – Keyboard Magazine
"The best training in synth sound-design we've come across. A unique and fun way to train your ears in re-creating synth sounds." – MusicTech Magazine
Syntorial is video game-like training software, that will teach you how to program synth patches by ear. By combining video demonstrations with interactive challenges, you'll get hands on experience programming patches on a built-in soft synth, and learn everything you need to know to start making your own sounds with ease.
* Electronic Musician Editor's Choice 2014 *
HIGHLIGHTS
Interactive Learning: Syntorial doesn't just show you how synth programming works. It engages you in Interactive Challenges in which you program patches on a built-in synth. You aren't just learning how to design sound, you are becoming a sound designer.
For Musicians, Not Physicists: Instead of talking about the science and physics behind synthesizers, Syntorial will show you how each control effects sound, as well as when, why and how you would use them when designing sounds. This is information that you can immediately apply to real-life situations.
It's All About The Ear: One step at a time, Syntorial trains your ear to recognize how each control shapes and manipulates sound. By the end of the program you'll be able to take the sounds you hear and re-create them, completely by ear.
LESSON SPECS
Challenges: Learn by doing! Complete challenges by programming patches with Syntorial's built-in synth.
Videos: Everything is taught through video demonstrations using the same synth that you'll use in the challenges.
Patches: Program, program, program. After all, that's what it's all about, right? By the end you will have programmed tons of patches, from simple to complex, familiar to strange.
Quizzes: Multiple choice questions to help you retain and remember everything you learn.
On Your Own: Syntorial will give you periodic tasks to be carried out on your own with whatever synth(s) you use.
SYNTH SPECS
Subtractive synthesis
Three Oscillators (Two with Waveform, Pitch, Pulse Width, and Mix controls, and a Sub oscillator with Waveform and Volume controls)
Saw, Pulse, Triangle and Sine waveforms
FM knob
Noise Oscillator
Oscillator Sync
Filter (Low, Band and High Pass) with Resonance and Key Tracking
ADSR Filter Envelope
ADSR Amp Envelope
AD Modulation Envelope
LFO with four waveforms, seven destinations, rate, amount, trigger, and mono/poly modes
Mono and Poly Voice Modes
Portamento
Unison with Voice, Detune and Spread controls
Ring Modulation
Distortion, Chorus, Phaser, Delay, and Reverb effects
Mod Wheel, Pitch Wheel and Velocity controls
Audiobus, Inter App Audio, and Virtual Midi enabled.
FREE VS UPGRADE
The free app comes with the first 22 lessons, as well as Syntorial's fully featured synth (see above). Upgrade to get:
All 199 Lessons, including 129 Challenges, 147 Videos, and 706 Patches covering the most common synthesis parameters.
Additional Lesson Packs covering Cakewalk Z3TA+ 2 and Minimoog Voyager, each containing 30+ videos. More Lesson Packs planned for the future.
Pay once and get access to all of the above on iPad, Mac and PC. Sync your progress across all 3 platforms. Train where you want, when you want, and how you want.
Plugin version of Syntorial's synth, Primer. Program, record and play Primer in your favorite desktop recording software. VST (Mac/PC) and AU (Mac).
Personally I think that £100 is too much for the IAP so I'll be passing this one up, but if you do go for it I'd be interested to know what you think of it in terms of value for money.
In this video, Berklee professor and online course author/instructor Andrea Pejrolo demonstrates how to effectively use the Multi Band EQ for your mastering sessions in Final Touch. We just added new Audiobus support, various bug fixes and more improvements to Final Touch.
Learn more about Berklee Online's Music Writing and Production with the iPad course. Now enrolling, Summer Term Starts June 29 :http://bit.ly/1E5TKa4
Background video description:
My first Octatrack Tutorial is made with the newcomers in mind. It's a deep machine, with a LOT of possibilities. It can be overwhelming before you get into it. Perhaps this little video can help you get started?

This is a micro tutorial of Clone by Sonic Faction, a new synth for Ableton Live and Max for Live. For more Clone audio demos and instrument features visit: http://sonicfaction.com/products/able…
-or-
check out our entire arsenal of Ableton/Max for Live instruments at: http://www.SonicFaction.com
Sonic Faction's Taylor Martyr says, "Max for Live allows us to create custom-designed interfaces and intuitive controls that haven't been possible in Ableton until now. Among its other features, Clone has a unique section called the 'Delta Triangulator' which allows users to rhythmically modulate their sound with ease. It's great for when you want to achieve driving, 80's-sounding bass lines"
Learn how to use Ableton Live's External Audio Effect Device. It allows you to use hardware gear and effects inside your computer. It's very handy for some creative sound design!
Visit his site for more stuff like this, including Live Instrument downloads, tutorials and music! http://www.afrodjmac.com
AfroDJMac
http://www.facebook.com/afrodjmac
http://www.twitter.com/afrodjmac
http://www.afrodjmac.tumblr.com
Just a really short tutorial to show the portamento feature of Rhythm Core Alpha 2, the amazing music creation system for the Nintendo DSi and 3DS portable game consoles.
Portamento is when the pitch glides between notes. To use portamento, make sure it is turned on for the current sound from the Load and Modify Sound menu (go there by clicking on the sound name on the block screen). Then draw your two notes. Finally, take the tail of the earlier note and drag it over one beat so it overlaps (in time) the 2nd note. The pitch will glide between note 1 and note 2 when they are played.
A tutorial on how to use the Elektron Analog 4 and using it to program "Photographic" by Depeche Mode – from the perspective of a seven-year-old kid. In Swedish, filmed in one go. English subtitles are available as well.
00:00:00 Introduction, overview of main functions
00:02:17 Sound selection
00:02:20 Track 1 – Lead
00:02:44 Track 2 – Kick
00:03:04 Track 3 – Bass
00:03:20 Track 4 – Secondary melody
00:03:38 Programming "Photographic"
00:03:34 Track 1
00:05:40 Track 2
00:05:59 Track 3
00:07:19 Track 4
00:08:13 Track 4, again
00:09:05 Song complete!
My 7-year old son started to learn my Elekron Analog Four, and actually got pretty good at it. Since he loves "Photographic" by Depeche Mode (and had been playing it on the piano) he taught himself to program it into the A4.

One day I thought I should just capture what he's doing on video to keep as a memory, and a the same time learn a two-cam setup. This is the result – all filmed in one go. There are English subtitles available in the video as well.
Take it up a notch! http://tinyurl.com/lctm7ra
…by request!
*Watch in HQ for best video/audio quality!
Here's a recreation of the classic bass line from Depeche Mode's "Enjoy the Silence" (Violator!) using DM-style methodologies.
By utilising a step sequencer and a flexible analogue synth (Analogue Solutions Oberkorn & Telemark respectively), you can produce the moving / transitional effects inherent in a complex bass sequence such as this one.
Given the timing of the pattern, the Oberkorn was MIDI-stepped manually (see Midi-Stepping an Analogue Sequencer video for more information) and the pitch transposition was handled via MIDI as well. Alternatively, the pitch could be played live via MIDI.
The key is to take advantage of the precise opening and closing of the filter via Oberkorn CVB.
All settings will ultimately be approximate, as analogue synths will differ from machine to machine. Use the settings as starting points and then tweak away!
Enjoy (the Silence).