John '00' Fleming sits in for a Computer Music Producer Masterclass session. This entire series discusses the process of remixing Jean Michel Jarre's famouse "Oxygene" track. Part one, John discusses how he worked with his partner sharing files due to long distance, how he prefers to design his own pad sounds versus flipping through pre-sets and the benefits there-of.
Follow John 00 Fleming and JOOF Recordings:
http://www.john00fleming.com/
http://www.facebook.com/pages/John-00…
http://twitter.com/John00fleming
http://soundcloud.com/john00fleming
Using a sequencer, a sample and hold and two clocks you can create complex melodies, more info below:
Though this is illustrated on a Serge the concepts apply to many modular synthesizers. Let me know how you apply this on your modular synthesizer.
To see the modules used in this patch in detail see the Mystery Serge at http://www.serge.synth.net/gallery/dl….
Doug's website is http://www.neatnetnoise.com.
Interact with Doug:
http://www.youtube.com/channel/UC1LRX…
https://soundcloud.com/doug-4
https://www.facebook.com/doug.lynner
Tutorial: How to integrate iPad effects apps such as Echo Pad and Swoopster in your productions using the iConnectMidi2+ with Audio passThru, allowing you to route audio and MIDI to and from the iPad with a single cable.
Resources Mentioned: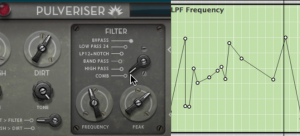 ASK Audio has a nice tutorial out focusing on automation, read the scope below and if of interest head over to their site for the full version:
With groundbreaking plug-ins coming out, like BreakTweaker and Ultraloop, that utilize automation, LFOs, pitching and effects automation for percussive, melodic and rhythmic creation, it's easy to want to blow some serious money. However, if you think about it and understand the basics of what's taking place in some of these amazing new plug-ins, it won't take you long to remember that all of those, and sometimes more options, are available in DAWs, right now!
Reason is one of those DAWs that is perfectly capable of dishing out the same slick effects and editing oddities, especially with its awesome automation lanes and Parallel Channels. In this tutorial, we're going to go through some of these features with an emphasis on building an arrangement for electronic music from a single tone, similarly to the Alligator in Reason, but on a bigger scale. Let me show you what I mean! Go ahead and set your tempo to 150, and let's get going!
Step 1 – Lay the Ground Work
Before we do anything crazy, we need some tone to build from. I'm going to use a Thor that's bumping a basic square wave oscillator. To achieve this tone, make sure to turn the Pulse Width knob to the square symbol. I would also suggest turning the Octave down, once, or twice. Working with a deeper tone will ensure some bigger overall results. >>>>>
Clear steps about recording,locating automated parameter,automating
pan and level in mixer,copying 1 bar to 2.
Here is a description of some of the functionality associated with the connection of the Arturia MicroBrute to the Arturia MiniBrute: which results in a very powerful duophonic analog synthesizer.
For all of you who are inclined to respond "LESS TALK, MORE PLAYING!" In this particular instance, I agree. I really need to do a lot of "sounds of" videos of this combination to make up for it.
Watch Joe Hanley, the creator of Syntorial, walk you step-by-step through the programming of the the synth lead from Daft Punk's "Derezzed".
Download preset, MIDI file, and synth at www.syntorial.com/tutorials.php#tut4
Just a simple tutorial on the Buchla Music Easel Envelope Detector
Make a wavetable for the incredible PPG Wave Generator with Audio-term.
How to make drum sounds with the Arturia MicroBrute, including a kick/bass drum, high hats and a sort of "hand clap". Pause the video on the stills to check out the positions of all the controls required to recreate these sounds.