Reviewer John Krogh expands on the December 2013 print review of Apple Logic Pro X with a screen video tour of new and useful features.
Logic Pro X has more than just a new look — it gives you new options you've never had before. You can work the way you always have, with the full power and depth of Logic Pro. Or if you're exploring ideas, you can choose to work with a more streamlined set of controls to keep things moving right along. You can also personalize Advanced Tools to make your workflow match your creative flow.

The new design also makes it easier to get things done. Transport controls are now located right at the top of the main window. You can easily browse and add more sounds from the Sound Library, conveniently placed next to other track-related controls. Visual snap guides help you quickly align and edit regions. A more responsive, more accurate tuner is just a click away. And Autosave keeps all your work safe and sound. Want to know how something works? Just hover your cursor over any part of the interface for Quick Help tips. To dive deeper, pull up the relevant section of the user manual with a single keystroke.
In this Logic Pro X video tutorial, Bill Lee explores Logic's new Track Stacks function for mixing a song.
In this video we will explore the use of Track Stacks in the Logic X mixing workflow. Mixing a song with many instruments can get complicated and sometimes hard to manage. Track Stacks can help simplify the mix process by grouping, submixing and simplifying the visual representation of your musical parts. This is especially useful when you have many tracks of a similar type, like percussion and background vocals. This is also useful on software instrument tracks as you can see in Matt Shadetek's latest video tutorial, Using Track Stacks for Big Layered Synths. Once you have combined multiple tracks into a Track Stack, you can then process or automate the Stack as a submix. This feature is one for every Logic user to be familiar with. Check it out! – Bill Lee
A tutorial focusing on using MegaMacho drums and Evil Razor together in Logic Pro X to create a cool dance Jam
EM Technical Editor Gino Robair gives us his initial impressions of aspects of Apple's new release, Logic Pro X, including a run through of the Drummer Track, Drum Kit Designer, MIDI Plug-Ins, Logic Remote for the iPad, and more.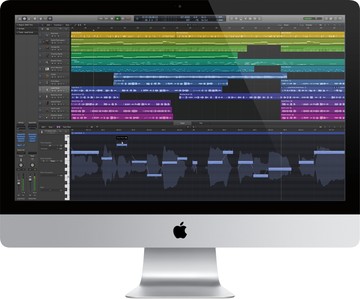 Apple has announced the release of Logic Pro X, featuring a new interface designed for pros, powerful new creative tools for musicians, and an expanded collection of instruments and effects.
Logic Pro X includes Drummer, a revolutionary new feature that provides a virtual session player that automatically plays along with your song in a wide variety of drumming styles and techniques, and Flex Pitch, which provides integrated pitch editing for audio recordings. Apple also introduced Logic Remote, an innovative new way to play and control Logic Pro X from your iPad®, giving musicians the flexibility to create and mix their music from anywhere in the room.
"Logic Pro X is our most powerful version yet, with advanced tools and a modern new interface designed to streamline the process of creating professional quality music," said Philip Schiller, Apple's senior vice president of Worldwide Marketing. "Musicians are going to love creative new features like Drummer, Flex Pitch, Track Stacks and the Arpeggiator."

"Logic Pro was critical to writing and recording our debut album Night Visions, so we couldn't wait to get our hands on Logic Pro X," said Wayne Sermon, guitarist of the Platinum-selling band Imagine Dragons. "We love the new design, and the creative features of Logic Pro X have already been inspiring us to write new material while we're on tour."
Logic Pro X has been designed with a modern new look while preserving and expanding the power and features that professional users rely on. The streamlined interface provides access to advanced tools and functionality for more technical tasks, or can be hidden to allow musicians to focus on being creative. Flex Pitch helps users fix out-of-tune vocals and even change the melodies of recorded audio by manipulating individual notes within an audio waveform. Track Stacks lets you organize and collapse multiple tracks into one, or can be used to create rich, layered instruments. Smart Controls allow you to manipulate multiple plug-ins and parameters with a single move for quick and powerful sound design. An improved Mixer helps manage mix sessions more efficiently, with increased visibility into signal flow and dynamics and faster ways to manipulate channel inserts.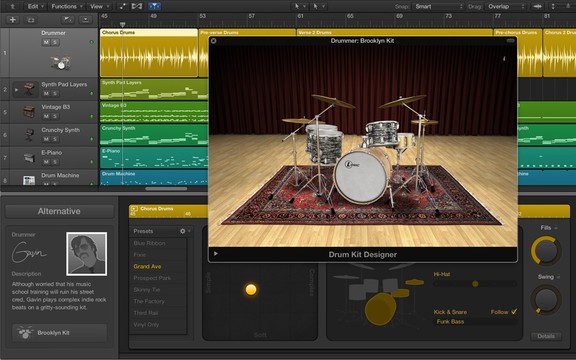 Logic Pro X provides a collection of new creative tools for songwriting and music production. Drummer delivers professionally produced, realistic drum tracks that respond to your direction and can perform millions of unique grooves in rock, alternative, songwriter and R&B genres. Drummer is powered by the performances and sounds of some of the industry's top session players and recording engineers, including legendary mixer/producer Bob Clearmountain, who has worked with the Rolling Stones, Bruce Springsteen and David Bowie. Designed to work with Drummer, the new Drum Kit Designer plug-in lets you build your own custom kit using a diverse collection of professionally recorded snare drums, toms, hi-hats and cymbals that you can mix, match and fine tune to get the right drum sound for your song.
Logic Pro X expands Logic Pro's rich collection of synthesizers and keyboards with more new instruments. The Arpeggiator is one of nine new MIDI plug-ins and can transform a simple keyboard chord into an elaborate performance. The new Retro Synth emulates some of the most popular classic synthesizer tones from the 70s and 80s, and Vintage Keyboards offer realistic models of electric pianos, B3 organs and clavs, with sophisticated tone-shaping controls. Bass Amp Designer allows bass players to play and record using vintage and modern bass amps, with cabinets and microphones that can be configured to build a custom bass rig. Logic Pro X also features an entirely new Sound Library with an updated loop collection and over 1,500 instrument and effect Patches that make creative use of Track Stacks, Smart Controls, the Arpeggiator and other new plug-ins.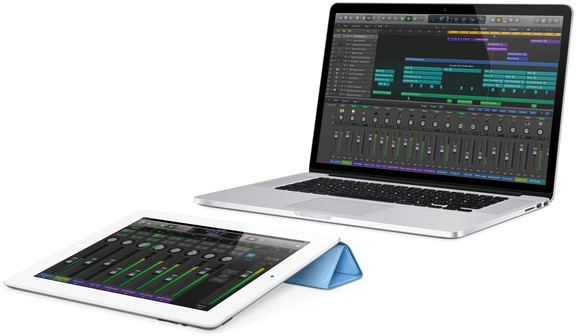 Logic Remote is an innovative new way to extend the creative power of Logic by using your iPad. Designed to take full advantage of the iPad Multi-Touch™ display, Logic Remote gives users new ways to record, mix and even perform instruments in Logic Pro X from anywhere in the room, turning their iPad into a keyboard, drum pad, guitar fretboard, mixing board or transport control.
MainStage® 3, a major update to MainStage, is the live performance companion app for Logic Pro X, turning the Mac® into a live rig that makes it easy to bring sounds from the studio to the concert stage. MainStage 3 features a new user interface and maintains compatibility with the new Logic Pro X plug-ins, Patches and Smart Controls.
Logic Pro X and MainStage 3 are available to purchase for $199.99 USD and $29.99 USD, respectively. Logic Remote is available as a free download from the App Store.
More info: http://blog.dubspot.com/logic-trap-3/
Matt Shadetek returns with another episode of Secret Knowledge, our video tutorial series of production tips, techniques and advice for Logic users. In this concluding chapter tutorial on trap drum programming, Shadetek explains how to put all the ingredients together in a mapped MIDI instrument so you can easily trigger kick, snare, hi-hats, and snare rolls. In case you missed the previous tutorials within this series, check out parts one and two.
More info: http://bit.ly/146Xrgh
Matt Shadetek returns with another episode of Secret Knowledge, our video tutorial series of production tips, techniques, and advice for Logic users. In the second video, Shadetek continues his tutorial on creating trap beat patterns using Apple's Logic Pro.
More info: http://bit.ly/XEpxhS
Matt Shadetek returns with another episode of Secret Knowledge, our Logic Pro video tutorial series of production tips, techniques and advice for Logic users. In this video, Shadetek shows looks at the technique of "re-micing."
—
This technique is commonly used in studios where people are recording electric guitars where they want to capture the sound of the guitar coming out of the amplifier. In this case I'm using it for a slightly non-traditional application to add some texture and noise to make my piano feel more like an old sample and less like a digital instrument. I've used this technique with amplifiers to add interest to cheap sounding casio keyboards and other 'fake sounding' digital sources. The basics are that we create a sound and then play it out of something, either an amplifier or a speaker and then re-record the results. In this case I'm running it out of my speakers to add some room noise and then mixing that back in with the original clean signal. Hopefully this inspires you to create your own interesting recordings and some life and dirt to your clean digital sounds. — Matt Shadetek
More info: http://bit.ly/VAhK6k
Dubspot instructor and course designer Matt Shadetek returns with another episode of Secret Knowledge, a Logic Pro video tutorial series full of production tips, techniques and advice for Logic users. In this installment, Shadetek shows how to create rave stabs by layering multiple detuned saw waves, using Logic's ES2 virtual analog synthesizer.
The sound we're going to create here has been in use for years in many styles of electronic dance music, but somehow people keep returning to it: the rave stab. Rave stabs are made by layering a pair of highly detuned saw waves with one another and then using something to animate the pitch and cause it to bend. In this example we'll do this with the ES2 synth in Logic and an envelope but there are many ways to create this type of sound. All you need is a synthesizer that can layer saw waves and create pitch movement. For extra credit I've set up the envelope modulating the pitch to be velocity-sensitive, so when this patch is played from a controller we get some additional variation depending on how the instrument is played. – Matt Shadetek
Logic Pro user Matt Shadetek demonstrates resampling using Logic's EXS24 and Sculpture, details below:
In this tutorial we introduce the concept of resampling: we'll take an existing part of our track, in this case a synth chord played on Sculpture, and convert it to audio so that we can manipulate it further using Logic's EXS24 sampler. Our goal in this example is to create a sound I associate with old school underground dance music including 90s house, hardcore and jungle: take a chord, put it into a sampler and then repitch the chord it by playing on a keyboard. The parallel harmonic movement that results can create an interesting, slightly dark feeling.
The next step is to make those chords sustain by using the looping functions in the sampler. This will produce looping artifacts in some cases, one problem being that the loop will playback faster if we play it at a higher pitch. We might not always want this, but in this case it adds an interesting uneven rhythmic feeling to our resampled sounds and completes the sound. This technique can be used for all kinds of sounds and was a popular technique in creating some of the best early drum and bass 'hoover' style basslines. Use your imagination and experiment! – Matt Shadetek