More info: http://bit.ly/XEpxhS
Matt Shadetek returns with another episode of Secret Knowledge, our Logic Pro video tutorial series of production tips, techniques and advice for Logic users. In this video, Shadetek shows looks at the technique of "re-micing."
—
This technique is commonly used in studios where people are recording electric guitars where they want to capture the sound of the guitar coming out of the amplifier. In this case I'm using it for a slightly non-traditional application to add some texture and noise to make my piano feel more like an old sample and less like a digital instrument. I've used this technique with amplifiers to add interest to cheap sounding casio keyboards and other 'fake sounding' digital sources. The basics are that we create a sound and then play it out of something, either an amplifier or a speaker and then re-record the results. In this case I'm running it out of my speakers to add some room noise and then mixing that back in with the original clean signal. Hopefully this inspires you to create your own interesting recordings and some life and dirt to your clean digital sounds. — Matt Shadetek
More info: http://bit.ly/VAhK6k
Dubspot instructor and course designer Matt Shadetek returns with another episode of Secret Knowledge, a Logic Pro video tutorial series full of production tips, techniques and advice for Logic users. In this installment, Shadetek shows how to create rave stabs by layering multiple detuned saw waves, using Logic's ES2 virtual analog synthesizer.
The sound we're going to create here has been in use for years in many styles of electronic dance music, but somehow people keep returning to it: the rave stab. Rave stabs are made by layering a pair of highly detuned saw waves with one another and then using something to animate the pitch and cause it to bend. In this example we'll do this with the ES2 synth in Logic and an envelope but there are many ways to create this type of sound. All you need is a synthesizer that can layer saw waves and create pitch movement. For extra credit I've set up the envelope modulating the pitch to be velocity-sensitive, so when this patch is played from a controller we get some additional variation depending on how the instrument is played. – Matt Shadetek
Logic Pro user Matt Shadetek demonstrates resampling using Logic's EXS24 and Sculpture, details below:
In this tutorial we introduce the concept of resampling: we'll take an existing part of our track, in this case a synth chord played on Sculpture, and convert it to audio so that we can manipulate it further using Logic's EXS24 sampler. Our goal in this example is to create a sound I associate with old school underground dance music including 90s house, hardcore and jungle: take a chord, put it into a sampler and then repitch the chord it by playing on a keyboard. The parallel harmonic movement that results can create an interesting, slightly dark feeling.
The next step is to make those chords sustain by using the looping functions in the sampler. This will produce looping artifacts in some cases, one problem being that the loop will playback faster if we play it at a higher pitch. We might not always want this, but in this case it adds an interesting uneven rhythmic feeling to our resampled sounds and completes the sound. This technique can be used for all kinds of sounds and was a popular technique in creating some of the best early drum and bass 'hoover' style basslines. Use your imagination and experiment! – Matt Shadetek
More info: http://bit.ly/TVTYhp
In this episode of Secret Knowledge video tutorial series, Dubspot instructor and Logic Pro course designer Matt Shadetek shows you how to create two classic house sounds; the organ bass sound found in most 'organ house' tracks like Robin S.'s "Show Me Love" and the second is "the classic looping, filtered vocal."
More info: http://bit.ly/TAa0ze
"In this latest episode of Matt Shadetek's Secret Knowledge series, our beloved Logic Pro course designer / instructor demonstrates how to use the side chain inputs in Apple's Logic ES2 synthesizer to achieve creative modulation of a basic synth sound."
This is the October 8 version the getting started with logic video.
More info here on Logic Pro >>
Live microtonal vocoding performance featuring Opal Chameleon, Nord G2, LMSO and Logic Pro
See http://www.seraph.it/blog_files/category-video.html
All sounds (including drums, percussions etc.) made with Trogotronic Model 676 Fury M Series and sampled, edited & arranged with Teenage Engineering OP-1. Voice with Qneo Voice Synth on iPhone (thru Trogotronic 676) Mixdown & some edits in Logic Pro.
Like any Trogotronic worth its salt the 676 Fury's functions are not conservative… Meaning, while there are two Main Oscillators, other parts of the circuit can command more complicated frequencies in an intuitive manner. Similarly the Main Oscillators themselves may be applied as filters serving to broaden the utility of the instrument even more so. With regard to BOTH mayhem AND stability 676 Fury's switch settings offer different parameter reactions: Toggles "down" Oscillators & Track navigate pitch black F-5 electron turbulence; Switched "up" same controls "play nice" in crimson livery with accordance to classical form.
The sound? Curiously akin to R. Lee Ermey switching on the kilowatt floods & screaming through an Orange Full-stack set to "11" first thing the morning after an all-night gin bender; i.e. relentless punishment applied to all head-holes within audio range. Add to this the inclusion of 5 CV inputs compatible with sequencers, envelopes etc. and this little box may well become a classic in its own right; "May the Gods save us from this menace; girls and mothers—dress our Fury now in blood-red robes!"
I'm not shure about the sound because I'm not at home & had to mix the track on some cheep iPhone earbuds

Okay – I did this track just 4 fun, messing around with this sick module, thinking the guys from Togotronic still don't know what it's doing – I don't know that too 😀

So let's go noise!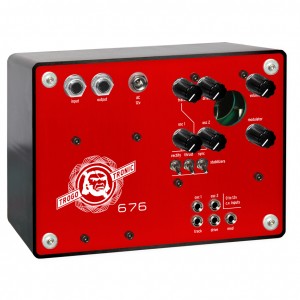 All Analog Circuit
2 Main-Oscillators 
2 Amplifiers
2 Unique Filter/FX parameters (Drive & Modulation) 
Input for use with other audio elements
5 Modular compatible CV inputs for patchable parameter control 
1 Medium Frequency Control Oscillator: Track
3 Stabilizer Switches (on for stability, off for mayhem) 
Slovakian Max. Gain, Twin-Triode Vacuum Tube run at high voltage
Alex Solarte has made this video, here's what says about it in short:
"amazing soundhouse, made with spacewiz, omnisphere and logic pro – i call this random music ;-)"
http://ohdratdigital.com This week's tutorial is all about how to slice and chop samples in Apple's Logic Pro, Studio, or Express software and EXS24 sampler. It's quicker and easier than you may think, and before you know it you'll be slicing up samples quicker than with an MPC or Maschine!