More info: http://bit.ly/TVTYhp
In this episode of Secret Knowledge video tutorial series, Dubspot instructor and Logic Pro course designer Matt Shadetek shows you how to create two classic house sounds; the organ bass sound found in most 'organ house' tracks like Robin S.'s "Show Me Love" and the second is "the classic looping, filtered vocal."
More info: http://bit.ly/TAa0ze
"In this latest episode of Matt Shadetek's Secret Knowledge series, our beloved Logic Pro course designer / instructor demonstrates how to use the side chain inputs in Apple's Logic ES2 synthesizer to achieve creative modulation of a basic synth sound."
This is the October 8 version the getting started with logic video.
More info here on Logic Pro >>
Live microtonal vocoding performance featuring Opal Chameleon, Nord G2, LMSO and Logic Pro
See http://www.seraph.it/blog_files/category-video.html
All sounds (including drums, percussions etc.) made with Trogotronic Model 676 Fury M Series and sampled, edited & arranged with Teenage Engineering OP-1. Voice with Qneo Voice Synth on iPhone (thru Trogotronic 676) Mixdown & some edits in Logic Pro.
Like any Trogotronic worth its salt the 676 Fury's functions are not conservative… Meaning, while there are two Main Oscillators, other parts of the circuit can command more complicated frequencies in an intuitive manner. Similarly the Main Oscillators themselves may be applied as filters serving to broaden the utility of the instrument even more so. With regard to BOTH mayhem AND stability 676 Fury's switch settings offer different parameter reactions: Toggles "down" Oscillators & Track navigate pitch black F-5 electron turbulence; Switched "up" same controls "play nice" in crimson livery with accordance to classical form.
The sound? Curiously akin to R. Lee Ermey switching on the kilowatt floods & screaming through an Orange Full-stack set to "11" first thing the morning after an all-night gin bender; i.e. relentless punishment applied to all head-holes within audio range. Add to this the inclusion of 5 CV inputs compatible with sequencers, envelopes etc. and this little box may well become a classic in its own right; "May the Gods save us from this menace; girls and mothers—dress our Fury now in blood-red robes!"
I'm not shure about the sound because I'm not at home & had to mix the track on some cheep iPhone earbuds

Okay – I did this track just 4 fun, messing around with this sick module, thinking the guys from Togotronic still don't know what it's doing – I don't know that too

So let's go noise!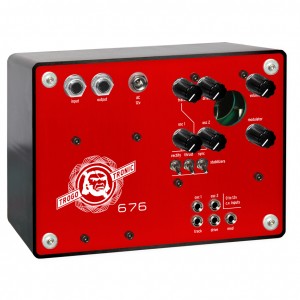 All Analog Circuit
2 Main-Oscillators 
2 Amplifiers
2 Unique Filter/FX parameters (Drive & Modulation) 
Input for use with other audio elements
5 Modular compatible CV inputs for patchable parameter control 
1 Medium Frequency Control Oscillator: Track
3 Stabilizer Switches (on for stability, off for mayhem) 
Slovakian Max. Gain, Twin-Triode Vacuum Tube run at high voltage
Alex Solarte has made this video, here's what says about it in short:
"amazing soundhouse, made with spacewiz, omnisphere and logic pro – i call this random music
"
http://ohdratdigital.com This week's tutorial is all about how to slice and chop samples in Apple's Logic Pro, Studio, or Express software and EXS24 sampler. It's quicker and easier than you may think, and before you know it you'll be slicing up samples quicker than with an MPC or Maschine!
Here are the details:
This is a quick demo of an iPad app 'step poly arp'. It sends midi via wifi to a DAW running Logic. The sound is generated by Arturia's Jupiter 8V. The combination isn't quite stable yet, even with an 'ad hoc' connection between the iPad and Mac. I haven't yet figured why…still, the app looks very promising.
http://www.pointblankonline.net/courses/logic-courses.php This week Paul Yarrow shows you how to open up a new world of performance capabilities for Korg's Monotron by turning it into a polysynth enabling it to play chords.
Learn more techniques like this on our wide range of Logic courses: http://www.pointblankonline.net/courses/logic-courses.php
Check out even more free tutorials at http://www.logic-cafe.com/
Hal Leonard Books has published The Power in Logic Pro by Dot Bustelo. They claim that this book is the first choice for any artist seeking quick, fun, easy-to-digest insight into the depth of Logic. Author of "The Power in Logic Pro," Dot Bustelo, introduces her new book, goes over the basic concepts covered, and gives a quick example from the book!
PURCHASE BOOK:
http://halleonardbooks.com/product/viewproduct.do?itemid=333399&lid=1&…
Dot Bustelo's signature approach to teaching Logic will get you up and running quickly. She'll help you move beyond the basics to discover a professional-level Logic workflow, taught through highly musical examples that expose Logic's essential features and powerful production tools. You'll find many of the tips, tricks, and insider techniques that powered Logic to its industry-leading status as the best tool for unleashing creativity in songwriting, composing, making beats, and remixing. Plus, find out why musicians over the years have sworn Logic "grooves better."
Dot provides the powerful methodology for creating in Logic that she has shared with countless high-profile bands and Grammy Award–winning producers and engineers. Here's just a sampling of what some of music's most successful artists say about Dot's approach to Logic:
Ronnie Vannucci, The Killers: "Dot has made Logic, well, logical."
Ryan Tedder, OneRepublic: "Dot Bustelo has hands down the most extensive working knowledge of Logic and all its intricacies."
James Valentine, Maroon 5: "Dot was the first one to introduce me to Logic. . . . She knows this software inside and out, and she breaks everything down in an easy-to-understand way. And she knows the best insider techniques that will make your recording more efficient and creative. . . . I wonder when Dot will get sick of me asking her Logic-related questions?"
Nathaniel Motte, 3OH!3: "Dot has provided me with an incredible source of in-depth and practical knowledge of Apple's Logic program. She has shown me tricks in Logic that have opened creative doors that I didn't even know existed."
Chad Hugo, N.E.R.D., The Neptunes: "When you got a Logic problem / Dot has wrote a book to solve 'em . . . / And this right hear is it. Yeya!"
$16.99 (US)
Inventory #HL 00333399
ISBN: 9781458414199
UPC: 884088602147
Width: 8.5″
Length: 11.0″
200 pages