Logic Pro user Matt Shadetek demonstrates resampling using Logic's EXS24 and Sculpture, details below:
In this tutorial we introduce the concept of resampling: we'll take an existing part of our track, in this case a synth chord played on Sculpture, and convert it to audio so that we can manipulate it further using Logic's EXS24 sampler. Our goal in this example is to create a sound I associate with old school underground dance music including 90s house, hardcore and jungle: take a chord, put it into a sampler and then repitch the chord it by playing on a keyboard. The parallel harmonic movement that results can create an interesting, slightly dark feeling.
The next step is to make those chords sustain by using the looping functions in the sampler. This will produce looping artifacts in some cases, one problem being that the loop will playback faster if we play it at a higher pitch. We might not always want this, but in this case it adds an interesting uneven rhythmic feeling to our resampled sounds and completes the sound. This technique can be used for all kinds of sounds and was a popular technique in creating some of the best early drum and bass 'hoover' style basslines. Use your imagination and experiment! – Matt Shadetek
This tutorial shows you how to record and sample sounds with your iPad2 and import them on the PPG Wavegenerator with the help of two additional free available Apps: APT (Acoustic Picture Transmiter) and a picture editor like Photoshop express.
If you want to try it, you can download the soundbank which has some examples and a preset for starting your own import at the following link: "www.axxim.de/media/axxims.wgbnk". Just input the link on your iPad and choose "open with wavegenerator" Enjoy!
ImageLine continues on their quest of delivering short teasers on their upcoming release, without any further details
More info here – http://www.image-line.com/documents/flstudiomobile.html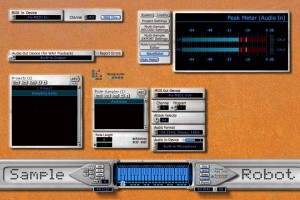 SKYLIFE has announced an updated cross platform version of their premier sampling suite, now available for both Mac OSX and for Windows OS. SampleRobot Pro and Multi-X are now upated to version 4.25 with optimized cross-platform support for Mac OS X and Windows 7. Furthermore an updated operation manual is included.
About SampleRobot 4:
With SampleRobot 4 Pro you can easily do automatic sampling of acoustic and electronic instruments. It does not matter what you would like to sample: orchestral instruments, choir, organs, electric guitars, ethnic percussion, adlips, sound scapes, noises, MIDI gear, virtual instruments, alpenhorns or whatever, SampleRobot makes your sampling as fast and as satisfying as possible. SampleRobot samples all sound nuances automatically and creates high-end sampled instruments in various formats. Seamless integrated WaveRobot software finds perfect loop points even for whole multi-samples with different velocity layers during recording. It was never easier to build professional-sounding software instruments.
Benefits of SampleRobot:
* Feed your compositions with inspiring samples from the world outside your studio
Create digital copies of your favorite instruments and sounds;
* Borrow instruments and keep a virtual copy (abiding by relevant copyright laws and license agreements of course);
* Build and sell/share your own sample libraries;
* Have all your sound hardware on your hard disk and travel with your laptop;
* Buy used gear and resell it after automatic sampling;
* Use all your software instruments cross-platform
* Work in other studios or on stage without carrying additional sound expanders;
* Play monophonic instruments polyphonically;
* Total recall for every session.
SampleRobot Multi-X is available as download alternatively with and without WaveRobot.
Learn more at: http://www.samplerobot.com/
A famous disk – reportedly E-mu sampled the radio for the reggae loop and trumpet.
This SunVox tutorial talks about retriggering samples to scale them to a song. When you scale samples to a song, you can do a lot, changing their pitch, or even directly controlling how the samples play. It's pretty fun to do.
Thanks for watching my tutorials and subscribing, by the way. Your comments are appreciated as well.
If you want, you can follow me on Twitter, or check out my SunVox tutorial / research / song page, SunVox Solstice:
Twitter: https://twitter.com/SolarLune
SunVox Solstice: http://sunvoxsolstice.blogspot.com/
Here is a video breaking down the creative process of a sampled based beat using Native Instruments Maschine and Vinyl records. We included a few screen shots of the Maschine software as I made changes on the control surface. We start off by grabbing a few records, pulling some drums, Choosing some samples and then we put the whole thing together and sequence it using the Maschine's software.
Want to hear more? Check out B.A.D Company – Bars and Drums (Produced by Asterix) on Itunes http://itun.es/iLY3LT.
Get WerkBench here: http://bit.ly/L6jhd9
WerkBench is a live sampling step sequencer. There is nothing else like it! The next update (1.03) includes the ability to easily define custom tuning and scales.
Now you can use WerkBench to turn any sound into awesome melodies.
In this demo, I build a beat quickly and then play with this new feature with sounds from a Casio.
WerkBench features:
–"Fancy Controls" (pitch, lowpass filters, envelopes, and more!)
–Edit pitch and levels independently for each step!
–Funky lo-fi tape echo for spacey effects with a sweet real-time visualizer.
–The two sequencers can be chained to make a 32 step sequencer!
–Save and load loops.
–Export loops and recordings via Audio Copy, iTunes file sharing, and email.
–MIDI sync and MIDI trigger modes
–Custom scales (never play a wrong note!)
Something to try perhaps – bring out the samplers into the wild:
unshine in England is precious, so when the weather is fine it feels sinful to be cooped up in a studio, I'm very lucky to have the choice, so why not choose?
When the weather is fine, I like to take a few bits of gear outside and enjoy being creative in a different environment, plus there are all sorts of other sounds to explore outdoors, and in this case, sample.
A quick video of me making beats entirely out of recordings of objects found in the garden. No previously recorded samples were used.
Capturing sounds with a vintage Sennheiser MD-21 microphone, then using the EMU SP1200 for its inimitable fidelity, then resampled and sequenced on an Akai MPC 5000.
Videoed by me on a Canon 5D mkii.
This programme is an experiment. An exploration. It's been put together with enormous enthusiasm and equipment designed for other purposes. The basis of it is an unlimited supply of magnetic tape, recording machine, razor blade, and some thing to stick the bits together with. And a group of technicians who think that nothing is too much trouble – provided that it works.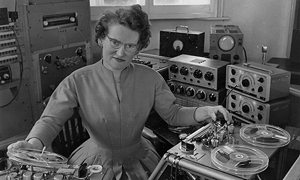 "You take a sound. Any sound. Record it and then change its nature by a multiplicity of operations. Record it at different speeds. Play it backwards. Add it to itself over and over again. You adjust filters, echos, acoustic qualities. You combine segments of magnetic tape. By these means and many others you can create sounds which no one has ever heard before. Sounds which have indefinable and unique qualities of their own. A vast and subtle symphony can be composed from the noise of a pin dropping. In fact one of the most vibrant and elemental sounding noises in tonight's programme started life as an extremely tinny cowbell.
"It's a sort of modern magic. Many of you may be familiar with it. They've been exploiting it on the continent for years. But strangely enough we've held aloof. Partly from distrust. Is it simply a new toy? Partly through complacency. Ignorance too. We're saying at last that we think there's some thing in it. But we aren't calling it 'musique concrète'. In fact we've decided not to use the word music at all. Some musicians believe that it can become an art form itself. Others are sceptical. That's not our immediate concern. We're interested in its application to radio writing – dramatic or poetic – adding a new dimension. A form that is essentially radio.
"Properly used, radiophonic effects have no relationship with any existing sound. They're free of irrelevent associations. They have an emotional life of their own. And they could be a new and invaluable strand in the texture of radio and theatre and cinema and television."E