In this tutorial Ryan Hemeon shows how you can sample any iOS app using Audiobus to record into Audioshare and open it directly into Nave to start a new patch. He also shows a little bit about setting up your own patch and saving it.
"This is a really cool way to make patches, kind of turning Nave into a "Super Sampler". I hope this is helpful! "
Please visit www.iosmars.com for more info!
Additional videos for this title: http://j.mp/13WCNiF
Live 9 201: The Simpler Sampler by Laura Escudé
Video 1 of 19 for Live 9 201: The Simpler Sampler
So what is sampling and how does Abletons Simpler sampler work? Well, let Laura Escud show you!
In this sampling-for-beginners tutorial renowned violinist and electronic music performer Laura Escud takes you through the very basics of sampling using Ableton Lives stock sampler, Simpler. She starts you off with an overview detailing the history of audio sampling from its nascent beginnings with the famous Fairlight CMI through to software samplers of the present day.
From there youre off to a zoomed-in, zoomed-out look at the Simpler Plugin that is included with every copy of Live. Laura takes you through all of Simplers parameters from envelopes to LFOs showing you how they work and how she uses them in her music. She discusses the differences between Simpler and Lives premium instrument, Sampler … and also shows you how they work together!
Finally, Laura, includes a few workshops where she divulges the arcana behind her Cello Wobble sound and how to use Simpler in an Instrument Rack. Laura then puts it all together with a triptych of videos showing how she uses Simpler in her live performances.
So if youre new to sampling and want to know how to use Simpler – or if your just want to learn some cool sample playback techniques – sample this tutorial by Laura Escud: Lives Simpler Sampler!
More info on this title: http://j.mp/13WCNiF
Kosmos is a scripted Synthesizer for Kontakt 4 & 5 by Homegrown Sounds which uses high quality sampled instruments as the Oscillator Source. This version is Kosmos Infekted which is loaded with 525 Multi-sampled Instruments crafted with a Virus TI. There is a Free Lite Version which uses 20 Instruments from the collection.
Sneak peek from the studio featuring the sampling techniques from the new Csound-based iOS app by Boulanger Labs, csSpectral. Deepak Gopinath (Lead iOS Developer) is using csSpectral to play back a simple beat and transforms the rhythms into a unique percussion track that morphs beyond glitch. This aspect of the app is well-suited for many applications ranging from advanced sound design for film to a mashup of your favorite track.
Logic Pro user Matt Shadetek demonstrates resampling using Logic's EXS24 and Sculpture, details below:
In this tutorial we introduce the concept of resampling: we'll take an existing part of our track, in this case a synth chord played on Sculpture, and convert it to audio so that we can manipulate it further using Logic's EXS24 sampler. Our goal in this example is to create a sound I associate with old school underground dance music including 90s house, hardcore and jungle: take a chord, put it into a sampler and then repitch the chord it by playing on a keyboard. The parallel harmonic movement that results can create an interesting, slightly dark feeling.
The next step is to make those chords sustain by using the looping functions in the sampler. This will produce looping artifacts in some cases, one problem being that the loop will playback faster if we play it at a higher pitch. We might not always want this, but in this case it adds an interesting uneven rhythmic feeling to our resampled sounds and completes the sound. This technique can be used for all kinds of sounds and was a popular technique in creating some of the best early drum and bass 'hoover' style basslines. Use your imagination and experiment! – Matt Shadetek
This tutorial shows you how to record and sample sounds with your iPad2 and import them on the PPG Wavegenerator with the help of two additional free available Apps: APT (Acoustic Picture Transmiter) and a picture editor like Photoshop express.
If you want to try it, you can download the soundbank which has some examples and a preset for starting your own import at the following link: "www.axxim.de/media/axxims.wgbnk". Just input the link on your iPad and choose "open with wavegenerator" Enjoy!
ImageLine continues on their quest of delivering short teasers on their upcoming release, without any further details
More info here – http://www.image-line.com/documents/flstudiomobile.html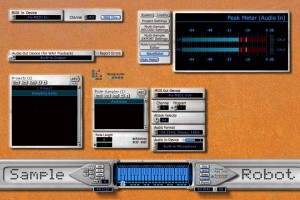 SKYLIFE has announced an updated cross platform version of their premier sampling suite, now available for both Mac OSX and for Windows OS. SampleRobot Pro and Multi-X are now upated to version 4.25 with optimized cross-platform support for Mac OS X and Windows 7. Furthermore an updated operation manual is included.
About SampleRobot 4:
With SampleRobot 4 Pro you can easily do automatic sampling of acoustic and electronic instruments. It does not matter what you would like to sample: orchestral instruments, choir, organs, electric guitars, ethnic percussion, adlips, sound scapes, noises, MIDI gear, virtual instruments, alpenhorns or whatever, SampleRobot makes your sampling as fast and as satisfying as possible. SampleRobot samples all sound nuances automatically and creates high-end sampled instruments in various formats. Seamless integrated WaveRobot software finds perfect loop points even for whole multi-samples with different velocity layers during recording. It was never easier to build professional-sounding software instruments.
Benefits of SampleRobot:
* Feed your compositions with inspiring samples from the world outside your studio
Create digital copies of your favorite instruments and sounds;
* Borrow instruments and keep a virtual copy (abiding by relevant copyright laws and license agreements of course);
* Build and sell/share your own sample libraries;
* Have all your sound hardware on your hard disk and travel with your laptop;
* Buy used gear and resell it after automatic sampling;
* Use all your software instruments cross-platform
* Work in other studios or on stage without carrying additional sound expanders;
* Play monophonic instruments polyphonically;
* Total recall for every session.
SampleRobot Multi-X is available as download alternatively with and without WaveRobot.
Learn more at: http://www.samplerobot.com/
A famous disk – reportedly E-mu sampled the radio for the reggae loop and trumpet.
This SunVox tutorial talks about retriggering samples to scale them to a song. When you scale samples to a song, you can do a lot, changing their pitch, or even directly controlling how the samples play. It's pretty fun to do.
Thanks for watching my tutorials and subscribing, by the way. Your comments are appreciated as well.
If you want, you can follow me on Twitter, or check out my SunVox tutorial / research / song page, SunVox Solstice:
Twitter: https://twitter.com/SolarLune
SunVox Solstice: http://sunvoxsolstice.blogspot.com/