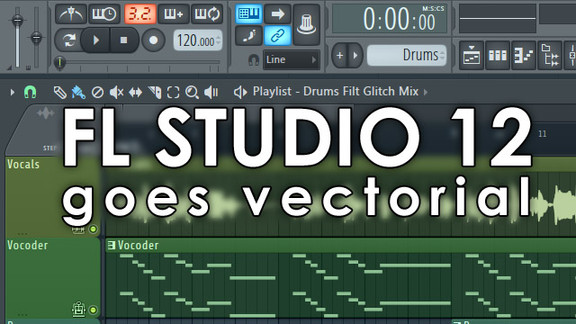 Image-Line has announced the release of an alpha preview version of FL Studio 12, the music production software for Windows.
FL Studio customers you can now download the FL Studio 12 ALPHA-PREVIEW to give us feedback about the extensive workflow changes.

What's this for?

We are looking for feedback about some of the major changes in workflow that have been made so far. Please try it out and let us know what you think of how it works. We're not really looking for bug reports, at this time.
Changes in FL Studio 12 (alpha preview)
Browser – The Browser has changed (now with category tabs and the ability to delete content on right-click).
Channel Menu – The Channel Options Menu has moved from the Toolbar Menus to the Channel rack.
Channel settings – Have been integrated into the Plugin Wrapper.
Interface – Vectorial user interface. See Options > General Settings > GUI display.
Per Channel Swing – The Channel Settings now has a 'swing multiplier' amount.
Pattern Menu – The Pattern Menu has moved from the Channel rack to the Toolbar Menu and Pattern Selector.
Piano roll – Piano roll Auto-zoom can now we deselected from Settings > General > Auto zoom in piano roll.
Playlist – Multiple drag and drop for audio files onto Playlist (from a Windows file browser).
Stepsequencer – Stepsequences are now interchangable with Piano rolls.
VST Plugins – VST plugin installation has changed.
The alpha preview version (currently only 32-bit) is available to download to registered Image-Line users.
Background information:
"We are excited to announce FL Studio Mobile 2.3 for iOS now includes MiniSynth, a real-time synthesizer ready to be used in your FL Mobile projects. Check iTunes for your free update. Android will be updated with MiniSynth sometime earlier in 2014.
What's New?
MiniSynth (including 70 presets)
Modulation via accelerometer (new option in the keyboard setup).
Transfer button in the in-app shop for emailing your purchases to another device.
Bug fixes (report bugs and we will fix them).
FL Studio Integration
A MiniSynth FL Studio plugin is also in development so you can transfer your MiniSynth FL Mobile projects to FL Studio and get the same sounds.
Android catching up
If you are wondering why the Android catch-up is taking some time, we have been migrating to a cross-platform code base and once that is completed the convergence of the two operating systems will follow rapidly, expect this Q1 2014. Thanks for your patience.
Enjoy"
http://www.image-line.com/documents/news.php?entry_id=1387407573
Reviewer, EDM producer, and DJ Francis Preve takes a look at Novation's latest pad/clip controller for Ableton Live and Image-Line FL Studio. Read the full review in our February 2014 issue.
Reviewer, EDM producer, and DJ Francis Preve takes a look at Novation's latest keys-meet-pads MIDI controllers for Ableton Live and Image-Line FL Studio. Read the full review in our February 2014 issue.
nucleon & sacco do some impromptu jamming at the 2013 Image-Line developers meet.
sacco – http://www.image-line.com/documents/p…
nucleon – https://www.youtube.com/user/Electroc…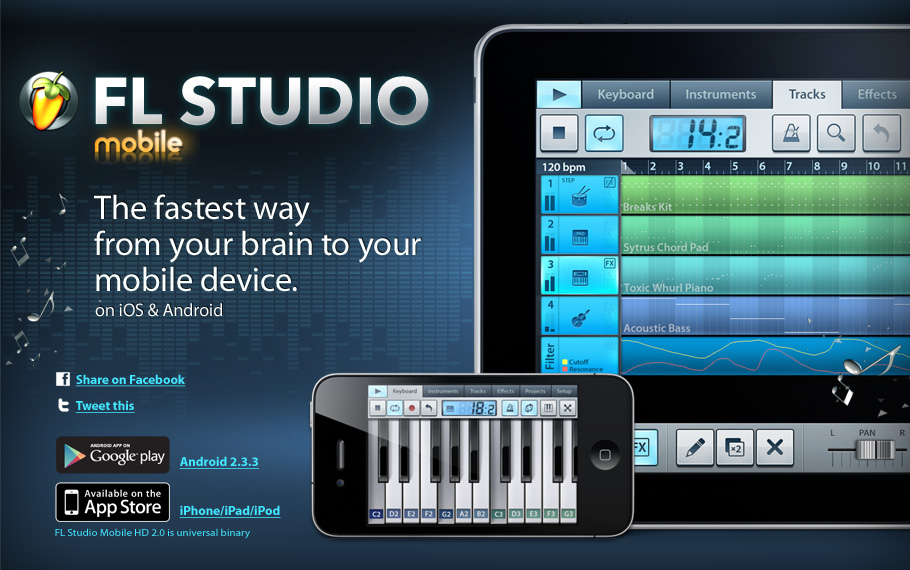 Image Line Software has released an update to FL Studio Mobile for Android and iOS. This is a free update for existing FL Studio Mobile customers.
Here's what's new in FL Studio Mobile Android 1.2:
HD graphics for 1080p and 720p devices (removes side bars)
Sequencer timing accuracy significantly improved
Fixes various expansion file download and mounting errors
Fixes wrong sample mapping after zip instrument import
Minor other bug fixes and performance improvements
Here's what's new in FL Studio Mobile 2.2 iOS:
New features:
MIDI start/stop slave and master
Input gain slider in the recording window (visible with external mic connected)
AudioCopy 2.0 support (iOS 7 compatible)
WAV export option to write 1 file per track
Performance & speed:
Major performance improvements (play more tracks without audio dropouts)
Audio file editing is up to 5x faster
Reverb quality and performance improved
Other improvements:
Audio recordings are placed more accurately
Setup latency options removed, it's now always at minimum
Filenames can now contain non-latin characters
Inbox folder is no longer present, files are moved to the top level folder
.flml (drum loop) files can be opened from other apps like Mail or Safari
Overall stability greatly improved
The Android version of FL Studio Mobile, at version 1.2, trails the iOS version significantly. Image Line says that the feature-set of the Android and iOS versions will be harmonized in future updates, including the addition of the following features to the Android version:
Audio tracks and wave editor
Background audio (playback while the app runs in the background)
SoundCloud upload
In-app shop
While projects, .flm format, are compatible between Android and iOS, if audio tracks are present they are ignored. If instruments are not avaiable the MIDI data is loaded and the a default instrument is used.
Pricing
Android: $19.55 USD
iOS: FL Mobile HD (universal app): $19.99 USD
Image Line has announced the FL Studio Mac Public Beta is now available. This is a custom Crossover wrapped version of FL Studio for Mac OS X and so is bit-identical to the Windows installer.
FL Studio Groove is a touch-based music production & performance application. With a 10 pad sample-based drum machine and 5 polyphonic synth channels you get all you need need to compose, arrange, edit, mix and perform professional quality music.
Make complete songs, play & program synthesizers, play drums, add effects, edit musical sequences.
- Windows 8 Touch | Music Production Application
- Sequence Drums
- Powerful piano roll for melodic work
- Flexible mixer with production & performance effects
- Two-tire piano keyboard optimized for touch
- 10 drumpads with dual-sample layering
- FX: Glitch, Flanger/Phaser, Delay, Filters, EQ, Bit-crusher & more
- Five 2-oscillator synthesizer channels
- Create basses, leads, pads or experimental sounds
- Record automation of almost any parameter.
Editions compared – http://www.image-line.com/documents/e…
Lifetime Free Updates – http://www.image-line.com/documents/l…
Get the demo – http://www.image-line.com/downloads/f…
FL Studio is a full-featured, open architecture, music production environment for audio recording, composing, sequencing and mixing, and the creation of professional quality music. FL Studio is designed for creative freedom. However, Image Line wants to give you the option to decide, before you buy, which version you that fits your need
Enter the Giveaway – http://synchroarts.us7.list-manage.co…
Setting up the VocALign plugin from Synchroarts. http://www.synchroarts.com/
Control Surface and Control Creator were added with FL Studio 11.0.1
Get the update here – http://forum.image-line.com/viewtopic…
You can use Control Surface as an Instrument OR Effect plugin and it's also in Patcher:
Manual entry – http://www.image-line.com/support/FLH…
Thanks to:
Youlean for the knobs – http://forum.image-line.com/viewtopic…
The Flashbulb for the music (project in the 11.0.1 update) – http://theflashbulb.net/