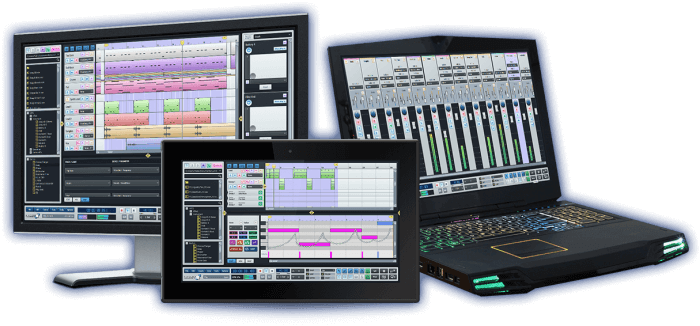 Lumit Audio has announced the release of Lumit, a digital audio workstation for Windows designed from the ground up for rapid unbridled music creation.
Lumit puts the professional sequencing and mixing capabilities you need to take your music further – right at your fingertips.

Inspired by students from Berklee College of Music®, Lumit is designed for rapid unbridled music creation and portability. No complex menu options or technology to hinder your creative flow.
Lumit features
Unlimited multi-tracking, bounce, and export 192kHz/32-bit float.
Drivers: ASIO (recommended), ASIO4ALL, Direct Sound, MME, and WASAPI drivers.
MIDI Map USB MIDI Controllers.
Full MIDI, audio, and automation recording & sequencing capabilities.
Extensive mixing console.
VSTi – VST3 support.
Drag and drop audio, MIDI files, and VST Plug-ins.
Freeze and unfreeze 192kHz/32-bit float.
Dynamic GUI – handles any resolution 1280 x 720 or greater.
Special parameters, algorithms, and hand-gestures to aid multi-touch.
Includes over 1,000 percussion, synthesizer, and bass audio samples.
Boutique audio DSP FX suite.
Lumit for Windows is available for purchase for $149.99 USD.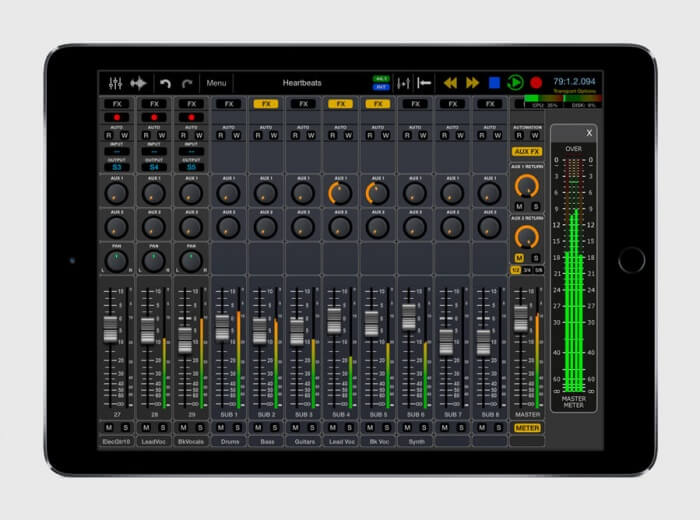 WaveMachine Labs has released Auria Pro, a professional level DAW for iPad.
Introducing Auria Pro. The first Digital Audio Workstation designed from the ground up for iPad.

With professional-level features like comprehensive MIDI support, built-in sampler player and analog synths, real-time audio warping, AAF import/export, powerful busing, and optional third-party plug-in support from names like PSP, FabFilter, Overloud and Drumagog, Auria Pro clearly sets a new standard for mobile music production.
The original Auria app was also updated to version 2.0, which includes updated retina graphics and various bug fixes and improvements.
Auria Pro is available for purchase for $49.99 USD; Auria is $24.99 USD.
A quick preview of our new app for iPad, iPhone and iPod touch, Ferrite Recording Studio. Record and edit audio on the go!
http://www.wooji-juice.com/products/f…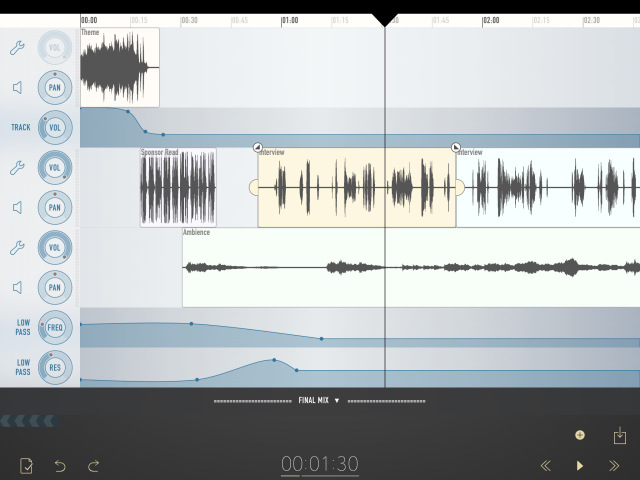 Wooji Juice has announced Ferrite Recording Studio for iOS – a new mobile multitrack recording app.
The developers say that Ferrite Recording Studio "makes it fast and easy to record and edit audio on-the-go — while making powerful features like effects and automation available when you need them."
Ferrite focuses on workflow, with features to speed you up and a clean UI designed to get out of your way.
It works just like a voice memo app, with immediate access to recording. But there's also a full editing suite to assemble your recordings — and imported clips — into polished final audio.
Radio journalism, podcasts, lecture recordings, audio presentations and more: all made easier with Ferrite Recording Studio tools such as bookmarking, automatic ducking, and silence removal. Enhance your audio with extras like dynamic compression or filtering. And if you really want to get in and sweat the details, Ferrite has a powerful automation system, which can continuously adjust the sound of individual tracks or the final mix.
When you're done, you can add cover art, show notes or lyrics, and share your projects as standard AAC files — the same high-quality audio format used by the iTunes Store. Send your finished work via popular messaging or file storage services such as email, iCloud or Dropbox — Ferrite supports iOS Sharing Extensions, to make the widest range of services available.
Details on pricing and availability are to be announced.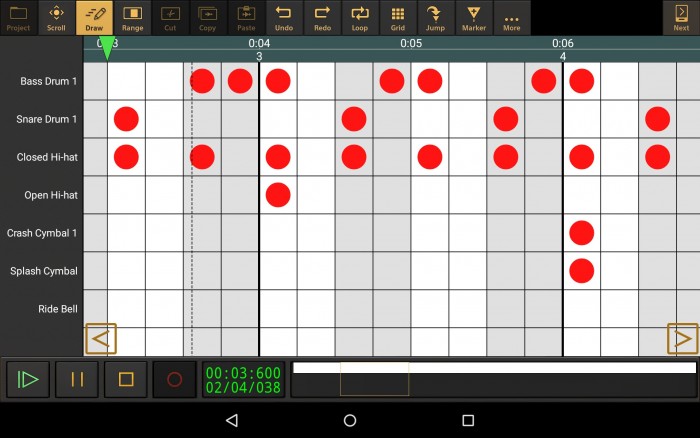 eXtream Software Development has released Audio Evolution Mobile 4, a major update to its Android DAW.
Version 4 contains many enhancements in the MIDI/instrument area including a drum pattern editor and easier workflow for working with instruments.

To offer a wide range of quality instruments, eXtream Software Development partnered with Digital Sound Factory to license original sounds from several E-MU rack synthesizers (Orbit, Planet Phatt, Xtreme Lead), the Native Instruments Kontakt Keyboards collection and 5 professionally recorded drum kits. These are available as in-app purchases.
Changes in Audio Evolution Mobile 4
Drum pattern editor: create drum tracks with ease.
New instrument selection screen with pre-listen facility: tap on an instrument to hear it or play your USB MIDI keyboard while changing between sounds.
Instrument selection screen now also features an option to purchase new soundfont packs: we have officially licensed instruments from Digital Sound Factory, including original sounds from several E-MU rack synthesizers like the Orbit, Planet Phatt and Xtreme Lead and from the Native Instruments Kontakt Keyboards collection. We also have 5 professionally sampled drum kits for different music styles (jazz, funk, rock, etc.).
Soundfonts use a lot less memory: only the data from used presets are loaded into memory.
New status screen showing connection status of USB audio and MIDI devices graphically.
Instrument tracks now feature an audio bus. This means you can now apply insert effects, output audio from instrument tracks to a bus etc., just like a regular audio track.
Instruments can now be selected from a new button in the mixer channel strip. Pressing the MIDI keyboard part of the button is the same as arming the track, popping up the virtual keyboard.
Added preference option to disable scrolling of the display during playback.
Added preference option to select the recording file type (wav/flac/ogg).
Added option 'Merge all clips' to MIDI track menu.
Added option 'Track options…' to audio and MIDI clip menu so that there is no need to find an empty spot on a track to trigger the track menu.
'Ask to fit clip' after leaving the piano roll editor now quantizes the clip to a whole bar.
Piano roll editor now defaults to a more usable zoom level.
The path where soundfonts are loaded from can now be set in the preferences.
When importing a broadcast wav file, the app will ask if you want to use the embedded offset information or not.
Recordings are now split at nearly 2GB instead of 1GB.
Added quantize to MIDI clip menu.
You can now use the green time marker to scroll the display (so you don't need to switch to Scroll mode in some situations).
You can now make changes (draw/remove/move) while playing a loop in the piano roll editor.
Creating a new MIDI clip by tap-and-slide on the time line now quantizes to whole bars for ease of use.
Added a 'Visit forum' option to the Help menu.
After changing sample rates, the start and end times of MIDI clips changed. Solved.
Quantizing triplets was incorrect. Solved.
Loop button was not always displayed in the piano roll editor, even when there was enough space. Solved.
Using the virtual keyboard during recording could cause more latency than during monitoring. Solved.
Audio Evolution Mobile is available for purchase for 5.99 EUR.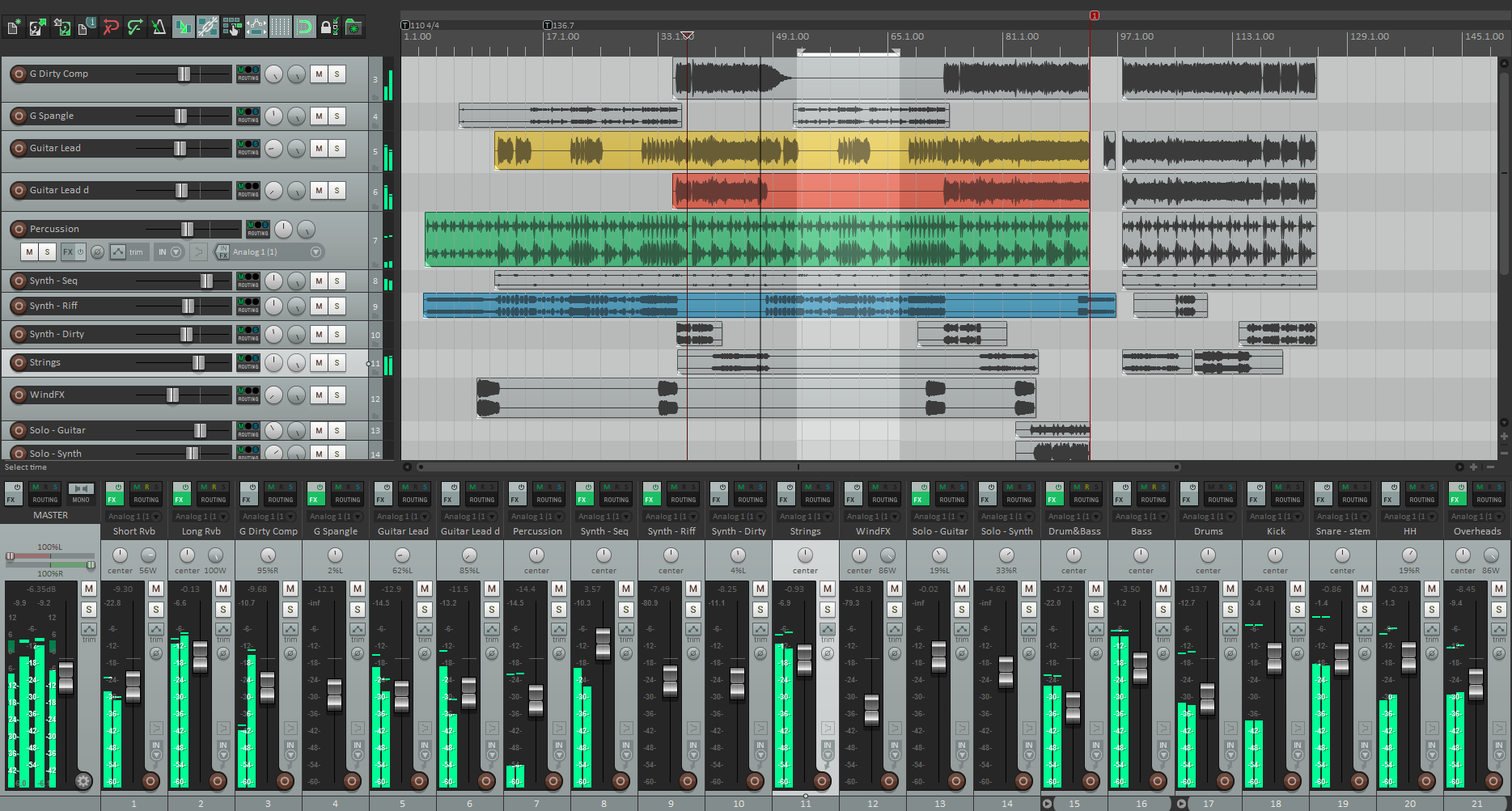 Cockos has released version 5.0 of Reaper, containing many under-the-hood optimizations and improvements.
REAPER is a complete digital audio production application for Windows and OS X, offering a full multitrack audio and MIDI recording, editing, processing, mixing and mastering toolset.

REAPER supports a vast range of hardware, digital formats and plugins, and can be comprehensively extended, scripted and modified.
Changes in Reaper 5.0
FX: VST3 support, sample-accurate automation for VST3 and JSFX, FX browser improvements.
ReaScript: API and scripting improvements, including a built-in development environment for creating and debugging scripts in LUA, EEL, or Python. Create anything from simple macros, to complex new functionality.
Control grouping: Flexible, automatable VCA control. Link groups of track controls together at any point in the signal flow.
Video: Many improvements to video support and performance, including real-time programmable track and item effect processing.
FX parameter automation: Full automation and MIDI/OSC learn support for per-take FX, improved FX envelope and modulation management via the Project Bay, increased automation recording speed.
And more: New GUI layouts, Media Explorer improvements, metronome beat patterns, Opus support, MIDI note-off editing, new volume envelope modes, new actions and API functions, and many other fixes and improvements.
Reaper 5 is available for purchase for $60 USD (discounted license) / $225 USD (commercial license).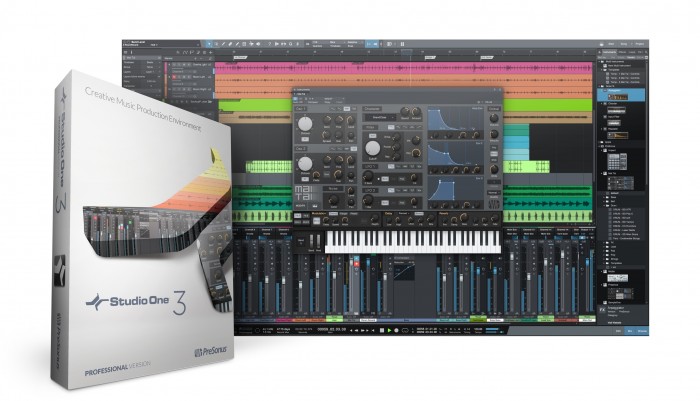 PreSonus has announced it is shipping Studio One 3, the most significant update to its powerful, easy to use digital audio workstation.
Available in Artist and Professional editions, version 3 adds true innovations in song arranging and experimentation, as well as inspiring new ways to craft unique and evocative sounds. In addition, Studio One 3 opens users to new ways to control and mix within the application as the first DAW to offer a dual platform (Mac and Windows), multi-touch interface. Furthermore, Studio One 3 Professional users now have the freedom to create away from the desk through Studio One Remote for iPad. The new Studio One promises to look as good as it feels, with a sleek, modern, configurable UI for high-resolution displays.
Innovations in arranging and experimentation
Studio One 3 Professional introduces the Arranger Track, which makes it easy to build and rearrange songs, letting you copy or move entire song sections with simple drag-and-drop. It has its own Track Inspector that shows all sections of the song, which also doubles as a quick navigation tool for your song.
Unique Scratch Pads, also in Studio One Professional, provide an independent parallel timeline that lets you safely experiment on alternate ideas without jeopardizing arrangements. Simply drag Arranger sections, individual content, or entire songs into the Scratch Pad, make edits, then drag it back to your main song. Unlimited Scratch Pads can be saved with your project, saving you the trouble of numerous alternate song files.
The updated Browser, found in both Artist and Professional, makes it easier than ever to find the content you're looking for, with tag-based "musical" search. You can now search for loops, samples, and presets by typing keywords like "genre" and "instrument" or by filtering content by selecting tags. The Browser also now has an integrated Cloud tab to access additional content online.
New ways to craft unique sounds
Extended FX Chains, new in the Professional version, provide new ways to build complex, multi-dimensional sounds by chaining and combining effects plug-ins in serial, in parallel by channel, or by frequency with up to five splits.
Also new in Professional, Multi Instruments allow you to combine multiple instruments as layers or splits in a single Instrument Track and play them like one instrument. Further dimensions can be added to a sound by using Note FX on individual Instruments layers within a Multi Instrument.
Note FX is a new plug-in type introduced in Studio One 3 that adds life to Instrument tracks by processing their note data. The four Note FX included with Studio One 3 Professional are Arpeggiator, Chorder, Repeater, and Input Filter.
Each console channel and Multi Instrument in Studio One Professional now offers Macro Controls, which allow individual instrument or plug-in parameters to be assigned to control knobs, switches, and X/Y pads for easy access. Multiple parameters can be assigned to the same control with independent settings for range/polarity/curve.
Inspiring Instruments
Studio One version 3 features a powerful new instrument engine that drives two new instruments.
Mai Tai is a polyphonic analog modeling synth for modern electro and bass sounds. Mai Tai's sounds can change character and produce drastic morphing changes and unique timbres. Its Multimode filter offers sounds ranging from vintage analog (a la Moog or Oberheim) to state-of-the-art, zero-delay feedback filters. Mai Tai's oscillators and LFOs have a free-run option, like an analog synth. And you can build enormously complex sounds with modular-synth-style operation through Mai Tai's 16-stage modulation matrix.
Presence XT is an expandable, full-featured sampler with a comprehensive sample library that covers all the bases. It offers disk streaming for large samples, and many sounds utilize articulation key-switching, scripting, and custom controls for unique sound parameters. Studio One 3 Professional includes a 14 GB sound library for Presence XT and can read popular sampler formats, including EXS, Kontakt, Giga, and SoundFont without conversion.
Much More
There are over 70 new features and updates included in the Studio One version 3 upgrade. Some of the more significant updates include:
Hands-on editing, mixing, and arranging via Mac and PC multi-touch displays
Customizable high DPI user interface
Studio One Remote for iPad® control
AudioBend time and pitch manipulation updated with élastiquePRO 3 algorithms
Rotor and Bitcrusher audio effects
Automation curves
1:1 Track view/console sync
Step recording
Smart, definable Alternate tool
Context-sensitive help, documentation, and tool-tips
Studio One 3 is now available in Artist and Professional versions, as both upgrades and full programs. In June, PreSonus will also introduce Studio One Prime, a fully functioning free version, which will provide a great way to get started with Studio One.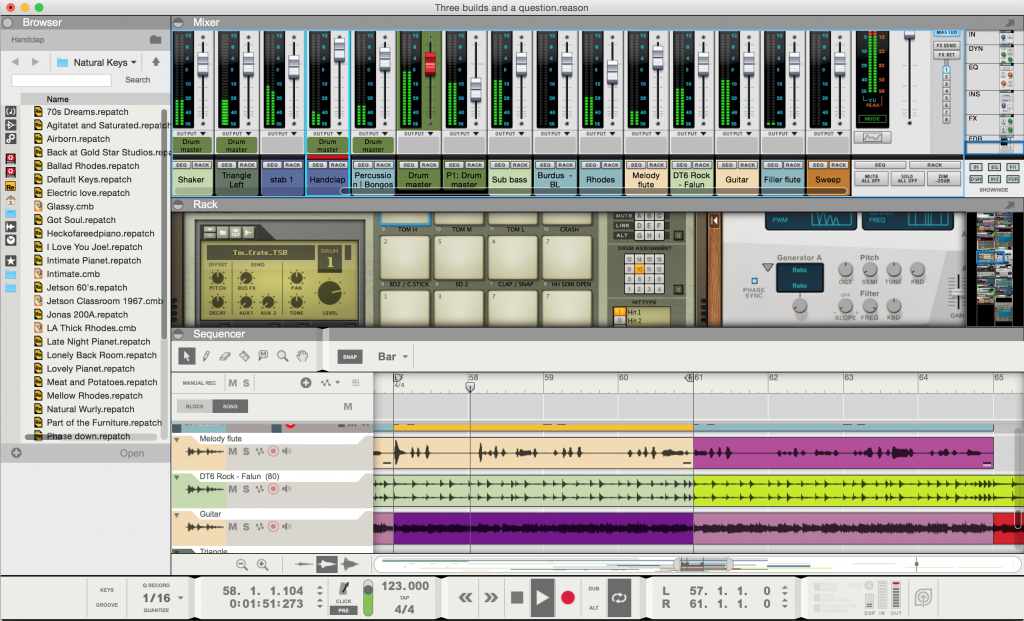 Propellerhead Software has announced the release of Reason 8.2, the most recent update of the award-winning Reason music production software.
The latest update makes it even easier for new and existing Reason 8 customers to download, install, and stay up to date with the latest version.
Eliminate the hassle of bulky manual installs with the new convenient auto-update feature. Reason now detects and downloads the most recent eligible software updates so you'll always have the latest and greatest version. Download and get up and running faster. A typical Reason update (minus the soundbanks) will now be around 100 MB—a tenth of its old size.

The Reason 8.2 update addresses many requested features including Revert browsing—a new workflow in Reason's browser that will be familiar to users of previous versions—more colors in the sequencer, expanded Remote support for Redrum Drum Machine, streamlined sound bank handling and more.

Reason 8.2 also gives you access to the newly introduced Propellerhead music-making service, which is continually updated with new features and functionality based on customer feedback. This free music making service connects the free Figure and Take mobile apps with the award-winning Reason music production software, so you can create, share, collaborate and remix with other musicians around the globe.
Reason 8 is available for purchase for MSRP 405 EUR/$449 USD. Reason Essentials 8 is 120 EUR/$129 USD. Reason 8.2 is a free downloadable update for Reason 8 owners.
Get it here – http://support.image-line.com/redirec…
Read about FL Studio 12 here – http://www.image-line.com/flstudio/fl…
FL Studio 12 totally reworks the user interface and adds exciting new features you have been asking for.

If you already own FL Studio the good news is you will get free access to the FL Studio 12 Beta and to FL Studio 12 release. So buy FL Studio now, and be the first in line to work with the FL Studio 12 Beta.
New in FL Studio 12 (beta)
Fully reworked scalable interface – Any screen size or resolution you use, FL Studio will always fit.
Multi-touch – Multi-touch capability extends to the Mixer.
Browser – New category tabs and the ability to delete content on right-click.
Channel Menu – The Channel Options Menu have moved from the Toolbar Menus to the Channel rack.
Channel settings – Have been integrated into the Plugin Wrapper (no more Channel settings pop-up).
Pattern Menu – The Pattern Menu has moved from the Channel rack to the Toolbar Menu and Pattern Selector.
Piano roll – Piano roll Auto-zoom can now be deselected from Settings > General > Auto zoom in piano roll.
Playlist – Multiple drag and drop for audio files onto Playlist (from a Windows file browser).
Stepsequencer – Step sequences are now interchangeable with Piano rolls.
VST Plugins – VST plugin installation & discovery improved and simplified.
Fruity Formula Controller – Updated, new UI.
Fruity Envelope Controller – Updated, 8 Articulators, Mod X/Y env, Smart Knobs, New UI.
Fruity Keyboard Controller – Attack smoothing, new UI.
FL Studio is available for purchase starting at $99 USD. New Image-Line customers can get 10% discount on their first order. The beta is now available to download for registered Image-Line forum users (registration is free).
Propellerhead Software has announced the release of Reason 8, a major new version of the award-winning Reason music production software which introduces a completely redesigned user interface and streamlined new workflow.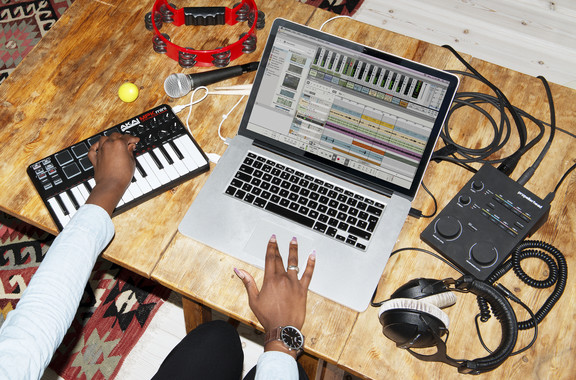 "Musicians and producers love Reason because it's both fun and inspiring," said Leo Nathorst-Böös, Propellerhead Product Marketing Manager. "For Reason 8, we've introduced a new creative flow that feels second nature to exploring sounds and developing songs. Whether you have lots of experience or just starting out, Reason is the fastest way to develop musical ideas and capture your inspiration."

Reason 8 introduces a redesigned user interface, fresh new look and even smoother creative flow. Quickly and easily access your sounds, loops and patches whenever you need them using a new browser and search window—a one-stop-shop for creative inspiration. Dial-in incredible guitar and bass tones with a collection of new amps from legendary circuit modeler Softube—simply plug in your instrument, crank up the volume and experience the uncompromising tone, response and dynamics of the world's finest classic amplifiers.

Reason 8 also features countless usability improvements that put the flow back in workflow. Drag-and-drop from anywhere to anything and work faster with fewer clicks. Edit your tracks quickly with more powerful sequence note editing. Reason 8 lets you flow seamlessly from initial idea to completed song. And, with an ever-expanding selection of Rack Extension plug-ins available in the Propellerhead shop, you can easily expand your rack to include everything your music needs—now and in the future.
Reason 8 is available for purchase for 405 EUR/$449 USD, Reason Essentials 8 is 120 EUR/$129 USD, and the Reason 8 Upgrade (from any previous Reason version) costs 129 EUR/$129 USD. Propellerhead is also offering a grace period for customers who purchased Reason 7 on or after July 1, 2014
Reason is the music software made with one thing in mind: you. And whatever music is on your mind, Reason makes it easier to bring it out. Version 8 brings a faster and easier interface with a whole new look and an even smoother creative flow. Drag and drop everything and everywhere. Find inspiring sounds instantly in the new, always open browser. Explore new amp and speaker models from Softube. Go faster from good ideas to great music than ever before. This is your Reason. This is Reason 8.
All details can be found here >>