Robert DeLong's tour manager and FOH engineer Matthew Lee explains why they carry their own PreSonus StudioLive mixer and simply give a stereo feed to the house.
Electronic singer-songwriter Robert DeLong has been named one of MTV's Artists to Watch for 2013, and is burning up dance charts with his unusually through-composed track "Global Concepts." Look for more about him in Keyboard magazine soon, but for now, enjoy this brief tour of the gear he uses to create his studio sound on the road.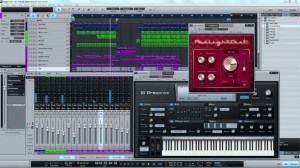 PreSonus is now shipping Studio One Free, a new entry-level version of its DAW for Mac and Windows.
Intended for beginners who don't yet need the advanced features in Studio One Artist, Producer, and Professional, Presonus says that Studio One Free provides all of the recording and editing features needed for basic music production-and as its name implies, it's free.
To get Studio One Free, simply download the Studio One installer from the Studio One Web site, install it, and then choose to run it as Free when the activation dialog comes up. Once you have downloaded the application, you can use it immediately; no Internet connection or user account is required, no product key is involved, and Studio One Free will not time out.
This new version of Studio One has some of the features originally found in Studio One Artist, including the single-window work environment, the content browser with Search, powerful drag-and-drop functions, Control Link MIDI mapping, sidechain routing, automatic delay compensation, real-time audio timestretching and resampling, unlimited audio and Instrument (MIDI) tracks, unlimited effects channels, and unlimited channel inserts and sends. Use native key commands or choose key-command sets from Pro Tools, Cubase, or Logic-or use the included editor to create your own key commands.
Studio One Free offers some of the new Studio One 2.0 features, notably multitrack MIDI editing, single and multitrack comping, and Track Transform (advanced track freezing). And includes the same 32-bit sound engine found in Studio One Artist and Producer.
Eight Native Effects plug-ins come with Studio One Free – Beat Delay, Channel Strip (which includes dynamics processing and EQ), Chorus, Flanger, MixVerb (a mono/stereo reverb), Red Light Distortion, Tuner, and Phaser – plus the Presence virtual instrument with more than 100 presets. Like Studio One Artist, Studio One Free does not support ReWire and third-party (VST, AU, etc.) effects plug-ins and virtual instruments.
Of course, Studio One Free does have limitations compared to Studio One Artist. For instance, a number of Studio One 2 features are not available in the Free version, including Folder Tracks, Transient detection and editing, groove extraction, and PreSonus Exchange integration.
 "Studio One Free provides a great introduction to the Studio One line, and it's very easy to upgrade to from Free to one of the advanced versions. Download the free demo of Studio One Professional, test it thoroughly, and at any time-even after the demo times out-convert it into Studio One Free with a single click. Ready to buy Studio One Artist, Producer, or Professional? Convert Studio One Free into a paid version at any time, without having to reinstall."
Pricing and Availability:
Studio One Free is available now from the PreSonus Studio One Web site.
More information:
Artists of all levels, from beginner to seasoned professional, will find Studio One a serious alternative to the intimidating, bloated offerings currently considered the standards.  It's a groundbreaking music creation and production application for Mac OS X and Windows XP/Vista/7 that makes audio recording, MIDI sequencing, and audio mastering ridiculously simple right out of the box.Studio One changes the rules of the game with fresh code, innovative drag-and-drop MIDI mapping and plug-in management, auto-configuration with PreSonus hardware, insanely good audio quality, unlimited tracks and plug-ins per track, and a powerful, inventive Start page.

And although Studio One Pro hit the scene just a year and a half ago, we've already added even still more pro chops with Version 1.6. From tracking to mixing to mastering and distribution, it's the creative environment built for intuitive use, speed, and efficiency–and yet it's robust enough for the most complex productions.

80+ v1.5/1.6 enhancements but still uncluttered and simple to use.

CLICK HERE for a cut-to-the-chase look at Version 1.5 and 1.6