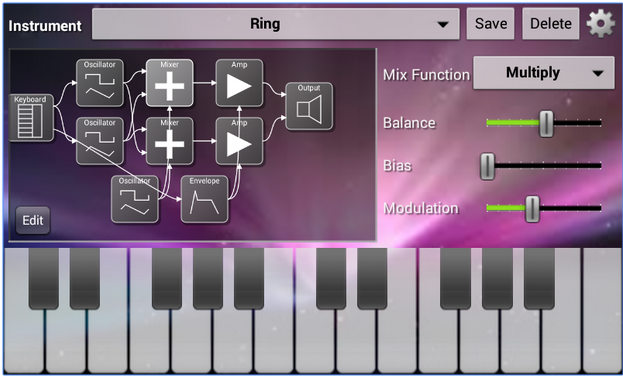 ModSynth allows the creation of many different kinds of music synthesizers. Connect any number of oscillators, filters, delays and other synthesizer modules in a graphical flow editor. Then, adjust the settings of each module while playing the instrument to get a desired sound. Save as many instruments or variants of an instrument as you'd like. Eight built-in instruments are provided to help you get started.
The free version is ad supported and contains the following modules:
– Keyboard to receive the notes as they are played (via the onscreen keyboard or a MIDI keyboard)
– Pad to control two dimensions of sound, such as pitch and volume, for theremin-like control
– Oscillator to generate different "raw" tones
– Filter to shape the overtones of the sound
– Envelope for describe how a value (such as overtones or volume) change over time
– Mixer to mix two sounds together
– Amp for change the amplitude of the sound
– Delay for delays and echo effects,
– Output to hear (and see!) the sound
In-app purchase the full version (for $4.99 US) to remove ads, unlock advanced capabilities, and access additional synthesizer modules:
– MultiOsc for smooth chorus sounds,
– Operator for building FM synthesis,
– PCM for sampled sounds,
– Sequencer for adding loops,
– Reverb for simulating room acoustics.
ModSynth has USB MIDI support for external MIDI keyboards. It has low latency on devices supporting Android low latency (such as Nexus). All oscillators are anti-aliased, providing low distortion at higher frequencies.
A guide to using ModSynth can be found at http://gallantrealm.weebly.com/modsynth.html.
If you don't see a capability you'd like, comment! There's a good chance it can be added!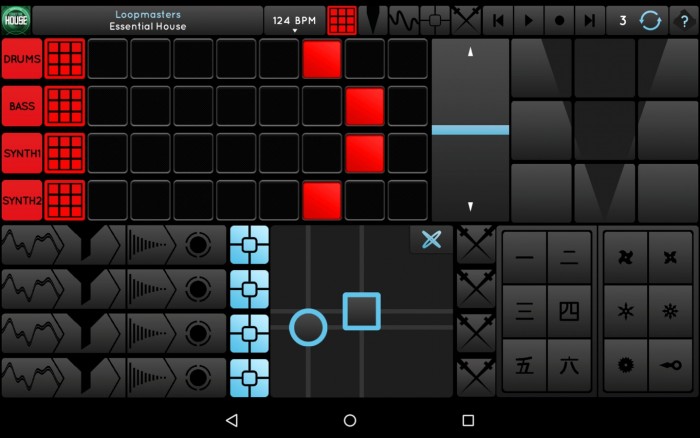 Ninja Tune has released Ninja Jamm for Android, a free, easy-to-use, touch-controlled, four-channel sample-based music-making app designed by Coldcut.
UK independent dance label Ninja Tune's Ninja Jamm puts you behind the wheel of an app that is a revolutionary combination of music and software. Instantly useable yet powerful, it will stun you with the music you can create. Build your own tunes from Samplepacks, and remix Tunespacks from Ninja artists. Touch to mix and mash clips in the clip matrix, trigger and scratch one shots, tilt and shake to apply radical FX, and record and share your jamms.

The app is FREE with 4 packs of content from Coldcut, Roots Manuva and sample dons Loopmasters. Purchase the Share+ extra to access all the Share options and the Android-only special function MultiScreenLayout which opens up even more fun, for less than half the price of a coffee!
The app is now available for download for both iOS and Android.
Coming soon – http://www.ikmultimedia.com/gmandroid for more information
Remixing Reinvented – Loop remixing taken to a whole new dimension
GrooveMaker® 2 is the revolutionary Android app that lets you to create non-stop electronic, dance and hip-hop tracks, in real-time, anywhere, with results that sound like they were produced by a professional DJ.
Making music with loops will never be the same.
Quick show of the 'Kosmische Virtual Analog Synthesizer' that's out there for Android smartphones.
"I have it on my Samsung Galaxy S5 and enjoy using it. Here's more about it at AlltFörMusik.se (in Swedish but Google translate might help) – http://alltformusik.se/kosmische-virt… "
Kosmische virtual analog synthesizer:
Two multi-waveform oscillators: Saw, Pulse, Sine, Noise
A Moog-style resonant lowpass filter
Two multi-waveform, routable LFOs: Sin, Triangle, Pulse, Random
Independent filter and amp envelopes
Tuneable delay and reverb
An analog-style step sequencer
A scale-derived random pattern generator
Independent patch and pattern memory
Random patch generation
Showcase of version 2.0 of Mikrowave displaying the revamped user interface, all-new formant filter interpolation, arpeggiator, secondary tuneable oscillator, pitch shifting effects and fine tuned drum sounds.

Mikrowave is available for free (without ads or time constraints) and as a paid version that allows users to save and export their songs (either as WAV, publish directly to SoundCloud or as MIDI).

All sounds were generated by Mikrowave on an Asus Nexus 7 tablet.

You can get it on Google Play : https://play.google.com/store/apps/details?id=nl.igorski.mikrowave.free
Supplemental video to the Caustic 3 overview video to show what's new in this release.
The full app overview is here:
https://www.youtube.com/watch?v=q86Or…
New KSSynth tutorial is here:
https://www.youtube.com/watch?v=qaOF6…
As a thank-you to those who actually *watch* these tutorial videos, I've made this little tutorial showing how to unlock a fun little extra feature in Caustic 3.1
Google Play: https://play.google.com/store/apps/de…
ARPIO is a new musical instrument designed to play arpeggios*. Move up-and-down the matrix to set the pattern's speed, or left-and-right to set its pitch. Tilt the device to control volume and pitchbend, or shake for vibrato.
A similar version of ARPIO is available on iOS devices, under the name Arpeggionome (http://arpeggionomepro.com)
*An arpeggio is a musical technique where notes in a chord are played in sequence, rather than ringing out simultaneously.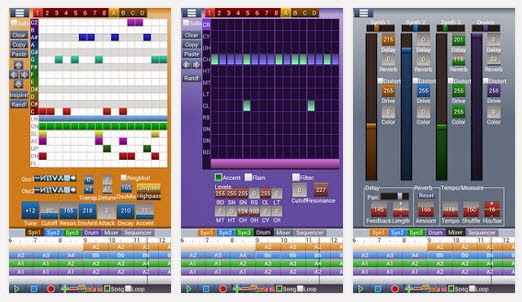 Phoenix Studio is coming to Android and iOS. Three monosynths, a drum machine, a mixer and some effects – what else do you really need? Oh yeah, a sequencer, so you can put it all together! And all this is what PhoenixStudio is!
Below is a text from Android Mobile on the topic:
This is a great new addition to the Android music making applications if you are interested in the more acid / synthesizer aspect of music making, but can of course be used for more than acid type of sounds. It comes with three Synthesizers and one Drum track with the possibility to sequence and comes with some effects plus the possibility to record changes on the fly.
It is the same amount tracks, sound modules and being 303'ish in the sounds it creates it could be compared to Mikrosonics RD4. The biggest difference is that RD4 is much easier to use as a Groovebox ( if not the easiest to use Groovebox ) and RD4 comes with more effects, more possibilites and full midi integration but…
Have not used PhoenixStudio much but my impression is it seems to have much clearer and better sound, making it interesting for people that would like something similar to RD4 but are more interested in the sound and less in the Groovebox aspect.
This is a demo of my new app moonsynth running on a nexus7 2013 tablet with the monribe, volca bass and drums ad the akai mpx8 jacked into the monotribe audio input. Hard to see the tablet but moonsynth is running clean into the mixer which is plugged into a zoom g3 to add effects to all the parts.
LIVKONTROL – an Ableton Live controller previously available for iOS – is now available for Android devices.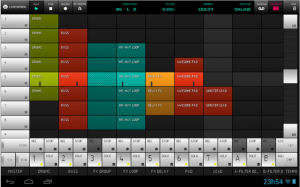 Here's what the developers have to say about it:
LIVKONTROL aims to deliver the best possible experience controlling Ableton Live remotely. Boasting an extremely simple yet functional design, all the main control features are at a distance of a finger. Alternative application views are toggled via multitouch gestures for a even simpler usage experience.
LIVKONTROL is also considered by users as the easier and most responsive Ableton Live remote controller for mobile devices due to it's plug & play connection to Ableton Live, using LKBRIDGE.
Features:
Remotely control your Live session
Easy to set up
Scrollable viewport for full scene access
Scene launch buttons with scene name
Clips reflect color, name, play status and position
8 MIDI sliders for custom MIDI assignment
Mute, stop, solo and arm tracks
Control track volumes and pan easily in a and space saving format
Interface lock feature
Song play, stop, record and tempo control
Metronome control
Tempo tap up and down
Quantization selection
Requirements:
In order to use LIVKONTROL, it is necessary to download and install LKBRIDGE, the required connection software. Windows and Mac OSX version are available.
LIVKONTROL for Android is available now, with a free version, a $9.99 basic version and a $29.99 Pro version.