Phoenix Studio is coming to Android and iOS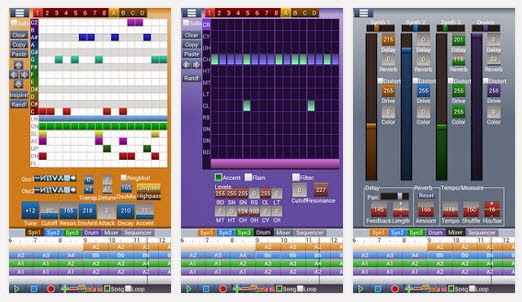 Phoenix Studio is coming to Android and iOS. Three monosynths, a drum machine, a mixer and some effects – what else do you really need? Oh yeah, a sequencer, so you can put it all together! And all this is what PhoenixStudio is!
Below is a text from Android Mobile on the topic:
This is a great new addition to the Android music making applications if you are interested in the more acid / synthesizer aspect of music making, but can of course be used for more than acid type of sounds. It comes with three Synthesizers and one Drum track with the possibility to sequence and comes with some effects plus the possibility to record changes on the fly.
It is the same amount tracks, sound modules and being 303'ish in the sounds it creates it could be compared to Mikrosonics RD4. The biggest difference is that RD4 is much easier to use as a Groovebox ( if not the easiest to use Groovebox ) and RD4 comes with more effects, more possibilites and full midi integration but…
Have not used PhoenixStudio much but my impression is it seems to have much clearer and better sound, making it interesting for people that would like something similar to RD4 but are more interested in the sound and less in the Groovebox aspect.
Comments