Background details below:
nds4droid release 13
nintendo DS Emulator for android
http://jeffq.com/blog/nds4droid/
please support this project
nds4droid can be found for free in the google play store
tested with Quad-core 7 inch Acer Iconia Tab A110 android 4.1
sound confirmed working on
korg nintendo ds-10
korg nintendo ds-10 plus
korg m01
but all sound produce buzzy ringing noise
Electroplankton is clippy
working better with homebrew
tr909 !!
Korg Monotron DS 0.2 BETA !!!
DStepV2 !
tonesynth 24
Just testing out the Audioid app for Android – includes a TB-303 and TR-808 emulation and effects.
AUDIOID is an advanced mobile electronic music rhythm composer for Android, combining the mythical TR-808 drum machine and the TB-303 bassline/groovebox with real-time filters, effects, randomness and a live approach.
FUTURE FEATURES
- Tap pad
- Bpm detector
- More effects (reverb, delay, chorus, etc…)
- More drum kits (909, 606, etc…)
- File save/load/export/import
- Equalizer presets
- A second TB-303 bassline/groovebox
- Better UI and better performance
FEATURES
- Sound quality 16-bit PCM at 44KHz or 22Khz
- Minimal latency supported by the device
- Linear and logarithmic knobs and bars
- Visual pitches synced with the tempo
- TR-808 drum machine style and sounds
- TB-303 bassline / groovebox
- Independent mixer levels for the drum machine, the bassline and fxs
- Independent levels, mutes, solos and fxs for each drums
- Memory of 4 banks of 8 patterns with 16 instruments containing 16 steps maximum each
- Memory of 4 banks of 8 patterns with 39 notes containing 16 steps maximum each
- Pattern edition (Copy, Clear, Cut, Paste, Randomize)
- Real-time effects (Flanger, Phaser, Distortion and Bitcrusher) with various parameters
- Audio FFT visualizer (waveform and frequency bands)
- Multitouch equalizer from -10dB to +10dB for each supported frequency band
- Low pass frequency filters from 1 Hz to 22kHz
- Fine and terribly efficient bass boost
- Presets can be saved and restored at any time
- Anti-clipping
Remake of the Daft Punk Track 'Tron Legacy', created with G-Stomper 2.0 Drum Machine for Android using the new piano controls
(Device: Samsung Galaxy Tab 10.1)
"Big Respect to Daft Punk for creating this awesome Track."
G-Stomper is a highly optimized Drum Machine/Groovebox for doing electronic live performances on your Android device.
https://play.google.com/store/apps/details?id=com.planeth.gstomperdemo
https://play.google.com/store/apps/details?id=com.planeth.gstomper
Official Website:
http://www.planet-h.com/gstomper/
Quickly sketching a groove on MikroWave, the sequenced synthesizer for Android devices. The video shows how a bubbly bass line can be created and what modifiers are available to the synthesizer and drummachine.
You can get it on Google Play : https://play.google.com/store/apps/details?id=nl.igorski.mikrowave
You can also test drive the FREE version (fully functional with the omission of saving and exporting of songs/audio). You can find it under "more apps from this developer" on Google Play.
MikroWave, the sequenced synthesizer for Android developed by igorski.nl, being put through its paces. This video shows the generic sequencer navigation / use, introduction to the synthesizer and a lot of crude auditive side effects when used by a monkey.
You can find the application on Google Play here:
https://play.google.com/store/apps/details?id=nl.igorski.mikrowave
or visit its development website:
http://www.igorski.nl/mikrowave
Description of the app:
Ever fancied a sequenced synthesizer that fits in your pocket ? So did we.
MikroWave is a deceptively simple audio synthesizer ideally suited for quickly sketching out your musical ideas when on the move. Patterns can be created in the sixteen step sequencer, with no limit to the amount of bars your composition requires. Apart from the basic waveforms there is also a secondary oscillator which can be routed to different targets for harmonically enriching your initial sounds. You can shape the basic palette from friendly cheesy 80s trumpets via stuttering robots to totally unlistene-able sonic mayhem. If anything, you can sure annoy people on the bus.
For further improvisation there is a multi-touch keyboard allowing you to play along with the sequencer for quickly testing new ideas. When you're pressed for time, you can save a song in progress and return to it later for finishing your idea, or plainly reliving your initial enthusiasm when creating that bubbly, acid bassline over that funky beat you had a brilliant destination for.
Apart from working from your mobile device, your songs can be exported in WAV format, uploaded to SoundCloud for direct sharing, or you can export your songs as MIDI data so you can continue work on your desktop computer / other hardware devices.
MikroWave is actively being updated, so keep your eyes peeled for notifications to be sure you're getting all the latest features. You may also aid development by leaving suggestions and sharing your ideas on the website.
Just to be clear: MikroWave doesn't rely on samples for sound generation, but actually synthesizes sound. For best performance your device should have a dual core CPU, though the newer generation of Gingerbread and Ice Cream Sandwich-ready devices should have no problems running the application.
When in doubt, MikroWave is also available as a FREE version, note that saving of songs is disabled in this version.
This is a special version of the PixiTracker designed for TRUE 1-BIT SOUND like on old microcomputers.
Android version: https://play.google.com/store/apps/details?id=nightradio.pixitracker1bit
iOS version coming soon…
Homepage: http://www.warmplace.ru/soft/pixitracker
Want to make a donation? http://www.warmplace.ru/donate
Silly but fun
Download for FREE for iPhone and iPad: http://bit.ly/AutoRapDemo
Download for FREE for Android devices: http://bit.ly/AutoRapDemo-Android
YO. This is AutoRap.
It turns speech into rap and corrects bad rapping.
With Smule's patent-pending "rappification" technology, AutoRap maps the syllables of your speech to any beat, creating a unique rap every time.
Talk into the app, and AutoRap magically morphs your speech into a legit rap. Create your own original rap songs with Freestyle Beats, or use Premium Songs from artists like Snoop Dogg and Nicki Minaj, to AutoRap with the songs you know and love.
Note: Headphones recommended for maximum enjoyment.
Example of using. Music Riff Studio for Android
Download from
http://www.samsungapps.com/topApps/topAppsDetail.as?productId=G00007778176
Compose music everywhere! Drum machine, step sequencer, loop editor, wavetable synthesizer. Guitar distortion, mute strings distortion, bass, drums and so on. You can save and load your loops without restriction. You can exchange loops with others (send via email or Evernote). All in one. The best solution for mobile rhytm section. Created by music composer for music composers. Use earphones for better sound.
A visual instrument for meditation and musical observation. Available on Google Play.
Built with Processing (for Android), Pure Data (libPd). HTML 5 version coming soon.
Created by Agoston Nagy, SoundBow is a free sound instrument for Android devices which allows you to create melodies by drawing curves on the screen. Your curves are be remembered and played back continuously. Each time your ever-looping gesture hits a string, a sound is produced.

SoundBow is built with Processing (with native Android functions) and the sounds are handled by the free visual patching language Pure Data (using libPd for Android ).

Reusable source code & HTML 5 version (based on the mighty processingjs and the html5 audio tag) is coming soon.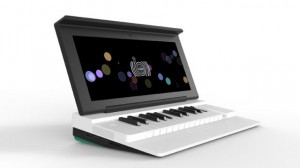 Miselu has been slowly debuting new apps for its Android-powered music making device, Neiro, for a while now. But at the Google I/O convention, music-making on the Neiro just got serious. Since SXSW the hardware reference design continues to mature, but mainly focused on the software side and have released our music SDK alpha to a select group of developers that used our Miselu emulator environment (alpha for Mac and Linux) to the build apps.

Showing off a flashy Korg Polysix synth and telling us of some additional news regarding the Yamaha Vocaloid technology, Miselu's Malte Goesche explains: "Yamaha has produced a Vocaloid application prototype for the Miselu platform. The app (codename MV-01) is produced by music game designer luminary Tetsuya Mizuguchi.
"Vocaloid is a singing synthesizer technology developed by Yamaha that uses concatenative synthesis to splice and process vocal fragments extracted from human voice samples. Vocaloid allows you to create an authentic computer-generated singing voice with text-to-lyrics capability."
With the launch of the Polysix, it seems that Korg is committed to developing for this aspiring Android music platform, too. Hironori Fukuda from Korg says: "The Miselu platform has brought us a great opportunity to develop a synthesizer application with a totally new user experience.
"The reason we decided to create the Polysix is that the platform has already been perfectly customised for synthesizer use with low latency audio playback based on their great MusicSDK, a wide multi-touch display and a built-in musical keyboard. It was quite easy to port from our Polysix software. The Miselu platform is all set for music creation."