This is a demo of my new app moonsynth running on a nexus7 2013 tablet with the monribe, volca bass and drums ad the akai mpx8 jacked into the monotribe audio input. Hard to see the tablet but moonsynth is running clean into the mixer which is plugged into a zoom g3 to add effects to all the parts.
LIVKONTROL – an Ableton Live controller previously available for iOS – is now available for Android devices.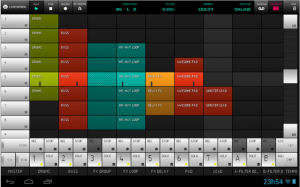 Here's what the developers have to say about it:
LIVKONTROL aims to deliver the best possible experience controlling Ableton Live remotely. Boasting an extremely simple yet functional design, all the main control features are at a distance of a finger. Alternative application views are toggled via multitouch gestures for a even simpler usage experience.
LIVKONTROL is also considered by users as the easier and most responsive Ableton Live remote controller for mobile devices due to it's plug & play connection to Ableton Live, using LKBRIDGE.
Features:
Remotely control your Live session
Easy to set up
Scrollable viewport for full scene access
Scene launch buttons with scene name
Clips reflect color, name, play status and position
8 MIDI sliders for custom MIDI assignment
Mute, stop, solo and arm tracks
Control track volumes and pan easily in a and space saving format
Interface lock feature
Song play, stop, record and tempo control
Metronome control
Tempo tap up and down
Quantization selection
Requirements:
In order to use LIVKONTROL, it is necessary to download and install LKBRIDGE, the required connection software. Windows and Mac OSX version are available.
LIVKONTROL for Android is available now, with a free version, a $9.99 basic version and a $29.99 Pro version.
Caustic 3 is a music creation tool inspired by rack-mount synthesizers / samplers rigs.
Everything is real-time and optimized for mobile devices.
Create your rack by adding up to 14 machines from a choice of:
* Subsynth – Virtual analog subtractive synthesizer
* PCMSynth – Multi-sample wave synthesizer
* BassLine – 303-like monosynth
* BeatBox – 8-channel sampling drum machine
* PadSynth – Harmonic table pad synthesizer
* 8BitSynth – 8bit equation solver synthesizer
* Modular – Fully configurable and routable synthesizer
* Organ – Hammond-like tonewheel organ with rotary speaker
* Vocoder – 8-band harmonic vocoder
* FMSynth – DX-style 3-operator fm synthesizer
The app also includes:
* Effects rack supporting 2 effects per machine. (16 effect types)
* Mixer desk with global Delay/Reverb effects
* Master section with parametric EQ and limiter
* Song sequencer
Supports automation on most controls and includes powerful editors for modifying recorded automation curves.
All files are stored on the user-accessible storage, and users can supply their own WAV files for use in the PCMSynth, BeatBox, and Vocoder.
Supports all uncompressed WAV files (8-16-24-32bit, any sampling rate).
The PCMSynth can also load SoundFont files (.sf2) and FL Studio mobile instruments (.instr, .ZIP)
Class-compliant USB MIDI controllers can be connected via USB OTG cable on devices running at least Android 3.2 and supporting USB host mode.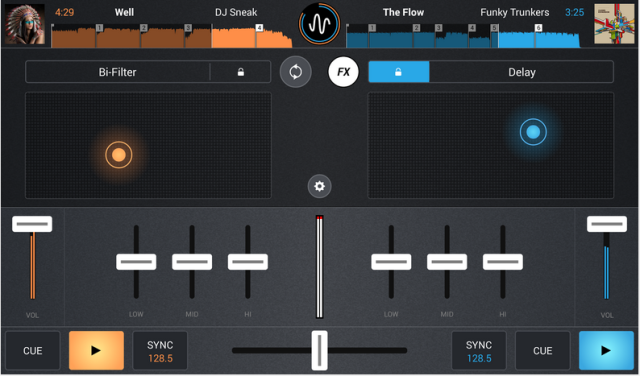 MixVibes has released Cross DJ for Android, an app they call the 'first pro DJ app' for the platform.
Features:
Mix in Sync

Accurate BPM detection, right down to the last decimal.
Sync button: one-press, and the 2 tracks never go out of phase.
Manual pitch & pitch bend.
Beat-grid editing, to sync your old tracks correctly.
Parallel waveforms: to visually check if your tracks are synced.
Quantize mode: set hot cues & loops automatically on the beat.
Smart-seek: Tap on the waveform to fast-forward & get a seamless jump.

Audio Performance

Low latency: music reacts instantly to your actions.
Extremely realistic scratch sound.
15 effects (Bi-filter, Low-pass, Hi-Pass, Delay, Echo, Phaser, Flanger, Cut, Crush, Bliss, Brake, Roll, etc.)
No loading time when starting-up the app.

Interface

1 crossfader, 2 turntables, 3-band EQ mixer.
Direct access to your device's music( MP3s, AAC & more.)
Multiple music sorting options: title, artist, album, BPM or length.
Large control pads: XY effect pad, 16 hot-cues pads.
HQ live recording of your mixes.
Optimized for display on 4″, 7″ & 10″ devices.

Minimum Configuration

Android 4.1
Android 4.3 for recording
4″ screen
RAM: 1GB
Dual-core processor
Cross DJ for Android is $4.99 – Get it here >>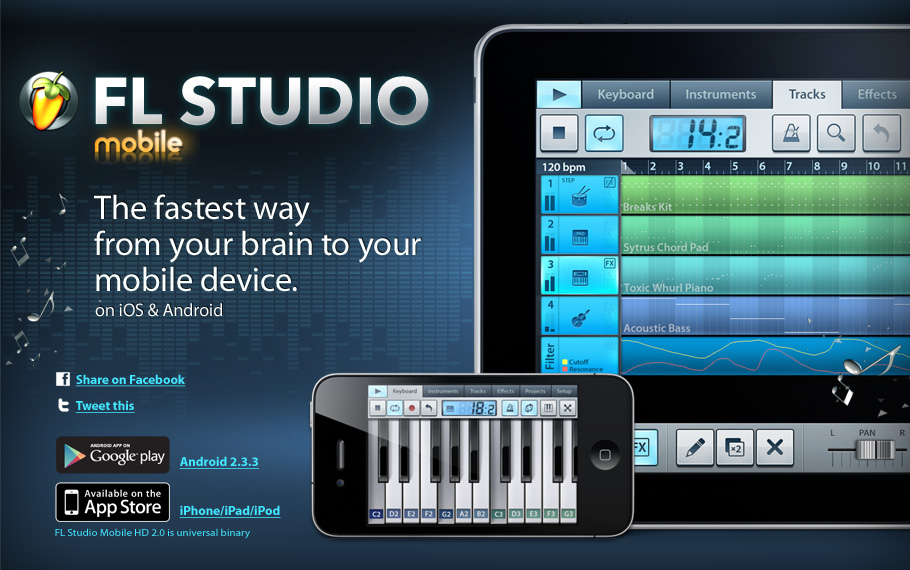 Image Line Software has released an update to FL Studio Mobile for Android and iOS. This is a free update for existing FL Studio Mobile customers.
Here's what's new in FL Studio Mobile Android 1.2:
HD graphics for 1080p and 720p devices (removes side bars)
Sequencer timing accuracy significantly improved
Fixes various expansion file download and mounting errors
Fixes wrong sample mapping after zip instrument import
Minor other bug fixes and performance improvements
Here's what's new in FL Studio Mobile 2.2 iOS:
New features:
MIDI start/stop slave and master
Input gain slider in the recording window (visible with external mic connected)
AudioCopy 2.0 support (iOS 7 compatible)
WAV export option to write 1 file per track
Performance & speed:
Major performance improvements (play more tracks without audio dropouts)
Audio file editing is up to 5x faster
Reverb quality and performance improved
Other improvements:
Audio recordings are placed more accurately
Setup latency options removed, it's now always at minimum
Filenames can now contain non-latin characters
Inbox folder is no longer present, files are moved to the top level folder
.flml (drum loop) files can be opened from other apps like Mail or Safari
Overall stability greatly improved
The Android version of FL Studio Mobile, at version 1.2, trails the iOS version significantly. Image Line says that the feature-set of the Android and iOS versions will be harmonized in future updates, including the addition of the following features to the Android version:
Audio tracks and wave editor
Background audio (playback while the app runs in the background)
SoundCloud upload
In-app shop
While projects, .flm format, are compatible between Android and iOS, if audio tracks are present they are ignored. If instruments are not avaiable the MIDI data is loaded and the a default instrument is used.
Pricing
Android: $19.55 USD
iOS: FL Mobile HD (universal app): $19.99 USD
Demo of MikroWave 1.5.0 running on a Asus Nexus 7 tablet (though it will run fine on mobile phones as well). As of this version, the audio engine has been overhauled to run in a native layer for high performance audio with low latency (the delay between an action and hearing the result).
Devices running Android 4.2 (Jelly Bean) should benefit greatly with an extra increase in performance, while the application runs from Android 2.3.3 (Gingerbread) upwards.
You can try it for free (NO ads, NO time limits) on Google Play:
https://play.google.com/store/apps/de…
Get the free demo version on Google Play: https://play.google.com/store/apps/de…
Turn your phone or tablet into a musical instrument! RD4 – Groovebox is a music making app with virtual analog synthesizers, drum machines and effects.  Compose and arrange your music in real-time. Choose instruments individually for the 4 channels. Record live or set notes with the dedicated sequencer or piano roll of each instrument. This multi-touch enabled app makes it simple to invent unique loops and musical phrases. Manipulate the sound of the synthesizers by tweaking the oscillators, resonant filters and audio envelopes. Add audio effects like reverb, distortion, phaser, filter and delay to your sounds. Appropriate both for experienced musicians and beginners. Loops you've created and exported with RD4 can also be automatically integrated into mikrosonic's audio mixer app SPC – Music Sketchpad.
Feature Overview
Mixer:
– 4 channel rack mixer
– Instrument selection for each channel
– Volume control with level meter per channel
– Direct audio effect channel assignment
– Tempo control with tap tempo
– Channel mute and solo
Sequencer:
– 2 banks with up two 8 bars per instrument
– Adjustable play modes from 1 to 8 bars and random modes
– Song Mode with a length of up to 99 bars
Choose between two virtual analog synthesizers and the drum machine for each channel:
Analog
– Modeled after legendary monophonic synths of the '70s
– For fat sounding bass and powerful lead sounds
– 3 oscillators with 6 different waveforms
– Each oscillator can be tuned precisely and has a warmth control for the typical analog sound
– Attack, Decay, Sustain and Release envelope generator
– Pitch wheel
– Low-pass filter (24dB/oct, 4-pole) with knobs for cutoff, resonance and an Attack/Decay/Sustain envelope generator
– Recording of played notes in real-time (depending on devices capabilities)
– Piano roll for editing recorded notes comfortably
– Or compose by drawing notes directly with the piano roll in 1/16 or 1/32 resolution
– Piano roll editing features: Transpose Pattern, Shift Sequence and Quantize Pattern
Bassline
– Reminiscent of the legendary 303 synthesizer
– Create bubbling basslines and screaming lead sounds
– High-quality low-pass filter with resonance, cut-off, and envelope controls
– Oscillator with 4 types of waveforms
– Real-time step sequencer with accent and slide
Beats
– Program beats with 10 classic drum kits: 808, 909, 606, CR-78, Linn, KR55, RX11, RZ1, DMX, DPM48
– Booming kick drums, snappy snares and throbbing percussions
– 8 channels per drum kit
– Punch control for volume and envelope adjustments
– Accent programmable for each drum channel
– Free assignable effects for each drum sound
– Channel mute, Closed Hi Hat can mute the Open Hi Hat
– Real-time pattern based step sequencer
Audio effects:
– 5 effects: Reverb, distortion, filter, phaser and delay
– Real-time controllable
– X/Y control field for each effect
– 4 effect sends
– Chaining of 2 effects
Technical features:
– Customized layouts for phones, 7 and 10-inch tablets
– Special additional rack view in portrait mode for 10-inch tablets
– Multi-touch control
– Live session recording
– Audio loop export feature
– SoundCloud Sharing Kit integration
– Session save capability
– Cut/copy/paste pattern
– OpenSL support for low latency*
– App2SD
System Requirements:
– Android 4.0 or higher
– Screen resolution 800×480 (WVGA) or higher
– 1 GHz CPU or faster supporting ARMv7
* Please note that for recording in real-time with the Analog synthesizer you will need a low latency Android device with Android 4.2 like the Google Nexus 4 or 10 or the Samsung Galaxy Nexus. Read more about audio latency on our FAQ: http://www.mikrosonic.com/faq
More details at: http://www.mikrosonic.com/rd4
This demonstration video will help you get started. It will show you how to create a very simple loop, then it will use that loop to create the intro for a simple song.
NOTE: There is a small mistake at 1:47; where the captions mention 'notes', they should instead reference 'beats'. This will be fixed soon!
For more help, visit syntheogen.com.
Syntheogen is a music sequencer and synthesizer for Android phones and tablets, developed from the ground-up to run smoothly on mobile devices and designed to be accessible to all users, even beginners. Syntheogen produces techno, drum & bass, and other electronic styles; it can also produce backing tracks with hip hop or synthpop sounds.
The current version is a beta release; it has been tested internally, but this is its first exposure to the public, so you might find a few bugs. A finished, 'stable' release will be available soon!
Google Play Store – https://play.google.com/store/apps/de…
iTunes – https://itunes.apple.com/au/app/fl-st…
Info – http://www.image-line.com/documents/f…
FL Studio Mobile is now available for Android and iOS. Use it on any smart-phone or tablet running Android or iOS
A Google/Asus Nexus 7 was used in this video
FL Studio Mobile HD allows you to create and save complete multi-track music projects on your iPad, iPhone and iPod Touch. You can even load the FL Studio Mobile projects into the 'FL Studio Desktop PC' version* and take them to the next level.
If it's a beat on the step sequencer, a melody on the piano roll or a full song on the playlist, FL Studio Mobile has you covered. Never lose that idea again. Get it down and happening wherever you are.
FEATURES
• 133 high quality instruments, drum kits & sliced-loop beats
• In-app shop with 7 sample packs (250 instruments/kits), 2 of them are free
• All instruments have FL Studio desktop counterparts for FL Studio desktop import and extension
• Step sequencer for fast percussion programming and sliced-loop reworking
• Configurable virtual piano-keyboard
• Drum pads
• Audio tracks: audio recording (with monitoring), iPod library import, wav/mp3/aac import, AudioCopy & AudioPaste
• Wave editor: cut, trim, normalize, reverse, insert silence, fade in/out (3 curves)
• Record up to 24 channels simultaneously with CoreAudio (class compliant) hardware
• Background audio playback and recording
• Browser with preview button and logical sorting into Instruments, Synths, Drum kits & Loops
• Sampling: custom kits and instruments can be created from wav/mp3 files, AudioPaste, .zip and .instr files (created with FL Studio desktop)
• Pan, volume, release and attack time configurable per instrument
• Pitch bend via accelerometer
• Low-latency, iOS-optimized, high quality, battery-friendly audio engine
• Drum loops and sliced loops ready to start your project with a cool beat
• Effects include Limiter, Reverb, Delay, EQ, Amp simulator & Filter to enhance your mix.
• 99 track sequencer and intuitive editing options
• Per-track mute, solo, effect bus, pan and volume adjustment
• Edit at the level of tracks, bars or down to individual notes
• Piano roll editor for manual entry of note & chord sequence data or detailed editing of recorded performances
• Unlimited undo and redo for all editable screens
• Metronome with tempo & time-signature settings
• Intuitive positioning of screens with the slide gesture and resize with the pinch gesture
• Save and load your songs, export to WAV and AAC
• MIDI file import/export
• SoundCloud and Dropbox upload
• Email export, AudioCopy, iTunes file sharing and an integrated WiFi server
• Audiobus support (input & output)
• In-app user manual
• Retina Display graphics
• Compatible with: CoreMIDI (MIDI in and out), Virtual MIDI, Line 6 MIDI Mobilizer I & II, Akai SynthStation 25, iRig, iRig Mic, iRig MIDI, Yamaha i-MX1, Apogee Jam, Blue Mikey, Alesis IO Dock, iConnectMIDI, Line 6 Mobile Keys, Line 6 Mobile In, Tascam iU2 and many more.
Visit www.flstudiomobile.com for video tutorials, demos and access to the FL Studio Mobile community. For sales support email flstudiomobile@image-line.com.
This is a Nexus 7 running Android 4.2.2. Android 2.3 will be the minimum Android version supported.