RHYTHMUS by ELECTROSTUDIO
A free vst plugin that is an emulations or inspired by of vintage classic rhythm machine and drum machines
for more information visit
http://www.elektrostudio.ovh.org/
http://www.elektrostudio.ovh.org/index2.php
Rhythmus is inspired by an old rhythm machine. There are ten buttons available, each button can play two different rhythm sections so essentially there are about 20 different rhythmic loops offered, such as samba, mambo, tango, waltz, rumba etc. When you click "open", you can change the tune, volume, pan of each rhythm component such as snare, bongo, cowbell, hi-hat, etc. You can mix these rhythmic sections with Tambourine, Guiro, Quijada sounds.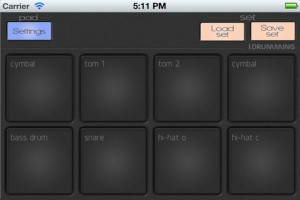 iDrumming is free drum pad app for iOS that features very low latency, changeable pitch and volume for each sample, 16-bit sampling, multitouch capability, autorepeat with 1 tap, the ability to save custom sets, and 2 different stop modes.
iDrumming is a 'freemium' app, with  11 unlocked samples, and an additional 200+ can be auditioned and can be unlocked through a $.99 in-app purchase.
Feature Highlights:
8 pads on iPhone, 12 on iPad
Very low latency
More than 200 optional samples to choose from, grouped into 6 categories
Changeable pitch and volume of every sample (useful for tuning toms, etc.)
Two different stop sample modes
Autorepeat at one tap
Continuous mode for loops or rattle samples
High quality, 16-bit drum samples
One predefined, default set included
Allows users to save their own, custom sets
Multitouch capability
iDrumming is a free download from the App Store.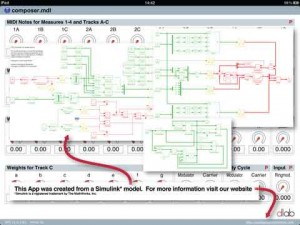 dlab has released APG Composer, which they describe as an app that combines a 3-voice FM synthesizer with an implementation of the Logique Analogique sequencer, which triggers notes when a weighted sum of different signals exceeds a threshold.
Pricing and Availability:
Free.
More information: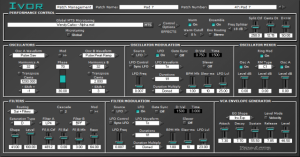 Xen-Arts has introduced IVOR – a two-oscillator subtractive synthesizer that features full-controller MIDI Pitch Microtuning using MTS (MIDI Tuning Standard). Any MIDI Note Number can be freely microtuned to any desired pitch across the MIDI range, enabling musicians and composers to explore the expressive possibilities of composing music with alternative intonation systems.
Features:
Oscillator Section

Two Oscillators with 22 Waveforms
Microtonal, Harmonic Series and Subharmonic Series Oscillator Transposition
LFO (with Rate Sequencer) and Envelope Generator for Phase, Pulse-Width and Pitch Modulation
LFO and Envelope Generator features both Unidirectional and Bidirectional Modulation
Analog Pitch Drift Emulator with both Unidirectional and Bidirectional Modulation
Velocity-to-Harmonics Modulation enables oscillators to dynamically sound harmonics of the fundamental pitch
Ring Modulation with 23 RM Types
Oscillator and Ring Modulator Mixer

Filter Section

Pre-Filter Saturation Stage with 20 Saturation Types
Two Independent Filters with Six Filter Types: LP4, LP2, HPF, BPF, BRF, APF
One and Two Stage Filter Cascade
LFO (with Rate Sequencer) and Envelope Generator for Filter Cutoff Frequency Modulation
LFO and Envelope Generator enables both Unidirectional and Bidirectional Filter Modulation

VCA Section

Dedicated Envelope Generator
Switchable Velocity Sensitivity and Fixed Volume Control

Performance Control

MIDI Pitch Microtuning with MTS (MIDI Tuning Standard)
MTS Support for both Single Note and Bulk Dump
Loads MTS Microtuning Format Files Internally and Receives MTS Externally
Local (Per-Patch) and Global Microtuning (Static Microtuning for All Patches)
Microtunings can be loaded from any directory on hard drives or storage devices connected to the computer
Ten Note Polyphonic
Monophonic Legato Mode
Polyphonic Portamento with Three Glide Modes
Microtonal Pitch Bend
Vibrato
Effects include Warm Filter and Stereo Ensemble
IVOR is available for download as a 32-bit VSTi for Windows XP or higher.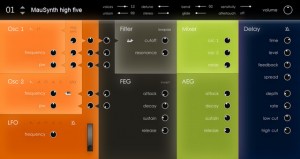 Pekka Kauppila has released a new beta version of MauSynth, a free polyphonic synthesizer plug-in for Windows.
MauSynth is a basic subtractive synthesizer with emphasis on high sound quality and friendly interface.

The plugin is written in c++. It is currently in beta stage, feedback is welcome. MauSynth will stay free even after beta.
Changes in the new beta version

Improved oscillators.
Improved filter.
Improved GUI.
Aftertouch support.
Adjustable velocity sensitivity.
Improved legato mode.
The MauSynth beta is available to download as a VST instrument plug-in for Windows.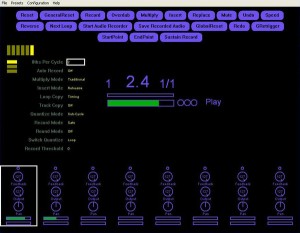 Circular Labs has announced a major update to its cross-platform looping software, Mobius.
Mobius is a free application for Mac & WIndows that was inspired by the hardware loopers of the past. But Mobius offers 8 synchronized stereo loopers that can be used in any combination with extensive MIDI and computer keyboard control.
Here's what's new in Mobius 2.0:
Redesigned synchronization engine for improved sync.
Support for Audio Units host sync (Logic, Garageband).
Support for other sample rates besides 44100.
Redesigned UI button window that works like other binding windows.
Improved OSC support.
Mobius is available now as a free download for Mac & Windows.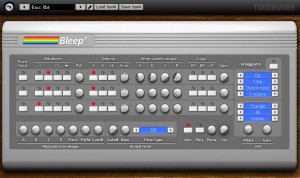 ToneBytes has announced Bleep', a free synthesizer instrument for Windows.
Bleep' — is a free VSTi synthesizer plug-in for Windows which inspired by the sound of MOS Technology SID. At the same time Bleep' is not emulator of this chipset but only partially similar to its architecture.
Bleep' features
3 oscillators with four waveforms: sawtooth, triangle, pulse (with PW) and noise.
Each oscillator has own detuner, ADSR envelope and multimode LP/BP/HP filter.
Multimode LFO synced with BPM.
Modulator Envelope Generator.
Pseudo arpeggiator.
Overall multimode filter.
Built-in preset manager with ability to patch name editing.
VST automation and full MIDI Learning are supported.
Bleep' is available to download as a freeware VST instrument plug-in for Windows PC.
Audio Zombie has released a collection of free synth patches for both Kontakt and EXS24:
AZ SimpleSynths is a collection of synth instruments for both Kontakt and Exs24 software samplers. This collection offers a number of typical synth instruments for electronic music
production.
I used Es2 synth for sound design here and modulation for each sound has been
made with Es2. So i made no use of samplers filters or fx all you get here are synth
instruments sampled from Es2 synth which i programmed. Of course you can make
use of samplers filters or fx's if you want to or when it's needed.
You can preview the patches above. They are available as a free download from the AZ blog.
Here's a new freebie from AfroDJMac featuring more quirky percussions
This is a free Ableton Live download featuring 309 unusual percussion sounds. Follow along in the video tutorial and I show you how to use my technique of sampling and resampling to create your own interesting and unique percussion sounds.
Download the Ableton Live Project here: http://bit.ly/freesynth50
This week's free Ableton Live AfroDJRack is a continuation in the my study in unusual percussion.  I've been looking for new ways to create percussion sounds and this download is the result.  This week I have a total of 309 different sounds for you to play around with.  More importantly, though, I show you the technique I used to quickly create loads of unique sounds.  If you missed part one, check it out here.

I began this Ableton Live project by sampling some ordinary sounds.  I recorded the sound of pencil and eraser on paper.  Then I tore the paper (I felt inspired by this awesome video with Robot Koch). I snapped my fingers and rubbed my hands together, and recorded that.  Next, I tapped  my foot on the mic stand, which created some surprisingly bass-y kick drum like sounds. After that I took out my Casio SK-1, which is a sampling keyboard from the 80s, very lo-fi.  I sampled crackles, drum sounds and even noises created by plugging in an instrument cable and touching the end to create buzzes.  All of those sounds were sent into Ableton and are on the track labeled "Original percussion."  Feel free to do what you like to those sounds.

From there I played around with the clips I created, reversing some and messing around with the transpose envelope.  Next I set them up to play somewhat randomly using follow actions, and recorded the result on to another audio track.  The resulting clip was then "sliced to midi" and that created the drum rack on track 5 "AfroDJMac Unusual Perc  NOFX."

I then repeated the process of randomly triggering clips and resampling them, but this time I placed a host of effect racks on the track which I turned on and off and manipulated at random, using an iPad running the Lemur app.  This yielded two more instrument racks, found on tracks 3 and 4.  In the end, this download features 309 different percussive sounds!