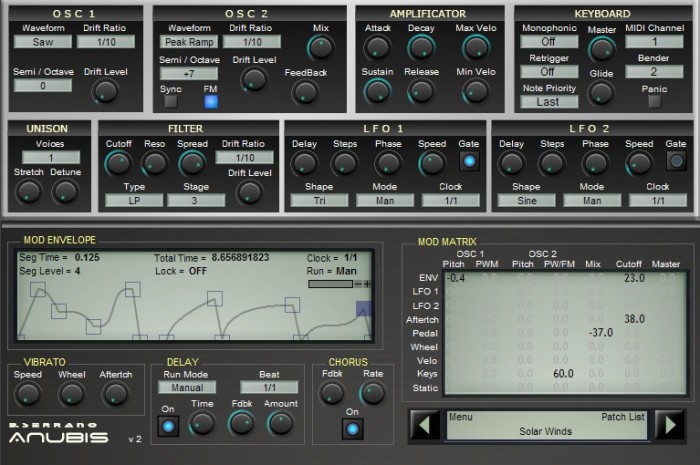 B. Serrano has released version 2 of Anubis, a free synthesizer instrument for Windows.
Anubis 2 features
32 voices polyphonic.
Unison up to 8 voices.
Same waveform as Dionysos.
3 layers multimode filter.
Drifting effect.
Full MDI learn implementation.
Envelope & LFO Host syncable.
…. and more.
The plug-in is available to download for Windows (VST).
This Free Ableton Live collection was created with a Casio SK-1, Teenage Engineering OP-1, Ice Cave Samples, Forest, Fire, Earth and Water Samples. There is a percussion rack, a synthesizer, and convolution reverbs.
Get the CasiOP-1 Ice Cave Synth here: http://bit.ly/freesynth99
Get the Forest Fall Micro Drums and Reverbs here: http://bit.ly/forestfall
Visit his site for more stuff like this, including Live Instrument downloads, tutorials and music! http://www.afrodjmac.com
Saltline has announced ADHDidi, a free additive synthesizer plug-in for Windows.
Created for facebook fans as a thanks for their feedback and support, ADHDidi is an additive synthesizer comprising of 16 sine waves tuned to different frequencies (fundamental plus the first 15 harmonics).

Facebook fans were asked what they would like as a free download exclusively for them. We received many suggestions and settled on James Jason Duckett's idea of creating an additive synthesizer.
ADHDidi for Windows (VST) will be available soon as a free download from the Saltline Facebook page.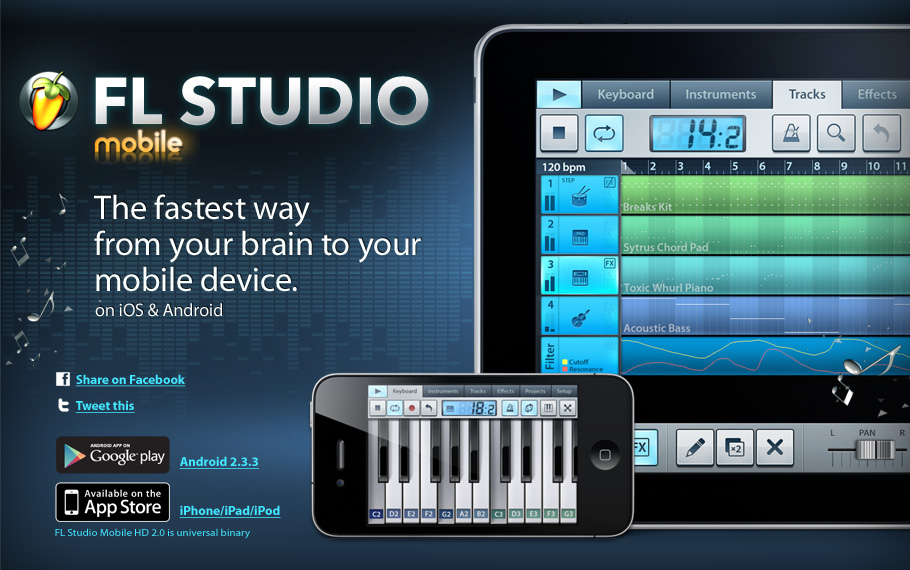 Image Line Software has released an update to FL Studio Mobile for Android and iOS. This is a free update for existing FL Studio Mobile customers.
Here's what's new in FL Studio Mobile Android 1.2:
HD graphics for 1080p and 720p devices (removes side bars)
Sequencer timing accuracy significantly improved
Fixes various expansion file download and mounting errors
Fixes wrong sample mapping after zip instrument import
Minor other bug fixes and performance improvements
Here's what's new in FL Studio Mobile 2.2 iOS:
New features:
MIDI start/stop slave and master
Input gain slider in the recording window (visible with external mic connected)
AudioCopy 2.0 support (iOS 7 compatible)
WAV export option to write 1 file per track
Performance & speed:
Major performance improvements (play more tracks without audio dropouts)
Audio file editing is up to 5x faster
Reverb quality and performance improved
Other improvements:
Audio recordings are placed more accurately
Setup latency options removed, it's now always at minimum
Filenames can now contain non-latin characters
Inbox folder is no longer present, files are moved to the top level folder
.flml (drum loop) files can be opened from other apps like Mail or Safari
Overall stability greatly improved
The Android version of FL Studio Mobile, at version 1.2, trails the iOS version significantly. Image Line says that the feature-set of the Android and iOS versions will be harmonized in future updates, including the addition of the following features to the Android version:
Audio tracks and wave editor
Background audio (playback while the app runs in the background)
SoundCloud upload
In-app shop
While projects, .flm format, are compatible between Android and iOS, if audio tracks are present they are ignored. If instruments are not avaiable the MIDI data is loaded and the a default instrument is used.
Pricing
Android: $19.55 USD
iOS: FL Mobile HD (universal app): $19.99 USD
French audio developers UVI have announced the immediate availability of Mello, a free software recreation of the iconic tape-based Mellotron.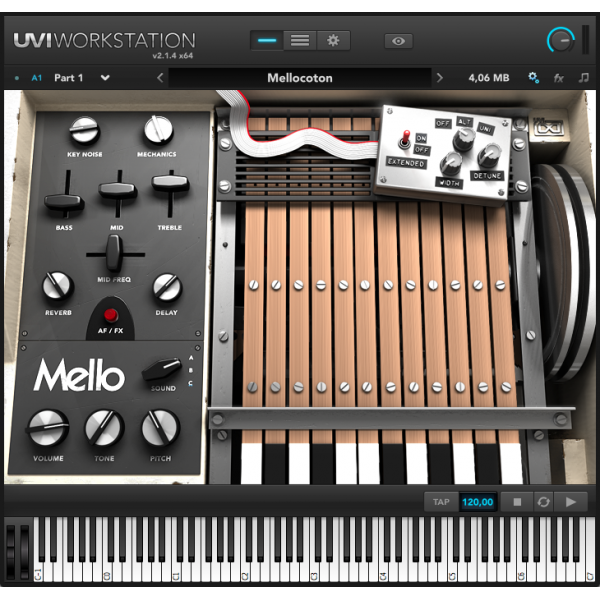 The Mellotron was made famous by John Lennon, and in the spirit of the Lennons' ongoing humanitarian effort, UVI are pledging to match donations made by its customers to the Japanese Red Cross to help survivors of the Fukushima earthquake over the next three months, during which time Mello (normally $99) will be available for free.
For those unfamiliar with the Mellotron, it was one of the earliest samplers and used tape to capture the desired sounds. When a key was pressed, the Mellotron would pull a section of tape through a magnetic play head to produce a sound. Originally built in 1963, the Mellotron became popular throughout the '60s and 70s with bands and artists such as The Beatles, Pink Floyd and David Bowie, and although they fell out of fashion for a time, they have been used more recently in big tracks from Radiohead and Vampire Weekend.
UVI have multisampled dozens of original tapes to create the most faithful recreation of the original intstrument. Being a sampler, the Mellotron had a whole range of available sounds and Mello provides 28. These are: Brass, CelestaAndVoice, Cello1, Cello2, ChoirFemale, ChoirMale, ChoirTron, ChurchOrgan1, ChurchOrgan2, ChurchOrgan3, Clarinet, Flute1, Flute2, Guit12Str, GuitElectricA, GuitElectricB, GuitSpanish, Harp, Oboe, Piano, Sax, Strings1, Strings2, Strings3, Strings4, Vibraphone1, Vibraphone2, and Viola.
Free iLok from UVIUVI's Mello requires an iLok, which UVI are also doing a great deal on. If you buy an iLok from their web site you'll receive a coupon for the value of the iLok plus shipping ($78), which can then be redeemed against any future purchase from the UVI store.
For more information on the iLok deal, go here: http://www.uvi.net/en/store/ilok-smart-key.html
For more about Mello, go here: http://www.uvi.net/en/vintage-corner/mello.html
RHYTHMUS by ELECTROSTUDIO
A free vst plugin that is an emulations or inspired by of vintage classic rhythm machine and drum machines
for more information visit
http://www.elektrostudio.ovh.org/
http://www.elektrostudio.ovh.org/index2.php
Rhythmus is inspired by an old rhythm machine. There are ten buttons available, each button can play two different rhythm sections so essentially there are about 20 different rhythmic loops offered, such as samba, mambo, tango, waltz, rumba etc. When you click "open", you can change the tune, volume, pan of each rhythm component such as snare, bongo, cowbell, hi-hat, etc. You can mix these rhythmic sections with Tambourine, Guiro, Quijada sounds.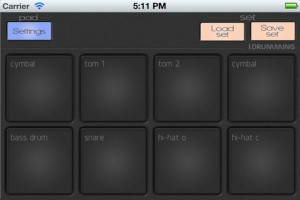 iDrumming is free drum pad app for iOS that features very low latency, changeable pitch and volume for each sample, 16-bit sampling, multitouch capability, autorepeat with 1 tap, the ability to save custom sets, and 2 different stop modes.
iDrumming is a 'freemium' app, with  11 unlocked samples, and an additional 200+ can be auditioned and can be unlocked through a $.99 in-app purchase.
Feature Highlights:
8 pads on iPhone, 12 on iPad
Very low latency
More than 200 optional samples to choose from, grouped into 6 categories
Changeable pitch and volume of every sample (useful for tuning toms, etc.)
Two different stop sample modes
Autorepeat at one tap
Continuous mode for loops or rattle samples
High quality, 16-bit drum samples
One predefined, default set included
Allows users to save their own, custom sets
Multitouch capability
iDrumming is a free download from the App Store.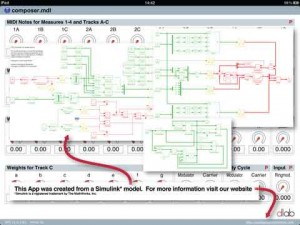 dlab has released APG Composer, which they describe as an app that combines a 3-voice FM synthesizer with an implementation of the Logique Analogique sequencer, which triggers notes when a weighted sum of different signals exceeds a threshold.
Pricing and Availability:
Free.
More information: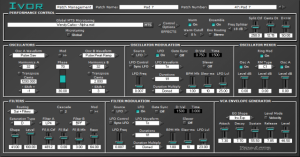 Xen-Arts has introduced IVOR – a two-oscillator subtractive synthesizer that features full-controller MIDI Pitch Microtuning using MTS (MIDI Tuning Standard). Any MIDI Note Number can be freely microtuned to any desired pitch across the MIDI range, enabling musicians and composers to explore the expressive possibilities of composing music with alternative intonation systems.
Features:
Oscillator Section

Two Oscillators with 22 Waveforms
Microtonal, Harmonic Series and Subharmonic Series Oscillator Transposition
LFO (with Rate Sequencer) and Envelope Generator for Phase, Pulse-Width and Pitch Modulation
LFO and Envelope Generator features both Unidirectional and Bidirectional Modulation
Analog Pitch Drift Emulator with both Unidirectional and Bidirectional Modulation
Velocity-to-Harmonics Modulation enables oscillators to dynamically sound harmonics of the fundamental pitch
Ring Modulation with 23 RM Types
Oscillator and Ring Modulator Mixer

Filter Section

Pre-Filter Saturation Stage with 20 Saturation Types
Two Independent Filters with Six Filter Types: LP4, LP2, HPF, BPF, BRF, APF
One and Two Stage Filter Cascade
LFO (with Rate Sequencer) and Envelope Generator for Filter Cutoff Frequency Modulation
LFO and Envelope Generator enables both Unidirectional and Bidirectional Filter Modulation

VCA Section

Dedicated Envelope Generator
Switchable Velocity Sensitivity and Fixed Volume Control

Performance Control

MIDI Pitch Microtuning with MTS (MIDI Tuning Standard)
MTS Support for both Single Note and Bulk Dump
Loads MTS Microtuning Format Files Internally and Receives MTS Externally
Local (Per-Patch) and Global Microtuning (Static Microtuning for All Patches)
Microtunings can be loaded from any directory on hard drives or storage devices connected to the computer
Ten Note Polyphonic
Monophonic Legato Mode
Polyphonic Portamento with Three Glide Modes
Microtonal Pitch Bend
Vibrato
Effects include Warm Filter and Stereo Ensemble
IVOR is available for download as a 32-bit VSTi for Windows XP or higher.