Mello – free software recreation of the iconic tape-based Mellotron
French audio developers UVI have announced the immediate availability of Mello, a free software recreation of the iconic tape-based Mellotron.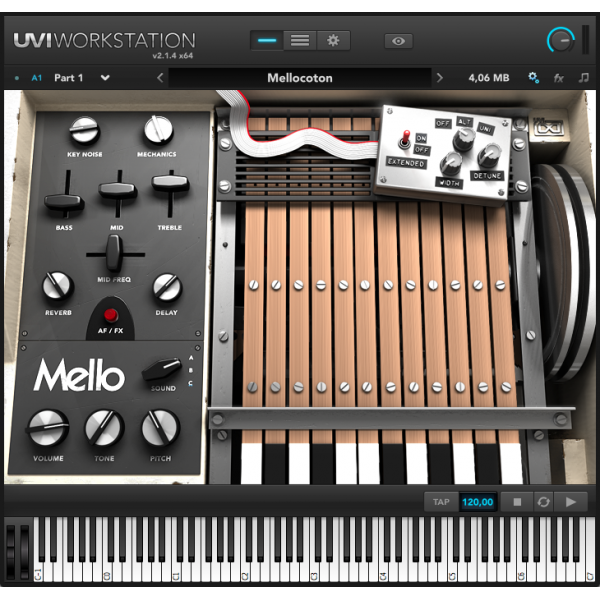 The Mellotron was made famous by John Lennon, and in the spirit of the Lennons' ongoing humanitarian effort, UVI are pledging to match donations made by its customers to the Japanese Red Cross to help survivors of the Fukushima earthquake over the next three months, during which time Mello (normally $99) will be available for free.
For those unfamiliar with the Mellotron, it was one of the earliest samplers and used tape to capture the desired sounds. When a key was pressed, the Mellotron would pull a section of tape through a magnetic play head to produce a sound. Originally built in 1963, the Mellotron became popular throughout the '60s and 70s with bands and artists such as The Beatles, Pink Floyd and David Bowie, and although they fell out of fashion for a time, they have been used more recently in big tracks from Radiohead and Vampire Weekend.
UVI have multisampled dozens of original tapes to create the most faithful recreation of the original intstrument. Being a sampler, the Mellotron had a whole range of available sounds and Mello provides 28. These are: Brass, CelestaAndVoice, Cello1, Cello2, ChoirFemale, ChoirMale, ChoirTron, ChurchOrgan1, ChurchOrgan2, ChurchOrgan3, Clarinet, Flute1, Flute2, Guit12Str, GuitElectricA, GuitElectricB, GuitSpanish, Harp, Oboe, Piano, Sax, Strings1, Strings2, Strings3, Strings4, Vibraphone1, Vibraphone2, and Viola.
Free iLok from UVIUVI's Mello requires an iLok, which UVI are also doing a great deal on. If you buy an iLok from their web site you'll receive a coupon for the value of the iLok plus shipping ($78), which can then be redeemed against any future purchase from the UVI store.
For more information on the iLok deal, go here: http://www.uvi.net/en/store/ilok-smart-key.html
For more about Mello, go here: http://www.uvi.net/en/vintage-corner/mello.html
Comments