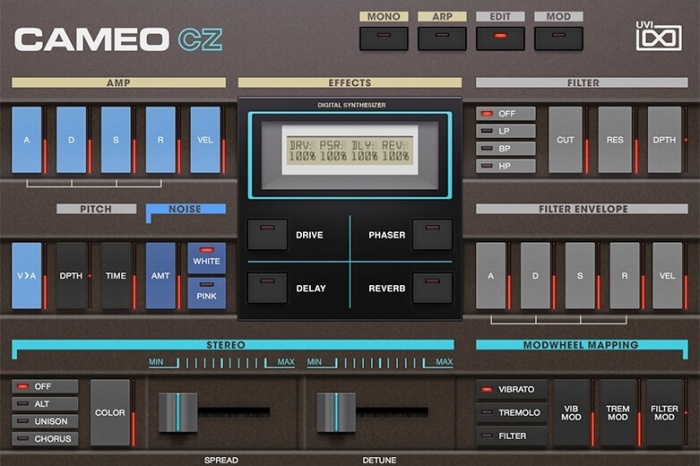 UVI has announced the release of Cameo, a phase distortion suite for UVI Workstation.
The sound made famous by the classic CZ-series keyboards is back in this new 3-instrument suite! Explore a huge library of authentic hardware sounds, craft your own patches from scratch with raw waveforms or explore new sounds of PD synthesis with the wavetable oscillator and DSP shaping tools from Falcon.

Whether you're a fan of classic '80s synths or just looking to expand your sonic arsenal, Cameo delivers an awesome range of inspiring and high-quality sounds with the unmistakable character of some of our favorite synths.
Cameo is available for purchase for the introductory price of $59 USD through December 14th, 2015 (regular $129 USD).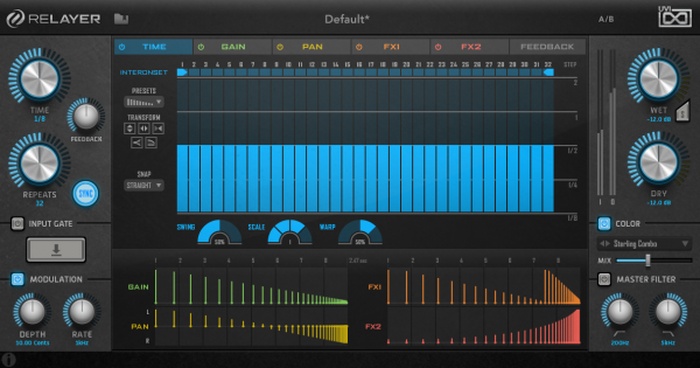 UVI has announced the release of Relayer, a precision creative delay effect plug-in for Windows and Mac.
Designed from the ground-up to provide an efficient and inspiring workflow, Relayer lets you dial in everything from basic delays to radical rhythmic multi-effects with speed, precision and natural musicality.

Both an efficient utility and powerful creative mangler, Relayer is a versatile and inspiring musical effect. Its unique combination of features, incredible sound quality and easy to master interface help to make it an indispensable tool, both live and in the studio.
Relayer features
Variable multi-tap delay (up to 32 lines) with extensive shaping controls.
Per-tap modulation editors for Time, Gain, Pan, and 2 Multi-Effects.
Visualizer helps you understand important settings at-a-glance.
Intuitive interface for lightning-fast workflow.
Input Gate for expressive playability.
Relayer for Windows and Mac (VST/AU/AAX) is available for purchase for the introductory price of $79 USD until July 31st, 2015 (regular $129 USD).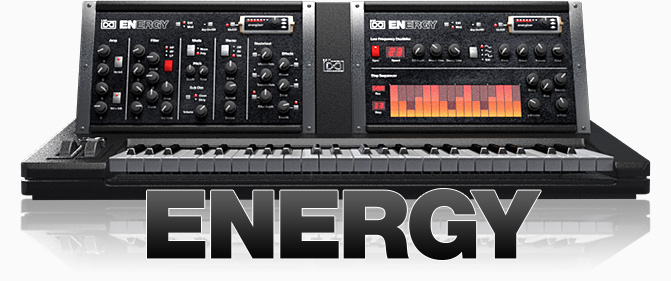 UVI has announced that its Energy 32-oscillator additive synthesizer (previously exclusive to the Vintage Legends bundle) is now available as a stand-alone instrument with an expanded preset library.
ENERGY is the product of a unique and extremely rare additive synthesizer from the early 80's, the Digital Keyboards Synergy. Released in 1982, the DK Synergy was based on an extremely sophisticated additive engine for the time, derived from the nearly $30,000 Crumar GDS (General Development System) and famously used by Wendy Carlos on the original TRON soundtrack. In fact many of the Synergy's presets were crafted by Carlos herself, who is noted to still use the synth to this day.

The Synergy had a short commercial run over 3 years, seeing less than 1,000 units produced as it was ultimately obscured by Yamaha's runaway success with the far cheaper DX7. Actual production numbers are thought to be less than 700 units with very few of those surviving the last 30 years—making it an exceptionally rare instrument.

Rarity, prestigious lineage and pop-culture influence of the Synergy are only part of the intrigue. The Synergy was a conflicted instrument by design, especially for the time of its release. It offered an outrageous 32-oscillator sound engine with dual 16-stage loopable envelopes and a velocity sensitive 74-note keyboard. At the same time it was built with extremely prohibitive editing functionality, to the point of making it appear as more of a preset player than its control laden contemporaries. While programming the Synergy was far from an intuitive process it was indeed possible, and the results were truly stunning, both then and now.
Energy is available for purchase for $49 USD.
❐ Buy UltraMini : http://bit.ly/ultra-mini
❐ UVI Official Website : http://www.uvi.net
New UltraMini 1.5 : rich hybrid software synthesizer based on the classic sounds of the original 'affordable analog synth'. With over 200 new presets, a low-CPU mode and computer-based authentication, UltraMini is leaner, meaner and easier to use than ever.
The same thick analog tones, meaty harmonics and modeled filters that made v1.0 so aggressive are back in spades. Over 200 new presets have been forged by the sound design team at UVI, giving you over 600 in total. Find the sounds you're looking for quickly with convenient category browsing and explore a wide range of analog timbres and soundscapes provided by the newly updated patch library.

UltraMini 1.5 also introduces a new low-CPU mode, known internally as UltraMini LE. This new mode significantly reduces the processor overhead by replacing the dual multimode filters with dual single-mode LP filters. The new filters offers the same great sound as the original at a fraction of the CPU cost, making UltraMini a no-brainer go-to synth for classic analog sounds. The new low-CPU mode is perfect for laptop-based producers, composers working with large multitrack arrangements or anyone who needs to keep their processor use in check.
Also included is compatibility with the completely revised iLok system; now supporting computer-based authentication. Utilizing the free iLok License Manager, your UltraMini license can now be stored on a computer hard drive or a physical iLok dongle. Furthermore you're free to move your license from computer to iLok or vice versa at will, giving you the ultimate in convenience and portability. Gone are the days of dongle dependance — authorize the way you want to.
❐ Buy UVX-10P : http://www.uvi.net/uvx-10p.html
❐ UVI Official Website : http://www.uvi.net
Tap into the power of 3 analog super-synths—the JX-10, MKS-70 and JX-8P. UVX-10P recalls the last true analog synthesizers from the famed masterminds behind the Juno and Jupiter series, delivering a lush and extravagant analog sound. A fully-programmable interface lets you dive in and craft your own patches—utilize our high-quality amp and multimode filter designs, multiple effects, LFO, step modulator and much more.
In 1985 the world was introduced to the JX-10, a 12-voice, 24-oscillator analog synthesizer par excellence and the last true analog synth of its lineage. Following in the footsteps of the JX-8P and JX-3P, the Super JX was fashioned with a sparse aesthetic. A lack of knobs made the system a bit of a chore to program but an external controller (the PG800) could be attached, cheerfully reuniting synthesists with the immediacy and rapid programming speed of the ever-popular Jupiter and Juno lines. The JX-10 is known for an immense and capable analog sound, even some digital textures; it's simply a magnificent synth. Programming capabilities were equally rich with independent control of 2 DCOs per voice, 2 EGs, 2 VCFs, onboard chorus and even a sequencer (albeit a limited one).
UVX-10P was designed to deliver on all of the strengths of the JX series with none of the weaknesses. We started with a pristine JX-10, MKS-70, and JX-8P and set off, tirelessly programming and sampling these beauties in high-resolution through a world-class signal chain. As with the UVX-3P we made every sample twice, with and without the built-in chorus, providing an authentic and versatile foundation. This sonic backbone paired with the UVI Engine results in a lush and extravagant analog sound; faithful to the hardware with a modern studio bite. UVX-10P delivers a fully-featured and fully-programmable interface sporting ADSR control of our high-quality amp and multimode filter designs, multiple effects, LFO and step modulator, a tediously crafted library of 150+ patches and even original wave samples for you to create your own programs with.
A perfect complement to UVX-3P, UVX-10P delivers a tremendous analog sound at an outstanding price. Add a piece of vintage synth history to your collection today!
French audio developers UVI have announced the immediate availability of Mello, a free software recreation of the iconic tape-based Mellotron.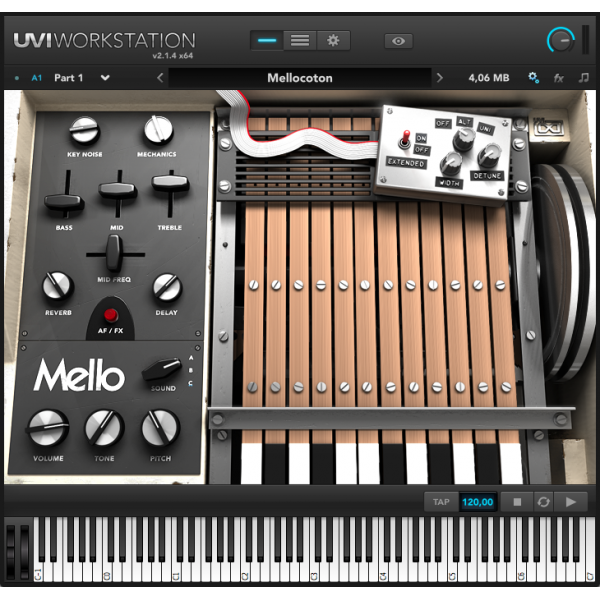 The Mellotron was made famous by John Lennon, and in the spirit of the Lennons' ongoing humanitarian effort, UVI are pledging to match donations made by its customers to the Japanese Red Cross to help survivors of the Fukushima earthquake over the next three months, during which time Mello (normally $99) will be available for free.
For those unfamiliar with the Mellotron, it was one of the earliest samplers and used tape to capture the desired sounds. When a key was pressed, the Mellotron would pull a section of tape through a magnetic play head to produce a sound. Originally built in 1963, the Mellotron became popular throughout the '60s and 70s with bands and artists such as The Beatles, Pink Floyd and David Bowie, and although they fell out of fashion for a time, they have been used more recently in big tracks from Radiohead and Vampire Weekend.
UVI have multisampled dozens of original tapes to create the most faithful recreation of the original intstrument. Being a sampler, the Mellotron had a whole range of available sounds and Mello provides 28. These are: Brass, CelestaAndVoice, Cello1, Cello2, ChoirFemale, ChoirMale, ChoirTron, ChurchOrgan1, ChurchOrgan2, ChurchOrgan3, Clarinet, Flute1, Flute2, Guit12Str, GuitElectricA, GuitElectricB, GuitSpanish, Harp, Oboe, Piano, Sax, Strings1, Strings2, Strings3, Strings4, Vibraphone1, Vibraphone2, and Viola.
Free iLok from UVIUVI's Mello requires an iLok, which UVI are also doing a great deal on. If you buy an iLok from their web site you'll receive a coupon for the value of the iLok plus shipping ($78), which can then be redeemed against any future purchase from the UVI store.
For more information on the iLok deal, go here: http://www.uvi.net/en/store/ilok-smart-key.html
For more about Mello, go here: http://www.uvi.net/en/vintage-corner/mello.html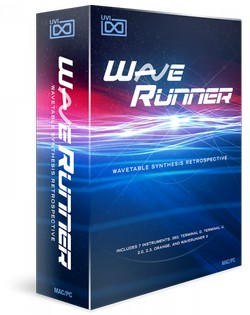 UVI has released WaveRunner, a library of seven hybrid instruments inspired by synths, drum machines and rare prototypes of esteemed German heritage.
WaveRunner presents you with a collection of authentic and fascinating sounds from over 30 years of wavetable synthesis. Everything from the raw and strident origins to the wild evolving tones of more modern, full-featured machines.

Each system addressed was serviced, meticulously multi-sampled and artfully designed into seven unique hybrid instruments driven by over 30,000 samples.
WaveRunner features
WaveRunner 360: Based on a very old and quite rare machine, WaveRunner 360 delivers a raw and lo-fi sound.
WaveRunner Terminal D: Including sounds from vintage prototype drum modules, synths and modern rack drum synths.
WaveRunner Terminal U: Built on a generous collection of sounds from the entire range.
WaveRunner 2.0: Based on the original German blue.
WaveRunner 2.3: Similar to the 2.0 but with a distinctly different flavor, WaveRunner 2.3 is built on the upgraded German classic and its loquacious programming pal.
WaveRunner Orange: Based on the modern flagship wavetable synthesizers famed in the 90′s and 00′s.
WaveRunner X: An collection of raw waves harvested from the entire range of machines come together in this fresh and powerful dual-layer subtractive synth; capable of deep, modulating ambiances, brutal basses and uncanny leads.
The WaveRunner library for UVI and MachFive is available to purchase for $299 USD.
❐ Buy WaveRunner : http://bit.ly/uvi-waverunner
❐ UVI Official Website : http://www.uvi.net
❐ UVI Official Blog : http://blog.uvi.net
❐ Buy UltraMini : http://bit.ly/ultra-mini
❐ UVI Official Website : http://www.uvi.net
❐ UVI Official Blog : http://blog.uvi.net
Music by Clem B
http://www.myspace.com/klemb
Two revered analog synths spanning a 4 decade legacy make sweet love with the UVI Engine™. The result: a 3-oscillator subtractive synth with devastating sonics and supreme ease-of-use. Experience the power of authentic overdrive, dual-filters and more in this ode to the arbiters of analog!
The Minimoog was made available to the public in 1971 and continued to be produced with very little change over the next 10 years. Considered the most popular synth ever by some, there's no doubt the instrument has led a prolific life, leaving a massive wake in its path — changing perceptions and influencing synthesizer design to this day.
The Minimoog has a near-perfect balance of simplicity and sonic beauty.
HEART OF A HYBRID MONSTER : 2 ANALOG SOULS
One of our specialties is making hybrid instruments to get the best of both worlds.
We started with a beautiful 1971 Minimoog, sampling every waveform of every oscillator across every key — and we did this for multiple overdrive settings. UltraMini seeps with a thick and immediate analog sound produced with the same 3-oscillator configuration as the Minimoog.
But we didn't stop there. In 2002 the Minimoog had a second coming in the form of the Voyager. This synth has its own wild character. Taking a 2011 Limited Edition Voyager XL, we performed the same comprehensive session, creating an identical sample footprint.
UltraMini includes two fully independent instruments with uniquely skinned GUIs, giving you the choice of vintage analog or crushing new school grit.
MAIN FEATURES
3-oscillator configuration, amplitude and filter key follow, unrestricted polyphony, mono retrigger, per-oscillator amplitude, stereo, color and drive control, a built in bit crusher, phaser, delay, limiter and our advanced algorithmic reverb — SparkVerb, built-in phraser and arpeggiator assignable per-oscillator, step and LFO modulations and a huge library of expertly crafted presets.
UVI has released Digital Synsations, a new virtual vintage synths collection inspired by four 90s classic keyboards – the Yamaha SY77, the Korg M1, the Roland D50 and the Ensoniq VFX.
❐ Buy Digital Synsations : http://bit.ly/digital-synsations
❐ UVI Official Website : http://www.uvi.net
❐ UVI Official Blog : http://blog.uvi.net
A brand-new massive library inspired by four 90s classic keyboards — the Yamaha SY77, the Korg M1, the Roland D50 and the Ensoniq VFX : UVI Digital Synsations
Digital Synsations includes over 500 patches expertly programmed on a fully restored Yamaha SY77, Korg M1, Roland D50 and Ensoniq VFX' used by many of the greats including Depeche Mode, The Cure, Pet Shop Boys, Vangelis, Brian Eno, Toto, 808 State, Jean Michael Jarre and more.
We deeply multi-sampled these custom patches using top-shelf equipment and edited them to perfection before sending them off for professional mastering. These sonics became the foundation for our new hybrid instrument and combined with the UVI Engine give you the true character of these classic synths with all of the peculiarities and programming by products intact. Not only that but you get them in an extremely easy to use and fast to edit environment complete with all the features you expect from a modern virtual instrument.
If you're looking for a new take on the 90's sound, or just some new classic synth inspiration then look no further.
———————————————————————————
* UVI is not affiliated, endorsed or sponsored by the Yamaha Corporation, the Korg Corporation, the Roland Corporation or the Ensoniq Corp. All trademarks are held by their respective owners.
** iLok required