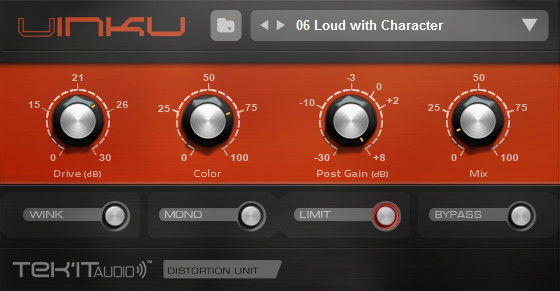 Tek'it Audio has announced the release of Uinku, a fold-back distortion effect plug-in for Windows and Mac.
Uinku creates subtle harmonic changes to extreme distortion helped by the "Drive" control to add saturation and the "Color" control in an effort to bake the perfect tones.

The interface features a "Mix" control for blending the original sound with the sound of Uinku and an "Output Gain" control with a clipper stage to drive distortion further.
Uinku features
2 Flavors of Foldback distortion, including the "Winkl" sound.
Distortion drive and color controls.
Mix and output gain controls.
Activable gain stage clipper.
Bypass switch.
x16 Oversampling.
64-bit internal processing.
Full MIDI automation support.
Preset manager, rename, save, load presets and banks.
Works in mono or stereo.
16 factory presets.
The plug-in is available for Windows and Mac (VST/AU), priced at 39 EUR / $49 USD.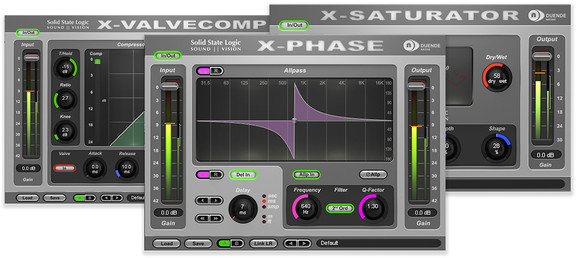 Solid State Logic has announced that three new Duende Native plug-ins and migration to iLok 2 copy protection are now available online.
The superior audio quality and deep feature set of the SSL Duende Native plug-in range has earned the respect of a very discerning clientele through the years.

The three new plug-ins complement the existing range with two plug-ins (X-Saturator & X-ValveComp) designed to bring some analogue saturation and distortion emulation to your digital DAW and the third (X-Phase) delivering high precision frequency specific phase correction.

The new plug-ins are available now via the SSL web site. To coincide with the new plug-in release SSL has migrated the entire Duende Native plug-in collection to the iLok 2 copy protection system. SSL has also announced a summer release for AAX native versions of the entire suite.
New Duende plug-ins
X-Phase is an All-pass Filter plug-in that offers the user manual control and benchmark audio quality. It enables the user to apply a phase shift (sometimes called a phase offset) at a specified frequency within a signal. Unlike other filter types where the gain of selected frequencies is altered, with an All-pass Filter the gain remains unchanged throughout the signal. This is useful for fixing phase problems with microphones when recording: eg overheads causing phase problems when mixed with close mic's.
X-Saturator delivers a stunning range of analogue style distortion effects. It is an emulation of an analogue circuit that introduces either 2nd order valve style or 3rd order transistor style distortion or a blend of the two. At low drive settings the distortion is mild and can add gentle warming to help instruments sit nicely in a mix or to add a little extra edge to help instruments cut through a mix. As drive levels are increased so too is the level of distortion until at high drive levels heavy distortion occurs.
X-ValveComp is a fully-featured mono or stereo channel compressor with a full set of classic channel compressor controls and an added 'valve' emulation stage. The valve emulation stage sits after the compressor in the signal path and adds a variable degree of primarily 2nd order harmonic saturation and distortion that thickens and colours the sound. The compressor can be switched between Peak or RMS modes and has a full set of standard controls.
X-Phase is available for purchase for £199 GBP/249 EUR/$329 USD. X-Saturator and X-ValveComp are £69 GBP/89 EUR/$119 USD each, with an introductory price of £49 GBP/59 EUR/$85 USD for the first 30 days only. Prices exclude tax.
Jesse Voccia collaborating on the Reaktor "Metasonix Ass Fister Distortion Module"

Tek'it Audio has announced the release of Winkl, a free foldback distortion effect plug-in for Windows and Mac.
Winkl is not a subtle distortion, this is well suited for bass and leads, made to make scream your sounds.
Winkl features
Foldback distortion.
Drive and Output Gain controls.
Bypass switch.
x16 Oversampling.
64-bit internal processing.
Full MIDI automation support.
Works in mono or stereo.
Zero-latency.
Winkl for Windows and Mac (VST/AU) is available to download as freeware.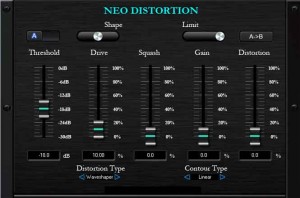 Sound Magic tells us that Neo Distortion is a distortion effect unit which features a 2-stage distortion Overdrive, followed by 4 optional distortion units including a Waveshaper, Fuzz, Soft Distortion and Contour.
They say that it provides meticulous controls for the 4 distortion types and combined with the Overdrive unit, you can build your own style of distortion to feature your unique sound style.
Features
Internal 64-bit floating point precision.
2 Stages Distortion, First OverDrive, Followed by 4 optional distortion units including a Waveshaper, Fuzz, Soft Distortion and Contour.
Support up to 32Bit/384KHz resolution.
Pricing and Availability:
Neo Distortion costs €49
More information:
Maul: a multi-band distortion and tone-shaping plugin with advanced modulation.
http://www.fxpansion.com/index.php?page=193
FXpansion is proud to present Maul: a multi-band distortion and tone-shaping plugin with advanced modulation. Maul is suited to all music requiring powerful sound-sculpting abilities – everything from subtle warming and loudness generation to shredding distortion and experimental creative effects. Maul features 3 separate drive stages, each of which can act on a different frequency range with any of 32 distortion types. The available algorithms include DCAM-modelled germanium diode, tube and transistor-based circuits, clippers, overdrives, waveshapers of various kinds and bit-crushing devices for digital distortion flavours. Each drive stage also features control over transient-shaping, saturation circuitry and additional post-process tone filtering.
Availability & Pricing
Maul is available as a download-only product from the FXpansion web shop!
Pricing is USD $99.00, EUR €79.00, GBP £69.00 inc VAT where applicable
This is a simple "overload" trick that's been posted on the Moog Music Forum for some time now (http://forum.moogmusic.com/viewtopic.php?f=2&t=14154), and the author of this video found it to be really helpful. you totally dont need a distortion pedal if you have a Moog Voyager. The whole thing IS a distortion pedal.
More details on the Pi Synth:
A short demo showing filter cutoff, resonance and more LFO- and EG-driven Phase Distortion.
Background video information below:
You lot should be happy that it was a grim, wet, windy Bank Holiday as I got to plug in my Pi and make a video. Sorry the frame rate of the second half is low, it's my Mac not being fast enough to capture everything.
So – here's an indication of quite how rich a single-oscillator synth can be (as in, I left OSC B cranked down to zero throughout). OSC A is set to a 'sin' wave (which does actually have a *little* bit of harmonic content as it's not really a sin, it's a short power series), but all the amazing richness comes from manipulating the phase of the oscillator during each cycle of the waveform. An EG is used to stretch and squash the phase over the lifetime of each note, then the LFO is pulled in to add a warbly, squishy immenseness.
And no explicit frequency manipulation – everything here is being induced by messing with the phase within each cycle of the waveform, the fundamental is not being manipulated, at all. Things get beyond awesome when you add in pitch modulation at the same time as Phase Distortion.
But messing about with frequency is for next time – for the time being, let's get PHASEY!!!!

Mark Holt has released Expresso, a free distortion effect plug-in for Windows.
My first ever release of a VST effect. Made in Synthmaker v2.0, so, sorry, no Mac version.

Most of the modules are my own (rather simple) code rather than stock modules. I've been using it a lot and thought I should give something back to a community that's given me a lot over the years.

The first knob is called offset and this adds DC offset to the input signal (the mod LED below changes the direction of offset). The next knob is labelled fold and adds some fold back distortion. The next knobs are sat (saturation), feed (feedback – the mod LED changes the signal slightly), delay (for the feedback), HPF (high pass filter), H-REZ (high pass resonance), LPF (low pass filter), clip (hard distortion), followed by a dry/wet control and finally gain (for output). The feedback path actually goes after the clip module and re-enters before the fold back distortion stage, so maybe a future update will change the knob order to reflect this (it's like it is for chronological reasons). Beware that on settings where all settings are high that you will get proper high squealing feedback. I've kept that as a feature and the tone can be changed with the delay knob when it appears.
Expresso for Windows (VST) is available to download as freeware.