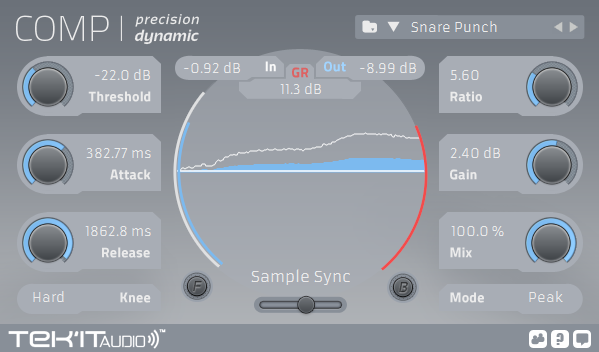 Tek'it Audio has announced the release of Comp, a compressor plug-in in VST format. Comp is a modern compressor that is designed to provide visual tools to help a user visualize the dynamics applied to a sound.
Features:
Real time visualization.
RMS and Peak compression.
Soft and Hard knee.
Attack range from 0.01ms to 0.9s.
Ratio up to 30:1.
Wet/Dry mix for parallel compression.
Input, Output, Gain reduction readouts and VU.
Scope visualization at sample sync to 200ms window.
Zero Latency.
Full MIDI automation support.
Easy MIDI learn on all parameters.
Use 7-bit MIDI Continuous Controller or High resolution 14-bit MIDI NRPN and RPN.
Integrated Preset manager, rename, copy, save, load…
Price: €29 / $39. A demo version of "Comp" is available to download as a VST plug-in for Windows. The full version is available to purchase for.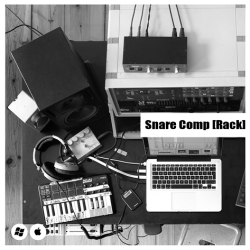 Audiomodern has release Snare Comp [Rack] – a free download for Ableton Live.
The free Live rack is described as 'a hard snare compressor'.
http://www.t-racks.com for more information
The Bus Compressor is based on the mix bus VCA compressor of a worldwide known and acknowledged British mixing console from the 80′s. This legendary processor has been painstakingly analyzed and measured down to the very single active and passive component to obtain a dead on behavior that will impart that famous "glue" effect on mix tracks without any compromise.
In this tutorial we look at several applications of the plug-in: The subtle yet effective "glue effect", compressing a drum bus from subtle to slamming or squashed, and all of the components of this plug-in including the great GRIT switch. Learn about the dual functionality of the RESET button, sidechain hi pass, and mid-side processing.
"Bus Compressor is one of the 20 professional mixing and mastering processors available in the T-RackS Custom Shop. Download the free T-RackS Custom Shop software, which comes with the Classic T-RackS Equalizer and a full metering suite, and you'll have access to the Custom Shop, where you can try our processors before you buy."
In this short interview, Howie B talks about working with analog gear, producing in the box and why he loves the VINTAGE COMPRESSORS Series. See how he uses the VC 2A on "Summer's Flower" – a track from his upcoming album.
Click here for the full interview:
http://www.youtube.com/watch?v=3LsovGoFEZc
Full version

SKnote has launched the C165a, a circuit modeled emulation of a VCA compressor with internal peak limiter.
C165a has been developed by measuring and testing a classic VCA compressor with a great sound and very simple to use. Its features have been extended including sidechain filters, a sample-aligned parallel mixing control and a limiter switch.
C165a features
Mono/stereo.
Auto mode for easy compression, punch and smooth sustain.
4x oversampling for nice saturation.
Internal sidechain equalizer (low, mid and high bands).
Internal limiter with controlled distortion (for more punch, peak control or creative drive – switchable).
Sample aligned internal parallel compression.
Knee meter (leds) and in/out/compression meter.
Simple 3D interface.
From transparent compression to extreme punch, sustain and creative distortion.
The plugin is available for Windows and Mac (32/64bit, VST/AU/RTAS), priced at $29.99 USD.
Three studio legends return: The VC 76, VC 2A and VC 160 recall three of the most heavily-used compressors in studio history, each with its own unmistakable sound. Find out more at: http://www.native-instruments.com/vintagecompressors
NATIVE INSTRUMENTS and Softube present VINTAGE COMPRESSORS —painstakingly accurate emulations of three of the most heavily-used compressors in studio history. The VC 76, VC 2A, and VC 160 feature a modern, clean design for intuitive usability while each maintains its own unmistakable sound. Thanks to added sidechaining and parallel compression, these VINTAGE COMPRESSORS actually improve on the originals.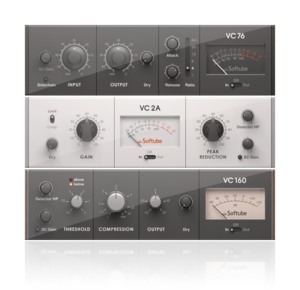 The VINTAGE COMPRESSORS collection includes all three devices. Each compressor is also available separately. All effects run as native plug-ins in your host DAW.
THREE'S COMPANY
Each of the three compressors has its own unique character and specific advantages:
VC 76: Workhorse compressor with a fast attack. Great presence, punchy, clear high end. Good for drums, vocals or stereo limiting.
VC 2A: Smooth compressor with a silky, natural sound. Great on vocals, bass, pads and guitar.
VC 160: Classic compressor for added attack and a subtle drive. Especially good on kickdrum, snare, bass or guitar.
ReaComp is REAPER's compression effect. In this quick tip Ken Theriot uses ReaComp on a vocal track and demonstrates how to make the most of it.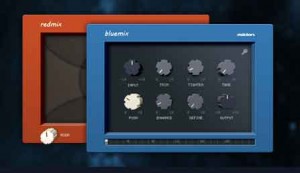 Mildon Studios has released the Redmix and Bluemix plug-ins.
"Get your mix done in no time with these powerful mixing plugins. Get your tracks to sit with Bluemix and then move them around with Redmix. It's simple and easy. Start mixing like a pro!"
Here's the details:
Ready to mix your next inspiring song? Bluemix can help you iron-out individual tracks from powerful kicks to high-flying guitars to make them sound just right.
Bluemix combines smart EQ, automatic compression, and high-frequency excitation to give you a clean signal that sits better in the mix. Use it in tandem with Redmix to create space and to add just the right amount of moisture to your mix.
Bluemix Features:
Smart EQ: Trim, Tighten, Tame
Auto Compressor: Push
Gain Reduction Meter
Exciters: Enhance, Define
Redmix puts your tracks on a virtual stage, allowing you to pan from left to right and front to back! It lets you create a lot of space just by moving things around, something that's hard to achieve with a conventional panner.
Redmix makes effective use of Haas' principles combined with spectral shaping and room reverb to create space. Use it in tandem with Bluemix for a better mix.
Redmix Features:
2-Dimensional Panning (L-R + F-B)
Automatic Haas Effect
Room Control
Pricing and Availability:
Redmix: $19
Bluemix: $19
Bundle: $28.50
More information:
AfroDJMac takes us on a tour exploring SideChain Compression:
Ableton Live sidechaining tutorial part 1: Compression. Ableton's compressor, gate, and auto filter all have side chaining capabilities. In this first part of a three part series, I will show how the sidechaining function on the compressor works.
Music created with AfroDJMac's Premium Ableton Live Packs: http://afrodjmac.spinshop.com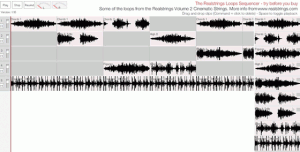 Loopmasters has introduced the Realstrings Online Loops Sequencer, a web-based sequencer by Chris Savage, offering a new way to demo loops from Realstrings sample packs. The sequencer allows you to play with some of the loops before you decide to buy, so you get a better idea of whether your music would benefit from these packs than you might get from the usual audio demos.
We are always looking at new ways to showcase loops packs; here's an innovative tool from string loops producer Pete Whitfield at realstrings.com – an online loops sequencer.

For loops packs that are construction kits, what better way to try before you buy? Sequence and layer the loops to see how they work in an interactive, musical context.
An iPad version is coming soon, plus some more functionality, based on user feedback.
More information: LoopBlog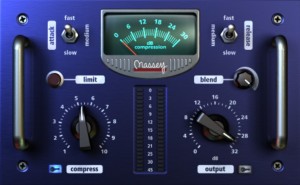 The CT5 is a revision of their popular CT4 compressor. The sonic characteristics that made the CT4 such a versatile and easy-to-use compressor remain intact.  'The core sound remains 99% the same; I'm tweaking one of the internal filters for the better and improving the dynamic range of the compression circuit,' says Steven Massey.
The new model improves on a good thing by adding a more aggressive, higher ratio compression curve option, a wet-dry signal blending control, and sidechain input capability.  Further, Steven explains, 'The highest compression setting on the CT4 is equivalent to about 8 on the CT5, even without the limit option enabled.  Thus, more compression is available to the user, which is, of course, better.'
Many of these new features were implemented due to customer requests.  'We encourage feedback, not just from the beta testers, but from everyday users,' says the newest guy at Massey Plugins, Kevin Weber. 'I truly enjoy checking in on our web forum and seeing what folks have to say. Sure there are some unrealistic requests, but some spot on ones as well. We take those ideas to heart, even the crazy ones.

High-Resolution AAX EQ Plug-in For Pro Tools
Developed by the creator of the parametric EQ, George Massenburg,Avid says that the new Massenburg DesignWorks (MDW) Hi-Res Parametric EQ Plug-In for AAX continues to define the state-of-the-art in digital equalization. Here's all the details in their own words…
Designed for Pro Tools|HD systems, version 5 offers new AAX DSP and AAX Native support, giving operators the flexibility to use the EQ across the entire Pro Tools product line, including Pro Tools|HDX systems. With its nearly unmeasurable low distortion, unprecedented clarity, unmatched smoothness, consistent EQ parameter representation, and superb high-frequency response (especially near Nyquist frequency at 44.1/48k), MDW Hi-Res Parametric EQ is designed for optimal definition in the mixing environment.
MDW Hi-Res Parametric EQ operates in double precision 64-bit floating point processing to take advantage of the maximum capability of the ProTools system. This new generation plug-in emulates the constant shape reciprocal filter curves of Massenburg's legendary GML 8200 equalizer — the industry-standard reference. The plug-in offers a choice of three or five bands of equalization (both versions support the ultra-wide 10 Hz to 41 kHz frequency range) to target certain frequencies, or conserve DSP resources when only three bands of EQ are needed.
Professional Features
MDW Hi-Res Parametric EQ offers a number of features to help achieve better mixes. It allows viewing the frequency grid in 6, 12, or 24 dB resolution for more accurate representation of the equalizer settings. It also offers various filter types and a wide selection of Q and frequency values.
IsoPeak lets the operator quickly isolate and sweep through the frequency spectrum to find a targeted frequency quickly, a benefit of parametric equalization. One can also toggle between two EQ band settings using A/B snapshots, copy one setting to the other, and invert the phase of a track. And when used with Avid control surfaces, the EQ organizes the bands into ergonomic groups on the channel strips.
High-Resolution Filtering
MDW Hi-Res Parametric EQ 5.0 assures true high-resolution operation. The plug-in delivers double-precision 64-bit processing for vanishingly low distortion for optimal clarity and transparency (think natural-sounding). It also provides high-resolution 96 kHz sample-rate processing for audio recorded at 48 kHz or 96 kHz, and 192 kHz sample-rate processing for 92 kHz audio, allowing for maximum resolution, increased headroom, and fewer artifacts, including lower noise typical of generic equalizers. And with variable Qs (adjustable bandwidths) from 25.6 (1/18 of an octave) to 0.1 (6-2/3 octaves), MDW Hi-Res Parametric EQ 5 delivers unmatched precision and maintains predictable filter curves.
Excellent DSP Efficiency
MDW Hi-Res Parametric EQ 5 allows the operator to select five bands of EQ for enhanced efficiency on Pro Tools|HDX systems or three-band mode for even greater instance counts. On Pro Tools|HDX, the five-band version delivers seven, eight and three instances for 48 kHz, 96 kHz and 192 kHz, respectively, while the three-band version delivers instance counts of ten, eleven and five for sessions of 48 kHx, 96 kHz and 192 kHz, respectively.
Wide frequency selection, from 10 Hz to 41 kHz, with variable Q and choice of three- or five-band EQ
Double-precision 64-bit processing for unprecedented clarity
Emulates GML 8200 constant shape reciprocal filter curves – the industry-standard reference
IsoPeak(r) functionality quickly solos a target frequency quickly and precisely
A/B snapshots allow settings comparisons
Supports both AAX and AAX Native plug-in formats
System Requirements
AAX and AAX DSP versions require Pro Tools version 10.2 or later. AAX DSP plug-in requires Pro Tools|HDX.
Pricing and Availability:
See Avid website.
More information: