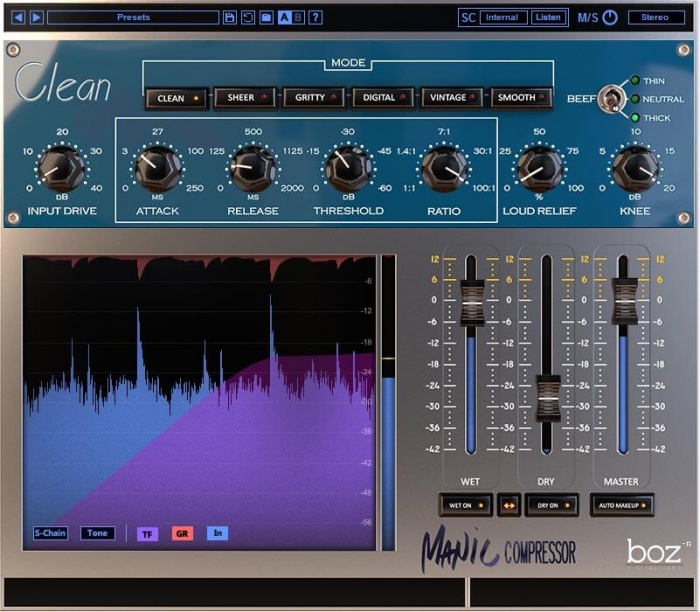 Boz Digital Labs has announced the release of Manic Compressor, a new compressor effect plugin for Windows and Mac.
Manic Compressor was designed from the beginning to be more than just a compressor. It was designed to unleash the power of parallel compression without requiring complex routing in your DAW.

Even with 6 different compressor modes and a comprehensive parallel routing setup, Manic Compressor uses an intuitive interface to get you way more power from your compressor than you've ever had before.
Manic Compressor (VST/AU/RTAS/AAX) is available for the introductory price of $99 USD (regular $149 USD). Until November 30th, 2015, you can save an additional $20 USD by using coupon code MANICLAUNCH at checkout.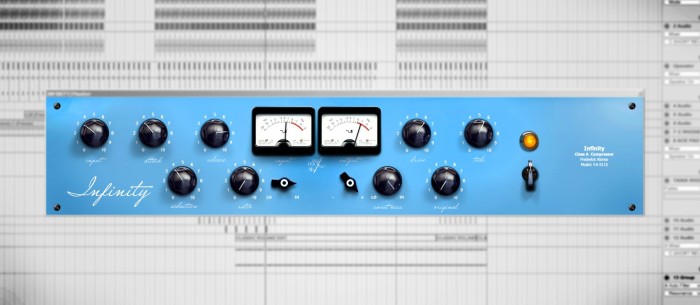 Frederick Alonso has announced the release of Infinity, a free analog style mastering compressor and tube saturation effect plugin for Windows.
This free plugin is based on a concept for a hardware device which has been patented in 2014. Apparently, the developer is planning to build a hardware version of this mastering compressor which was inspired by classic analogue devices such as the Pultec EQ and Thermionic Culture stereo compressor.

The software version is currently available only as a 32-bit VST plugin for Windows, however a Mac OS X version is expected to be released in the future.
Infinity features
Subtle low end warmer.
0 to 100% pure incoming audio + added Infinity dynamics.
Brightness and width in mid and high frequencies.
Subs will sound subtle, full and more focused.
Kicks feel more alive, while the track becomes more open.
You can add tube saturation (Lundahl transformer based).
Audio gets auto limited to -0.02dB when you go over 0dB.
A/B comparison (On/Off switch or toggle switch).
Infinity is available as a free download. Donations are appreciated.

Matthieu Brucher has announced the release of ATKSidechainCompressor, a free dual channel compressor with side chain plug-in for Windows and Mac.
I'm happy to announce the release of a side-chain stereo compressor based on the Audio Toolkit. It is available on Windows and OS X (min. 10.8) in different formats.

This stereo compressor can work on two channels, left/right or middle/side, possibly in linked mode (only one set of parameters), and can be set up to mix the input signal with the compressed signal (serial/parallel compression). The side chain channels can be used to steer the gain stage (the same setup will be used, right/left or middle/side).
The plug-in is available for download for Windows and Mac (VST/AU).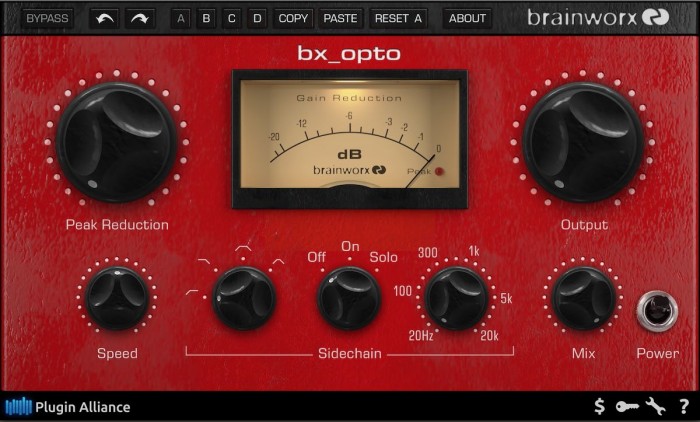 Plugin Alliance has launched bx_opto, a compressor effect plug-in by Brainworx.
The Brainworx bx_opto compressor combines some of the best colors, character and features from what Brainworx has learned modeling the optical circuits of some of the world's best-loved compressors. Rather than recreating a hardware product in software, the bx_opto takes the best aspects and anomalies from these legendary light-dependent circuits to create a software compressor you'll wish you could buy a hardware version of. The result is a beastly little dynamics processor, teeming with character and spitting out sounds no analog optical compressor can.

Most optical compressors are appreciated for their musical, program dependent character introduced by anomalies in the light dependent circuitry of the sidechain; the general speed of compression is cemented by the given behavior of the compressor's Light Dependent Resistor (LDR). Hardware opto-compressors can only allow users the ability to adjust the effect of this character by introducing a separate resistance circuit that gives some control over the compression envelope.
bx_opto features
Analog, optical compression colors with more control.
Content-dependent peak reduction / compression with one knob.
'Speed' knob controls the coefficient of Light Dependent Resistor, creating unique transient response.
Fully sweepable (20 Hz – 20 kHz) LP/HP/BP (wide)/ BP (narrow) sidechain filter .
Wet/Dry mix for parallel compression .
Accurate metering for reading amount of gain reduction.
NOT a transparent compressor; gently level or completely raze your sound with harmonically pleasant results.
bx_opto for Windows and Mac (VST/AU/RTAS/AAX/AudioSuite) is available for purchase for $149 USD.

audioD3CK has released ChopChop, a compressor effect plug-in for Windows and Mac.
ChopChop's algorithm was originally designed to be reasonably clean while operating with a very fast attack time and classic peak detection. The result is a very flexible compressor with a distinct sound. ChopChop is best used when the compression is meant to be heard, but it can act as an invisible tool too!
ChopChop features
External side chain.
Linear domain compression for an old school sound.
High pass filter in side chain.
Range control to limit amount of gain reduction.
Range knee to alter character of compression range.
Mid/side mode.
Freely adjustable channel linking.
Adjustable compression knee.
Full range ratio, all the way form 1:1 to 1:infinity.
Flexible metering.
Parallel compression.
Release acceleration control to alter compressors behavior.
ChopChop for Windows and Mac (VST/AU) is available for purchase for 19 EUR (non-commercial) / 49 EUR (commercial).
AudioD3CK has also released a version 1.1 update for all its plugins, which includes the following new features:
Resizable UIs.
Internal preset handling.
Undo/redo for parameter changes.
Updated manuals.
Better authorization process.
Improved installer.
Registration free demo versions.
Some presets.
[Krucz] Additional makeup parameter.
The updates are free to existing customers. AAX and VST3 versions are in development.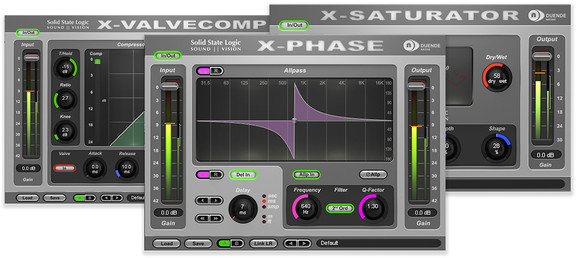 Solid State Logic has announced that three new Duende Native plug-ins and migration to iLok 2 copy protection are now available online.
The superior audio quality and deep feature set of the SSL Duende Native plug-in range has earned the respect of a very discerning clientele through the years.

The three new plug-ins complement the existing range with two plug-ins (X-Saturator & X-ValveComp) designed to bring some analogue saturation and distortion emulation to your digital DAW and the third (X-Phase) delivering high precision frequency specific phase correction.

The new plug-ins are available now via the SSL web site. To coincide with the new plug-in release SSL has migrated the entire Duende Native plug-in collection to the iLok 2 copy protection system. SSL has also announced a summer release for AAX native versions of the entire suite.
New Duende plug-ins
X-Phase is an All-pass Filter plug-in that offers the user manual control and benchmark audio quality. It enables the user to apply a phase shift (sometimes called a phase offset) at a specified frequency within a signal. Unlike other filter types where the gain of selected frequencies is altered, with an All-pass Filter the gain remains unchanged throughout the signal. This is useful for fixing phase problems with microphones when recording: eg overheads causing phase problems when mixed with close mic's.
X-Saturator delivers a stunning range of analogue style distortion effects. It is an emulation of an analogue circuit that introduces either 2nd order valve style or 3rd order transistor style distortion or a blend of the two. At low drive settings the distortion is mild and can add gentle warming to help instruments sit nicely in a mix or to add a little extra edge to help instruments cut through a mix. As drive levels are increased so too is the level of distortion until at high drive levels heavy distortion occurs.
X-ValveComp is a fully-featured mono or stereo channel compressor with a full set of classic channel compressor controls and an added 'valve' emulation stage. The valve emulation stage sits after the compressor in the signal path and adds a variable degree of primarily 2nd order harmonic saturation and distortion that thickens and colours the sound. The compressor can be switched between Peak or RMS modes and has a full set of standard controls.
X-Phase is available for purchase for £199 GBP/249 EUR/$329 USD. X-Saturator and X-ValveComp are £69 GBP/89 EUR/$119 USD each, with an introductory price of £49 GBP/59 EUR/$85 USD for the first 30 days only. Prices exclude tax.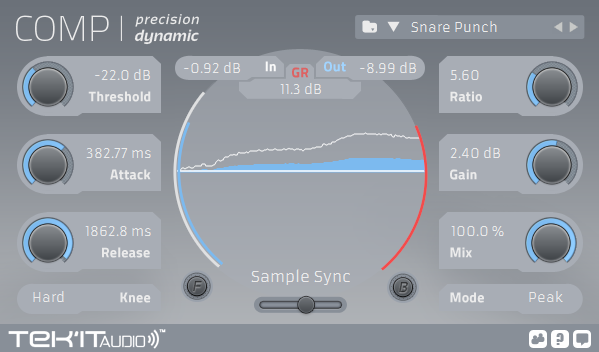 Tek'it Audio has announced the release of Comp, a compressor plug-in in VST format. Comp is a modern compressor that is designed to provide visual tools to help a user visualize the dynamics applied to a sound.
Features:
Real time visualization.
RMS and Peak compression.
Soft and Hard knee.
Attack range from 0.01ms to 0.9s.
Ratio up to 30:1.
Wet/Dry mix for parallel compression.
Input, Output, Gain reduction readouts and VU.
Scope visualization at sample sync to 200ms window.
Zero Latency.
Full MIDI automation support.
Easy MIDI learn on all parameters.
Use 7-bit MIDI Continuous Controller or High resolution 14-bit MIDI NRPN and RPN.
Integrated Preset manager, rename, copy, save, load…
Price: €29 / $39. A demo version of "Comp" is available to download as a VST plug-in for Windows. The full version is available to purchase for.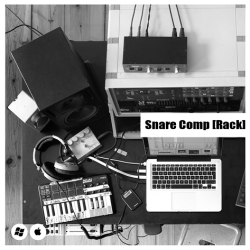 Audiomodern has release Snare Comp [Rack] – a free download for Ableton Live.
The free Live rack is described as 'a hard snare compressor'.
http://www.t-racks.com for more information
The Bus Compressor is based on the mix bus VCA compressor of a worldwide known and acknowledged British mixing console from the 80's. This legendary processor has been painstakingly analyzed and measured down to the very single active and passive component to obtain a dead on behavior that will impart that famous "glue" effect on mix tracks without any compromise.
In this tutorial we look at several applications of the plug-in: The subtle yet effective "glue effect", compressing a drum bus from subtle to slamming or squashed, and all of the components of this plug-in including the great GRIT switch. Learn about the dual functionality of the RESET button, sidechain hi pass, and mid-side processing.
"Bus Compressor is one of the 20 professional mixing and mastering processors available in the T-RackS Custom Shop. Download the free T-RackS Custom Shop software, which comes with the Classic T-RackS Equalizer and a full metering suite, and you'll have access to the Custom Shop, where you can try our processors before you buy."
In this short interview, Howie B talks about working with analog gear, producing in the box and why he loves the VINTAGE COMPRESSORS Series. See how he uses the VC 2A on "Summer's Flower" – a track from his upcoming album.
Click here for the full interview:
http://www.youtube.com/watch?v=3LsovGoFEZc
Full version