GForce's Dave Spiers takes a detailed look at the Korg 800DV or MaxiKorg. A Dual Voice and lovely synth from the early 1970s that was used by Vangelis, Soft Cell and Kitaro.
Vintage synthesizer demo featuring the Yamaha DX7II FD
supported by UVI: http://bit.ly/retrosound-uvi
YAMAHA DX7II FD FM Synthesizer with GREY MATTER E! expansion (1987)
E! spec:
Octal Mode (8 different patches can be played in one Performance), voice stacking, random detune, patch mapping, velocity processing, micro-tuning, pattern sequencer, arpeggiator, 4 memory banks and a lot more
more info: http://www.retrosound.de/The_DX7.htm
About the Yamaha model:
The DX7, a classic FM synth, gets a make-over with three significant updates. The updated models feature a more sturdy chassis with actual push-buttons replacing the cheaper and less reliable membrane buttons of the original DX7. The two real time sliders (that allow for control of user-programmable parameters in real time) are larger than before. Internally, the biggest improvement is the updated 16-bit digital circuitry for cleaner and much less noisy sound quality. Patch memory has also been doubled from 32 to 64 voices. Additional general improvements include enhanced MIDI support, micro-tuning capabilities, aftertouch controlled pitch bending, and multiple LFOs.
The BOSS DR-220E is a little programmable digital rhythm machine. This is the "E" version – it means E-DRUM sounds (very Simmons-like). The DR-220 has a twin brother with acoustic drums sounds – the DR-220A.
Although the DR-220 is from 1986, it lacks MIDI – but it has SYNC IN and OUT. It has nice Simmons-like eighties drums! It is similar to the Korg DDM-110/DDM-220, but it has better sounds in my opinion.
Vintage synthesizer track featuring the Roland M-VS1
supported by UVI: http://bit.ly/retrosound-uvi
all sounds: Roland M-VS-1 "Vintage Synth" module from the year 1995
recording: multi-tracking without midi
fx: reverb and delay
No vintage synthesizer but a synthesizer module with nice vintage synth sound. 😉
256 waveforms (Oberheim, PPG, Moog, ARP, Mellotron, Solina, CS-80, Roland SH, Jupiter, JX, Juno, MKS, VP330, TR-808 samples and a lot more)
Vintage gear demo featuring the Boss DR-55
supported by UVI: http://bit.ly/retrosound-uvi
Boss DR-55 "Dr.Rhythm" analog drum machine from the year 1979
4 Instruments (BD, SD, HH, RS), Accent, Tone, 2x Trigger Out,
step by step programming,
The Memorymoog from 1982 is a fantastic sounding polyphonic vintage synthesizer. A true piece of art. This track is created with Memorymoog sounds only by Mr Firechild www.firechild.se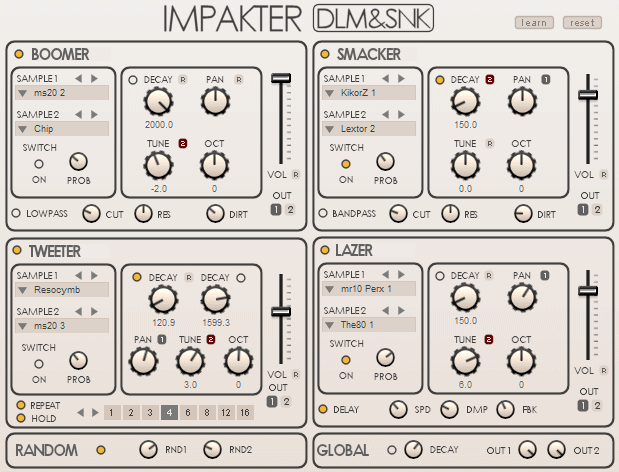 de la Mancha has set free loophole, a midi-triggered loop sampler, and Impakter, a vintage drum module plugin containing 320 samples of original drum sounds generated on analogue synths and drum machines.
Thank you to the 44 wonderful people who have donated so far! After this you all responded positively to help me to raise over £500 (against a target of £1000) for Cancer Research UK, a deserving charity that funds scientists, doctors and nurses to help beat cancer sooner.

As we made it to the half way mark, I am releasing 2 of the 4 plugins for free, for everyone.
The plug-ins are available to download for Windows (VST).
Vintage synthesizer demo track
all sounds: YAMAHA DX7 II FM Synthesizer (1987)
drums: LinnDrum (1982)
recording: multi-track without Midi
fx: reverb and delay
Vintage Synths at Arturia HQ in France – 15th anniv.
Tom demonstrating his new (old) Moog Sonic 6
The Sonic Six is an interesting, although obscure synthesizer from the Moog history books. Its predecessor, the Sonic V, was designed by an ex-Moog employee for the muSonics brand. When muSonics eventually bought out R.A. Moog, forming Moog muSonics, the Sonic V's basic design was moved into a portable brief-case style synthesizer, and with only a few tweaks, the Sonic Six was born.
The fact that the Sonic Six originated from another company's design not only accounts for why the Sonic Six looks different than any other Moog, but also for some pretty unique differences under the hood as well. To start, it is duo-phonic, utilizing two analog oscillators with three basic waveforms each plus tuning, modulation and scaling controls. There are two independent LFO generators with advanced control options not seen on other Moog synths (for instance, an X/Y knob is used to mix and balance the LFO outputs). Also on-board is a Ring Modulator (that can modulate either Osc. B or external audio) and pink/white noise generators.
Moog synthesizers are known for their filters, and the Sonic Six strays from the usual Moog in this area as well. While it is known that ARP stole a filter design from Moog for use in some of their 2600 and Odyssey models, leading to lawsuits between Moog and ARP, according to Mark Vail in "Vintage Synthesizers," the Sonic Six actually used some circuitry in its filters which were stolen from an ARP design, although ARP never sued Moog over it. However, later models of the Sonic Six were eventually fitted with a more traditional Moog designed filter. In either case, the filter is a low-pass 24dB/oct which offers the usual controls and is capable of self-oscillation. The VCA, however, has a rather limited set of controls – attack and decay plus a sustain on/off switch.
Not commonly seen, they are actually rather durable devices and used ones generally (if proper care was taken of them) are found in good working order. It was originally designed for educational and home use so it is light and portable and even has a built-in amplifier and speaker. It's a genuine Moog synth that is equally as obscure as useful these days. And its rather simple looking front-panel layout hides the uniquely flexible, powerful and great sounding little beast it truly is!