Vintage synthesizer demo track by RetroSound
used vintage stringmachines:
Logan String Melody II (1979)
Crumar Performer (1979)
Roland VP-330 (1979)
s/h bass: Oberheim OB-Xa (1981)
drums: Roland TR-808
recording: multi-tracking layered without midi
fx: reverb and delay
I used the special functions (human voices, brass filter, lfo, tone colour, chorus…) and you can hear the different sound-character of the stringmachines.
CL-Projects releases OSA (Old School Arps) for Kontakt 5.1 and higher.
Here's what they say: "Imagine yourself in a cellar, filled with vintage synthesizers and analog sequencers, flashing lights, knobs and faders everywhere, playing Berlin School electronic music. If you don't have any of that equipment to your disposal, this library is the next best thing. It tries to bring some of that sound and feeling to your home and studio by supplying vintage arpeggio patches."
The Berlin School electronic genre of music was first made in Berlin in the 1970s, hence the name, by electronic music artists like Tangerine Dream, Klaus Schulze and Ashra. Typical for this type of music are the evolving, atmospheric and hypnotic layered sequencer textures. The sound consists basically of ambient elements combined with short, repeating sequenced runs of notes, which gives the music a rhythmic element.
OSA is a Kontakt 5 library aimed at this genre of electronic music from the 1970s and 1980s and consists of vintage arpeggios, and a few modern ones too. Inspired by musicians like Jean Michel Jarre, Tangerine Dream, Klaus Schulze, Michael Hoenig and countless others.
Library Features:
For Kontakt 5.1 and higher (Full version).
24-bit 44.100 kHz ncw samples.
50 different waveforms per oscillator.
24 samples per patch, 12 per oscillator (76 notes).
Velocity and Aftertouch responsive.
6 folders containing a total of 151 patches.
Patches divided into Straight, Triplets and One Shot (separate folders).
4 Effects: Reverb, Delay, Chorus & Phaser.
Time and Speed parameters sync to Host tempo (Delay, Chorus and Phaser).
All parameters on 1 page.
Price: £19.99.
More info on the OSA product page: www.cl-projects-sound-design.com/osa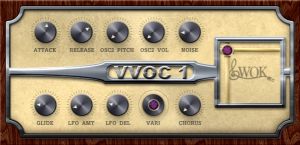 WOK has released VVOC-1, a new free synth plug-in that generates vocal sounds with a vintage electronic touch, from single formants to synthetic choir sounds.
The integrated triple-chorus and the X/Y pad for adjusting the formants, a pitch glide function and a hidden secret unveil more power than the easy GUI might imply.
Price: Free. As with all of WOK's plugins there is no adware or spyware included.
Arturia has announced the release of VOX Continental V, a vintage keyboard recreation, bringing back the classic sound of the famous VOX Continental 300.
As a high-end software recreation of the Sixties-vintage VOX Continental 300 transistor-based combo organ, VOX Continental-V is the latest addition to Arturia's acclaimed Analog Classics lineup where it sits alongside an authentic recreation of another archetypal Sixties staple, Wurlitzer-V (based on the classic 'Wurly' electric piano). Introduced in 1962, the VOX Continental — or 'Connie' as affectionately it became known — was originally designed to address the needs of touring musicians, but became musically much-loved in its own right. As such, it prominently featured on many hit records of the time, including The Animals' classic 'House Of The Rising Sun' in 1964 and, a little later, 'Light My Fire' by The Doors. Onstage, The Beatles performed a memorably frenzied version of 'Help!' B-side 'I'm Down' during their August 1965 performance at New York's Shea Stadium with John Lennon playing a VOX Continental using his elbows at times!

Despite being phased out of production in the early-Seventies, the VOX Continental has stood the test of time, too, playing a pivotal part in generating many of the distinctive keyboard sounds supporting later musical genres, including almost everything ever recorded by British Ska revivalists Madness, as well as New Wavers like Elvis Costello and The Attractions and American counterparts Tom Petty and The Heartbreakers. However, VOX organs have become increasingly difficult to acquire due to the high prices that they can command, compounded by the limited supply of working units. Today, VOX Continental-V gives contemporary, computer-based musicians instant access to those same hit-making sounds of yesteryear, and much more besides — and all without breaking the bank!
VOX Continental V features
Physical Modeling of the VOX Continental 300.
Added models of the ultra rare Jennings J70.
Extended mode allows for more controls and more sound possibilities.
Includes classic stompbox-type modeled effects.
Modeled Guitar Tube Amp and Rotary Speaker outputs for vintage live sound.
Extensive MIDI mapping of pedals, effects and sound engine parameters.
Modeled amplifiers: Fender Deluxe Reverb Blackface, Fender Twin Reverb Blackface, Fender Bassman, Marshall Plexi, Leslie Speaker.
Modeled microphones: Shure SM57, Sennheiser MD 421, Neumann U 87.
Convolution reverb with custom classic spring reverbs.
The Vox Continental V is available for Windows and Mac (VST/AU/AAX/Standalone) for $99 USD/99 EUR (download) / $129 USD/119 EUR (boxed).
Maybe the first MFB drum Machine, with some mods added like drum triggers
best quality
This is drum & bass piece performed live using an automated drum kit and other percussion, playing together with a selection of vintage and new analog synthesizers.
All the sound is being generated in real time, the analog synths coming through the main rack mixer and the robotic percussion being recorded by microphones.
List of the main gear used :
Modulars : Roland System 100m (sub bass), Roland System 700 (basses), Doepfer system (stabs and atmospheric sound).
Other Synths : Yamaha CS-10 (more basses), Studio Electronics Omega 8 (chords and atmospheric sound), Korg Monotron Duo (more basses).
If you would like to download the audio file, you can do so at kxnz.bandcamp.com where you can find it in high-quality formats on a pay-what-you-like basis. All proceeds will go towards supporting a trip to London to present a paper about musical robotics at NIME 2014.
Vintage Yamaha PS-20 analog keyboard connected to iPad using Apogee Jam interface, played through Crystalline. Also features iOS apps Animoog, Audiobus and Arturia iSEM. No other effects or processing done.
Crystalline: Shimmer Effects Processor for iPad
http://crystallineapp.com
The Vermona ER-9 is a rare East German rhythm box. The manufacturer is VEB (Volkseigener Betrieb) Klingenthaler Harmonikawerke.
It's not programmable, but the presets are free combinable. Every drum sound has its own volume knob, that makes it flexible. Check out that GDR sound
Minimojo is an emulation of Minimoog built in Reaktor, available for all registered product owners in the NI Reaktor User Library.
The Minimojo is not in any way a copy of MONARK. The builder did not have access to or ever used MONARK during the making of Minimojo. Instead, the old ensemble Minimood made by NI in 1999, which has then been modified by several users, has been used as the starting point. I think that the basic structure will be recognizable from that early ensemble.
As the Minimoog is the most emulated synthesizer the world probably don't need yet another one. Minimojo should be seen as a proof of concept; how to emulate the should of vintage synthesizers using the Reaktor environment.
The technology developed for this is called Analog Legacy. Analog Legacy is the theory of modulating all functions in a synthesizer at all frequencies. The key is to find the right balance of the modulation depth for each frequency. Minimojo is the first attempt to use this theory in practice.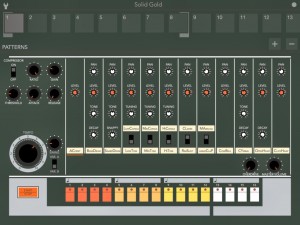 Boom 808 integrates one of the most popular drum machines of the 80's into the modern mobile producers workflow.
With Boom 808, getting the classic 808 drum sounds into your music has never been easier. Audiobus compatibility, background audio, and audio export options allow Boom 808 to fit into your music without slowing you down.
Personalize your beats with the sound of the 808!
Features:
Step sequencer
High fidelity audio
CoreMIDI
Audiobus and background audio modes
Record and export live performance to Soundcloud, Audio Copy, email and iTunes file sharing
Compressor
Swing
Overdrive
Boom 808 provides the superb audio quality found in our other Pulse Code apps. Along with the classic drum sounds, Boom 808 has a built in compressor that is tuned to add punch to your drum beats. Soft saturation overdrive rounds out the signal chain adding warm crunch to your beats.
Using Boom 808 with Audiobus allows you to add any number of Audiobus compatible effects as well as record your beats into the app of your choice. Writing beats is easy by using the internal step sequencer or trigger the drums with CoreMIDI. Control your groove with two swing variations.
QUALITY HEADPHONES / MONITORS RECOMMENDED
BOOM 808! is priced at $0.99.