Demo of the drum machine Sequential Circuits Drumtraks from 1984.
It is a great American drum machine. It is very flexible – for every beat and every sound in a pattern you can set volume and pitch to your needs, similar to the E-mu SP-12. It has a groovy sequencer! One of my favourite drum machines.
It is a studio machine with single outputs for drumsounds, MIDI, Clock IN/OUT and more…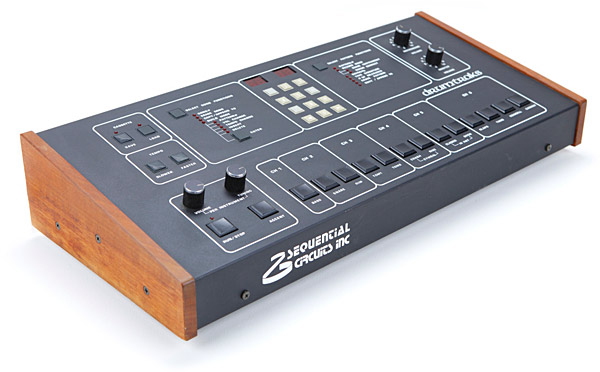 The DrumTraks is a very programmable classic drum machine from the eighties. While its electronic drum kit sounds may not be as popular today as the TR-909 or TR-808, the DrumTraks exceeds them with superior editing capabilities. Thirteen drum sounds all with programmable tuning and level control. Extensive editing with copy and paste ability. There's even a mixer section for individual sounds, six individual outputs, one mono mix output, and cassette in/out for offline memory storage.
Pretty basic and easy programming, record a couple patterns and link them into a song. The DrumTraks can output a 24PPQN clock signal and is also fully MIDI capable. This makes it very easy to use with old analogs and new MIDI synths and sequencers. If your looking for classic eighties electro beats and the vintage instrument that generates them then look no further than the DrumTraks.
Vintage synthesizer demo track by RetroSound
all synthesizer sounds self programmed: Roland Jupiter-4 Analog Synthesizer from the year 1978
drums: Roland TR-808
recording: multi-tracking without midi, the TR-808 is triggered the JP-4 arpeggiator in random mode
fx: a bit reverb and delay
For me has the Jupiter-4 the best sound from the Jupiter family. Very raw and powerfull.
more info: http://www.retrosound.de
The first Jupiter synth. It was among one of the first poly synthesizers (4 individual voices which could be synced together for one fat monophonic lead), it had a pitch wheel that could be assigned to the VCA, VCF, VCO or all together, there are 8 memory locations and a cool arpeggiator – the arpeggiator can be heard in the Duran Duran classic, "Rio". It also has a very slow LFO for those ever-so-long filter sweeps. Pretty good for 1978!

Not so cool however, are the 10 preset sounds which sound nothing like the piano, brass or strings they claim to be. The placement of all the preset buttons below the keyboard can be inconvenient, especially while playing it. And as with most old analog synths, the Jupiter-4′s tuning can go out often. Still it is a nice analog synth for creating weird trippy analog sounds.
A very fat synth !! the 3 rd oscillator really opens up some extra sound possibilities
This is the very source of cheap Moog bass! It is a lot like the strap-on Moog Liberation in its design and architecture and also looks and sounds very much like the Moog Rogue. The MG-1 was built by Moog for Realistic (Radio Shack), and was designed specifically for the home market. Very basic and easy to use, this is a nice cheap way to get your hands on Moog sounds!
The MG-1 is a 2-VCO monophonic/polyphonic analog synth with a genuine 24dB/oct Moog filter, however the overall sound is thin. On the MG-1, the VCOs are referred to as 'Tone Generators'. It can produce sawtooth, square and pulse waveforms, and the oscillators are detunable and syncable. A simple ASR (attack, sustain, release) envelope called 'Contour' can be applied to both the amp and the filter. The LFO section provides triangle or square wave patterns as well as Sample-and-Hold. Additionally there is a simple Ring-Mod effect called 'Bell'.
Unique to the MG-1 is a slider on the far right side of the keyboard which controls the volume of a simple divide-down polyphonic organ sound. This feature makes it at least a little more versatile than the Rogue. There are RCA inputs and outputs (the input is routed straight to the output for playing along with music from your stereo system) but no external speakers as in most other home marketed synthesizers. There is also no sign of Midi or patch memory on the MG-1.
Here is a demonstration of the sound and functionality of the operators of the Yamaha DX7.
http://www.youtube.com/watch?v=_7CKJj…
One of the most popular digital synths ever was the DX7 from Yamaha, released in 1983. It featured a whole new type of synthesis called FM (Frequency Modulation). It certainly is not analog and it is difficult to program but can result in some excellent sounds! It is difficult because it is non-analog and thus, a whole new set of parameters are available for tweaking, many of which seemed counter-intuitive and unfamiliar. And programming had to be accomplished via membrane buttons, one data slider and a small LCD screen.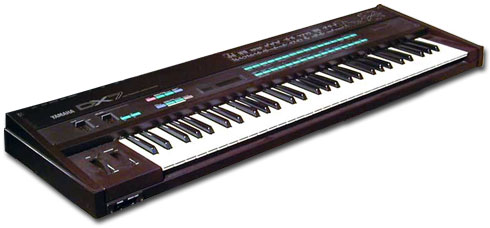 Still the sounds it shipped with and that many users did manage to create were more complex and unique than anything before it. Percussive and metallic but thick as analog at times, the DX7 was known for generating unique sounds still popular to this day. The DX7 was also a truly affordable programmable synth when it was first released. Almost every keyboardist bought one at the time making the DX7 one of the best selling synths of all time! It also came with MIDI which was brand new at the time – Sequential had already released the first MIDI synth, the Prophet 600. Roland had just released the JX-3P with very basic MIDI implementation, and wouldn't get around to adding full MIDI for another year with the Juno-106, and it would be three years before Roland can counter the popularity of the DX7 with a digital synth of their own, the D-50.
Korg's first digitally controlled analog synth hybrid; 8 sampled digital waveforms, analog resonant filter with separate VCF and VCA ADBSSR envelopes. Parameters can be altered in real time via a single programmable slider. 6 voice polyphony in two modes, or one monophonic mode with all six voices stacked. 12 digital oscillators (2 per voice) with 8 simple to complex waveforms, 1 de-tunable and with programmable interval. 64 presets that can be reprogrammed by the user.
Awesome fat basses, lovely warm sounding, pulsing strings, and hard, nasal leads. Some wonderful swirling effects can be found. Imagine a Poly 800 with 8 waveforms instead of 2, and you get the picture.
Due to reliance on sampled waveforms, it does not sit well through distortion, and some waveforms do not go well in a mix when used as a pad. Overall, an exceptional and underrated bass and lead machine with some nice pad sounds to boot.
The DW-6000 was quickly surpassed by the DW-8000: it expanded it to 8 notes polyphony, 16 sampled waveforms, a velocity sensitive keyboard with programmable aftertouch, auto-bend, a simple arpeggiator and a digital delay unit.
very underrated synthesizer – the presets are quite 80′s trying to do DX7 of the time —but with the correct programming can sound huge fat and very vintage analogue — I prefer it to the similar Rolands —i.e. juno and jx3p. The resonant VCF filter is awesome and very expressive. No external effects —just the pure sound of the korg—sometimes using the stereo chorous for sting like sounds –I find a mono out with no chorous best for punchy bass like sounds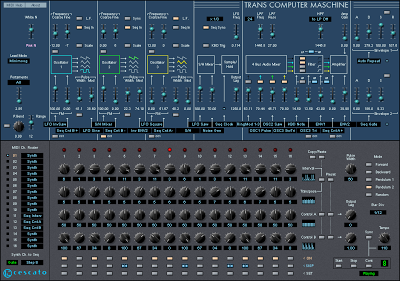 Cescato Musiktechnologie has released version 1.30 of Trans Computer
Maschine plug-in for Windows, a freeware Semi-modular Vintage Lead
Synthesizer + Pattern Sequencer modeled after two legendary mono
synths and a custom analog sequencer from Germany.
New features include:
- Added 'Envelopes' gate input indicators.
- Added 'Filter Cutoff Link' switch for band-pass use.
- Added 'Filter' modulation indicators.
- Added 'inverted Seq Cnt' modulation sources.
- Added labels to Sequencer 'Skip' buttons.
- Added middle position 'Preset' for Sequencer interval row.
- Added 'MIDI Ch. Router'. input indicators.
- Added mixer 'Oscillators Waveform' selection from GUI images.
- Improved Sequencer transport section featuring status display.
http://www.freewebs.com/wallyaudio/index.htm
Vintage synthesizer single sound demo by RetroSound
The Roland Juno-60 is a popular analogue 61-key polyphonic synthesizer introduced by Roland Corporation in 1982 and a successor to the slightly earlier Juno-6. Like its predecessor, the Juno-60 has some digital enhancements, used only for clocking the oscillators and for saving and loading patches. This instrument was succeeded by the Roland Juno-106 in 1984.
Roland was losing market share with the Juno-6 in competition against the Korg Polysix. Related in features and price-class, the Polysix featured external control and patch memory, which the Juno-6 lacked. These features were quickly added to the Juno-6′s design, which sonically and architecturally did not change notably between the two versions, and then released as the Juno-60.
all sounds programmed by RetroSound
For me is the Juno-60 one of the best analog synthesizers ever. The bass and pad sounds are much better as from the big brother Jupiter-8. One of my Top 5 synths.
more info: http://www.retrosound.de and
http://www.facebook.com/pages/RetroSo…
The Korg 770 is a great little monophonic synth from 1976. It has 2 Oscillators, 2 Filters, Ringmod, White & Pink Noise, Scale Noise, 2 LFOs and external signal input. Small but very flexible!
"I played the Korg 770 along with a Lexicon MPX 500 for reverbs and a Roland DEP-5 for delays."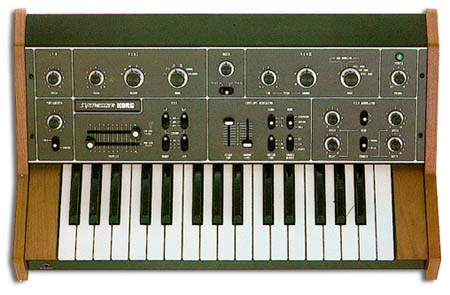 An ancient synthesizer from Korg. Aside from being very old, there isn't much else to say about the 770. It was released in 1976, is monophonic, very limited in design, flexibility and sonic possibility. It can make some weird noises largely due to its retro-cool ring modulator. You can also run external sounds through it. Bass, string and lead sounds are ok. It's got a fast envelope, auto bend, and LFO re-trigger too. An ole' classic that's fun to play with and useful if you're in the mood for buzzy analog sounds.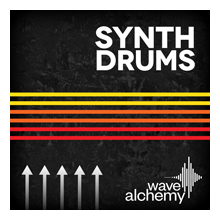 Ten Vintage synthesizers expertly programmed to create a ground-breaking Drum Library, our most comprehensive and intricately designed to date. Incorporating all-time classic analogue machines with modern High-End processing hardware and production techniques…
Introducing Synth Drums, offering over 5900 cutting edge, totally unique drum samples and percussive hits, each carefully crafted by hand, on a sound-by-sound basis.
Synths used in the creation of Synth Drums:
Roland Jupiter 8
Roland System-100 (101, 102, 104)
Sequential Circuits Prophet 5 Rev 2
Sequential Circuits Pro One
Korg MS-20
ARP Odyssey MK1
Moog Minimoog Model D
Oberheim OB8
Roland Juno 106
Roland SH-09
"We've designed this library to be as flexible as possible: as well as the extensive processed section, the unprocessed source samples are also included as they were originally recorded – straight-from-the-synth. A third section includes selected samples bounced through special processes to add character, tone, warmth and punch, using Vinyl and Reel-to-Reel ¼ inch Tape with multiple saturation levels.
We feel that this attention to detail will translate into a unique, creative and useful addition to any electronic music producer's toolkit."
UVI has released Digital Synsations, a new virtual vintage synths collection inspired by four 90s classic keyboards – the Yamaha SY77, the Korg M1, the Roland D50 and the Ensoniq VFX.
❐ Buy Digital Synsations : http://bit.ly/digital-synsations
❐ UVI Official Website : http://www.uvi.net
❐ UVI Official Blog : http://blog.uvi.net
A brand-new massive library inspired by four 90s classic keyboards — the Yamaha SY77, the Korg M1, the Roland D50 and the Ensoniq VFX : UVI Digital Synsations
Digital Synsations includes over 500 patches expertly programmed on a fully restored Yamaha SY77, Korg M1, Roland D50 and Ensoniq VFX' used by many of the greats including Depeche Mode, The Cure, Pet Shop Boys, Vangelis, Brian Eno, Toto, 808 State, Jean Michael Jarre and more.
We deeply multi-sampled these custom patches using top-shelf equipment and edited them to perfection before sending them off for professional mastering. These sonics became the foundation for our new hybrid instrument and combined with the UVI Engine give you the true character of these classic synths with all of the peculiarities and programming by products intact. Not only that but you get them in an extremely easy to use and fast to edit environment complete with all the features you expect from a modern virtual instrument.
If you're looking for a new take on the 90′s sound, or just some new classic synth inspiration then look no further.
———————————————————————————
* UVI is not affiliated, endorsed or sponsored by the Yamaha Corporation, the Korg Corporation, the Roland Corporation or the Ensoniq Corp. All trademarks are held by their respective owners.
** iLok required