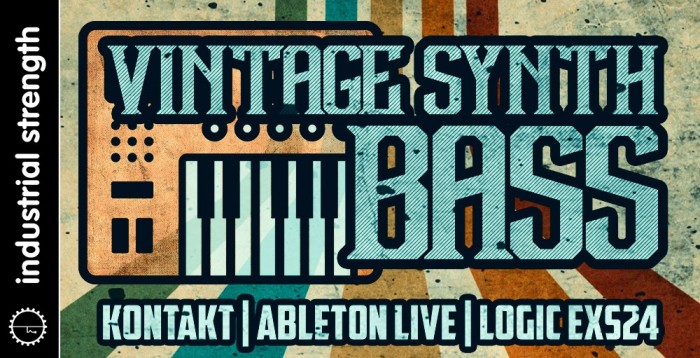 Industrial Strength Samples has released Vintage Synth Bass, a collection of bass sounds records from synthesizers like the Arp 2600, Juno 60, and Korg MS20.
Industrial Strength Samples is back with another dynamite production pack. We went in the studio and sampled some of our favorite Bass sounds from our vast synth collection. So get ready,

Our design team went on a mission to create a serious collection of classic bass sounds used in electronic music over the last few decades. Knowing that these rare synths are out of reach to many people due to cost and availability, this pack can be an essential tool for anyone looking to capture the real vintage analog bass sounds used in classic traxx.

This serious studio weapon delivers 20 bass instruments meticulously recorded in 24 bit Wav audio, each sound has been tweaked and key grouped for ease of use while using our bass sounds. We also tossed in the Midi files from the demo so you can easily use the baselines in the demo with no fuss.
The sample pack is available from Loopmasters for £12.95 GBP.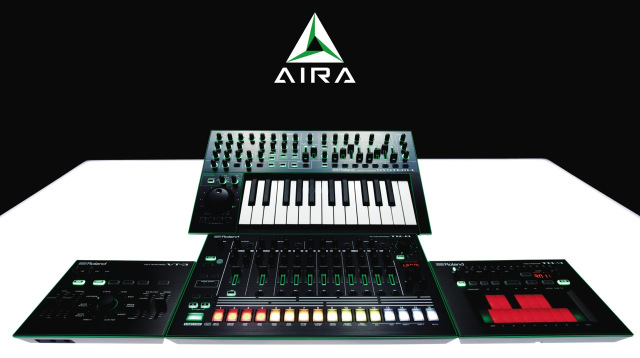 Roland has officially announced its new series of AIRA products:
The AIRA TR-8 Rhythm Performer – a $499 drum machine;
The AIRA TB-3 Touch Bassline – a $299 bassline synth;
The AIRA VT-3 Voice Transformer – a $199 vocal effects processor and vocoder; and
The AIRA System-1 Plug-Out Synthesizer – a $599 virtual analog synthesizer that can transform into a variety of classic synth, and act as a hardware controller for a new line of software synthesizers.
The AIRA series is based on Roland's newly-developed Analog Circuit Behavior (ACB) which the company says faithfully captures the sound of some of Roland's most revered classics. In developing the AIRA line, Roland modeled classic circuits, using original design specs, consultation with original product engineers, and a detailed part-by-part analysis of each analog circuit, using pristinely-archived Roland drum machines and synthesizers.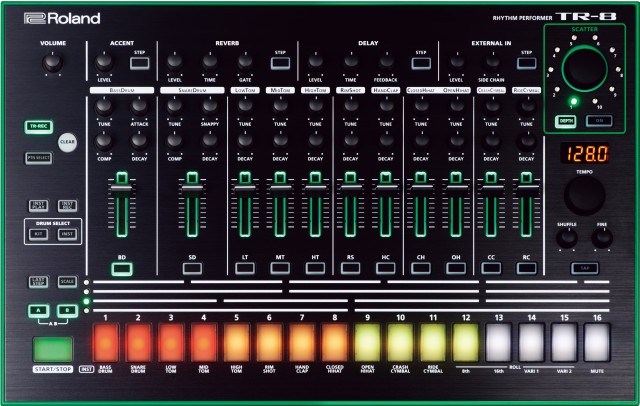 The TR-8 Rhythm Performer is a 'performance rhythm machine'. It offers the sounds of Roland's classic TR-808 and TR-909, 4 audio outputs and greater tweakability than the originals.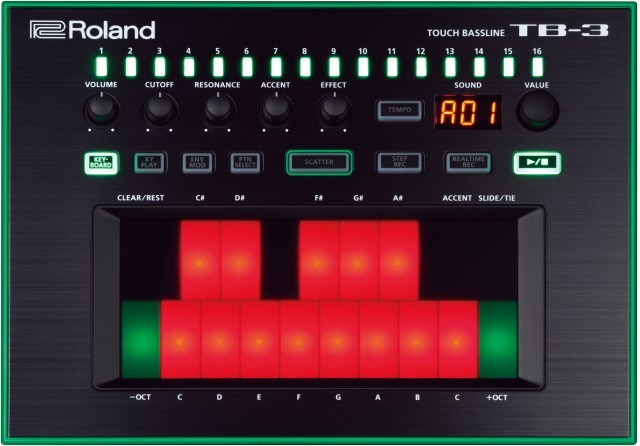 The TB-3 Touch Bassline is based on the classic Roland TB-303.
The new TB-3 Touch Bassline uses Roland's ACB modeling to recreate the classic bassline sound and offers controls that will be familiar to users of the original. But the TB-3 also offers a large touch control surface that streamlines sequence programming and introduces new performance options.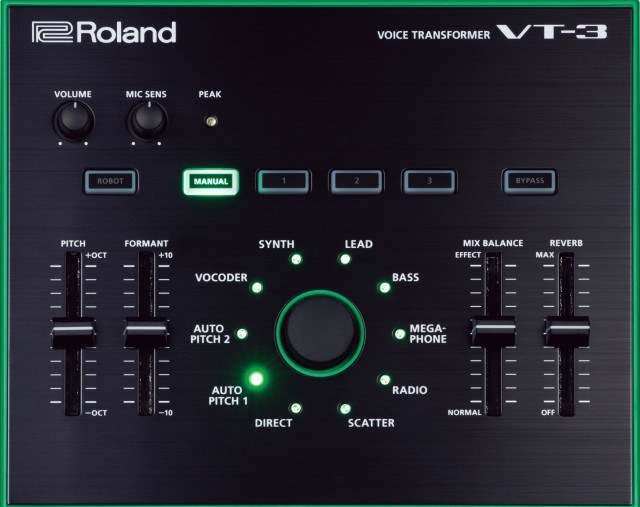 The VT-3 Voice Transformer is designed for creating heavily processed vocal sounds, with pitch and formant shifting, vocoder effects and more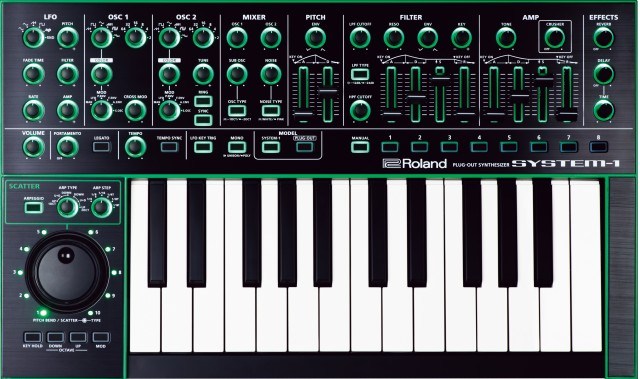 The System-1 Plug-Out Synthesizer is a new keyboard that can transform into a variety of types of synths.
It's very hands-on and knobby, but the key feature is the synth's Plug-Out technology, which lets the System-1 control – and even host – software recreations of classic Roland synths, with no computer connected.
Videos:
Pricing and Availability:
The TR-8 Rhythm Transformer will retail for a street price of $499;
the TB-3 Touch Bassline has a street price of $299;
the VT-3 street price will be $199; and
he System-1 Plug-Out Synthesizer will retail for $599.
Roland AIRA products will be shipping by the end of second quarter 2014
How to achieve the classic Larry Heard "Can You Feel It" bass line
ProAudio creates a short track while exploring the features of the new Novation Bass Station II. Check out this video demonstrating the flexibility and mobility of this affordable digitally controlled analog monophonic synthesizer.
From Novations Website:
"Bass Station II is an analogue mono-synth based on the classic original Bass Station but re-worked for the 21st century. It has two filters, two oscillators plus a third sub-oscillator, patch save and a fully analogue effects section. Add a step sequencer, arpeggiator, full sized keys and a powerful modulation section and you have the makings of a synth that is built for bass, but capable of so much more."
Joseph Colmenero shows you a fast and easy way to create your own custom drum sounds using the Novation Bass Station II analog synthesizer.
Making the wobble bass sound effect is as easy as 1-2-3. This is an unnecessarily long video tutorial showing how its done.
Studio1111 is an all-in-one workstation and composing environment offering a wide selection of tools and modes to effortlessly build awesome acid bass lines and drum patterns. This one goes up to 1111!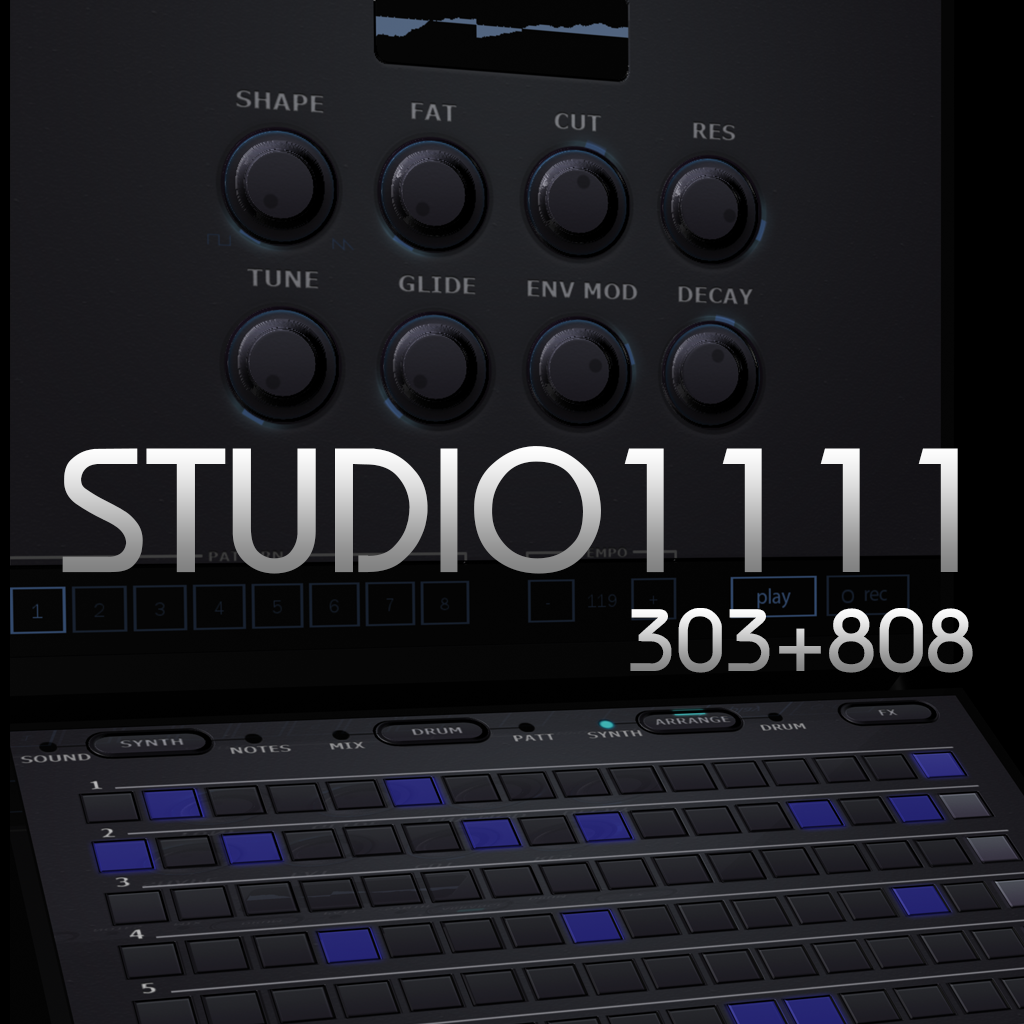 FEATURES:
303 BASS SYNTH:
-De-tuneable to 3 voices (FAT)
-Waveform mix between Square/Saw
-Resonant Acid Low Pass filter with envelope and decay that 303 fans will love.
-sequence up to 16 patterns per song
DRUM MACHINE:
up to 15 kits available including:
-808
-909
-8 BIT
-505
-KASIO
-DUBSTEP
-DISCO
-iHANG
-606
-BEATBOX
-MPC2000
-707
-ELECTRO
-HIPHOP
-SPEAKSPELL
You Have full control over the mix of the drum kit to get the balance perfect!
XY FX PAD:
The effects pad enables you to ad cool FX to both drum and synth channels. Effects include:
-Vowel formant filter
-Low Pass filter
-Hi Pass filter
-Bitcrushing distortion
LOAD/SAVE:
You also have the ability to load and save up to 8 songs n the fly
AUDIO EXPORT:
Record your performances to WAV, downloadable via the iTunes sharing page
MIDI IN/OUT
Trigger your drum kit and synth with an external keyboard or sequencer!
You can also you Studio1111 pattern sequencer to trigger external midi modules – both drums and synth sequencer have midi out!
For more information and download:
https://itunes.apple.com/us/app/studi…
twisted-electrons.com/studio1111
Sonic XTC lets us know that their new monophonic bass line synthesizer, B-Line 303, captures the vibe and sound of classic EDM and Acid techno music synthesizers from the 70's and 80's. They say that B-Line 303 can easily dial up the classic Acid bass sound with all the squelch and buzz of the original classics, giving producers the unique ability to shape their sound with sub oscillators, distortion, distortion intensity, and built in Waveshaper unit.  B-Line 303 comes with 14 presets to get you started but has room for up to 64 user presets. In order to create the entire Acid bass sound experience, B-Line 303 comes equipped with a Stereo "Doppler" Chorus effect and a Stereo Echo effect.
In the beginning of the song B-Line 303 sounds like your standard Roland TB 303. In the middle of the song it sounds like a Roland SH-101. At the end of the song the B-Line 303 gives you a glimpse of why we think it is special! Only used Deep 606, Deep Mono, and B-Line 303 to create this track. Side chain compression on the Deep 606 kick only external effect used.
Highlights
64 user presets
14 custom presets
Midi automation
Doppler Chorus, Stereo Echo effect
VST 2.4 effect
$14.95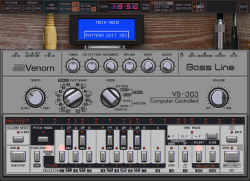 Venom VB-303 is a free software synth that simulates the iconic sound of the Roland TB-303 bass synthesizer.
It's Windows only – so sorry all you Mac users out there (including myself) 😉
It's available for download here.
Here's a user video demo:
Go get it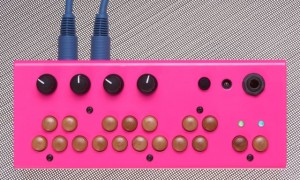 Critter & Guitari has introduced Bolsa Bass – a new bass synthesizer.
The keyboard may be tuned over a 1 octave range by turning the knob second from right. Volume is controlled by the right-most knob. The function of the remaining two left knobs depend on what mode is selected.
The synthesizer modes provide elemental monophonic bass sounds, great for all kinds of musical scenarios. From classic filter sweeps to simple and pure tones, lush FM, and even a stretchy tuned delay which makes great string like drones.
The built in sequencer lets you quickly create bass lines with the touch of a button. With MIDI in and out you can synchronize your sequences with other devices. The Bolsa Bass also sends and receives note messages so you can use it as a sound module or simple controller.
The Bolsa Bass has a built-in sequencer, full MIDI capabilities, and six modes:
Circle Ramp
Sawtooth Ramp
Analog Style
Filter Envelop
FM Pad
Bass Delay
Here's a set of audio demos:
Details:
Wooden Buttons
Pink Neon Powder Coated Aluminum Enclosure
Power From 9v Battery or Adapter (not included)
1/4″ Line Output Jack
High quality 32 Bit Floating Point DSP Synthesis
The Bolsa Bass is available for $250 right here >>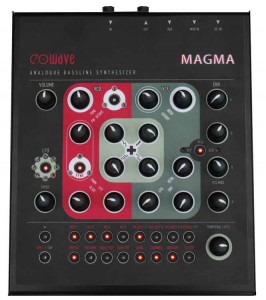 Eowave tells us that MAGMA  is now available. It's an analogue bassline synthesizer inspired by classical synths from the 1980s which offers the possibility to mix 4 different waveforms (saw, square, sub, noise). Eowave says that the 24 dB low-pass filter is also inspired from classical filters from the 80s.
"To this particular sound of the 80s, we added a touch of modernity with modern controls and parameters saving features. The 16 steps sequencer has 4 rows: 1 for the notes and 3 freely assignable to a parameter of your choice that enables to create living sequences with sonorities like Vince Clark or Jan Hammer."
Here's the specs from Eowave:
Oscillator section
analogue VCO with square saw sub (sub can be 1 or 2 octaves below the master freq), noise.
VCO can be modulated by LFO and PW
Variable glide
mixer to mix the 4 waveforms
Filter section
Full analogue VCO, filter, VCA.
external audio with a trimmer to feed the filter
24dB low pass filter roland style for a classical 80s sound
filter can be modulated by env2, KB, lfo.
VCA section
Vca is affected to env1
2 envelopes ADSR modulate respectively the amplitude and the filter. Attack goes from 2ms to 10s.
LFOs section
2 x LFO with 8 waveforms (triangle, ramp up, ramp down, square, random, digital noise, staircase up, staircase down)
Connections
audio in
audio out
MIDI in
USB (for software update and MIDI in&out)
Sequencer
16 steps sequencer with LED
4 rows: 1 row controls gates and notes.
3 other rows are freely assignable to any parameter of the front panel.
Swing and shuffle per note – You can transpose the sequencer with an external MIDI keyboard.
Pricing and Availability:
539 € excl. VAT
More information:
Peter Songolo, producer for the critically acclaimed Dutch Hip Hop band "Dope DOD", shares his love for the MiniBrute analog synthesizer as it perfectly fits his needs for raw, aggressive urban & Dubstep basslines.