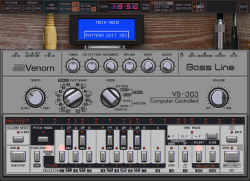 Venom VB-303 is a free software synth that simulates the iconic sound of the Roland TB-303 bass synthesizer.
It's Windows only – so sorry all you Mac users out there (including myself)
It's available for download here.
Here's a user video demo:
Go get it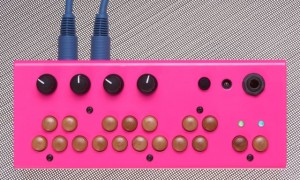 Critter & Guitari has introduced Bolsa Bass - a new bass synthesizer.
The keyboard may be tuned over a 1 octave range by turning the knob second from right. Volume is controlled by the right-most knob. The function of the remaining two left knobs depend on what mode is selected.
The synthesizer modes provide elemental monophonic bass sounds, great for all kinds of musical scenarios. From classic filter sweeps to simple and pure tones, lush FM, and even a stretchy tuned delay which makes great string like drones.
The built in sequencer lets you quickly create bass lines with the touch of a button. With MIDI in and out you can synchronize your sequences with other devices. The Bolsa Bass also sends and receives note messages so you can use it as a sound module or simple controller.
The Bolsa Bass has a built-in sequencer, full MIDI capabilities, and six modes:
Circle Ramp
Sawtooth Ramp
Analog Style
Filter Envelop
FM Pad
Bass Delay
Here's a set of audio demos:
Details:
Wooden Buttons
Pink Neon Powder Coated Aluminum Enclosure
Power From 9v Battery or Adapter (not included)
1/4″ Line Output Jack
High quality 32 Bit Floating Point DSP Synthesis
The Bolsa Bass is available for $250 right here >>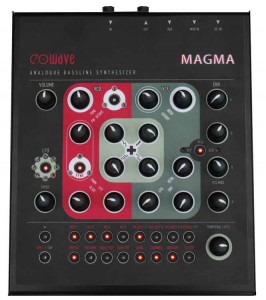 Eowave tells us that MAGMA  is now available. It's an analogue bassline synthesizer inspired by classical synths from the 1980s which offers the possibility to mix 4 different waveforms (saw, square, sub, noise). Eowave says that the 24 dB low-pass filter is also inspired from classical filters from the 80s.
"To this particular sound of the 80s, we added a touch of modernity with modern controls and parameters saving features. The 16 steps sequencer has 4 rows: 1 for the notes and 3 freely assignable to a parameter of your choice that enables to create living sequences with sonorities like Vince Clark or Jan Hammer."
Here's the specs from Eowave:
Oscillator section
analogue VCO with square saw sub (sub can be 1 or 2 octaves below the master freq), noise.
VCO can be modulated by LFO and PW
Variable glide
mixer to mix the 4 waveforms
Filter section
Full analogue VCO, filter, VCA.
external audio with a trimmer to feed the filter
24dB low pass filter roland style for a classical 80s sound
filter can be modulated by env2, KB, lfo.
VCA section
Vca is affected to env1
2 envelopes ADSR modulate respectively the amplitude and the filter. Attack goes from 2ms to 10s.
LFOs section
2 x LFO with 8 waveforms (triangle, ramp up, ramp down, square, random, digital noise, staircase up, staircase down)
Connections
audio in
audio out
MIDI in
USB (for software update and MIDI in&out)
Sequencer
16 steps sequencer with LED
4 rows: 1 row controls gates and notes.
3 other rows are freely assignable to any parameter of the front panel.
Swing and shuffle per note – You can transpose the sequencer with an external MIDI keyboard.
Pricing and Availability:
539 € excl. VAT
More information:
Peter Songolo, producer for the critically acclaimed Dutch Hip Hop band "Dope DOD", shares his love for the MiniBrute analog synthesizer as it perfectly fits his needs for raw, aggressive urban & Dubstep basslines.

AudioRealism has announced that it will be bringing ABL2 – a virtual Roland TB-303 – to Propellerhead Reason as a Rack Extension:
We are happy to announce our first Rack Extension for the upcoming Reason 6.5 release: ABL2 for Reason! Featuring the same 303-engine that ABL2 has. It does not contain a built-in sequencer, but works great with Reason's Matrix Pattern Sequencer!
Disclaimer: This is a preview only, things may change for the final release.
Pricing and availability are to be announced.
Cyclop is the new bass synthesizer from Sugar Bytes.
Check it out!
It's a monophonic monster, armed to the teeth with jaw dropping effects and wobblier than a jelly on a space hopper. CYCLOP is the scratch-looping, sample-mashing, sub-generating, harmonic-splicing mothership of the twisted bass alliance and it's landing on your desktop soon. With masses of new sounds for you audio-junkies, from screaming analog syncs through brutal FM sounds to scintillating spectral shimmers. The integrated sampler also works as wavetable synth and pitch transformer for creating unbelievable and disturbing monster voices. CYCLOP is more than massively loaded with features: 10 incredible filters, unique wobble generator, feedback processor, 3 overdrives and an effects sequencer. CYCLOP is expected to be released in spring 2012.
http://www.mcrow.net/Bass%20Lab.htm All synth sounds created with Bass Lab! Bass Lab is a bass synthesizer by Musicrow that produces ultra-modern fat and punchy electronic basses. Bass Lab is available as part of the Golden Ensembles 3 bundle for NI Reaktor.
http://ios-music.homewoke.net/
Very pretty, dark-based is sound. You can play alone is iPhone. However, I think that I can use effects such as compressor Once you have the processing and recording.
The dirtiest, filthiest, dubstep wobble keyboard and sampler ever!

Make wobbles bass sounds, dubstep loops and throw in some drops and fx at the touch of a few fingers by sliding, touching and tapping the screen; no musical knowledge is required.

This easy to use app is perfect for dub steppers, bass heads and music producers, musicians and non-musicians alike.

Making dubstep has never been so easy and enjoyable!

Features:
◆ Studio quality samples, created by professional musicians and producers.
◆ Over 300 wobble bass variatons, 10 drum loops and 10 extra FX.
◆ Colour assigned buttons, for clear and straightforward use.
◆ Pitch resample all of the built in samples.
◆ 12 fully editable sample pads
◆ 1 octave keyboard (13 keys) with pitch shifting spanning 5 octaves.
◆ 3 different wobble synthesizers
◆ ADSR

☐ Sample Pads
Select a sample for each pad and customise its volume, pitch, and loop duration. Layer up to 12 looping or touch triggered pads at once.

☐ Wobble Synth
Choose from 3 different wobble bass synth types. Select the central octave with the octave + or – buttons, and pitch shift up to three notes at once in real time with the pitch shift wheel. Use the LFO buttons to change the wobble speed and make intuitive wobble bass riffs!
☐ ADSR
Use the rotating potometers to alter the attack, decay, release and sustain of your wobble synth to get the perfect sound to fit your creation.

This is the ultimate compact dubstep keyboard and sampler. So what are you waiting for, start making some wobbles!
Asher Fulero, aka Halo Refuser, demonstrates some of the sweet realtime performance capabilities of the Moog Minitaur bass synthesizer. Enjoy the demo, then learn more about the Moog Minitaur bass synth right here: http://bit.ly/sw_Minitaur
Minitaur is capable of generating subsonic sound waves which move air in a manner that can not only be seen, but felt. Here, one of our brave "scientists" runs Minitaur through a sub woofer to demonstrate this phenomenon.
Learn more about Minitaur at: www.moogmusic.com/minitaur
"…any sound, soft or loud, sweet or nasty, creates a multidimensional
envelope that does more than intrude – it takes over not only your acoustic space,
but your mind space as well. There is no escaping sound.
It meets your body and forcibly enters your mind, not
just through your ears but also via your bones…"
-Ron Pellegrino