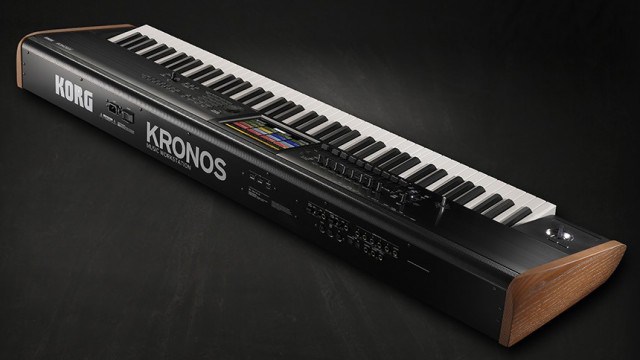 Korg today introduced the new Kronos – the most powerful version of their flagship keyboard music workstation to date;
"The new Kronos features the unrivaled 9-engine structure from previous versions, with numerous improvements to both sound capability and overall functionality," said Korg Brand Manager James Sajeva. "Truly, this is the most powerful synthesizer on the planet."
Sajeva explains what's been updated in the new Kronos: "Our SGX piano engine, already revered for its German and Japanese grands, now also includes a 9GB Berlin grand with dedicated una corda (soft pedal) samples, plus sympathetic string resonance that works on all the SGX pianos" he continued. "It's truly an amazing piano experience. There are new banks of sounds based on famous song titles for our cover players and those looking for 'that' sound for their recordings, plus a 'best of' bank from KaPro, who has created numerous libraries for the Kronos line."
Other new features include system-wide Touch/Drag via the Kronos' color TouchView screen; allowing the user to edit onscreen parameters faster than ever.
An evolved Set List mode provides the capability to resize their custom text per set list entry, and enter text via either an onscreen QWERTY or external USB ASCII keyboard. Entries can also be color-coded for better organization and visibility, and users can even decide how many set list entries appear on the screen at time, allowing for more (and larger) onscreen text to remind you of lyrics, changes, or other notes.
An improved search function helps users to find the perfect sound faster than ever.
Other improvements include onscreen metering in Combination and Sequencer modes, along with the ability to edit Programs within a Combination to hear the edits in context with other parts.
The improvements don't end with the software, either; the new Kronos also boasts natural wood side panels, easier-to-read silkscreened text and gold-plated audio I/O jacks.
Korg Kronos synth engines:
SGX-2 Premium Piano
EP-1 MDS Electric Piano
CX-3 Tonewheel Organ
HD-1 High Definition PCM Synthesize
MS-20EX & PolySixEX Legacy Analog Modeling
AL-1 High-Fidelity Analog Modeling
MOD-7 Waveshaping VPM Synthesizer
STR-1 Plucked Strings Physical Modeling
Other features include one-cable USB DAW integration for MIDI and Audio, powerful effects processing with up to 16 effects at a time, a 16 MIDI/16 Audio track sequencer, 16-part Combinations, a tremendous assortment of real time controllers, KARMA phrase generating technology, vector control and more.
This is Part 1 of our video manual for the Korg Kronos Music Workstation, focusing on basic navigation.
IK Multimedia has introduced SampleTank 3 Free, the free version of their SampleTank sound and groove workstation for Mac and PC.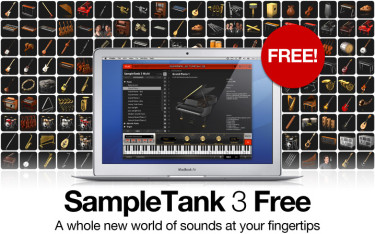 SampleTank 3 Free is essentially a fully functioning version of SampleTank 3: The only difference is that SampleTank 3 Free includes a small portion of the sounds featured in the full version.
The library is expandable; IK plans to add instruments to SampleTank 3 Free until a total of 22 instruments are available.
SampleTank 3 Free is available now as a free download, for Mac & Windows.
Yamaha product specialist Dom Sigalas visited to show us the Yamaha MOXF6 workstation. With most of the brains of the flagship MOTIF its way more affordable.
Scott Tibbs from Roland US takes us through the FA-08 workstation at Nova Musik.
Roland's FA series completely reimagines the music workstation, streamlining it for effortless real-time power, ultra-fast workflow, and maximum versatility. Ready to support any type of music you play, the FA-06 is packed with a massive sound collection inherited from the flagship INTEGRA-7, a ton of studio-quality effects, and expressive real-time controls, plus onboard sampling with zero load time for instant audio playback from the 16 backlit pads. The sequencer features simple operation and non-stop loop recording, letting you capture songs and ideas as they come and export them as multitrack data to use with your DAW. Flowing seamlessly into every part of your creative world, the FA-06 morphs instantly from a standalone keyboard to become the command center of your computer music studio, with USB audio/MIDI interfacing, powerful real-time controllers, DAW transport controls, and much more.
Shop Nova Musik and get more value and the best customer service with your new Roland workstation
Korg's Rich Formidoni explains the ins and outs of the drum machine-style step sequencer on the Kross Music Workstation.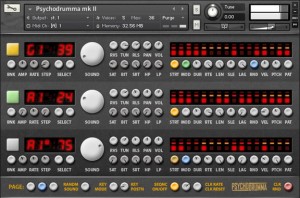 Fairly Confusing Waveforms has launched Psychodrumma mk II, an updated version of the "chaos management workstation" instrument for Native Instruments Kontakt.
Psychodrumma mark II is reworked and expanded version of Psychodrumma, fantasy, neo-retro drum machine/music generator for Kontakt 4 sampler. It can act as a drum machine and generate random rhythmic, ambient or melody patterns.

It is based on matrix of nine synchronized step sequencers, and a meta-sequecer. Most of settings can be programmed automatically by randomizers, creating strange machine music. It has plenty of knobs and a lot of flashing lights.
Changes in Psychodrumma mk II
Algorithmic mode, makes it possible to playback or loop sequences of random events.
Music box, tunes melodic samples to defined pattern, to create melody sequences.
Reworked and expanded sound banks, including third tonal bank to use for generating melodies.
Saving and loading presets, presets can then be sequenced in meta-sequencer, to create tracks inside the machine, preset-set can be then saved to file.
Automated effects rack.
Psychodrumma mk II is available with the purchase of The Sounds of SzcZ, vol​.​2, Psychodrumma, available from Bandcamp (name your price).
all synth sounds: E-MU Emax SE Sampling Synthesizer (1986)
drums: LinnDrum (1982)
recording: multi-tracking including the Emax internal sequencer
fx: reverb and delay
The Emax is a classic sampler workstation from E-mu. It is sort of a next generation Emulator II, it's not as good as an Emulator III but it's more powerful than previous EII's. The Emax can be found in several forms: the Emax, the Emax Rack, the Emax HD (built-in 20MB hard disk), the Emax HD Rack and the Emax SE (Synthesis Enhanced) with a built-in synthesizer section. The Emax's editing system will be familiar to users of E-mu's excellent ESI series.
The Emax has an extensive library collection of samples that can be loaded via the built-in 3.5″ hard drive. Or you can sample your own sounds. The Sampler is powerful, but lo-fi. It samples at 12-bit resolution with variable sample-rates up to 42kHz. The built-in memory is 512K which only gives you a few good seconds really. Sampling and editing is easy, complete and intuitive with auto sample placement, auto-looping, truncating, reversing, velocity cross-fade, etc. The Emax also features individual channel outputs and stereo outputs and extensive MIDI implementation.
The Emax features many common analog synth-type controls for easily shaping your samples. Tune, filter and shape the envelope or use LFO's and chorus to liven up your samples. There's also an on-board sequencer section. A real-time only 16-track, non-quantizable sequencer for basic scratch-pad use or simple arpeggios or patterns. The SE and SE Plus models, the most advanced of the 12-bit Emax's, add a synthesizer section, newer advanced digital signal processors for sample editing and a SCSI port (standard on the SE Plus). The Emax instruments were the most advanced of the classic keyboard samplers of the late 1980's.
The Emax II which was released in 1989 brought the Emax series up to modern specs with 16-bit sampling, 16-voice polyphony, 16 MIDI channels, stereo samples, 1MB RAM expandable to 8MB, SCSI, 8 assignable outputs and the SE's synthesis functions. And finally, the Emax II Turbo came with 4MB RAM standard and a 4MB hard disk. Whichever Emax you choose, they're all classic machines still capable of professional quality results when used in making the music of today.
Here's a presentation of the new Roland FA-08 at the NAMM Show 2014.
Dave Bryce checks out Roland's first new workstation since the Fantom-G, the FA series.
Roland has announced two new workstation keyboards, the FA-08 and FA-06, which it says meet the needs of anyone who wants an instrument that they can use both on stage and in the studio.
Featuring a built-in audio interface, DAW integration, more than 2000 sounds from the Integra-7 sound module and an 88-note weighted action keyboard, the FA-08 weighs in at 16kg. It comes with a 16-track sequencer, and each of the 16 available parts can access its own effects engine, which sports 67 effect types. The UK price is £1529.
Full specs are below. The FA-06 boasts very similar specs but comes with a 61-note velocity-sensitive keyboard. It retails for £975. You can find out more about both models on the Roland website.
Featuring a huge selection of Roland's best sounds, a 16-track sequencer, seamless DAW integration, an easy-to-use sampler, and much more, the new FA series completely reimagines the music workstation for effortless real-time power, ultra-fast workflow, and maximum versatility.
FA-06 (61-Key)
http://www.rolandconnect.com/product….
FA-08 (88-Key)
http://www.rolandconnect.com/product….
A few Kawai K5000S pads from the ASL4 library
About the synth:
The K5000 was Kawai's top of the line music workstation digital synthesizer when it was released back in 1996. It's a bold and elegantly designed synth with a large LCD display, realtime controls and incredible sounds! The look and functionality is rivals the competition from the time…the Korg Trinity and Kurzweil K2500
Programming sounds with the K5000 can be a breeze (once you learn how) although it has over 1,000 parameters per patch! That's plenty to play with. It combines additive synthesis and PCM sampled waveforms for you to layer and combine to design a whole range of sounds. Plenty of LFO modulation, filters and envelope controls allow you to shape and morph your sounds further. On-board multi-effects add the final touch of life to your sounds.
Once you've created some sounds, there's the on-board sequencer (K5000W only) for creating songs or loading Standard Midi File sequences (via disk-drive). It has a 40,000 note capacity and 40 tracks. Real-time record and step-edit modes are available and the sequencer is pretty straight forward.
The K5000S (pictured above) adds 12 dedicated knobs for hands-on control of filter, LFO and envelope parameters. There are 4 user-definable knobs and 2 assignable switches. The K5000S also has a 40-pattern arpeggiator on-board with 8 user-definable patterns too! K5000's have been used by Kraftwerk.
.