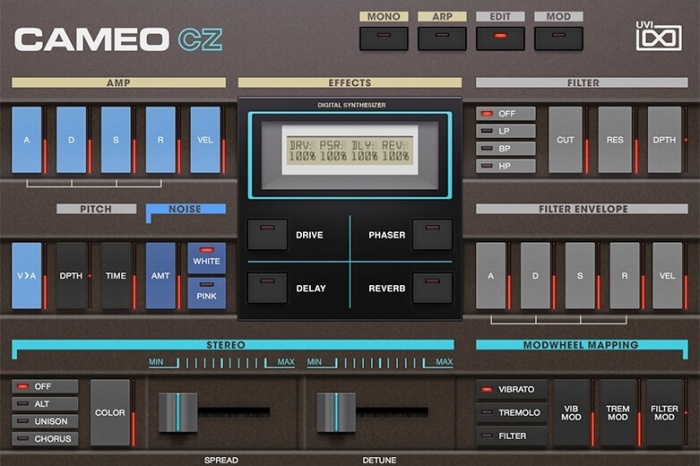 UVI has announced the release of Cameo, a phase distortion suite for UVI Workstation.
The sound made famous by the classic CZ-series keyboards is back in this new 3-instrument suite! Explore a huge library of authentic hardware sounds, craft your own patches from scratch with raw waveforms or explore new sounds of PD synthesis with the wavetable oscillator and DSP shaping tools from Falcon.

Whether you're a fan of classic '80s synths or just looking to expand your sonic arsenal, Cameo delivers an awesome range of inspiring and high-quality sounds with the unmistakable character of some of our favorite synths.
Cameo is available for purchase for the introductory price of $59 USD through December 14th, 2015 (regular $129 USD).
Check out these impressions on iM1 from both artists and those who had a hand in the creation of the original M1 Workstation.
http://www.korg.com/products/software…
iM1 for iPad is a complete reproduction of the legendary M1 that sparked a new era in how musicians wrote and performed with a keyboard. iM1 is a faithful recreation of all of the original sounds plus every single expansion card within the M and T series. Optimized for iPad, this IS the legendary M1 for the modern music making world.
https://twitter.com/korg_iapps
https://www.facebook.com/korg.iapps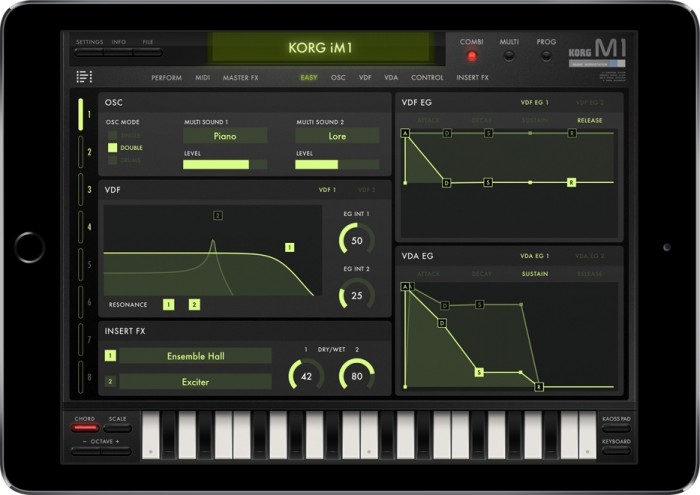 Korg has announced the release of iM1, a digital synthesizer workstation for iPad.
Since it went on sale in 1988 the legendary M1 music workstation rapidly achieved record-breaking sales, becoming a mainstay of the music scene from the late 1980s and beyond. The appearance of the M1 helped musicians deliver professional-quality songs using just a single piece of equipment.

The design goal of the M1 was to deliver sound that would satisfy professional needs in two areas: performance and music production. This goal became the new direction for the PCM synthesizers and desktop music sound modules that subsequently appeared, and has been carried on to the present day with KORG's flagship model the KRONOS.

High-capacity sampling and the increase in computer speed have enormously improved overall sound quality from a computer, but generating sound that delivers a real sense of presence demands technology and ideas beyond those that merely improve sound quality. The common element of electronic instruments that have left their name in history is that they had a unique sound that was difficult if not impossible to replicate. Sounds such as the "M1 Piano" and "M1 Organ" are instantly recognizable and have appeared on countless hit records over many years, and yet these are sounds that could only be produced by the M1. And that's what you can now have on your iPad!
iM1 features
Advanced Integrated System with 8 parts.
3,300 sounds (incl. all expansion sound cards) and 34 effect types.
MIDI program change, Virtual MIDI and Bluetooth MIDI.
Virtual keyboard and performance via external MIDI keyboard.
KAOSSILATOR-style "Touch Scale".
Gadget-style "Smart Keyboard".
Usable as a Darwin gadget within the Gadget app (Programs only).
Compatible with KORG Legacy Collection M1 format (.m1all file type).
Inter-App Audio, Audiobus 2 support, Core MIDI.
iM1 for iPad is available for purchase for the introductory price of $19.99 until June 30th, 2015 (regular $29.99 USD). The M1 Cards Pack and T1 Cards Pack are available as in-app purchases of $4.99 USD each.
SONAR is more than just a digital audio workstation – it's the most advanced music production experience available today.
Check out the new SONAR Artist, Professional, and Platinum at www.cakewalk.com/SONAR
Cakewalk has announced a new SONAR product lineup and a new model for buying and owning DAW software.
With the new SONAR, the company is introducing a Membership model. Now, users have the option to choose either a traditional upfront payment, or to make monthly payments. New users receive 12 months of Membership free, while for current SONAR users, Membership renewal—which is priced similarly to a traditional lower priced product upgrade brings new updates every month instead of yearly (and sometimes overwhelming) updates.
The three new versions of SONAR are more clearly differentiated to focus on specific recording needs.
All three version have the same core features:
Touch control
unlimited tracks/FX/Sends/Busses
VST3/VST2/DirectX compatibility
video track
support for high-resolution audio via DSD compatibility and sample rates to 384 kHz
enhanced MIDI editing
Mix Recall for switching quickly among different mix options
advanced publishing options
innovative "one-stop solution" effects chains
amp simulations
advanced comping
Here's an overview of the three SONAR versions:
SONAR Artist ($99) adds to the core feature set with 19 bundled effects and 11 virtual instruments that focus on music creation and songwriting.
SONAR Professional ($199) folds in the analog-style, expandable ProChannel Console Strip that allows creating/customizing virtual console architectures, as well as Melodyne Essential pitch correction with ARA integration, and Addictive Drums 2 Solo Edition—50 effects and 18 virtual instruments in total, including the vintage sound of Blue Tubes effects, convolution reverb, and the surgical precision of linear phase EQ and dynamics.
SONAR Platinum ($499) features a wide variety of tools, plug-in effects, and instruments. With advanced tools like Console and Tape emulation, VocalSync for tightening vocals or matching dialog to picture, 21 virtual instruments, 57 effects for mixing and mastering (from vintage to cutting-edge), convolution reverb, step sequencer, and improved audio quantization/stretching, Platinum provides power tools that complement the superior workflow.
A detailed comparison of the SONAR versions is available at the Cakewalk site.
Availability
All three SONAR versions run on Windows 7/8, will be available globally in late January 2015 through music and sound retailers as well as the Cakewalk Store. Each SONAR version can be purchased up front, or with a monthly payment option. After 12 months, anything acquired during the Membership is fully authorized and never expires—regardless of whether Membership is renewed or not. See the Cakewalk site for details.
Acoustica presents Mixcraft 7 and Mixcraft Pro Studio 7 – super easy-to-use, feature-packed digital audio workstation software. Check out all the new features in this video!
New features include:
*Thousands of new loops, for a total of 7000 loops, sound effects and samples
*Full 64- and 32-bit compatibility
*Performance Panel for live performance mode
*Automation Recording with multiple lanes and other automation enhancements.
*Integrated Alpha and Omni Samplers.
*Control Surface Support (Launchpad & Mackie protocols)
*Audio warping, auto-warping and audio quantization
*Step editor for rapid pattern based rhythmic and musical phrase construction
*Tons of new virtual instruments and effects
*Workflow enhancements
*Good lookin' new interface
*Did we say 'much more'? Yeah…that too. (=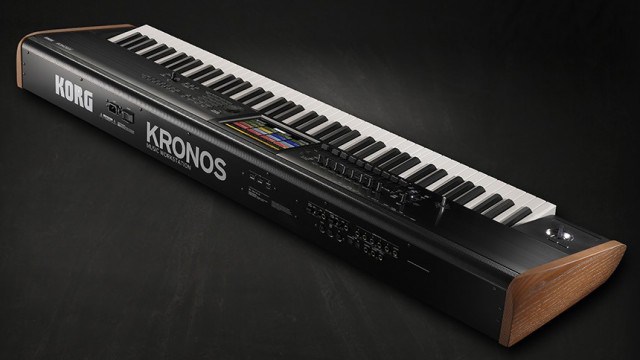 Korg today introduced the new Kronos – the most powerful version of their flagship keyboard music workstation to date;
"The new Kronos features the unrivaled 9-engine structure from previous versions, with numerous improvements to both sound capability and overall functionality," said Korg Brand Manager James Sajeva. "Truly, this is the most powerful synthesizer on the planet."
Sajeva explains what's been updated in the new Kronos: "Our SGX piano engine, already revered for its German and Japanese grands, now also includes a 9GB Berlin grand with dedicated una corda (soft pedal) samples, plus sympathetic string resonance that works on all the SGX pianos" he continued. "It's truly an amazing piano experience. There are new banks of sounds based on famous song titles for our cover players and those looking for 'that' sound for their recordings, plus a 'best of' bank from KaPro, who has created numerous libraries for the Kronos line."
Other new features include system-wide Touch/Drag via the Kronos' color TouchView screen; allowing the user to edit onscreen parameters faster than ever.
An evolved Set List mode provides the capability to resize their custom text per set list entry, and enter text via either an onscreen QWERTY or external USB ASCII keyboard. Entries can also be color-coded for better organization and visibility, and users can even decide how many set list entries appear on the screen at time, allowing for more (and larger) onscreen text to remind you of lyrics, changes, or other notes.
An improved search function helps users to find the perfect sound faster than ever.
Other improvements include onscreen metering in Combination and Sequencer modes, along with the ability to edit Programs within a Combination to hear the edits in context with other parts.
The improvements don't end with the software, either; the new Kronos also boasts natural wood side panels, easier-to-read silkscreened text and gold-plated audio I/O jacks.
Korg Kronos synth engines:
SGX-2 Premium Piano
EP-1 MDS Electric Piano
CX-3 Tonewheel Organ
HD-1 High Definition PCM Synthesize
MS-20EX & PolySixEX Legacy Analog Modeling
AL-1 High-Fidelity Analog Modeling
MOD-7 Waveshaping VPM Synthesizer
STR-1 Plucked Strings Physical Modeling
Other features include one-cable USB DAW integration for MIDI and Audio, powerful effects processing with up to 16 effects at a time, a 16 MIDI/16 Audio track sequencer, 16-part Combinations, a tremendous assortment of real time controllers, KARMA phrase generating technology, vector control and more.
This is Part 1 of our video manual for the Korg Kronos Music Workstation, focusing on basic navigation.
IK Multimedia has introduced SampleTank 3 Free, the free version of their SampleTank sound and groove workstation for Mac and PC.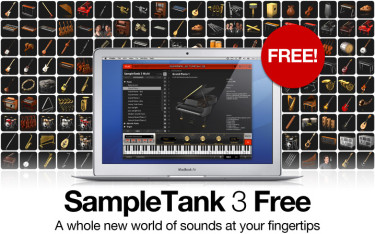 SampleTank 3 Free is essentially a fully functioning version of SampleTank 3: The only difference is that SampleTank 3 Free includes a small portion of the sounds featured in the full version.
The library is expandable; IK plans to add instruments to SampleTank 3 Free until a total of 22 instruments are available.
SampleTank 3 Free is available now as a free download, for Mac & Windows.
Yamaha product specialist Dom Sigalas visited to show us the Yamaha MOXF6 workstation. With most of the brains of the flagship MOTIF its way more affordable.
Scott Tibbs from Roland US takes us through the FA-08 workstation at Nova Musik.
Roland's FA series completely reimagines the music workstation, streamlining it for effortless real-time power, ultra-fast workflow, and maximum versatility. Ready to support any type of music you play, the FA-06 is packed with a massive sound collection inherited from the flagship INTEGRA-7, a ton of studio-quality effects, and expressive real-time controls, plus onboard sampling with zero load time for instant audio playback from the 16 backlit pads. The sequencer features simple operation and non-stop loop recording, letting you capture songs and ideas as they come and export them as multitrack data to use with your DAW. Flowing seamlessly into every part of your creative world, the FA-06 morphs instantly from a standalone keyboard to become the command center of your computer music studio, with USB audio/MIDI interfacing, powerful real-time controllers, DAW transport controls, and much more.
Shop Nova Musik and get more value and the best customer service with your new Roland workstation
Korg's Rich Formidoni explains the ins and outs of the drum machine-style step sequencer on the Kross Music Workstation.