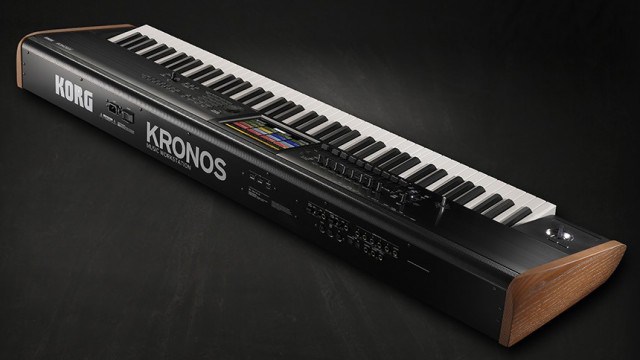 Korg today introduced the new Kronos – the most powerful version of their flagship keyboard music workstation to date;
"The new Kronos features the unrivaled 9-engine structure from previous versions, with numerous improvements to both sound capability and overall functionality," said Korg Brand Manager James Sajeva. "Truly, this is the most powerful synthesizer on the planet."
Sajeva explains what's been updated in the new Kronos: "Our SGX piano engine, already revered for its German and Japanese grands, now also includes a 9GB Berlin grand with dedicated una corda (soft pedal) samples, plus sympathetic string resonance that works on all the SGX pianos" he continued. "It's truly an amazing piano experience. There are new banks of sounds based on famous song titles for our cover players and those looking for 'that' sound for their recordings, plus a 'best of' bank from KaPro, who has created numerous libraries for the Kronos line."
Other new features include system-wide Touch/Drag via the Kronos' color TouchView screen; allowing the user to edit onscreen parameters faster than ever.
An evolved Set List mode provides the capability to resize their custom text per set list entry, and enter text via either an onscreen QWERTY or external USB ASCII keyboard. Entries can also be color-coded for better organization and visibility, and users can even decide how many set list entries appear on the screen at time, allowing for more (and larger) onscreen text to remind you of lyrics, changes, or other notes.
An improved search function helps users to find the perfect sound faster than ever.
Other improvements include onscreen metering in Combination and Sequencer modes, along with the ability to edit Programs within a Combination to hear the edits in context with other parts.
The improvements don't end with the software, either; the new Kronos also boasts natural wood side panels, easier-to-read silkscreened text and gold-plated audio I/O jacks.
Korg Kronos synth engines:
SGX-2 Premium Piano
EP-1 MDS Electric Piano
CX-3 Tonewheel Organ
HD-1 High Definition PCM Synthesize
MS-20EX & PolySixEX Legacy Analog Modeling
AL-1 High-Fidelity Analog Modeling
MOD-7 Waveshaping VPM Synthesizer
STR-1 Plucked Strings Physical Modeling
Other features include one-cable USB DAW integration for MIDI and Audio, powerful effects processing with up to 16 effects at a time, a 16 MIDI/16 Audio track sequencer, 16-part Combinations, a tremendous assortment of real time controllers, KARMA phrase generating technology, vector control and more.
This is Part 1 of our video manual for the Korg Kronos Music Workstation, focusing on basic navigation.
Keyboard wizard Jordan Rudess of Dream Theater explains how he gets his signature lead sound using the Korg Kronos. Lots of useful programming info here, no matter what synth you own!
Toby Baker is a London based Keyboardist, Musician, Composer and producer with over 30 years experience. He has recorded and toured with many artists from Europe and the US, composed for TV programmes & commercials and worked on several movie scores and trailers.
Just some of his credits include work with Michael Macdonald, Alexander O'Neal, Eric Clapton, BB King, Lulu and Sinead O'Connor.
Although he has a love of fine vintage analogue keyboards, he has been using the Korg Kronos for much of his work and his was kind enough to chat to the camera about his initial reaction to using Kronos on stage and in the studio.
http://tobybaker1.wix.com/toby-baker-…
Korg Kronos Tutorial: 13 MS-20 Patch Panel Programming (use the 1080p quality to read the screens)
This tutorial shows how to use the MS-20 Patch Panel, the common input and output connectors will be explained. The following patch sections are in the tutorial:
– AMS Source Output Connector
– Total Input Connector
– Frequency Input Connector
– High Pass Filter Input Connector
– Low Pass Filter Input Connector
– Noise Output Connector
– VCA Area
– Mixer Area
– Modulation Generator Area
– S&H area (with Clock source)
– Feedback routings
At the end of the video there are several examples of common patch panel routings to get you started.
Rich Formidoni from Korg demonstrates the Kronos X
Product description:
With the X Korg have kept the same physical design (with the addition of an X next to Kronos logo) but under the bonnet you have 2GB of available sampling RAM (3GB total) and a doubled SSD capacity of 62 GB for massive sound library expansions. Of course the Korg Kronos X also comes preloaded with the latest operating system, Kronos OS v2.0.
In addition to these extras taking it to the next level everything that made the original such an incredibly powerful live performance and production synthesiser is still in place with the Korg Kronos X.
Each of the nine sound engines that have been crammed into the Korg Kronos X could actually be a standalone product. Everything is there from classic instruments to unique sounds; each with their own set of parameters and functions.
Here's what you're getting: SGX-1 Premium Piano, EP-1 MDS Electric Piano, CX-3 Tonewheel Organ, HD-1 High Definition Synthesizer, AL-1 Analog Synthesizer, MS-20EX Legacy Analog Collection, PolysixEX Legacy Analog Collection, MOD-7 Waveshaping VPM Synthesizer, STR-1 Plucked String Synthesizer.
Long-time Korg endorsee Derek Sherinian (Black Country Communion, Dream Theater) performs at Korg's Winter NAMM 2013 booth, showing off the Kronos Music Workstation along with the all-new KingKORG analog modeling synthesizer. For more information about the instruments, please visit www.korg.com/kingKORG and www.korg.com/kronos. For info on Derek, please visit www.dereksherinian.com.
KORG has been busy during the knight here are some fresh stuff from their labs, enjoy
Solo artist and Snarky Puppy keyboardist, Cory Henry, joined us at Korg USA for a test drive of the Korg Kronos X, along with the optional EXs Expansion Sample Series libraries available at http://www.korg.com/kronossoundlibraries
As an established gospel and jazz fusion keyboardist, Cory knows the importance of having an inspiring instrument at your fingertips: "The Kronos does a great job of making you feel as if the instrument that you're playing is right in the same room as you. Every time I browse another sound, it kind of gets me into a different place that makes me just want to play, as if I am a violin player, or if I have an actual electric piano in my house. It does a great job of making you feel that you're playing the actual instrument."
Demo versions of the EXs libraries are included with the Kronos X, and original Kronos users can download the demo versions from http://www.korg.com/kronos
More stuff from KORG:
Zakk Wylde & KORG pitchclip — In Tune With The World
The former guitarist of Ozzy Osbourne Band, Zack Wilde said hot clip-on tuner pitchclip of KORG!
http://www.korg.co.jp/Product/Tuner/pitchclip/: pitchclip Products
Korg announces the availability of seven additional expansion libraries and sample sound libraries for the Korg Kronos Music Workstation. These expansion libraries include: EXs64 KARO Ethno World and EXs67 KARO Upright Piano by KARO, as well as new titles from Korg's newest third party sound developers, Irish Acts and Kid Nepro. New titles from Irish Acts include: EXs90 Kronos Assault, and new Kid Nepro titles include EXs80 Vintage Synths, EXs 82 Hit Factory, KRS80 Soundtrack Mix, and KRS81 Sonix Bliss.

EXs90 Kronos Assault
EXs90 includes massive, luscious pads, movie sounds and effects, all topped off with a selection of classic synth sounds, plus an assortment of sampled human voices, from natural sounds to dreamy vocals. Exs90 is currently available for download for US $180
Exs80 Vintage Synths
EXs80 Vintage Synths includes over 250 MB of new sample data with a wide assortment of classic analog basses, leads, pads, strings & killer synth sounds that have that vintage analog sound that many musicians pay big bucks for – now at a fraction of the cost. An amazing assortment of Programs & Combis that utilize KARMA and are perfect for producers and keyboard players looking for classic synth sounds to add to their Kronos. Exs80 is currently available for download for US $69
Exs82 Hit Factory
EXs82 Hit Factory is a mix of Programs & Combis utilizing KARMA, that is perfect for producers and keyboard players. Hit factory includes six new drum kits with hundreds of samples. Also included are a wide mix of funk guitars, orchestra hits, noises, scratches, human beat boxes, analog vocoders and more. Exs82 is currently available for download for US $69
KRS80 Soundtrack Mix
KRS80 Soundtrack Mix features a mix of killer pads, synth sounds and unique rhythms – an assortment of different "atmospheres" that are ideally suited for TV, video games, film projects, or for composers scoring modern classical music. KRS80 is currently available for download for US $39
KRS81 Sonix Bliss
KRS81 Sonix Bliss focuses on the MOD-7 sound engine, including a wide assortment of classic FM-style synth sounds along with a mix of complex sounds. Everything from 80′s DX-style electric pianos to modern 21st-century synths is included, with a mix of basses, leads, pads, drums, percussion and much more. KRS81 is currently available for download for US $39
Exs64 Ethno World
The first World library for the KORG Kronos, EXs64 KARO Ethno World was produced in collaboration with Erkan Ucar (Ecomusik). These Ethno instruments-include strings, winds, keyboards, percussion, and more-were collected around the globe and arranged into this single and extremely versatile library. Exs64 is currently available for download for the special price of US $199 (Normally $249)
Exs67 Upright Piano
KARO's EXs67 Upright Piano library delivers the familiar sound of an upright piano, with all the modern advantages and possibilities that Kronos technology has to offer. A traditional German piano was sampled with 6 velocity layers, for a total of 1.6GB of high-quality samples, and 36 Programs specifically designed for them – including six by Michael Geisel of Korg & More in Germany. Exs67 is currently available for download for the special price of US $99 (Normally $169)
All libraries are available at: www.korg.com/kronos/SoundLibraries. Free demo versions of the EXs libraries can be downloaded; purchasing an authorization code from the secure Korg Web Shop unlocks full access to the libraries. Please see Korg.com for sound demos and download/ installation system requirements.
Hear what the artists are saying about how Korg's Kronos Music Workstation has been evolving their stage and studio rigs.
For more information about Kronos, please visit http://www.korg.com/kronos
Kronos Highlights

9 Sound engines, each offering a unique sound-creation technology (see list below)

16-part Combis allow all engines to function together in perfect harmony; Dynamic Voice Allocation keeps the polyphony high.

Available with 61, 73 or 88 keys. The 73 and 88 key models feature Korg's finest RH3 Graded Hammer Action. The 61 key model borrows the responsive synth action from the Korg M3-61.

Comprehensive interface, based around a new large 8" TFT TouchView™ display

A revolutionary sample playback system aided by a fast SSD (Solid State Disk) provides high polyphony and massive, ultra-long, and unlooped samples; offering unheard of performance from a hardware instrument

Smooth Sound Transition: this often-requested feature allows held or sustained notes to keep sounding when changing sounds or modes.

Set List mode: Organize the Programs, Combis, and Songs you need to perform your set in a single, easy-to-select screen – including performance notes!


Use up to 16 premium-quality effects at once; individual effects rival dedicated units

12 Insert effects

2 Master effects

2 Total effects


On-board sequencer offers 16 MIDI tracks + 16 audio tracks (24-bit, 48kHz recording quality)

Open Sampling System – Instant sampling and resampling from any mode: Program, Combination or Sequencer.

Sophisticated KARMA® technology generates infinitely variable performance-driven phrases, musical effects, and backing tracks to catalyze your creativity

Expanded Drum Track for play-along grooves and inspiration


Signature sounds created with guidance from world class musicians
Background information: