Rich Formidoni from Korg demonstrates the Kronos X
Product description:
With the X Korg have kept the same physical design (with the addition of an X next to Kronos logo) but under the bonnet you have 2GB of available sampling RAM (3GB total) and a doubled SSD capacity of 62 GB for massive sound library expansions. Of course the Korg Kronos X also comes preloaded with the latest operating system, Kronos OS v2.0.
In addition to these extras taking it to the next level everything that made the original such an incredibly powerful live performance and production synthesiser is still in place with the Korg Kronos X.
Each of the nine sound engines that have been crammed into the Korg Kronos X could actually be a standalone product. Everything is there from classic instruments to unique sounds; each with their own set of parameters and functions.
Here's what you're getting: SGX-1 Premium Piano, EP-1 MDS Electric Piano, CX-3 Tonewheel Organ, HD-1 High Definition Synthesizer, AL-1 Analog Synthesizer, MS-20EX Legacy Analog Collection, PolysixEX Legacy Analog Collection, MOD-7 Waveshaping VPM Synthesizer, STR-1 Plucked String Synthesizer.
Long-time Korg endorsee Derek Sherinian (Black Country Communion, Dream Theater) performs at Korg's Winter NAMM 2013 booth, showing off the Kronos Music Workstation along with the all-new KingKORG analog modeling synthesizer. For more information about the instruments, please visit www.korg.com/kingKORG and www.korg.com/kronos. For info on Derek, please visit www.dereksherinian.com.
KORG has been busy during the knight here are some fresh stuff from their labs, enjoy
Solo artist and Snarky Puppy keyboardist, Cory Henry, joined us at Korg USA for a test drive of the Korg Kronos X, along with the optional EXs Expansion Sample Series libraries available at http://www.korg.com/kronossoundlibraries
As an established gospel and jazz fusion keyboardist, Cory knows the importance of having an inspiring instrument at your fingertips: "The Kronos does a great job of making you feel as if the instrument that you're playing is right in the same room as you. Every time I browse another sound, it kind of gets me into a different place that makes me just want to play, as if I am a violin player, or if I have an actual electric piano in my house. It does a great job of making you feel that you're playing the actual instrument."
Demo versions of the EXs libraries are included with the Kronos X, and original Kronos users can download the demo versions from http://www.korg.com/kronos
More stuff from KORG:
Zakk Wylde & KORG pitchclip — In Tune With The World
The former guitarist of Ozzy Osbourne Band, Zack Wilde said hot clip-on tuner pitchclip of KORG!
http://www.korg.co.jp/Product/Tuner/pitchclip/: pitchclip Products
Korg announces the availability of seven additional expansion libraries and sample sound libraries for the Korg Kronos Music Workstation. These expansion libraries include: EXs64 KARO Ethno World and EXs67 KARO Upright Piano by KARO, as well as new titles from Korg's newest third party sound developers, Irish Acts and Kid Nepro. New titles from Irish Acts include: EXs90 Kronos Assault, and new Kid Nepro titles include EXs80 Vintage Synths, EXs 82 Hit Factory, KRS80 Soundtrack Mix, and KRS81 Sonix Bliss.

EXs90 Kronos Assault
EXs90 includes massive, luscious pads, movie sounds and effects, all topped off with a selection of classic synth sounds, plus an assortment of sampled human voices, from natural sounds to dreamy vocals. Exs90 is currently available for download for US $180
Exs80 Vintage Synths
EXs80 Vintage Synths includes over 250 MB of new sample data with a wide assortment of classic analog basses, leads, pads, strings & killer synth sounds that have that vintage analog sound that many musicians pay big bucks for – now at a fraction of the cost. An amazing assortment of Programs & Combis that utilize KARMA and are perfect for producers and keyboard players looking for classic synth sounds to add to their Kronos. Exs80 is currently available for download for US $69
Exs82 Hit Factory
EXs82 Hit Factory is a mix of Programs & Combis utilizing KARMA, that is perfect for producers and keyboard players. Hit factory includes six new drum kits with hundreds of samples. Also included are a wide mix of funk guitars, orchestra hits, noises, scratches, human beat boxes, analog vocoders and more. Exs82 is currently available for download for US $69
KRS80 Soundtrack Mix
KRS80 Soundtrack Mix features a mix of killer pads, synth sounds and unique rhythms – an assortment of different "atmospheres" that are ideally suited for TV, video games, film projects, or for composers scoring modern classical music. KRS80 is currently available for download for US $39
KRS81 Sonix Bliss
KRS81 Sonix Bliss focuses on the MOD-7 sound engine, including a wide assortment of classic FM-style synth sounds along with a mix of complex sounds. Everything from 80′s DX-style electric pianos to modern 21st-century synths is included, with a mix of basses, leads, pads, drums, percussion and much more. KRS81 is currently available for download for US $39
Exs64 Ethno World
The first World library for the KORG Kronos, EXs64 KARO Ethno World was produced in collaboration with Erkan Ucar (Ecomusik). These Ethno instruments-include strings, winds, keyboards, percussion, and more-were collected around the globe and arranged into this single and extremely versatile library. Exs64 is currently available for download for the special price of US $199 (Normally $249)
Exs67 Upright Piano
KARO's EXs67 Upright Piano library delivers the familiar sound of an upright piano, with all the modern advantages and possibilities that Kronos technology has to offer. A traditional German piano was sampled with 6 velocity layers, for a total of 1.6GB of high-quality samples, and 36 Programs specifically designed for them – including six by Michael Geisel of Korg & More in Germany. Exs67 is currently available for download for the special price of US $99 (Normally $169)
All libraries are available at: www.korg.com/kronos/SoundLibraries. Free demo versions of the EXs libraries can be downloaded; purchasing an authorization code from the secure Korg Web Shop unlocks full access to the libraries. Please see Korg.com for sound demos and download/ installation system requirements.
Hear what the artists are saying about how Korg's Kronos Music Workstation has been evolving their stage and studio rigs.
For more information about Kronos, please visit http://www.korg.com/kronos
Kronos Highlights

9 Sound engines, each offering a unique sound-creation technology (see list below)

16-part Combis allow all engines to function together in perfect harmony; Dynamic Voice Allocation keeps the polyphony high.

Available with 61, 73 or 88 keys. The 73 and 88 key models feature Korg's finest RH3 Graded Hammer Action. The 61 key model borrows the responsive synth action from the Korg M3-61.

Comprehensive interface, based around a new large 8" TFT TouchView™ display

A revolutionary sample playback system aided by a fast SSD (Solid State Disk) provides high polyphony and massive, ultra-long, and unlooped samples; offering unheard of performance from a hardware instrument

Smooth Sound Transition: this often-requested feature allows held or sustained notes to keep sounding when changing sounds or modes.

Set List mode: Organize the Programs, Combis, and Songs you need to perform your set in a single, easy-to-select screen – including performance notes!


Use up to 16 premium-quality effects at once; individual effects rival dedicated units

12 Insert effects

2 Master effects

2 Total effects


On-board sequencer offers 16 MIDI tracks + 16 audio tracks (24-bit, 48kHz recording quality)

Open Sampling System – Instant sampling and resampling from any mode: Program, Combination or Sequencer.

Sophisticated KARMA® technology generates infinitely variable performance-driven phrases, musical effects, and backing tracks to catalyze your creativity

Expanded Drum Track for play-along grooves and inspiration


Signature sounds created with guidance from world class musicians
Background information: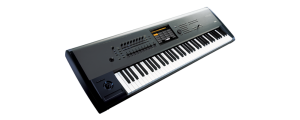 Korg is pleased to announce the availability of many diverse expansion libraries and sample sound libraries for the Korg Kronos Music Workstation, including the EXs13 Jazz Drums Expansion Kit, the EXs11 Legendary Strings Expansion Library, and two series by KARO, a sound design team based in Germany who has been producing high-quality sounds for Korg workstations for several years (including the OASYS and the M3). Korg welcomes KARO as the first third-party KRONOS sound developer.
EXs13 Jazz Drums Expansion Kit
This expansion kit for the Jazz Ambience Drums is included in the Korg Kronos presets, and contains approximately 1GB of PCM samples, 48 programs and 12 drumkits. The unique collection focuses on unique drum and percussion sounds created using a variety of techniques including mallets, brushes, and multi-rods. All sounds are easy to use, and will set off other instruments to their maximum advantage. Substituting these sounds on an existing drum track will also offer a dramatic difference through changing stick sounds.
EXs11 Legendary Strings
This collection delivers approximately 2.5GB of PCM samples and 128 Programs, for a wide vocabulary of string sounds. Choose from solo performances created on coveted instruments such as a Stradivarius, to the sound of a full orchestra. In addition to samples of individual performance techniques such as trill, vibrato, and pizzicato, the collection also includes ensembles offering differing numbers of players, providing everything needed for meticulous production work. Large samples allow the nuances of the performances to be captured, completing this ultimate collection of string sounds.
EXs11 will be Available for download in late April, for a special price of US $249 (regular price is US $299).
EXs13 and EXs11 can be downloaded and purchased at the Korg Web Shop: www.korg.com/kronos/SoundLibraries
KARO's EXs Expansion Sample Series libraries span a wide variety of instruments and genres, including orchestral instruments and ensembles, vintage keyboards, ambient soundscapes, and much more. Along with Programs, Combis, and Drum Track patterns, these libraries include varying amounts of PCM data, which is played back directly from KRONOS' internal solid state hard drive.
KARO's KRS Professional Sound Series libraries are collections of Programs, Combis, and Drum Track patterns that collectively take advantage of every synthesis engine within KRONOS. These large collections of synthesizer sounds, organs, dance grooves, and Wave Sequences each have at least 128 Programs; most have much more.
Free demo versions of the EXs libraries can be downloaded; purchasing an authorization code from the secure Korg Web Shop unlocks full access to the libraries. Please see Korg.com for download/installation system requirements, along with sound demos.
Other Worlds – A demo from our second release for the Korg Kronos – Soundtrack Mix. Featuring the Korg Austrian Grand Piano EX.
V2 Soundtrack Mix for the Korg Kronos includes 64 New Programs, 32 New Combis & 75 new sound effects from our Effectron sound libraries. More info and demos can be found at:
http://www.kidnepro.com/KN/Korg/Kronos/korg-kronos-v2.html
Note: The Austrian Piano does not have to be installed in order to use Soundtrack mix.
Background data:
A demo from our upcoming "Soundtrack Mix" which features the KARMA Atonal Generated Effects. Music is from the combi "Schoenberg Orchestra", named after the inventor of twelve tone technique – composer Arnold Schoenberg.
Soundtrack Mix for the Korg Kronos includes 64 New Programs and 32 New Combis and will be available February 2012. More info on all our Korg Kronos sounds can be found at:
http://www.kidnepro.com/KN/Korg/Kronos/Kronos_Main.html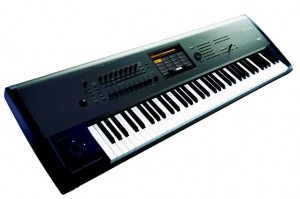 Korg has released System Version 1.5, a free update for their flagship Kronos Music Workstation. Downloadable from Korg's website, this update offers users access to the first EXs Expansion Sample Series Sound Library, which is also now available.
Kronos Music Workstation System Version 1.5 adds seven new Program Banks with 896 new locations for storing sounds. Version 1.5 also allows users to install additional memory, doubling their available sampling RAM memory to roughly 2 GB, with additional index locations to allow larger sample loads. The convenient connection of USB MIDI controllers – such as Korg's nanoSERIES2, microKEY and padKONTROL – is also possible with Version 1.5.
Korg is now offering two types of Kronos Sound Libraries. The EXs Expansion Sample Series take advantage of Kronos' built-in SSD, providing large amounts of PCM data. The KRS Professional Sound Series were created by pro musicians and programmers who are intimately familiar with each of the Kronos sound engines. Korg says that these libraries contain skillfully crafted programs, combinations, and drum patterns with infectious grooves, all designed to maximize the nine sound engines that power the Kronos.
Now available is the first of the EXs Libraries:
EXs10 Ricky Lawson's "West Coast" Drums
Content: Approximately 650 MB of PCM samples, 16 Programs, 4 Drumkits
Drummer Ricky Lawson is a founding member of The Yellowjackets, and is known for his playing with internationally famous artists and groups. In addition to Ricky's drumkits, this collection includes numerous variations of snare drum, providing the exact sounds of his playing. Also included are ambient sounds that add realism and depth, delivering a studio-quality sample set that covers a wide range of genres from pop to many other styles.
In addition, the following KRS Libraries were previously released and remain available:
KRS-01 "Pro Grooves" by David "Fingers" Haynes
Contents: 200 Patterns, 8 Songs
David "Fingers" Haynes is famous as the master of finger drumming. This set includes 200 realistic drum patterns that – unbelievably – he played with his fingers. His grooves are famous from his appearance with top-rated musicians, and are now available as performance-ready backing for your own songs using the Kronos' RPPR function or Drum Track function.
KRS-02 STR-1/MOD-7 Phase II
Contents: 128 Programs
This library digs deep into the two complex sound engines whose possibilities have never been exhausted. Created largely by legendary sound programmer Katsunori Ujiie, this collection of sounds for the STR-1 and MOD-7 is destined to become a new standard. Classic electric pianos and basses from the MOD-7 and unprecedentedly new synth sounds from the STR-1 reflect his deep sound design talents and skill. Enrich your songs with wondrous sounds reflecting a strange realism.
KRS-03 Nu Electro
Contents: 128 Programs, 120 Patterns, 3 Songs
This is a collection of the "electro sounds" that in recent years have been appearing in a wide range of styles including pop, R&B, and hip-hop. The simple synth sounds valued in electro house and dubstep are also included. In addition, you receive a deep collection of phrase patterns, sure to stimulate your songwriting ideas.
KRS-04 Pro Splits and Layers
Contents: 128 Combinations
Created by some of the best sound designers available, this collection focuses on realtime live performance, providing a great set of split and layer combinations that concentrate on in-demand keyboard sounds such as gorgeous pianos, electric pianos, clavinets, and organs. The splits are ideal for solo performances or for backing a vocalist and the layers are the perfect rich accompaniment for ballads.
Pricing and Availability:
All Kronos Libraries can be purchased and downloaded at Korg's Website. Introductory pricing on the KRS libraries ranges from $19.00 to $49.00; the EXs10 library features an introductory price of $199.00.
More information: