Introducing
Geoshred!
The Future of Shredding …
No strings attached
http://www.wizdommusic.com/products/g…
GeoShred is NOT just another app.
GeoShred is a powerful, musical instrument that offers a performance environment on a multi-touch surface unlike anything you've ever experienced.
Physical modeling synthesis is back with a vengeance.
Presenting Wizdom Music's new app Jordantron. This is the first time Jordan Rudess, who is best known as the keyboardist for Dream Theater, has released a complete set of his exclusive sounds to the public. Jordantron will turn your iPad into the grandest and most epic sounding instrument ever!
Developed for Wizdom Music by Omenie, UK-based mellotron specialists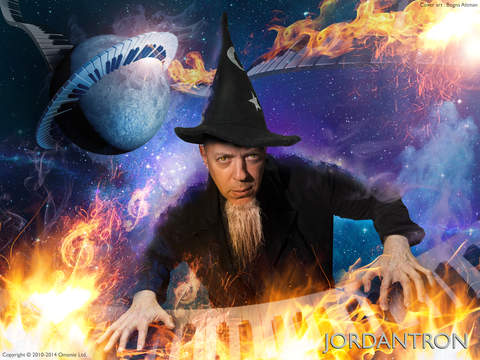 Developed for Wizdom Music by Omenie, UK-based mellotron specialists, Jordantron features :
• 57 sampled stereo instruments, 940MB of samples
• 4 octave samples per voice, 6 playable octaves
• Voices categorized by 'velocity sensitive', 'leads', 'orchestral / choral', 'pads' and 'strings'
• Velocity sensitivity on selected voices
• Decay tails on selected voices
• Octave shift keys to extend range of on-screen keyboard
• 'Half-speed' tape mode
• 12 programmable chord pads
• Warm, lush stereo reverb
• 32 'VOICEBANKs' holding voice, reverb and ABC blend settings for instant retrieval
• Giant 'Jordan-style' whole octave divebombs (configurable as whole tone or whole octave downshift)
• Support for multiple simultaneous instruments via MIDI
'Oscillotron' waveform display
First and foremost, this is a giant sample collection wrapped in its own playable instrument, designed for live and studio use with MIDI control. Jordantron allows its two internal Tron engines to be controlled by a pair of external class-compliant MIDI keyboards for maximum performance flexibility, one controlling the blendable 'ABCtron', the other controlling the 'Dtron' which is usually dedicated to chord pads. A flexible MIDI response allows VOICEBANKs to be retrieved using MIDI Program Change, so the iPad screen never needs to be touched during performance.
Jordan Rudess, solo artist and keyboardist for Dream Theater, reveals his latest source of inspiration: Korg's TinyPIANO. The TinyPIANO is a digital toy piano with 25 velocity-sensitive mini keys, 25 beautiful sounds, a library of 50 songs, optional battery power, and a tough wooden body available in four colors. For more information about the TinyPIANO, please visit www.korg.com/tinypiano.
Like/Follow us:
https://www.facebook.com/korgusa
https://www.twitter.com/korgusa
http://instagram.com/korgofficial
Jordan Rudess, of Dream Theater, gave us a little tour of "Studio A", one of two studios Rudess has in his home, and the array of analog and digital keyboards that make it in the arsenal including the Korg Kronos 88. Be sure to keep up with Jordan Rudess at http://www.jordanrudess.com and http://www.dreamtheater.net
Keyboard wizard Jordan Rudess of Dream Theater explains how he gets his signature lead sound using the Korg Kronos. Lots of useful programming info here, no matter what synth you own!
Jordan takes us on a quick tour of his studio showing of his keyboards
You can view Jordan's PledgeMusic campaign at:
www.pledgemusic.com/projects/jordanrudess
You can view Jordan's PledgeMusic campaign at:
www.pledgemusic.com/projects/jordanrudess
It's been a few years since I recorded my last solo album, "Notes On a Dream". The inspiration has been flowing ever since and I'm now ready to set forth in recording my orchestral piece, Explorations, as well as my solo piano album, Explores. You know that I am not one to sit back and drive on the traditional path so we are going to explore some cutting edge technology options.

For "Explorations," we will be creating an entirely virtual orchestral experience. We will bring virtuoso instrumental players into the studio and not only make an audio recording but also capture them on film with the goal of creating a unique, visual experience.

My solo piano album entitled "Explores" will be created as a completely interactive iOS app experience in addition to being made available in a CD and digital download format. You can sit back and simply enjoy the album or add your personal touch or play a duet with me and share your version with your friends.

Things have changed so much in the music business in recent years and now we have the possibility of coming directly to all of you, the fans, to get involved and to be a part of making this happen. No longer are we subject to what was, rather, what is possible!!

By enlisting YOU and working through PledgeMusic, the pipelines will be running with unfiltered Jordan Rudess creativity! As a member of my team, you will be able to follow along with me as these projects come to life – sharing the journey and the inspiration to explore new musical and interactive frontiers.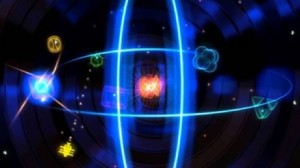 Released through Rudess' company, Wizdom Music, ShapeSonix allows users to create their own visual and audio reality and to compose customizable multimedia soundscapes. The user chooses a preset and either clicks on the screen or moves their fingers on their multi-touch device to create particles.
The moment of impact between particles and shapes will be met with an assortment of beautiful sounds from Wizdom Music's extensive library. The beauty of ShapeSonix is that it can be as interactive as the user wants. Since particles can also be self generated by an in-app chaos controller, and a particle emitter, active playing is not necessary. Users can also roll the dice on the main page and allow ShapeSonix to change everything randomly for them. From musical beginners to advanced sound designers, there is an entire world here to discover with ShapeSonix.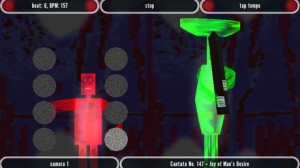 Also via Wizdom Music comes Maestro. Through the use of advanced camera technology and gesture recognition, Maestro allows you to lead an orchestra through the world's favorite classical masterpieces. Your musicians are a group of three-dimensional characters, whose appearances and instruments you choose. These guys know what they're doing, so even if you're conducting is a little shaky at first, your attentive orchestra will follow your lead. In order to conduct, move your hand in a horizontal motion from one side of your camera to the other at about arm's length away.
As soon as your movement has been recognized, a processed image of your hand, an onscreen beat counter, and clear RED indicators will be shown on the screen. All you have to do is give your orchestra afour count, and then they will start playing! For those that are "camera shy," or don't have a camera, don't worry. Maestro also has a feature that allows you to simply tap the beat. Regardless of your conducting methods, your skilled musicians will become visually illuminated when they are busy playing their part, and the screen graphics will pulse to your song. So jump in and try your hand to see if you have what it takes to conduct an orchestra. Let the music begin!
Rudess explains, "I worked with chief programmer Tobias Miller to create ShapeSonix and bring it to the Intel AppUp center We wanted to create something visually beautiful and at the same time, sonically very engaging and unique. The merging of the audio and visual world is one that Wizdom Music is very involved with. ShapeSonix is the natural progression to our previous releases."
Regarding Maestro, Rudess notes, "Maestro features a very cool group of on screen 3D musicians that follow your every move…Our goal was to create something really fun and interactive by allowing users to interact with their own web cams to conduct the orchestra. It's a lighthearted application which was coded by Kevin Chartier and features select classical repertoire arranged specifically for Maestro by Eren Basbug."