Roger Linn hasreleased a couple of videos that demo the LinnStrument – a new multitouch musical instrument. Both demos highlight the instruments ability to let you independently articulate each individual note.
The LinnStrument is currently in development. Pricing and availability are to be announced.
Electro Moscow is an essayistic documentary about the Soviet electronic age and its legacy. The story begins with the inventor of the world's first electronic instrument, Leon Theremin, unveiling the KGB's huge pile of fascinating devices, some of which were musical. They all came into existence as a by-product of a rampant defense industry. Nowadays, those aged and abandoned 'musical coffins', as solidly made as a Kalashnikov, are being recycled and reinterpreted by the post-Soviet generations of musicians, sound collectors and circuit benders. The story of the Soviet synthesizers as an allegory to the everyday life under the Soviet system: nothing works, but you have to make the best out of it. An electronic fairy tale about the inventive spirit of the free mind inside the iron curtain- and beyond.
This video is a demonstration of the VlnVlaCelBass sound on the Continuum Fingerboard, performed by Edmund Eagan. This EaganMatrix string sound has been programmed to take advantage of the Continuum's fast and accurate pressure sensing. Playing this sound with low velocity finger movement will create a smooth gentle start to each note. After the note starts volume and timbre changes can be applied by changing the pressure on the surface.
When played with a harder finger velocity, the sound gets more aggressive in it's attack. This is due to the inclusion of timbre data that represents a real string attack.
The name of the sound includes the four names of the orchestral string family, violin, viola, cello, and double bass, reflecting the combined pitch range of these instruments. The sound is equally convincing and expressive at all pitches, even at the extremes.
Pressing the first foot pedal activates a mono mode which makes it easier to play fast monophonic intervals, such as whole tone or minor third trills.
The overall tonal character of the instrument can be changed by moving the Size barrel. Lower values of Size will create a larger sounding instrument, higher values a smaller one.
The VlnVlaCelBass uses the GrainSilo in the EaganMatrix, with a timbre element called Vla Sustained. The original source for this timbre element came from the first 100 milliseconds of a single note preformed by Rudolf Haken on a Pellegrina 5 string viola. This 100 milliseconds contains essential attack and sustain spectra. Through the power of the EaganMatrix formula structures, control of the timbre elements reference point, fundamental, spectral rolloff, spectral shift, and amplitude is mapped to the playing surface. The three dimensional performance of each finger can translate into exquisite control of this finite piece of data.
Virtual ANS is a software simulator of the unique Russian synthesizer ANS – photoelectronic microtonal/spectral musical instrument created by Russian engineer Evgeny Murzin from 1938 to 1958.
The app is cross-platform and available for iOS, Android, Windows, Linux and OSX.
More info: http://warmplace.ru/soft/ans
The Bob Moog Foundation invited Colorado based Mark Mosher to bring his "9 Box" installation / instrument to the Mountain Oasis Festival 2013 to be part of Dr. Bob's Interactive Sonic Experience. The 9 Box ran for 18 hours over 3 days and was played by 100s of festival goers of all ages, details below:
The 9 Box is a Collaborative AudioCube Jam Instrument with Music, Sound & Light by Mark Mosher (http://www.MarkMosherMusic.com & http://9box.modulatethis.com). Part collaborative instrument, part interactive installation — the 9 Box allows up to six casual players to instantly make music and shape sound by manipulating blocks called AudioCubes.
This video to youtube which will give you a taste of 9 Box in the booth area. It was so rewarding see people's reactions to the 9 Box and to hear their creations throughout the weekend.
AudioCubes, made by California based Percussa (http://www.percussa.us), are smart wireless cubes capable of sensing each other's location and orientation as well as distance to your hands, fingers and other objects. They also emit feedback in the form of light as you interact with them.
Ultimately this hands-on approach allows players to manipulate sets of sounds in 3×3 grids — hence the name 9 Box. The 9 Box supports also supports user creatable "refills" allowing for unique and endless sonic possibilities.
Mountain Oasis Festival was just an incredible experience all the way around. One of the coolest music-related trips ever!!! HUGE thanks to:
- Michelle Moog-Koussa for inviting me out and including the 9 Box in Dr. Bob's Interactive Sonic Experience!!! It was so great to be a part of a vibrant music education program.
- All the players throughout the weekend
- Ken Jones from mountainsongguitars.com who provided the PA
- The Bob Moog Foundation's wonderful staff and volunteers (http:www.moogfoundation.org)
- BMF's Andi Morell & Marc Doty for helping me with logistics
- Geary Yelton and Susan Granados for being such amazing hosts.
- Bert Schiettecattefor inventing the incredible AudioCubes
- Ableton for creating Live
- TheGigEasy for providing mic stand cube mounts

The Therevox ET-4.1 is an analog continuous pitch instrument inspired by the interface of the rare Ondes Martenot.
Each oscillator has six different waveforms, including the classic sine wave of the Electro-Theremin and the Ondes Martenot's unique octiviant and white noise settings. Each oscillator can be tuned separately, or synched to create intervals or interesting harmonics. Oscillator 2 can also be set to a consistent note or used as an LFO to modulate the filter. The internal low-pass filter with variable cutoff frequency is used to shape the sound and this can also be controlled with an external expression pedal or CV source.
Details and Specifications
Two independent temperature compensated analog oscillators with sync function
Six octave positions for each oscillator covering C0 to C8
Six waveforms (sine, triangle, rectified sine/octiviant, 50% pulse, 30% pulse, 10% pulse (white noise on Osc 2)
Adjustable ring with metal reinforced wire
Replaceable reference keyboard with alternatives available (ex: lapsteel, specific scales, microtonal)
Dual wooden pressure-sensitive intensity keys with approx. 3/4″ travel
Low-pass filter with adjustable cutoff frequency (can be controlled by expression pedal or external CV)
Internal spring reverb with dry+wet mix control
"Silent" tuner output, switchable between oscillators
Line-level (+3db) output with volume control
Control Voltage (CV) outputs for ring position (1V/octave) and both intensity keys (0 – 10V)
16VAC power input
Dimensions: 30 x 11 x 4″
Includes: Printed manual, power supply (110-120V and 220-240V Available) and extension cable.
Made in Canada
The Therevox ET-4.1 is priced at US $1475.
New synthetic instrument for Reaktor:Googlish:
From Córdoba, Argentina Córdoba but Martin Castro and Mauricio Piombo sent us some incredible instruments, Synthetic Instruments Reaktor ensembles to generate quite complex sounds and textures as is typical autechre, which certainly does not leave you indifferent. We have loved all your devices, also has a wide range, sound generators (RA1D3N v1 – SOUND GENERATOR), the beatbox Flash Dance (Matrix Drum Machine), the synthesizer wavetable rhythms (SINESTESYNTH – RHYTHMS WAVETABLE SYNTHESIZER ), and the synth TERRA INC0GN1TA – (sYNTH PADS) Flash Dance – Matrix Drum Machine:
NUEVO INSTRUMENTO DE "SYNTHETIC INSTRUMENTS" 13/8/2013
https://www.facebook.com/syntheticins…
http://soundcloud.com/syntheticinstru…
http://soundcloud.com/cstr
http://soundcloud.com/mauriciopiombo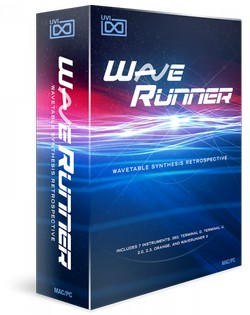 UVI has released WaveRunner, a library of seven hybrid instruments inspired by synths, drum machines and rare prototypes of esteemed German heritage.
WaveRunner presents you with a collection of authentic and fascinating sounds from over 30 years of wavetable synthesis. Everything from the raw and strident origins to the wild evolving tones of more modern, full-featured machines.

Each system addressed was serviced, meticulously multi-sampled and artfully designed into seven unique hybrid instruments driven by over 30,000 samples.
WaveRunner features
WaveRunner 360: Based on a very old and quite rare machine, WaveRunner 360 delivers a raw and lo-fi sound.
WaveRunner Terminal D: Including sounds from vintage prototype drum modules, synths and modern rack drum synths.
WaveRunner Terminal U: Built on a generous collection of sounds from the entire range.
WaveRunner 2.0: Based on the original German blue.
WaveRunner 2.3: Similar to the 2.0 but with a distinctly different flavor, WaveRunner 2.3 is built on the upgraded German classic and its loquacious programming pal.
WaveRunner Orange: Based on the modern flagship wavetable synthesizers famed in the 90′s and 00′s.
WaveRunner X: An collection of raw waves harvested from the entire range of machines come together in this fresh and powerful dual-layer subtractive synth; capable of deep, modulating ambiances, brutal basses and uncanny leads.
The WaveRunner library for UVI and MachFive is available to purchase for $299 USD.
❐ Buy WaveRunner : http://bit.ly/uvi-waverunner
❐ UVI Official Website : http://www.uvi.net
❐ UVI Official Blog : http://blog.uvi.net
Waldorf Zarenbourg is a pretty, chunky, digital piano. It has a certain amount of internal sounds (physically modeled, sampled and fm synthesized). On this video, a quick run on the internal preset. Audio out goes straight into digital recorder.
Another quick run on the internal presets (Tine, Bars, Reeds, Clavi, CP Piano, FM Piano, Grand Piano…) contained into Waldorf Zarenbourg digital piano. Audio goes straight into digital recorder.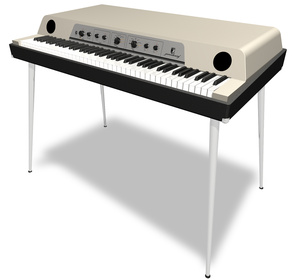 When Waldorf introduced the Zarenbourg in 2006, this piano was one of a very small minority. It had dawned on us that few contemporary instruments offered electric pianists and keyboardists that elusive quality called soul. Reduced to the essentials, this rare breed of instrument does one thing so well that it grows on the player, becoming an extension of body and mind. It has that magical touch of purism that all-in-one devices lack. So we aimed high, achieving a sound nothing short of sublime. And we conjured a look that blends the hallmarks of classic designs with a more contemporary clean and cool vibe.
Handling is intuitive, not inquisitive. No more fussing with cords for this and that; simply power up, play, and possess instantly satisfying sound for player and audience alike. Its aluminum hood offers a sturdy perch for your other favorite instrument, and its integrated speaker system can render the piggybacked device's signal. Let your laptop roost on this tower of power, and you can control plug-ins via USB and monitor the results via the Zarenbourg's audio input.
Gospel Musicians has released two new electric pianos for Neo-Soul Keys for iPad and updates to version 2.0.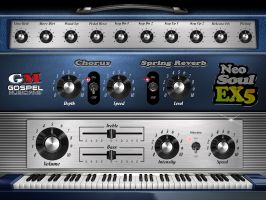 Neo-Soul EX5
Neo-Soul EX5 is an electric piano library that uses the EP synthesis technology from the Yamaha EX5 synthesizer. Gospel Musicians sampled their electric piano through the FDSP engine of the EX5 to simulate the physical modeled expression of an EP pickup. There is a new dedicated knob that will control more of the EP Pickup sound.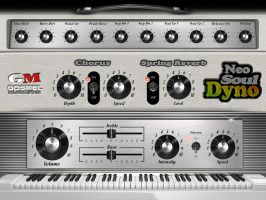 Neo-Soul Dyno
Neo-Soul Dyno is an emulation of the popular "Dyno-My-Piano." Utilizing wavetable and sampling techniques Gospel Musicians designed it to achieve an extremely expressive and playable emulation of a Dyno electric piano sound.
There are other minor bug fixes and improvements as well as a new chorus algorithm that is intended to be warmer and richer than the previous version.
Price: Each electric piano is $9.99