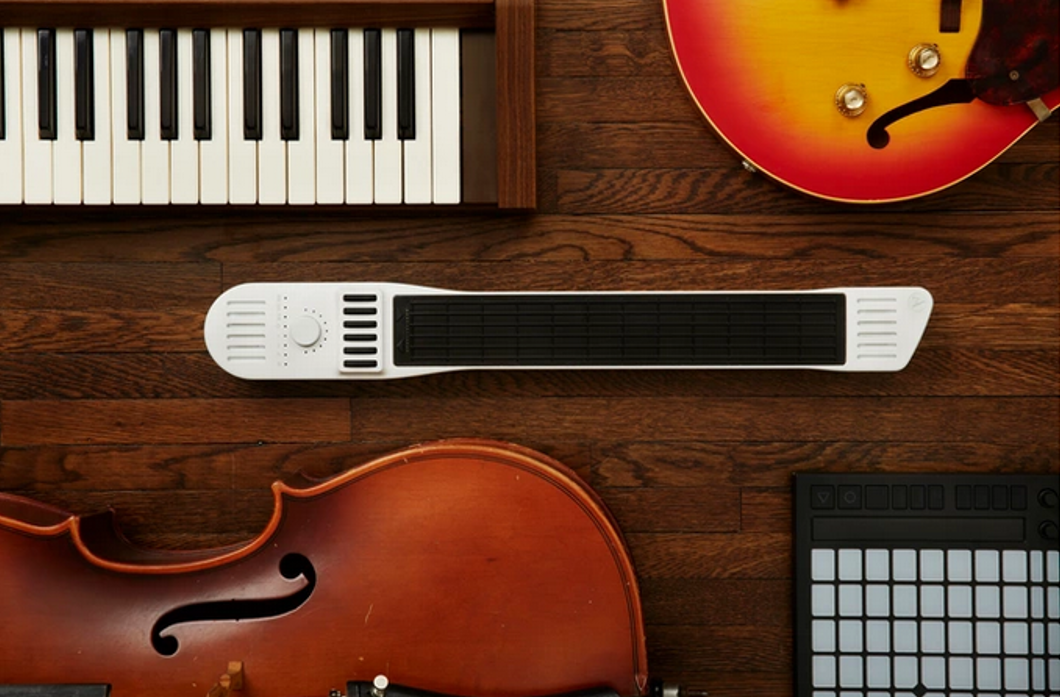 Description: A guitar is designed to be strummed; piano keys are pressed; drum pads are tapped; violins are bowed. But what if a single instrument could be played with any of these techniques? That's exactly what we're creating – one instrument that lets you be the whole band.
Play any instrument, style, and sound with a single device that connects directly to your smartphone, tablet, or computer.
Our patented multi-instrument technology transforms the INSTRUMENT 1 into a guitar, violin, bass, piano, drum machine… it's any instrument you want it to be.
Plug in and play 100's of apps like GarageBand with universal musical gestures: strumming, tapping, bowing, sliding, and more.
Digital string-like interface works with any MIDI-compatible software.
The unique ergonomic design can be held in multiple positions, and is fully ambidextrous.
Design new instruments and custom tunings via the Artiphon companion app.
It's compact, portable, durable, self-powered, and simple.
Designed and engineered in Nashville, TN.
Download SoundPrism Electro here: http://soundprism.com/electro/download
Audanika has introduced SoundPrism Electro – a new iPad musical instrument, based on their SoundPrism Pro instrument and MIDI controller. 
Features:
New sound engine with rock-solid polyphony and great-sounding effects. SoundPrism Electro's new sounds are hand-crafted by Swiss sound designer Oliver Imseng to work beautifully with each other.
Innovative and improved chord input system: effortlessly play inversions and chord progressions while focusing on your track, not on the music theory behind it.
A ribbon controller for live manipulation of the built-in effects.
New interactive tutorial system: SoundPrism Electro walks you through its interface and teaches you how to play.
Supports Audiobus including state saving.
Supports Core MIDI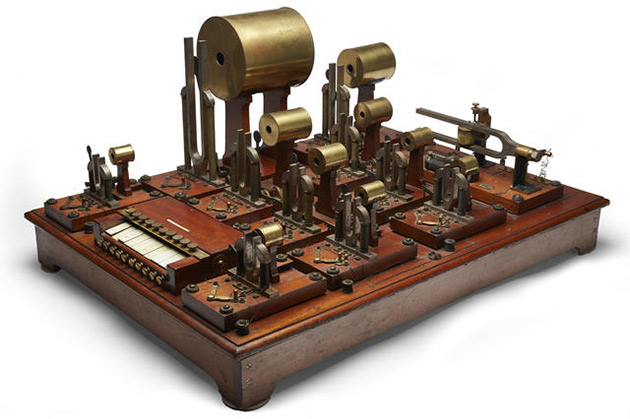 A "bargain" – if we may say so 😀
But it sure is a beauty !!
Abstract:
When Hermann von Helmholtz designed what was essentially the world's first electric keyboard, he didn't do out of a need to lay down crunchy riffs on the shores of the Rhine. What he needed was a way to generate tones and mix timbres in a bid to better understand the musicality and substance of vowel sounds. He ultimately came up with a series of electrically activated tuning forks hooked up to brass resonators, and now you can try to own one of your every own… assuming you've got between at least $20,000 burning a hole in your pocket. This particular unit — hewn of wood and keys whittled from African ivory — wasn't made by Helmholtz himself, but it is one of the few remaining examples of such 19th century tech still in existence. To hear auction brokerBonhams tell the tale, there's just one other floating around the United States (another seems to be in safe hands at the University of Toronto). Intrigued? The Helmholtz synthesizer will go up for auction in New York come late October along with a slew of other scientific curios from back in the day.
Presenting Wizdom Music's new app Jordantron. This is the first time Jordan Rudess, who is best known as the keyboardist for Dream Theater, has released a complete set of his exclusive sounds to the public. Jordantron will turn your iPad into the grandest and most epic sounding instrument ever!
Developed for Wizdom Music by Omenie, UK-based mellotron specialists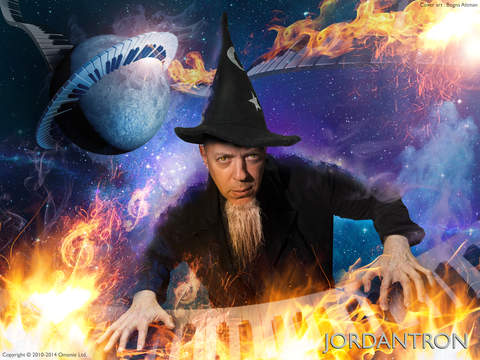 Developed for Wizdom Music by Omenie, UK-based mellotron specialists, Jordantron features :
• 57 sampled stereo instruments, 940MB of samples
• 4 octave samples per voice, 6 playable octaves
• Voices categorized by 'velocity sensitive', 'leads', 'orchestral / choral', 'pads' and 'strings'
• Velocity sensitivity on selected voices
• Decay tails on selected voices
• Octave shift keys to extend range of on-screen keyboard
• 'Half-speed' tape mode
• 12 programmable chord pads
• Warm, lush stereo reverb
• 32 'VOICEBANKs' holding voice, reverb and ABC blend settings for instant retrieval
• Giant 'Jordan-style' whole octave divebombs (configurable as whole tone or whole octave downshift)
• Support for multiple simultaneous instruments via MIDI
'Oscillotron' waveform display
First and foremost, this is a giant sample collection wrapped in its own playable instrument, designed for live and studio use with MIDI control. Jordantron allows its two internal Tron engines to be controlled by a pair of external class-compliant MIDI keyboards for maximum performance flexibility, one controlling the blendable 'ABCtron', the other controlling the 'Dtron' which is usually dedicated to chord pads. A flexible MIDI response allows VOICEBANKs to be retrieved using MIDI Program Change, so the iPad screen never needs to be touched during performance.
"Glitch Robot" is a robotic music instrument dedicated to glitch sounds. Sounds from the in-between of error and prediction, little sounds that are amplified, small sounds made big. The installation uses old hard disks, metallic tongues, relays and other mechanic devices to create sound textures that are used in electronic music – with robots!
Dates of release: Sept. 2014.
Crew: Moritz Simon Geist (Concept + Realization), Sebastian Piatza, Claudia Lill.
Olympia Noise Co. has announced Ondes, which they describe as a new electronic instrument for iPad.  It is inspired by the early electronic instruments of the 20th century like the Ondes Martenot and Theremin, Ondes emulates the classic electronic sounds of that era while adding some decidedly contemporary updates.  They say that Ondes is an expressive and extraordinarily fun instrument capable of playing everything from gliding melodies to dense polyphonic sci-fi soundscapes.
App designer Ben Kamen says "I've always been inspired by the sound and expressive potential of those early electronic instruments, and wanted to develop a way to access that sound in a new instrument.  The touch screen turns out to be a very natural fit for emulating the precise but fluid style Ondes Martenot is known for.  I'm really excited about this app and can't wait to hear the music that people make with it."
Coming soon from Olympia Noise Co.
Be the first to get it! Sign up for our mailing list:
http://eepurl.com/LdQYr
Learn more :
http://www.olympianoiseco.com/blog/sn…
Coming soon from Olympia Noise Co.
Be the first to get it! Sign up for our mailing list:
http://eepurl.com/LdQYr
Learn more :
http://www.olympianoiseco.com/blog/sn…
Follow us:
@olympianoiseco
facebook.com/OlympiaNoiseCo

For those who may be wondering about the name, Ondes is French for "waves."  But if you know a little something about the history of electronic music, you might also recognize the word.  The Ondes Martenot is an early electronic instrument with a sound not dissimilar to that of the more widely known Theremin.  Unlike the Theremin, which is played by moving your hands in space, the Ondes Martenot has a keyboard and a sliding ring which allows the player to glide between pitches.  Below each key is a little indentation for the finger to stop on.  These indentations allow for precise pitch intonation, something that is neary impossible to acheive on the Theremin.  (Unless, of course, your name is Clara Rockmore).   Because several 20th century composers (notably Olivier Messiaen) composed for the instrument, the Ondes Martenot is still taught in some music conservatories to this day, though it's a bit expensive to get a hold of one yourself.  You might also have seen Jonny Greenwood performing one in Radiohead.
Roger Linn hasreleased a couple of videos that demo the LinnStrument – a new multitouch musical instrument. Both demos highlight the instruments ability to let you independently articulate each individual note.
The LinnStrument is currently in development. Pricing and availability are to be announced.
Electro Moscow is an essayistic documentary about the Soviet electronic age and its legacy. The story begins with the inventor of the world's first electronic instrument, Leon Theremin, unveiling the KGB's huge pile of fascinating devices, some of which were musical. They all came into existence as a by-product of a rampant defense industry. Nowadays, those aged and abandoned 'musical coffins', as solidly made as a Kalashnikov, are being recycled and reinterpreted by the post-Soviet generations of musicians, sound collectors and circuit benders. The story of the Soviet synthesizers as an allegory to the everyday life under the Soviet system: nothing works, but you have to make the best out of it. An electronic fairy tale about the inventive spirit of the free mind inside the iron curtain- and beyond.
This video is a demonstration of the VlnVlaCelBass sound on the Continuum Fingerboard, performed by Edmund Eagan. This EaganMatrix string sound has been programmed to take advantage of the Continuum's fast and accurate pressure sensing. Playing this sound with low velocity finger movement will create a smooth gentle start to each note. After the note starts volume and timbre changes can be applied by changing the pressure on the surface.
When played with a harder finger velocity, the sound gets more aggressive in it's attack. This is due to the inclusion of timbre data that represents a real string attack.
The name of the sound includes the four names of the orchestral string family, violin, viola, cello, and double bass, reflecting the combined pitch range of these instruments. The sound is equally convincing and expressive at all pitches, even at the extremes.
Pressing the first foot pedal activates a mono mode which makes it easier to play fast monophonic intervals, such as whole tone or minor third trills.
The overall tonal character of the instrument can be changed by moving the Size barrel. Lower values of Size will create a larger sounding instrument, higher values a smaller one.
The VlnVlaCelBass uses the GrainSilo in the EaganMatrix, with a timbre element called Vla Sustained. The original source for this timbre element came from the first 100 milliseconds of a single note preformed by Rudolf Haken on a Pellegrina 5 string viola. This 100 milliseconds contains essential attack and sustain spectra. Through the power of the EaganMatrix formula structures, control of the timbre elements reference point, fundamental, spectral rolloff, spectral shift, and amplitude is mapped to the playing surface. The three dimensional performance of each finger can translate into exquisite control of this finite piece of data.