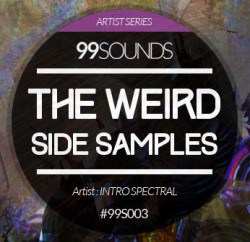 99Sounds has released The Weird Side Samples- a free glitch sound effects library.
The Weird Side Samples is a free collection of glitch samples, weird sound effects and abstract sonic textures produced by Johan Ekelove aka Introspectral.
The author describes this sound collection as "a sonic exploration through hidden worlds afloat on a metaphysical plane".
Contents:
182 audio samples in total
19 atmospheric sounds
29 sonic movements
17 percussive elements
69 tech samples
31 sonic textures
17 vox samples
24-bit WAV format
44.1 kHz Stereo
284 MB size on disk
174 MB download size (RAR archive)
The Weird Side Samples are available as a free download at 99sounds.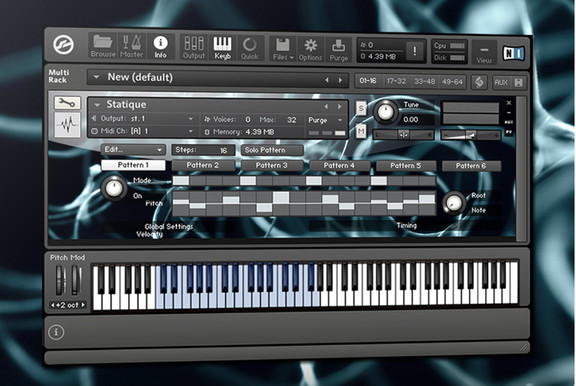 Audiomodern has announced the release of Statique, a free glitch & cuts rhythm generator for Native Instruments Kontakt.
Statique is a sequencer based pattern generator which is best suited to give your music production a contemporary percussive fundament.

You can easily create groovy electronic patterns or add-on loops built out of bits, cuts, glitches and blips!
Statique is a free download at Audiomodern (email registration required).
Just a quick video on how to crreate cool drum and bass beats with iOS apps. Drums: GlitchBreaks and DM1, Bass: Magellan (2 instances), FX – Animoog, DAW – Cubasis.
Nintendo DS running Glitch DS, to Doepfer A-119 to generate gate signals. Gates divided, multiplied, by various modules and sent to Rene X and Y inputs. Rene quantized cv to Synth Tech. cloud generator. Out to QMMG then to mixer.
Had fun with this one, hope you like it.
Glitchy drumming inspired by Aphex Twin & Venetian Snares productions w/ GlitchBreaks App. + Korg Kaoss Pad KP3 (x2) and Korg Kaoss Quad. Performed by sound artist & noise designer Zviij © 2012.
* Booking : zviij AT zviij.com
• Discography:
- Zviij "Quadrifolium" (Album/Digital) http://zviij.bandcamp.com/album/quadrifolium (Bandcamp)
- Zviij "Sub-system design" (Album/CD) http://www.odiolorgnette.com/discography.html
- Zviij "Naked flowers" (Album/Digital) http://zviij.bandcamp.com/album/naked-flowers (Bandcamp) http://itunes.apple.com/us/album/naked-flowers/id475830077 (iTunes)
Zviij — (born Franck Smith) is a French sound artist, noise designer and electronic musician, active as a soloist, living and working in Brussels.
Here's the basic description of the app:
Make your Glitch sound in real-time from your Microphone or Song File!
Glitch1 re-builds your music and audio dynamically with innovative 6 FXs.
Glitch1 Ver.1.0 includes 6 effects
-CRUSHER (Low-SamplingRate Effect)
-SHORT DELAY (10-40ms Delay)
-BEAT REPEAT
-GATER
-TAPE STOP (Tape Stop/Vinyl Break Effect)
-AUTO PAN
And 3 Global effects.
-LIMITER (Hard-knee limiter)
-DELAY (1/4 , 1/8 dot)
-STEREO (Stereo Enhancer)
On ver.1.1, Glitch1 will support Audio Copy/Paste.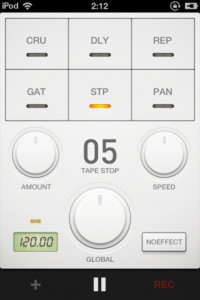 "Around the late 40s the atom was split… We discovered that everything was forever changed, when we discovered the word could be cut up, that sound could be cut up. That everything having to do with culture could be cut up and reassembled in ways that didn't exist before. That will be seen as the most radical, important thing that happened this century" – Genesis P Orridge, Modulations
GlitchBreaks from Alex Matheu is a powerful iOS loop manipulation tool. Anyone who has seen, heard or played with it can vouch for its quality and flexibility. It puts buffer override, scrubbing, beat-juggling, and pitch and time stretching all within the palm of your hand, cheaply. We got so excited about this App we contacted GlitchBreaks about partnering, and the fruit of that can be seen in the 20 new free factory loops we provided for version 1.03.
We are pleased to premiere our first loop-pack intended for use with GlitchBreaks. Containing 49 high quality abstract 1 bar loops, this pack is designed for the glitchhead who can't get enough. Already glitchy in their nature these loops will send you spinning off into microcosms of uncontrolled electronic pleasure when paired with GlitchBreaks. Prepare to travel down the rabbit hole, and bring your headlamp because the journey will get dark, dirty and shocking!
All loops are provided in 16-bit as well as high quality 24-bit files, for use in any desktop DAW and numerous other iOS apps.
Format:
49 16-bit/44.1 khz Wav files
49 24-bit/48 khz Wav files
All files tagged with BPM (tempo) and initials.
Installation Instructions for GlitchBreaks included.
Price: $2.99
Available from – www.sunsineaudio.com
Background info from the author:
I have never tried making a song with glitching effects. Althought there isn't a lot of that in this, so far, I am going to try to incorporate much of that effect within this song (considering that's what makes this music part of the "Glitch Electronic" genre. I long the result so far. But let me know what you think in the comments :3
–DOWNLOAD LINK (For song and desktop wallpaper) BELOW–
Glitch Chip (WIP):
http://bit.ly/MhVt18
Desktop Diablo Wallpaper (Direct Download):
http://bit.ly/LwOL8F
http://youtu.be/8LVm_F_mRI
A collaboration between Australian producers Mr Bill and Will Marshall,  this is a stems-based template for the Akai APC40, designed to help producers get started performing their own material live on stage.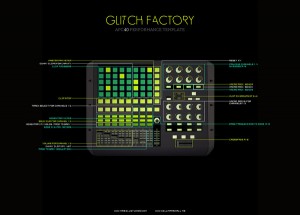 "We've built some awesome performance FX, as well as writing a custom script for the APC40 to streamline your live sets. Included in the template are four tracks worth of stems, to help get you started."
More info here – http://willmarshall.me/products/glitch-factory
Channel Robot has released Tech Vocals, a sample library is the Grid Machine Slice series for Kontakt.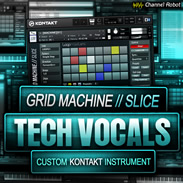 Here are Volumes 2 and 3 of the best selling Minimal Tech Vox – a fantastic collection of snipped, glitched, processed and tweaked minimal vocal samples, produced specifically for the dance music producer.
Whether you are making Tech, Electro, Deep or Mainroom Dance Music – these samples recorded by pro session singers have been mangled, chopped and edited to provide you with the building blocks for some awesome grooves.
Featuring a killer selection of one word single shot samples, glitched vox sounds, vox stabs, Fx Processed Loops, vocal hooks and re-sequenced parts which together form a formidable collection of samples for any producer looking to introduce the human element to loops and sections of their productions, and now you can further process cut, mix, slice and glitch to produce completely unique content in Grid Machine Slice.
The sound library is available to purchase from Loopmasters for £29.95 GBP.