This little experiment plays with 'polluting' arrays of pixels depending on the sound level coming in.
There is a feedback loop on the sound, and every time the sound gets looped, it's degraded to a much lower quality.
This was done as an exercise for the Generative Design class at CIID.dk.
Taught by Joshua Noble and David Gauthier.
For more, please vist soundplusdesign.com
Check out our massive genre based play lists on Spotify:
8-bit/Chip Tune/C64
Electronica, Click & Cuts and Glitch
Berlin School and Ambient electronic music
IDM, Leftfield and Breakcore
Electro Funk and Skweee
Minimal Techno
Several days of electronic music per genre!
This device allows you to rearrange incoming audio on the fly, it also allows these slices of audio to be glitched and reversed or muted…
All controllable via midi and with a running light that can be mapped to give visual feedback on a midi controller…
Part of the modular series which can be subscribed to at isotonikstudios.com/modular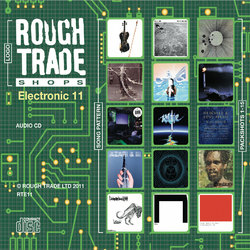 Rough Trade Shops' latest compilation, Electronic 11, is due for release on the 16th January and looks set to be rather good. It gathers together a nice selection of music we've been posting about over the past year – everything from the synth-pop styles of Ford & Lopatin and John Maus through Azari & III's fat, disco-leaning house to some bleak, bracing industrial/noise from the likes of Pansonic and Ekoplekz.
22 tracks, full sleevenotes. exclusive limited edition varnished sleeve available from rough trade shops only. the new rough trade shops compilation cd is aimed squarely at the new year. shiny, fresh, clean and minimal electronic music in your earphones provide the perfect soundtrack for the cold and frosty early january. as rob young writes in the sleevenotes – check emeralds' mark mcguire's glowing 'alma', which begins with a hymn; or nicolas jaar's incantatory 'space is only noise if you can see', like a dubbed-out depeche mode. at the other end of the scale, prurient and keiji haino (in tandem with finnish sub-bass spelunkers pansonic) use the full throated roar and the abject howl of the avant garde and the hardcore. meanwhile, compare rustie's dense 'hyperthrust', with its micro-events folded up and crammed into milliseconds, with alva noto's 'uni deform' bitcrush collision, which emerges from the rarefied world of conceptual sound art. marcus schmickler, who can occasionally be found making exploratory post-rock as pluramon, sends your ears down a labyrinth of no return with the abstract operations of 'discordance axis', closely followed by ekoplekz's hallucinatory tone-scrub, jarring and alienating as an mk-ultra mind-control experiment. in 'and the world laughs with you', brainfeeder's shapeshifting boss flying lotus invites thom yorke to jack into a cybernautical call and response session. even the most outwardly conventional track here, hercules and love affair, has its house 4/4 scraped and sandblasted with gravelly patches of digital irritant. ford and lopatin's 'emergency room' is like some unearthly fusion of scritti politti and heaven 17; john maus's swooning portamento synthi-fanfares summon up the fairlight manoeuvres of the thompson twins and blancmange. azari and iii's 'manhooker' transports you back to sun-up at some orbital rave at the very close of that strange plastic decade" comprising sound art, dubstep, chill-wave, witch house, electro-pop, digital hip hop, tech-minimalism, electro-house, and metal-machine music supplied by labels such as editions mego, warp, blastfirstpetite, raster-noton, type, skam, tri angle and more. rte11 is selected by the staff at both london shops and is, stylistically, as varied a set of tracks that you would expect from us.
The full tracklist runs as follows:
Rene Hell – 'Oxford Meter End'
Nicholas Jaar – 'Space Is Only Noise If You Can See'
Flying Lotus – '& The World Laughs With You ft. Thom Yorke'
Shackleton/King Midas Sound – 'Deadman (Death Dub)'
Ayshay – 'WARN-U'
John Maus – 'Head For The Country'
Ford & Lopatin – 'Emergency Room'
Rustie – 'Hyperthrust'
Hercules & Love Affair – 'My House'
Azari & III – 'Manhooker'
Modeselektor – 'Evil Twin'
Death Grips – 'Guillotine'
Sensational meets Koyxen – '+weekend2 (remix work)'
Alva Noto – 'Uni Deform'
Anne James Chaton – 'Pop Is Dead'
Marcus Schmickler – 'Discordance Axis'
Ekoplekz – 'Critical Condition'
Pansonic & Keiji Haino – 'If I Could Incarnate This Feeling Would You Consider It A Creation'
Prurient – 'A Meal Can Be Made'
Solar Bears – 'Twin Stars'
Mark McGuire – 'Alma (Reprise)/Chances Are'
Ben Frost – 'O God Protect Me'
Time for some chip tunes and glitch I guess

Da Pantz – Leech (Survival Tactics: Part 2), from "Survival Tactics."
Details: MONOTRIBE sync'd to and filtering TENORI ON! Using the panning controls, I have sent a click track to the "sync in" of the MonoTribe, and "chiptune" style blips are sent to the "audio in", and filtered in strange and interesting ways! Note the irregular beat structures used on both machines creating interlocking polyrhythms
Gross beat is perfect for real-time or rendered gating, glitch, repeat, scratching and stutter performances. Gross Beat stores audio in a 2-bar rolling buffer under the control of 36 user definable time and volume envelopes, giving you unlimited creative control.
More info – http://www.image-line.com/documents/grossbeat.html
Gross Beat is a time manipulation effect designed for repetition and scratching effects.
Download the demo at the link above.
Thanks to Ed Chamberlain – http://soundcloud.com/ed-chamberlain for the Scratch Demo and nucleon – http://www.electroconductor.com/ for the Performance and Gating demo seen in this video
Get your drums going with AfroDJMac's latest Live rack featuring the Operator synth
I made a rack of 16 drums, exclusively with Ableton's Operator synth. They sound pretty glitches out yet exciting. Some fun and interesting effects added into the instrument rack helps to spice things up with a healthy dose of character. Follow along as I show you how it works. Thanks!
Download @ http://bit.ly/freesynth33
Background information:
After last week's Ableton Rack, the Gibson Pad, I received a few questions regarding the drums I used in creating the demo video.  So, this week's rack is the drum rack I used to create those sounds.  The FM synthesis in Ableton's Operator can be used to attain nearly any sound imaginable. Lately, I have been using it to create some far out drum sounds.  This week's Free Weekly Ableton Live Rack is just that, a collection of different drums made with the Operator synth.  Every time  I open Operator and start messing around with it, I am always amazed at what I get.  The drum sounds I created are all racked up into a drum rack and from there I added a bunch of useful effects.  First is a bit of New York Style Compression, which is just a combination of the dry, uncompressed signal and a heavily compressed version; the macro knob allows you to blend them to taste.  I've added both a lo and hi pass filter, distortion, reverb and delay.  Also, I've thrown in a vinyl distortion that is designed to emulate the sound of a drum hit being sampled from a record.  One of the cool things about sampling off a vinyl is the crackling you get behind the drum sounds and the way it cuts out at the end of the sample.  To achieve this, I set up a vinyl distortion followed by a gate. The gate is set to close out the vinyl crackles, but open when the drum sounds.  The result is that you only hear the vinyl crackles while the drums are sounding, just like with a vinyl sample.  I love this effect, it adds so much life and grit to the drum sounds.  This technique can be emulated for any sample, not just drums. So here it is in all, I hope you enjoy it!
This is a nice experiment by VJFranzK, I believe I know what is going on here, but can you figure it out?
"Can you figure it out? This strange track uses a nonstandard technique to produce sonic glitches at several points through the song. Hint: It's not changing the tempo ( which I only do at the very end. ) I think I am the first to discover, or film this trick on YouTube? It's called a Valse because it ( at least begins ) in 12 beat timing.
Sorry my hands are blocking the view in some parts, but I can't exactly make them transparent
This requires multiple fingers to do it well, and can't easily be done on the Hardware Tenori due to the difference in menu systems."
The Nintendo Gameboy has been kept alive thanks to producers around the world who appreciate its 8 bit gritty goodness. This week, http://bedroomproducersblog.com allowed me to use their Gameboy samples in creating some free instruments for you guys. These samples were made with the LSDJ software and from there I added effects and fun settings for you to play around with in Ableton Live. Enjoy and if you like it be sure to check out Bedroom Producers Blog!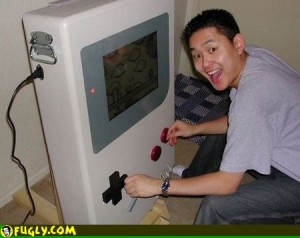 Download the Gameboy racks @ http://bit.ly/freesynth27
8 bit squelches and bleeps lovers come see this weeks installment of my Free Weekly Ableton Live Racks series!!

**Thanks to BedroomProducersBlog who assembled these fine samples using an old black Nintendo Gameboy running the LSDJ software, and who were kind enough to allow me to share with you my creations using those samples. [Visit BPB, it's a great resource for information, releases, samples, etc.]**

This week, since I'm feeling generous after some cyber-love from Ableton and Create Digital Music, you get two free Ableton Instrument racks.  The first is a drum rack loaded with all of these fine Gameboy glitchy noises, drops, risers, arps, and UFO sounds.  Secondly is a playable synth based on one of those wonderfully gritty samples.  Both are racked up in an exciting little effect rack that helps you finesse or destroy these sounds to suit your own personal productions!