New exclusive video from Untold and their nice new techno tune 'Overdrive' by Untold on Hemlock Records. Video by Iain Action. Untold's work the perfect answer to anyone who says modern electronic dance productions must be cut and paste. Untold is still exploring new sounds, amidst some impressive commercial success.
For more information go here:
http://www.mixmag.net
http://soundcloud.com/hemlockrecordings/sets/untold-change-in-a-dynamic/
http://www.surus.co.uk/hemlock-recordings
http://www.facebook.com/itsgonnaworkoutfine
Video by Iain Action: http://cargocollective.com/iainacton/
Here's the video for Ultraista's, "Bad Insect" balancing glitchy visuals over a glittering, shimmering melody. "Bad Insect" is the debut single from Ultraίsta, the multimedia trio comprised of vocalist/artist Laura Bettinson and multi-instrumentalist/producers Nigel Godrich and Joey Waronker.
Founded in London in 2011 on a mutual love of Afrobeat, electronic and dance music, visual art and tequila, Ultraίsta will be putting out their first LP on October 15th, 2012.
Pre-order here!
www.ultraista.co.uk
Channel Robot has released Tech Vocals, a sample library is the Grid Machine Slice series for Kontakt.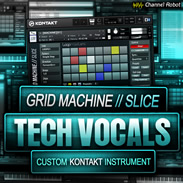 Here are Volumes 2 and 3 of the best selling Minimal Tech Vox – a fantastic collection of snipped, glitched, processed and tweaked minimal vocal samples, produced specifically for the dance music producer.
Whether you are making Tech, Electro, Deep or Mainroom Dance Music – these samples recorded by pro session singers have been mangled, chopped and edited to provide you with the building blocks for some awesome grooves.
Featuring a killer selection of one word single shot samples, glitched vox sounds, vox stabs, Fx Processed Loops, vocal hooks and re-sequenced parts which together form a formidable collection of samples for any producer looking to introduce the human element to loops and sections of their productions, and now you can further process cut, mix, slice and glitch to produce completely unique content in Grid Machine Slice.
The sound library is available to purchase from Loopmasters for £29.95 GBP.
Time for some heavy beats on a sunny monday morning, enjoy

Deus…………………………….Josh Delozier
Robo Hobo……………………..Brad Kranich
Data-dealing Stranger…………David Surber
Prix……………………………….Jolene Kay
Neuro Nurse…………………….Vivid Vivka
Body Mod Patient………………Brandon Moore
Hivemind Agent………………..David Surber
Orwellian Cactus Conduit……..Rutger Hauer
Cloud Computing Storm……….Samuel L. Jackson
Deus decisively adorns his trusty, gleaming, obsidian jacket and outdated aviators–then hits the road in a rush.
He embarks on a sojourn through this seemingly teeming with vitality, LED-infused landscape. But it appears that beneath that utopian veneer lurks something far more dysphoric. A totalitarian government, willfully granted by the citizens. Out of the despair induced by this rampant tsunami of data stimuli, denizens no longer have the will try to filter it and decide for themselves what is important and what is extraneous–the human body and mind after all never evolved to support this level of constant mental awareness.
Always, observant of his surroundings Deus voyeuristically gazes at the Substance Datahead degenerate Robo Hobo who torches the infrared datum hand in fist.
Deus clearly disgusted by the possession of technology on the denizen's minds forges forward–albeit with traces of his own hypocrisy.
Prix glides across a high rise android brothel before Deus' very eyes, having too been caught up in the downward spiral of data addiction…Injecting her Substance Data µSB into her modded port and feeling her scheduled release.
The Neuro Nurse repairs the Body Mod Patient's node-based architecture tattooed all-over his body and corrects his cerebellum disk-entry point with her laser torch whilst excising a corrupted node.
The gilded semi-conductor floats through the sky, ready to be confiscated by an ambassador known as "The Hivemind Agent" selling through taxation the information that he thinks is best suited for the lowly and soulless Robo Hobo to know.
The cloud computing storm encroaches upon Deus' reality and threatens to rob him of the last shreds of his organic humanity once and for all.
This soundbank brings a new life to the Novation V-Station synth, especially if you're into wide EDM (Electronic Dance Music) area. Big Room Plucks, Synth / Lead presets and Pads – that's what you'll find in this soundbank.
More info at: http://www.designasound.com

EDM Heaven – soundbank (created for Novation V-Station soft synth), suited mostly for EDM (Electronic Dance Music) genres. It contains 38 smooth, big room pluck sounds inspired by such artists as Kaskade, Dinka, Jerome Isma-Ae ("Big Room Pluck Sounds"), Pryda as well as some old classic plucks inspired by Chicane, Anjunabeats releases, Paul Van Dyk etc.
Bank also contains 52 Synth / Lead presets which can be used in wide range of genres. The rest is filled with 10 bass presets and 25 warm, smooth pad presets suited for background stuff, sidechaining etc.
All in all there are 125 presets which will bring a new life to your Novation V-Station synth.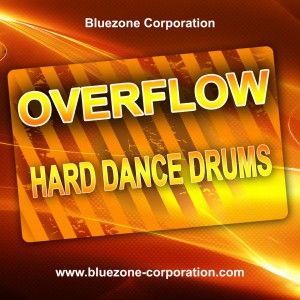 Bluezone Corporation has released Overflow: Hard Dance Drums, a sample library featuring a selection of drum one-shots including massive kick drums, synthesized percussion sounds and synthetic noises in WAV format.
This wonderful sample pack contains 92 WAV Hard Dance drum samples ready to be uploaded in your favourite DAW as Cubase, Logic, Ableton or FL Studio and more.

With professionally made fat, punchy and powerful bass drums, 'Overflow: Hard Dance Drums' also include a selection of fresh electronic percussion sounds to deliver to you usable modern tools of the best quality to make your future Hard Dance music production intense.

Created by the Bluezone Corporation sound engineers, this original and futuristic drum hits collection is 100 % Royalty-Free. You can use this pack in your commercial releases without having to pay any extra.
Overflow: Hard Dance Drums is available to purchase for €6.95 EUR.
http://youtu.be/RVVspfo0XvU
100 brand new presets programmed by music producer, remixer and sound designer Rob Lee
Somewhat off topic but this is a great dance piece. A short video presentation of the show Kinematics, established in January 2010 at the Hexagon, Meylan national scene. The video is used in a clever, effective way, and you can only imagine how sound could be used to add another dimension to the experience.