Novation Brand Ambassador Thavius Beck gives us a thorough overview of the Novation Circuit grid-based groovebox, and while it may not be apparent in this final edited version, it's worth pointing out that he did it almost entirely in one take! What a pro.
Novation Circuit combines two polyphonic synth engines, a four-part drum machine, and an intuitive grid-based sequencer. A completely standalone groovebox, Circuit features battery power and a built-in speaker. It's also at home alongside other hardware synthesizers or synced with a DAW via USB or MIDI.
Create complete tracks in real time or by step sequencing with Circuit's velocity-sensitive pads. Add effects and tweak your sounds on the fly—Circuit is designed to inspire.
Novation Bass Station 2 polyphony using Notelogic from Xhip.net
All sounds were made on the Bass Station 2.
If you have any questions, leave me a message.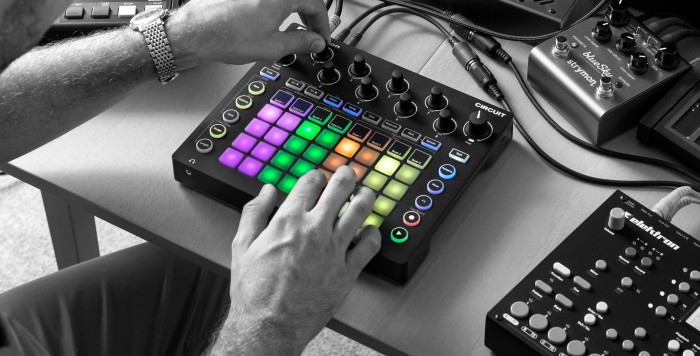 Novation has introduced the Circuit, an inspirational grid-based groove box.
Circuit is designed to inspire. Two Novation polysynths and a four-part drum machine, combined with an intuitive grid-based sequencer in a standalone box that will have you making electronic music in minutes.

Hit some pads, tweak the knobs and your track will start to emerge, all locked in time and key. Play around with effects, patterns and sounds in real time, to produce your track, brimming with fat grooves and beats.
Circuit features
Step sequencer.
Two Nova Engine synths.
Four part drum machine.
Sync your other synths and drum machines. Or another Circuit. If that's what you're into.
USB connectivity – easily sync and sequence within your favourite DAW.
Circuit will be available for purchase on October 15th, 2015, priced at £249 GBP / $329 USD (street).
Ideas in seconds:
Circuit inspires, straight out the box. It combines a 2-part synthesiser and a 4-part drum machine with a 4×8 RGB velocity-sensitive grid sequencer, which will have you finding new musical directions and creating electronic grooves in no time.
Stand alone:
The compact and battery powered with a powerful built-in speaker means Circuit can be used to make music entirely on its own. In the studio it will work alongside standalone synth gear and run in sync with music software too.
Cutting edge sound:
Circuit is designed to deliver cutting-edge sound with production-ready mono and poly patches, and tons of character, for easily creating deep bass lines, epic leads and warm pads.
Build ideas quickly:
Circuit's split grid shows steps and notes at the same time, so a user can sequence and play while seeing exactly what's going on. Parts can be built either by programming each step or capturing a performance in real-time.
Combine simplicity and experimentation:
A musician can use simple streamlined modes to keep harmonies, rhythms and melodies locked in time and key while they make riffs, hooks and chords.
Velocity sensitive RGB pads let a user build expressive drum beats, by step sequencing or playing the wide range of drum sounds. The sound can be defined with total control over pitch, decay, distortion and EQ.
Create subtle builds and breaks by tweaking synth and drum sounds using eight endless macro knobs. Each one allows a user to make multiple changes to the sound, with RGB LED feedback.
Whole tunes can be built with effects: A user can create an tune by combining up to 128 steps of synth and drum patterns, then add space, depth and energy to the music with built-in effects. Sidechain your synths to the kick drum to get them to pump. Tunes can be saved to one of 32 slots.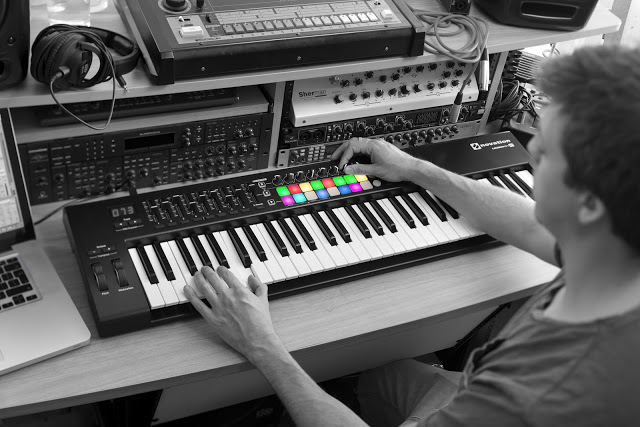 Introducing the updated Launchkey, now with RGB velocity-sensitive pads.
Novation's Launchkey keyboard controller is the is the quickest and easiest way to produce and perform electronic music in Ableton Live, and it has just been given an exciting upgrade. It now features RGB velocity-sensitive pads that match users' clip colours, making workflow in session view far more intuitive.
Take Control of Ableton Live
With enhanced RGB feedback and immediate, automatic integration with Ableton Live, Launchkey gives you instant hands-on control of your session view, instruments, effects and mixer, to let you concentrate on making music. Full colour RGB LEDs mean the pads match the colour of your clips, while velocity- sensitivity lets you really put some feeling into your beats.
Tweak and Mix Your Tracks
Launchkey is designed to let you shape your sound however you like. The eight rotary knobs are rock solid, to give you confidence when tweaking your instruments and effects. The 49 and 61-note versions give you hands-on control of your mixer too, with nine dedicated faders. Whichever Launchkey you choose, all the controls integrate seamlessly and immediately with Ableton Live, and can be reassigned to anything.
Control All Major Music Software
Although we designed Launchkey for Ableton Live, its pads, buttons, faders and knobs control all other major music software too. We call this InControl technology, because it puts you in control.
Everything You Need
Lauchkey comes with absolutely everything you need to start making music: Ableton Live Lite, Novation Bass Station and V-Station virtual instruments, plus a comprehensive 1GB collection of production-ready samples from world-leading sample store Loopmasters. It's also fully bus-powered via USB and class compliant, so you can get straight into hassle-free music making.

Novation Launchkey at a Glance
1. Integrate immediately and seamlessly with Ableton Live
2. See your session with full colour RGB pads that match the colour of your clips 3. Create expressive beats on the 16 velocity-sensitive pads
4. Shape your sound by using eight rock solid knobs to control instruments and effects
5. Choose between a 25, 49 or 61-note velocity-sensitive keyboard
6. Perfect your mix with hands-on control through nine full-size faders on the 49 and 61-note versions
7. Compact and tough enough to take anywhere
8. Control all major music software using InControl
9. Plug in and play with USB bus-power
10. Comes with all the software and samples you need to start making music"
http://us.novationmusic.com/keys/launchkey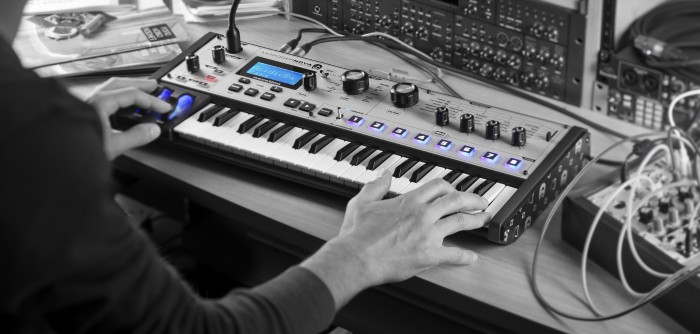 Novation has introduced the MoroderNova, a signature edition version of the MiniNova synthesizer in collaboration with Giorgio Moroder.
Over an incredible five-decade career, Giorgio Moroder has been nothing less than a beacon of influence in electronic music. Thanks to his pioneering work in the mid-70s with Donna Summer, among others, disco simply wouldn't sound the same. In the '80s, his blisteringly modern approach to producing the unforgettable soundtracks to movies including Scarface, Top Gun and Flashdance — using the synthesizer as his main instrument — captivated an entire generation of movie fans. More recently, Moroder has shot back into the popular consciousness, thanks to a universally acclaimed collaboration with Daft Punk in 2013, and his 2015 album Deja Vu, which features Britney Spears, Kylie Minogue and Sia as guest artists.

It's his fascination with electronic sounds that is at the heart of his collaboration with Novation. Giorgio Moroder is nothing less than a god in the synth world, he's been responsible with creating some of the most recognisable sounds across numerous genres, and we're honored to create an instrument bearing his name. The collaboration came about after Giorgio began to use the Novation Mininova, taking it on tour all over the world. With MoroderNova, Novation and Giorgio Moroder have made a piece of synth history. Not only is it Novation's first signature model, it's the first and only synth with Giorgio's name on it, a fact that we're really proud of. What's more, there are only 500 of them, each numbered and supplied with a certificate of authenticity.
MoroderNova features
Instantly-rare, signature version of the MiniNova which pays homage to Giorgio Moroder.
Branded with Giorgio's 'moustache and shades' insignia, and with a distinctive silver/black colourway, the unit is a stand-out piece of synth heritage.
The signature sounds identify some of Giorgio's most seminal moments in music. From the timbres of his disco classics with bands such as Sparks and Donna Summer, to the incredible sounds of the Top Gun and Scarface soundtracks, and his recent work with Daft Punk, Novation's sound designers have matched each and every one to the original. With access to these you'll be able to draw inspiration from the works of one of the most influential producers alive today.
Limited edition, numbered one of 500 units with certificate of authenticity.
Sign up at the MoroderNova website to stay informed.
Novation recently held a small private event in London to celebrate synthesisers.
"Our engineers and specialists brought an array of their favourite analogue synths and modular systems for guests to experiment with. We had a live performance from synth/programming expert Matt Robertson."
Matt Robertson is a producer and composer based in the UK. He mainly works on electronic music and programming for film scores and albums, and as a musical director for artists such as The Cinematic Orchestra and Björk.
For more great videos click here: bit.ly/NovationTV
Future Music have teamed up with Andertons Music for NAMM 2015. Here they check out the new feature-packed Novation Launchpad Pro
http://blog.andertons.co.uk/recording…
CREDITS
Video Producer & Presenter: Chris Barker
Video Editor and Videographer: Will Seelig
Chris Calcutt used nothing but hardware to generate all these sounds and perform this tune. How? Click here to replicate his setup: http://www.novationmusic.com/project-…
Here's a hint: he used an Elektron Octatrack to control his Novation Bass Station II and Novation UtraNova. He also used his Novation Launch Control XL to control the volumes of all the Octatrack's audio tracks.
For more great videos, click here: http://bit.ly/NovationTV
Generative Music with Ableton Live
http://en.wikipedia.org/wiki/Generati…
Dsi Prophet 08 launching clips in Ableton Live
Moog Voyager + Moog MF Delay
Moog Little Phatty
DSI Evolver
Akai VX 90
Roland Alpha Juno 2
Novation Bass Station 2
Jomox AirBase 99
Lexicon MX 300
TC Electronic M 350
Boss CE 20
Korg Monotron Filter on Cymbals
Allen & Heath Zed 428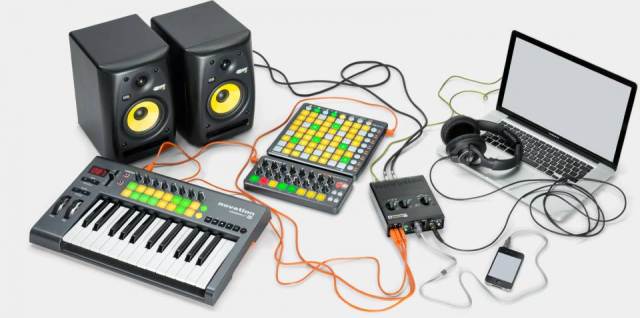 Novation has introduced Audiohub 2×4, an audio interface & USB 'electronic music production hub'.
The Novation Audiohub 2×4 is a combined audio interface and USB hub that lets you connect and power all your USB gear at once, while getting low latency audio and 'super loud' output.
Nitemove demonstrates Novation Audiohub 2×4: a combined USB audio interface and USB hub with 'Focusrite sound inside', for electronic music production
Key Features
Three integrated USB 2.0 ports, so you can connect your keyboard controller, NI Maschine, Novation Launchpad or any other USB gear to your computer at the same time. You can even connect it all to your iPad, if you have a camera connection kit.
Bus Power – You can bus-power Audiohub 2×4, but you'll need to connect the power supply if you want to use it to bus-power your USB gear.
Focusrite Sound Inside – 96 kHz, 24-bit audio performance.
It's Super Loud – the four RCAs, the two balanced jacks and the headphone outputs are 'super loud'.
Capture Balanced Audio – matched stereo RCA inputs
Low Latency for Live Performance
Connect To Just About Anything – Plug and play on Mac and iOS. Dedicated low latency drivers for PC are supplied.
Rugged design – designed for the gigging electronic music producer, with a aluminum case.
For an overview of Audiohub 2×4 click here: http://www.novationmusic.com/audiohub2x4