Novation has officially launched the new Novation Launchkey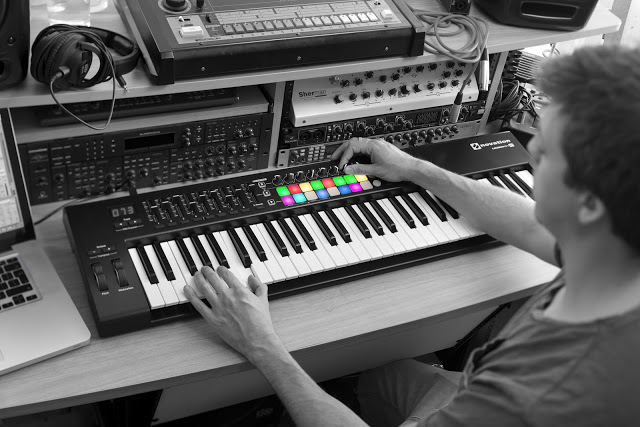 Introducing the updated Launchkey, now with RGB velocity-sensitive pads.
Novation's Launchkey keyboard controller is the is the quickest and easiest way to produce and perform electronic music in Ableton Live, and it has just been given an exciting upgrade. It now features RGB velocity-sensitive pads that match users' clip colours, making workflow in session view far more intuitive.
Take Control of Ableton Live
With enhanced RGB feedback and immediate, automatic integration with Ableton Live, Launchkey gives you instant hands-on control of your session view, instruments, effects and mixer, to let you concentrate on making music. Full colour RGB LEDs mean the pads match the colour of your clips, while velocity- sensitivity lets you really put some feeling into your beats.
Tweak and Mix Your Tracks
Launchkey is designed to let you shape your sound however you like. The eight rotary knobs are rock solid, to give you confidence when tweaking your instruments and effects. The 49 and 61-note versions give you hands-on control of your mixer too, with nine dedicated faders. Whichever Launchkey you choose, all the controls integrate seamlessly and immediately with Ableton Live, and can be reassigned to anything.
Control All Major Music Software
Although we designed Launchkey for Ableton Live, its pads, buttons, faders and knobs control all other major music software too. We call this InControl technology, because it puts you in control.
Everything You Need
Lauchkey comes with absolutely everything you need to start making music: Ableton Live Lite, Novation Bass Station and V-Station virtual instruments, plus a comprehensive 1GB collection of production-ready samples from world-leading sample store Loopmasters. It's also fully bus-powered via USB and class compliant, so you can get straight into hassle-free music making.

Novation Launchkey at a Glance
1. Integrate immediately and seamlessly with Ableton Live
2. See your session with full colour RGB pads that match the colour of your clips 3. Create expressive beats on the 16 velocity-sensitive pads
4. Shape your sound by using eight rock solid knobs to control instruments and effects
5. Choose between a 25, 49 or 61-note velocity-sensitive keyboard
6. Perfect your mix with hands-on control through nine full-size faders on the 49 and 61-note versions
7. Compact and tough enough to take anywhere
8. Control all major music software using InControl
9. Plug in and play with USB bus-power
10. Comes with all the software and samples you need to start making music"
http://us.novationmusic.com/keys/launchkey
Comments