This video demonstrates the sound, play modes, and sequencer of the AKAI Timbre Wolf.
Jennifer Hruska from inMusic shows us how the new Akai Advance controller keyboard works and its smart way for controlling software plug-ins.
Synthbug Demo of the Akai AX60. Played by Terrence Town. Patch design by Terrence Town and Draven. Recorded directly in 48k 24bit stereo audio.
The AX60 is among some of the last true analog polysynths of the mid-eighties. It was Akai's answer to the hugely successful Roland Juno series and Yamaha's new digital DX-series. The AX60 is a programmable six-voice synth with a nice LFO, lowpass (VCF) filter, envelope sections, and more. An eight-voice version, the AX80, was already available.
Programming this synth is easy using dedicated sliders, knobs and/or buttons for its parameters. It also has a useful noise generator and some other cool functions that include auto-tuning, chorus, a multi-mode arpeggiator and a keyboard that can be split into two key-zones, making it somewhat bi-timbral. All six voices can be stacked in unison mode for a powerful and thick lead sound. Its features and sound make the AX60 a worthy alternative to Roland's Juno 106.
The Tom Cat is a true analog drum machine, with five built-in percussion voices, including Kick, Snare, and Clap sounds with chromatically tunable Disco Toms.
The Timbre Wolf is an analog 4-voice polyphonic synthesizer that recalls the earliest polyphonic synthesizers. In this video, Akai Professional Product Manager Dan Gill gives a quick overview of the Timbre Wolf synthesizer.
The Timbre Wolf has four independent analog voices that can be configured as
4 mono synths
a 4-voice unison monosynth; or
a 4-voice polysynth,
The user can easily customize the sound of each voice independently as they play.
Other features:
Professional quality 25-key custom Akai Pro keybed..
32-step sequencer for each of the four voices
LED display
Octave +/- controls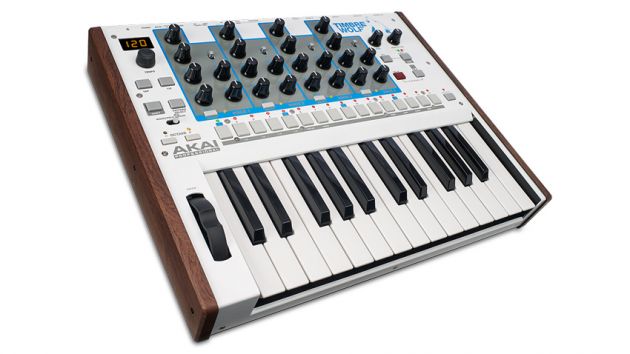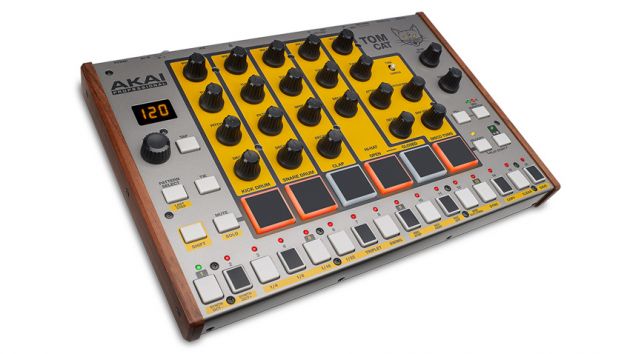 The Timbre Wolf looks particularly bold: a 4-voice polyphonic synth that's set to retail for £300. It can be used as four monosynths, in 4-voice unison mode or as a 4-voice polysynth. Each voice has its own 32-step sequencer, and there's a full-size 25-note keyboard.
Tom Cat, meanwhile, offers kick, snare, hi-hat and clap sounds and chromatically-tunable disco toms. You can adjust the tuning, amplitude envelope and volume of each voice independently.
There are also six pads and a 32-step sequencer, along with swing, pattern select and tempo controls. It's said that you can 'dirty up' your beats using the 'Maul' circuitry. Tom Cat will sell for £150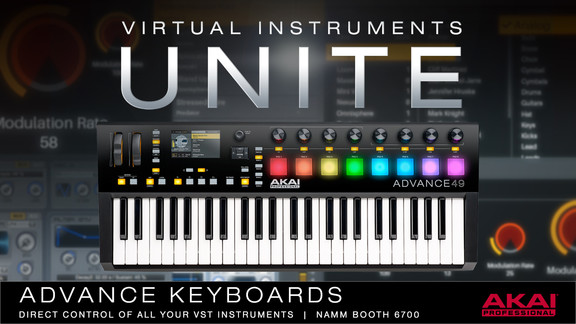 Akai Professional has announced the introduction of its Advance Keyboard Series. Available in 25-, 49-, and 61-key sizes, the Advance 25, Advance 49, and Advance 61 provide unprecedented playability and advanced manipulation of any virtual instrument via an interactive, full-colour display complemented by performance friendly hardware controls.
Designed to fuse the power of software instruments with the live playability of a keyboard workstation, the Advance Keyboard series transforms computer-based plugins into an entirely hands-on playing experience. The keyboard surface features an integrated highresolution full-colour 4.3-inch display, providing real-time control and feedback of any and all virtual instrument parameters. The screen instantly adapts itself to the selected plugin's controls, delivering immediate 1:1 access to the instrument and various editable functions. Better yet, the Advance Keyboard series works with any VSTi virtual instrument. Using the Advance Keyboard's custom designed Virtual Instrument Player (VIP) software application, your entire VSTi library can be controlled in one application. VIP can operate as a plugin inside any major digital audio workstation (DAW) or as a stand-alone application on both Mac and Windows operating systems.
Dedicated physical controls are thoughtfully included, with Akai Professional's hallmark RGB backlit, velocity- and pressure-sensitive pads integrated into each keyboard surface. Rubberised pitch and modulation wheels deliver player-preferred note manipulation with highly musical action. Large, continuously-variable endless knobs invite frequent use, letting the user make parameter adjustments with granular or dramatic effect. A custom semiweighted, velocity-sensitive keybed—another Akai Professional specialty—supports aftertouch, making it an elite keyboard for seasoned live performers and studio producers alike.
"The Advance Keyboard series represents a giant leap forward for keyboard players," says Dan Gill, Product Manager for Akai Professional. "Until now, software-based instruments leaned heavily on computer interaction, which caused creative and logistical bottlenecks, especially during live performances. We're combining the processing power of your computer, the flexibility of your virtual instrument collection, and the hands-on immediacy of a traditional keyboard workstation. The result is a powerful and inspiring user experience."
Included with each Advance Keyboard is the Virtual Instrument Player (VIP) application. VIP gives Advance Keyboard users access any virtual instrument in their collection with or without a DAW—a powerful way to play virtual instruments live or integrate them into a recording session. VIP software users can also create setlists that provide on-demand access to usercurated instruments for stage performance and studio work. With a single button press on an Advance Keyboard, the player can adapt to song changes as the live performance progresses—without ever reaching for the computer. Performers of all types will welcome VIP's facilities for hyper-fast instrument and patch browsing, key zone splitting, layering of up to 8 instruments per VIP instance, expansive custom mapping capabilities, and support for any VSTi plugin. Advance Keyboard users may run as many instances of the Virtual Instrument Player as their computer allows. VIP runs as a VSTi, AU, RTAS or AAX plugin, allowing you access to VSTi's in virtually any DAW, such as Pro Tool, Logic Pro X and Ableton Live.
Gill continues, "Keyboard players have been straddling two worlds for the better part of the decade. A standalone keyboard workstation was only as current as the sounds inside of it, and similarly, virtual instruments were only as good as the best controllers. The Advance Keyboard series delivers uninhibited access to any virtual instrument in your library without losing focus of the instrument in front of you."
Each Advance Keyboard ships with a 16GB download of over 10,000 sounds from industryleading developers at AIR Music Technology, SONiVOX, and Prime Loops. Purchased separately, this comprehensive collection of nine plugins is valued at over $1,000.00 USD and provides Advance Keyboard owners with an instant palette of contemporary and coveted sounds for live performance and studio production.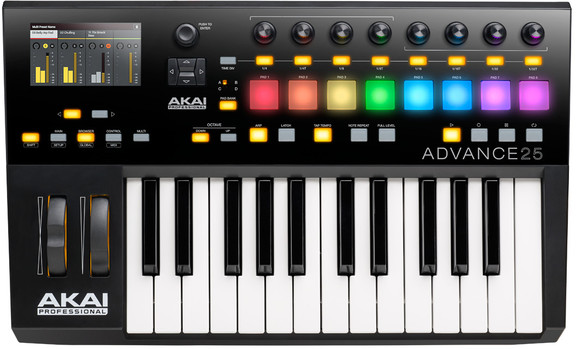 Advance Keyboard Series features
Keyboards for advanced virtual instrument performance.
Integrated 4.3-inch high-resolution full-colour screen with dedicated interface buttons.
Screen provides 1:1, real-time feedback of plugin parameters.
Available in 25-, 49-, and 61- key sizes.
Includes Virtual Instrument Player software for unprecedented virtual instrument preset management, control mapping and multi patch creation.
Premium, semi-weighted velocity-sensitive keybed with aftertouch.
8 large, endless and continuously variable control knobs.
8 velocity- and pressure-sensitive MPC-style pads with RGB illumination.
Dedicated pad bank, transport control, octave, and performance buttons.
Note repeat, time-division, pattern arpeggiator, and tap-tempo buttons.
Rubberised Pitch and Modulation wheels.
Expression pedal and footswitch inputs.
USB and 5-pin MIDI Input/Output for use with any MIDI capable software or hardware.
Also functions as a standalone controller.
Includes a 16GB download with more than 10,000 sounds from leading virtual instrument designers including AIR Music Technology, SONiVOX and Prime Loops.
Virtual Instrument Player Software features
Plays virtually every VSTi compatible plugin.
Operates as a standalone virtual instrument player for your computer.
Also operates as a plugin within any AU, VST, or AAX compatible DAW.
Organises your plugin collection with intuitive browsing by plugin, artist collection instrument type, timbre, and more.
Access, edit, and mix up to 8 virtual instruments at one time.
Setlist feature lets live performers switch between patches from any plugin instantly from the keyboard.
Extensive key zone splitting, custom mapping, and instrument mixing options.
Pre-mapped to hundreds of industry-leading virtual instruments.
Unlimited instances of VIP may be run in a DAW.
Advance 25, Advance 49, and Advance 61 will be available in early 2015 with an MSRP of £299.99 GBP, £389.99 GBP, and £469.99 GBP, respectively.
Gaz Williams takes a look at the new Ableton Live controller which comes with a software bundle that actually is more expensive to buy than the APC!
The APC Mini concentrates the essential features of the APC40 mkII into a compact design. It offers an expanded 8×8 multicolor clip-launching grid, 8 channel faders, and a diminutive but tough chassis for hands-on control over Ableton Live with a small footprint.
The APC Mini is also USB-powered and supports plug-and-play.
The Akai APC Mini has a street price of about US $100.
Generative Music with Ableton Live
http://en.wikipedia.org/wiki/Generati…
Dsi Prophet 08 launching clips in Ableton Live
Moog Voyager + Moog MF Delay
Moog Little Phatty
DSI Evolver
Akai VX 90
Roland Alpha Juno 2
Novation Bass Station 2
Jomox AirBase 99
Lexicon MX 300
TC Electronic M 350
Boss CE 20
Korg Monotron Filter on Cymbals
Allen & Heath Zed 428
Akai MPC60 VHS training video featuring Roger Linn
Jonathan Bates, aka Big Black Delta, takes you inside the studio for an up-close look at how he uses Rhythm Wolf's sounds, pads, and sequencer in his work.
Music by Big Black Delta, available on iTunes: http://smarturl.it/bbdalbumitunes
Curious about Rhythm Wolf? Go wild at \\ http://bit.ly/ANALOGBITE //
Analog Bite
Rhythm Wolf combines a drum machine, bass synthesizer, and step sequencer into one rugged device with a fierce, 100% analog signal path.
Take the beat off the leash with fully tweakable kick, snare, open and closed hi-hat, and accent percussion sounds. Use the oscillator with selectable waveforms – sawtooth/square wave – and analog filter to create bass sequences that squelch and growl. Gate Trigger In/Out, USB MIDI, and 5-pin MIDI In/Out enable Rhythm Wolf to join your inner-circle of vintage and modern gear to integrate with hardware synthesizers, sound modules, DAWs, and more.
Into the Wild
A 32-step standalone sequencer and six custom-calibrated MPC-style pads are onboard for extensive programming and finger drumming. Mute/solo, intro/fill and sequence A/B switches give you the space to roam with complete control over your beat.
Torn into Parts
Carve out the perfect drum textures with continuously variable volume and tuning for each part. The kick drum attack and decay are adjustable for transients that hang, bang, and crush. Snare and open hi-hat also feature decay controls for unique sound design while the adjustable accent percussion can be modulated to click, punch, knock, "shush" and more.
The Face of Bass
Make menacing basslines with a tweakable, onboard bass synth. Envelope, filter and waveform controls let you design low-end that goes from liquid-smooth to bone-crushing and everywhere in between. Filter Resonance and Cutoff add distinction and movement to live or studio performances, while the step-sequencer keys let you program parts across a 3-octave scale.
Trigger Happy
Rhythm Wolf mates with your collection of synths that support Gate Triggers to create exclusive sonic offspring. Use it with supported homebrew hardware, classics or modern machines and infuse Rhythm Wolf DNA into all of your creations.
Let it Howl
Get your hands dirty with a custom noise, grit and distortion effect completely unique to this breed of instrument. The Howl knob lets you mangle the music into all-new textures, transitions and progressions that snarl, bark and howl. Use it as an effect or a part of your signature sound that stands alone on the food chain.
Outputs:
5-Pin MIDI Out/Thru
USB MIDI
1⁄8-inch Gate Trigger Out
1⁄4-inch Bass Synth Out
1⁄4-inch Main Out
Inputs:
5-Pin MIDI In
USB MIDI
1⁄8-inch Gate Trigger In
DC power In
Join the conversation!
http://community.akaipro.com
http://www.facebook.com/akaipro
http://www.twitter.com/akai_pro
http://www.instagram.com/akai_pro
http://www.youtube.com/akaiprovideo