This was for a contest. The challenge was to create a piece of music using only a sampler and it had to be under 90 seconds. This used the Akai S1000 as the sampler, and the samples were mostly from an Indian dilruba, heavily mutated. Other samples were created n Digidesign's Turbosynth program
All video and music by c.2014 G-Storm Electro
http://gstormelectronica.blogspot.com/
There are quite a few good demos of the AX-80 out there already. I wanted to program a few basic sounds and some unique aspects of the AX-80. Some parts I use the Beatstep sequencer, chord memory, and the Big Sky reverb.
Shock-HRz, captures a live performance, Tactical Shadow. 
Technical details below. 
Simone Ciacci a.k.a. "Storm 3003″:
Access Virus TI
Elektron Analog Four
Korg Kaoss Pad 3
Korg Kaossilator Pro
Gabriele Marini a.k.a. "ReD":
Akai Miniak
Yamaha RM1X
Korg Volca Bass
Francesco Salvatici a.k.a. "4TeK":
Korg Electribe MX
Korg Mini-KP
Korg Monotron
Korg Monotron Duo
Retronym teaser for the upcoming Akai iMPC Pro music production center for iPad takes a look at their approach to making precision editing adjustments.
Every knob in iMPC Pro has a Precision Mode for fine tune editing and easy gestural access to advanced features.
iMPC Pro Log showcases the latest features from the freshest development build of iMPC Pro, the upcoming beat production iPad app from Akai Professional and Retronyms. A new video drops every week until we launch!
[Note: iMPC Pro is currently in development. All features are subject to change]
Follow Retronyms
http://www.facebook.com/retronyms
http://twitter.com/retronyms
Join the conversation with Akai Professional!http://www.facebook.com/akaipro
http://www.twitter.com/akai_pro
APC40 mkII
Ableton Performance Controller
Provides hands-on control of Ableton Live with visual feedback
Seamlessly integrates 1 to 1 with Ableton Live
5×8 clip-launch matrix with RGB feedback for clip status, color coding, and more
8 channel faders, 1 master fader, and 8 device controls map to Ableton directly
Send button cycles through all 8 send busses for advanced routing options
USB-powered and plug-and-play setup for maximum portability
A/B crossfader can be assigned on the fly for dynamic mixing
Revised knob layout with in-line controls for smarter workflow
Includes Ableton Live Lite, Hybrid 3 by AIR Music Tech, SONiVOX Twist, Prime Loops & Toolroom Records launch packs (downloads)
– See more at: http://www.akaipro…"
APC Key 25
Ableton Performance Controller with Keyboard
The first Ableton Live controller with keyboard for enhanced control
Seamlessly integrates 1 to 1 with Ableton Live
5×8 clip-launch matrix with tri-color lighting displays current clip status
25 synth-action mini keys for conventional composing and performing
8 knobs auto-map to Ableton Live to control volume, sends, and more
USB-powered and plug-and-play setup for maximum portability
Compact design for mobile performers and producers
Includes Ableton Live Lite, Hybrid 3 by AIR Music Tech, SONiVOX Twist, and Toolroom Records artist launch packs (downloads)
– See more at:http://www.akaipro…
APC Mini
Ableton Performance Controller
Ultra-portable all-in-one Ableton Live controller
Seamlessly integrates 1 to 1 with Ableton Live
8×8 clip-launch matrix with tri-color lighting displays current clip status
8 assignable faders + 1 master fader for hands-on control of Ableton Live
USB-powered and plug-in-play setup for maximum portability
Compact design for mobile performers and producers
Includes Ableton Live Lite, Hybrid 3 by AIR Music Tech and Toolroom Records artist launch packs (downloads)
– See more at:http://www.akaipro…
MPK261
Performance USB/MIDI Pad & Keyboard Controller
61 semi-weighted, full-size keys
16 MPC pads with RGB illuminated feedback; 4 pad banks
8 assignable control knobs; 3 knob banks
8 assignable faders; 3 fader banks
Able to send computer keyboard commands for pad assignable shortcuts
Updated control layout with backlit LCD screen
USB-MIDI with 5-pin MIDI input & output
Comprehensive transport & parameter controls for hands-on DAW integration
Pitch bend, modulation and octave controls for dynamic performances
Expression & sustain pedal jack inputs
Comprehensive production software package included: Ableton Live Lite, Hybrid 3 by AIR Music Tech, SONiVOX Twist 2.0, SONiVOX Eighty-Eight Ensemble and Akai Pro MPC Essentials
– See more at: http://www.akaipro…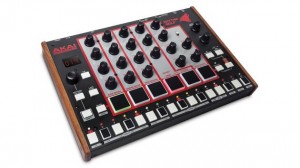 Akai is the latest brand to get in on the vintage-inspired groovebox action with the announcement of the Rhythm Wolf – an analogue unit combining a five-voice drum machine and single-ocsillator bass synth.
The drum machine section of the Rhythm Wolf comprises kick, snare, metallic percussion, and open and closed hi-hat sounds, all of which are tuneable. The bass synth, meanwhile, can be switched between saw and square waveshapes, and features a filter with resonance control and a basic envelope shaper. Akai describes Rhythm Wolf as having an "authentic analog design that references classic rhythm machines and synthesizers" – no prizes for guessing which instruments the company is alluding to.
The whole unit is built around a 32-step sequencer, and also features six MPC pads for live performance. There's also a 'Howl' distortion circuit for adding a bit of dirt to the sounds. Additionally, the Rhythm Wolf features a USB MIDI connection and has both MIDI and gate in and out ports, so can be triggered via a DAW or external hardware. It packs a swing control on its front panel, and the unit also appears to have a built-in preset bank.
Arguably the most interesting aspect of the Rhythm Wolf, however, is its price. At an estimated street price of $199, the unit comes in at slightly cheaper than the combined price of the Volca Beats and Bass, and cheaper than either the Roland TR-8 or TB-3.
The Rhythm Wolf is due to arrive summer 2014. Visit Akai Professional for more details.
Rhythm Wolf highlights (from the official press release)
5-voice analog drum machine and synth—authentic analog design that references classic rhythm machines and synthesizers
Legendary analog drum sounds—kick, snare, open & closed hi-hat, and metallic percussion
Synth-bass module—selectable square or sawtooth wave with classic filter design for warm, deep basses and squelchy leads.
Onboard 32-step sequencer—classic drum machine workflow for quickly laying down grooves and melodies
Six genuine MPC pads—responsive controls for sequencing and finger drumming
Howl knob—custom distortion circuit for additional sound design
USB-MIDI and MIDI In/Out—flexible MIDI connectivity for easy integration into modern studios
Gate Trigger—triggering via modular synths, vintage sequencers, or external sound sources
Independent audio outputs—dedicated outputs for the drum machine and synth-bass module for precise mixing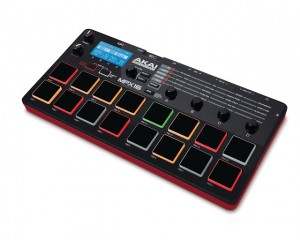 Akai launches playable, practical solution for sample-based performers.
Innovator of audio sampling technology for music production and performance, announces the MPX16, an advanced sample player with onboard sound recording.
The portable MPX16 plays and records .WAV samples using SD cards for powerful, reliable performance in live and studio situations. Like the popular MPX8, samples are triggered internally from the highly responsive MPC-style pads or an external MIDI device via USB-MIDI and 3.5mm (1/4-inch) MIDI inputs. Also a feature-packed MIDI pad controller, the MPX16 is equally capable of launching clips or adding trigger pads to a producer's studio.
Samples are captured at CD-quality via dual 6.3mm (1/4-inch) inputs or the on-board stereo microphone and saved to an SD card. The user may assign audio clips to the pads and apply tuning, filters, envelopes and "choke" grouping for creative, dynamic performances. An LCD screen and illuminated trigger pads provide visual feedback during use, and the MPX16 may be powered from a USB port or the included power supply. Naturally, users may load existing sound files onto an SD card or use the MPX16 as an SD card reader for drag-and-drop convenience on a Mac or PC. A software tool for even easier sample management is included via download.
Highlights:
• Plays and records stereo samples using easily accessible and reliable SD cards
• 16 velocity sensitive, illuminated pads let the user play back samples in real-time
• Balanced 6.3mm (1/4-inch) inputs let you capture audio from a wide variety of sources
• Built-in stereo microphone lets you capture sounds on-the-fly
• USB-MIDI as well as MIDI Input and MIDI Output jacks for integration into virtually any
MIDI setup for use as a pad controller, sample bank or both
• Onboard sound processing–tune samples, adjust ADSR envelopes and filters
• USB or wall powered (adapter included) for use virtually anywhere
"The versatility and capability of the MPX16 will make it a workhorse for performers of all types," notes Akai Professional Product Manager Dan Gill. "We knew that an affordable sample player

with Akai Professional's practical MIDI integration would fit the needs of people wanting a no- nonsense way to access samples without computer dependency."
The MPX16 will be available in Summer 2014, distributed worldwide with a $199.99 USD street price. Akai Professional will unveil the MPX16 at Musikmesse, Hall 5.1, Booth B45, March 12-15 in Frankfurt, Germany. For more information, visit: akaipro.com/messe2014.
One unique feature on the Akai AX60 that is not commonly found on synthesizers is VCO Mod to VCF. You can create some FM-like timbres with this feature when the VCF Resonance is turned up.
The creator of this video 'zibbybone' has added a tiny bit of reverb with his Roland Fantom X6.
The AX60 is among some of the last true analog polysynths of the mid-eighties. It was Akai's answer to the hugely successful Roland Juno series and Yamaha's new digital DX-series. The AX60 is a programmable six-voice synth with a nice LFO, lowpass (VCF) filter, envelope sections, and more. An eight-voice version, the AX80, was already available. Programming this synth is easy using dedicated sliders, knobs and/or buttons for its parameters. It also has a useful noise generator and some other cool functions that include auto-tuning, chorus, a multi-mode arpeggiator and a keyboard that can be split into two key-zones, making it somewhat bi-timbral. All six voices can be stacked in unison mode for a powerful and thick lead sound. Its features and sound make the AX60 a worthy alternative to Roland's Juno 106.
The essential instrument for computer-based music production, MPC Element brings powerful music-making capability to your computer in a slimline design that's made to produce. You get cutting-edge features, including MPC Note Repeat and Swing, along with the all-new MPC Essentials software. With the included 1GB sound library, MPC Essentials empowers you with the essential sounds of modern music production, and you can easily import your own sound samples. MPC Essentials can operate standalone and can also work seamlessly with your current DAW as a plugin. MPC Element comes with everything you need to make music right away, and, because it operates via standard MIDI, you can also use MPC Element to control MIDI music software you already have. An 1/8-inch MIDI input and an 1/8-inch MIDI output are both onboard and 1/8-inch to 5-pin MIDI cables are included.
MPC Element Hardware
Fuses legendary MPC beat and song creation capability with the power of your computer
16 backlit, multicolor pads with pressure and velocity sensitivity
MPC Note Repeat, Full Level, 16 Level, and Tap Tempo
Includes MPC Essentials software (download), 1GB sound library, up to 8 pad banks
Slim low-profile design with integrated cover to protect control surface
USB-powered, no power adapter required, USB cable included
Compact design just 14mm thin fits easily into a laptop bag
Brushed aluminum control surface with bright backlit buttons
Standard MIDI for use with most popular software
1/8-inch (3.5mm) MIDI input, 1/8-inch MIDI output, cables included
MPC Essentials Software
32- and 64-bit music production capability
Works standalone, no DAW required, with MPC Element for seamless music creation
Works with your current music software (DAW) as a VST, RTAS, or AU plugin
Run virtually unlimited instances in your DAW simultaneously
1GB sound library with all the essential sounds of modern music production
Import your WAV and AIFF sound samples and assign them to any pad
Up to 8 pad banks (assign up to 128 pads), 4 samples and 4 insert effects per pad
Hosts VST plugins and automatically maps controls
Export to WAV and AIFF
A new piece of pad based sample playback hardware from Akai, sounds familiar…
Details below:
Load virtually any sample via standard SD or SDHC card and assign it to any of the MPX8's eight backlit velocity- and pressure-sensitive pads. MPX8 also has USB MIDI plus standard MIDI inputs and outputs. Control everything from music software on your laptop to outboard MIDI gear. The included USB cable and 1/8″-to-MIDI adapter make it easy to connect. With the included sample kit editor, you can easily arrange, tune, and add reverb to your samples on your Mac or PC before loading them onto MPX8. The editor's drag-and-drop functionality makes loading your samples as easy as possible. MPX8 also comes with a free Loop Library download from Akai Pro, plus a large library of standard samples built in, which can be used for live performance in front of a crowd, on a radio show, or for in-studio production.