This was for a contest. The challenge was to create a piece of music using only a sampler and it had to be under 90 seconds. This used the Akai S1000 as the sampler, and the samples were mostly from an Indian dilruba, heavily mutated. Other samples were created n Digidesign's Turbosynth program
Standuino π [pi] – mysterious drone synth (receiving MIDI clock from frauAngelico)
standuino.eu/musical-instruments/pi/
frauAngelico – drum synth with sequencer
standuino.eu/musical-instruments/frauangelico/
microGranny – granular sampler
standuino.eu/musical-instruments/microgranny/
buy: standuino.eu/buy-musical-instruments/
The Analog Four is a 4-voice analog synthesizer with digital controls and sequencing.
More info: http://www.elektron.se/products/analog
The Machinedrum SPS-1UW+ MKII combines drum synthesis and gritty 12-bit sampling with expressive sequencing.
More info: http://www.elektron.se/products/machi…
The Monomachine is a digital synthesizer featuring numerous finely-tuned synthesis methods as well as sequencing capabilities.
More info: http://www.elektron.se/products/monom…
The Octatrack is a radical 8-track dynamic performance sampler and sequencer.
More info: http://www.elektron.se/products/octat…
A walk-through of some of the features of Indiginus' Solid State Symphony, the Analogue Orchestra sample library for use with Kontakt 4+
This episode Gaz takes a look at the beautiful Samplr – a sampling and playback app, plus Borderlands – a granular sample player with a unique interface. Nick checks out Korg's new iPolysix synthesizer
SampleTank® 1.1 is a universal app for iPhone, iPod touch and iPad. New features include an enhanced PADS interface and 4-track MIDI recorder with unlimited overdubbing. Over 500 instruments and 1000 patterns are now available as well along with increased compatibility with third party docks and accessories. The familiar drum machine-style interface lets you lay down beats easily with adjustable quantize values that you can change on the fly as well loop record and a click track that you can turn on and off at will. Put a drum kit on part A, a piano on part B, a bass on part C, sound FX on part D … anything you like! You can export your recording as a stereo audio AAC file via E-Mail or iTunes File Sharing to use it in another app like AmpliTube or VocaLive or a computer DAW like Logic or Pro Tools. You can also export a .MID standard MIDI file. SampleTank 1.1 is a free update for all existing users and is available in the App Store. Check it out today!
http://ikmultimedia.com/sampletankipad/features/
A quick tour of our new iPad synthesiser, in which I make a lot of strange loud noises.
The intro tune was created in Grain Science itself by using the built in performance recorder on each track, and sending them to our Hokusai Audio Editor for mixing and mastering.
Grain Science is out now in the App Store: http://itunes.apple.com/app/id487233637
For more info: http://www.wooji-juice.com/products/grain-science/index.html
Grain Science is based on the principles of granular synthesis: taking audio (a waveform/sample), tearing it into tiny pieces (the "grains"), and then putting them back together.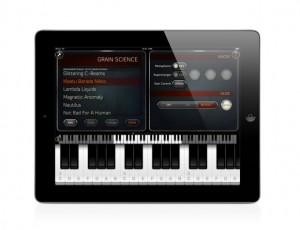 You can use it like a traditional sampler, by telling it to put the pieces back together exactly how it found them. You can use it like a traditional analogue synthesiser, by using sawtooth, sine or other basic waveforms as the source material — after the grain synthesis is done, you still have a variety of sophisticated tools to pass your sound through, before it hits the speakers or recording.
Of course, you can also go to places that neither a sampler nor an analogue synth can dream of going! With grain synthesis, the sound can be exactly as it started, or completely unrecognisable, or anywhere in between. The ability to create entirely new sounds that still, somehow, retain some of the essential qualities of the original, is one of the things that makes granular synthesis so interesting.
Not only that, but Grain Science offers two grain units per voice. Because you can control the mix between them — either manually, or programmed to change over time according to your needs — you can create layered, morphing or rich, complex modulated sounds (as you can also use the second grain unit to amplitude-modulate the first). You can also get direct control of the grain unit scrubbing, allowing you to "grainbend" live to create truly wild audio!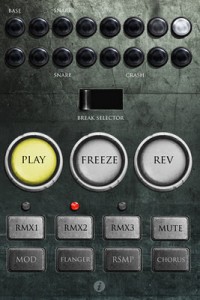 Amen break – coming from the late 60's is one of the most famous drum loops sampled and remixed in hundreds of jungle, drum'n'bass and hiphop records. This six-second clip spawned several entire subcultures and gained massive fame among DJ's, producers and music fans.
We bring you the Amen Break Generator – a vintage-looking loop player designed for a real-time generating of infinite combinations of this famous break! You can remix the loop with your fingers, use three different randomizing algorithms and add various DSP effects.
FEATURES
44.1 khz, 16-bit low-latency audio engine
beautiful vintage-looking graphics
16 buttons for manual tempo-synced triggering of the break
3 different randomization algorithms for automatic remixing
single slice freezer and loop reverse mode
high quality DSP effects including ring modulator, flanger, resampler and chorus
3 additional classic drum loops just for even more fun!
The app is priced at $0.99
http://youtu.be/kQEWT4zuaDs
Beat Kangz Electronics' Cool Rev gives you a general overview of the Beat Thang. Learn about the basics including the various sections and modes. Available for pre-order on BestBuy.com now! http://ow.ly/5gzub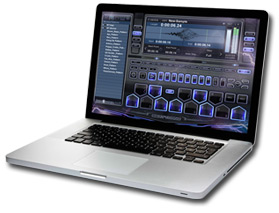 BEAT THANG VIRTUAL combines sampling, sequencing with an easy to use performance interface into one portable, powerful weapon of mass creation. Over 3000 original sounds and chops were custom created for this extraordinary library. It doesn't matter if your style is Hip-Hop, Reggaeton, Soul, Funk, Electronica, Rock, or Alien, Beat Thang has the sounds you need to create bangin' tracks. The Beat Kangz lived in the studio for two years painstakingly recording and tweaking the sickest sounds from classic drum kits, vintage instruments, rare electronics, exotic percussion, and many improvised sound sources. All were performed and recorded through a menagerie of high-end digital and analog devices, meticulously preserving each sample's warmth and character. The Beat Kangz mastered each sample so you have trunk bangin' drop, aggressive kicks and snares, rich strings, chunky guitars, tripped out synths and tons of grit, depth, and low end to create with. You can also load or record your own samples to create custom kits and unique instruments of your own.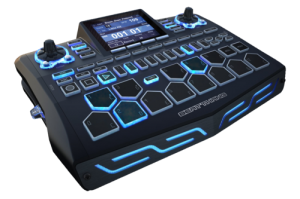 Renowned for the history-making sound design of Zoom's SB-246 StreetboxxTM, the Beat Kangz have established an independent music technology start up that is proud to continue the time-honored tradition of American innovation and entrepreneurship. Flexible, functional, and user-friendly, THE BEAT THANG integrates pre-loaded sounds, sampling, and waveform editing in a portable, stylish and yes, even customizable, beat machine. The Kangz have stuffed over 3000 sounds and hundreds of production-ready beats, patterns and loops into THE BEAT THANG.
THE BEAT THANG truly moves beat making deep into the stratosphere with real bass, live strings, striking synths, Latin and African percussion, crunchy electric guitar, and startling sound effects. Each sound can be edited, tuned and manipulated using the 3.5 inch color video LCD screen, and fully functioning Digital EFX (EQ, Compression, Reverb, Delay, Filter, Chopped, Screwed, Reverse Record, tons more).
As if that weren't enough, THE BEAT THANG offers onboard SAMPLING and resampling with easy key grouping, pad layering, and multi edit of all parameters in a kit or patch. 256 MB Ram (Standard) TWO High Speed SD card slots holding up to 32 gigs, MIDI Sequencer, USB in and out allow you to add your sound library, samples and midi files to create your own customized mobile sound experience. Oh, and those sounds you are packing have NO LOAD TIMES. Meaning no more waiting for minutes on end for your inspiration. Just keep it moving.
And speaking of moving, yes, the Beat Thang is a mobile player. The rechargeable lithium ion battery (like the one in your laptop) gives you hours of portable playing time. The Thang moves effortlessly from the studio, to the stage, to the streets with tons of features for recording, live performance and DJing. It's light enough to carry in one hand. Loaded with functionality and flexibility, THE BEAT THANG boasts and rightfully so. A stunning combination of features, quality and style make it unlike any product in the music technology universe today.
Features:
One octave pad layout with 8 banks so you can bang out beats or play the keys.
16 tracks so you can create patterns that can be performed and remixed on the fly.
16 layers of velocity sensitivity for emotive performance.
High Quality Sampler & waveform editing. Onboard sampler & resampler.
Edit sample start and end times. Process samples using features like normalize, reverse and resample.
Easy to use Realtime Sequencer. Create patterns in real time using quantize, swing, individual bar lengths, tap tempo then string them together in SONG mode.
Mixer with built in FX Change track, pad and pan levels.
Add 24bit reverb, delay, flange, phaser, pitch shift, old record and many more.
Add BANG with onboard mastering.
Export your songs as .wav files or save them to your Beat Kangz Playa Thang equipped iPhone or iPod Touch.
Rechargeable internal battery.
Pitch and Mod wheel.
2 high speed SD card slots.
256 MB Ram Stock.
Connects seamless with Beat Thang Software.
Rugged all metal chassis!
Pre-ordering is through Beat Kangz. You can also check out The Beat Thang Virtual 2.0. Currently running as a limited time special price of $97 USD you get the Beat Thang in software. The hardware and software versions have multiple sound libraries called expansion packs available now as well. For more info go to http://www.beatkangz.com/