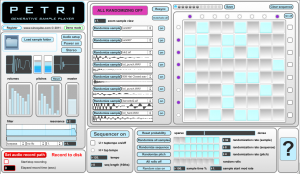 Sineqube has released Petri, a sample player that generates its own sequences and selects up to eight random samples from a folder of your choosing.
It was designed to create glitchy, IDM-inspired drum patterns very quickly. More than simply creating randomized sequences, Petri uses a series of probability algorithms that respond to however sparse or dense you would like the patterns to be, simply by dragging a slider.

If you prefer, all randomization can be turned off, and Petri can instead be used as a traditional sample player with sequences input by hand using a familiar 8×8 matrix editor. With a quick-start guide built into the program, mouse-over hints over most features, and a full manual, you'll be creating patterns that rival your favorite electronic musicians in no time.
Petri v1.0 features
Probabilistic randomization — control how sparse or dense you want your randomized sequences to be.
Randomized pitch, sample choice, sequencing, and granular playback makes creating unpredictable percussion loops an effortless walk in a serendipitous park.
Load a folder of aif or wavs to populate 8 channels of sequencing.
Disengage all randomization to use Petri like a traditional sample player.
Familiar 8 x 8 sequence grid enables quick sequence building on the fly.
Hot keys for most-used functions allow for easy live performing.
Extensive mouse-over hint system, quick start guide, and full manual makes Petri very easy to learn.
Signal-rate synced tempo provides accurate timing.
Tap-tempo.
Auto-filtering with randomization features.
Preset saving.
Record to disk.
Petri for Mac is available to purchase for $30 USD.
Interested in resampling, then this module may be something for you
This video contains several initial tests of the new Synth Tech E580 Resampling Mini-Delay module. (it's just a protptype and "still under development) I'll do another video soon and the next one will have some hot sequencer action going on with more complex CV modulations! 😉
Thanks for watching, rating and commenting!
PS – I put a better version of the audio track from this video on my Soundcloud page since the YouTube processing degraded it a bit: http://soundcloud.com/johnlrice/synth…
Rhizome
Easy to use like a groove machine, powerful like the latest computer technology, and empowered by the versatility of plugins. Today the Rhizome is the only box combining samplers, mixing desk, sequencers and synthesizers, totally opened and compatible with VSTs.
To arrange your songs, you don't need to program by hand or to assemble by mouse anymore, this instrument permits to create it in real time by activate patterns from the pads. In case of mistake Rhizome got undo/ redo records function. To humanize and work the groove's sequences, each track has exclusive functions such as non-destructive quantization, play speed alteration, groove FX, looping, cue points. Rhizome is a real station of musical creation VSTi and VSTfx compatible, which offers included several features : instruments, virtual effects, a complete mixing desk, AUDIO/ MIDI I/O and an amazing multimode sequencer. Rhizome The future is NOW.
Well who hasn´t dreamt endless nights wishing for Santa to put one of these goodies in your xmas stocking. Some fine tuning though and I believe we have a killer mass market product, LOL
[youtube=http://www.youtube.com/watch?v=5wIDqMIzRdk]
The Casio SK1 was once the cheapest sampler in the world. Now that some software samplers are available for free off the internet and magazine cover CDs, the SK1 probably doesn't qualify for that title anymore.
The sampling was 8-bit and with a bandwidth of around 4kHz (compared with CDs' 16-bit, 20kHz bandwidth), it's fair to assume that you know what to expect of the sound quality – distinctly low lo-fi !
It offered a handful of sampled instrumental sounds stored in ROM but its main appeal was its ability to sample. Of course, with such poor sample quality, it was another of those novelty 'toys' like the Stylophone and Casio's own VL-Tone.
There was little you could do with the sound once you'd sampled it but there were thirteen preset envelope shapes you could apply to the sample along with portamento and vibrato. Interpolation was also poor and so sounds (preset or sampled) didn't transpose well but that only added to their 'character'. There was no way to store your sample which was lost when you switched the SK1 off!
Naturally, the keyboard was not velocity sensitive but neither was there was any MIDI to play the sounds with velocity from an external keyboard to overcome that limitation.
The SK1 also came with 'drum' sounds in ROM which were required for the auto-accompaniment function.
The SK1 is used by Fatboy Slim, Beck, Autechre, Portishead and Blur (amongst other lo-fi enthusiasts) who favour it even today, presumably for its lo-fi, crusty sound quality.
Louis van Dompselaar has kindly donated the entire soundset from his own SK1. The samples were taken from the line out and Louis deliberately powered the thing off batteries to eliminate mains hum. There is a distinct DC 'thump' at the start of each of the preset instruments but this is apparently a 'feature' of the real thing! There are eight presets and all but one are presented 'authentically'. However, the 'Voice' preset has been run through Antares Infinity looping software to create quite a beautiful and ethereal pad sound which, despite its humble origins, sounds quite classy and 'expensive'.
The SK1's drum samples are also included in Nostalgia which Louis has extracted from the patterns. Most bear little or no relationship to their acoustic counterparts but they are interesting metallic electronic percussion sounds nonetheless that could find a place in any number of musical genres.
Listen to it here >>
Interesting new sampler from 112dB, haven´t tested it yet myself, but judging from the reviews I believe it has some potential. The demo is really funky with a electro touch
Morgana is an authentic representation of a vintage digital sampler, designed to be musical rather than accurate while simultaneously free from the clumsy interface or sub-megabyte RAM limitations plagued by old hardware. Morgana doesn't try to boast the most impressive spec sheet, or the most transparent sound. By returning to a simpler architecture, Morgana actually transcends the limitations of typical software samplers, creating an experience that sounds and feels like an actual instrument–one that is inspiring and with a sound all its own.
Some highlights include:
Faithful representation of sampling technology circa 1984
High quality 4 pole lowpass filter per voice (analog modeled OTA design)
Non-destructive input modeling, including samplerate adjustment and mic preamp
Vintage microprocessor emulation including modulator quantizing and digital crosstalk
Support for multiple output modes, including mono, stereo, pseudo- stereo, and pseudo-surround with up to 8 outputs
Dynamic multisample keymapping
Each copy of Morgana sounds slightly different, just like analog hardware
Proprietary SampLink technology allows live sample recording across different applications
Specifically tailored for use in live performances
Specifications
16 voice digital sampler
Two part multitimbrality
8-bit sampling rate
Variable sample rate from 10.1KHz to 29.41KHz
Two APDSR envelopes for filter and amplitude
Two sample oscillators per voice
4-pole analog modeled filter per voice with cutoff and resonance controls
Keytracking generator for filter cutoff
Relative level, cutoff, transpose, and detune per sample
Non-destructive input modeling with antialias filter, mic preamp, and gain control
LFO with MIDI clock sync
Flexible MIDI learn system
SampLink technology for full-featured realtime sampling capabilities
Support for WAVE, AIFF, and ReCycle (.REX/.RX2) sample formats
Support for different tunings through .SCL tuning files