January 22, 2015 · Posted in
Uncategorized
·
Comments Off

on Checking out Roland's new AIRA – MX-1 Mix Performer
What you see in this video was all recorded live, in one take, using AIRA gear, Even the laser robot was controlled from the TR-8 and TB-3 via SBX-1.
The MX-1 Mix Performer brings together your synths, drum machines, loops, DAW tracks, and more into a single performance-optimized mixing instrument. Combining elements of a mixer, control surface, audio interface, and step-based effector, the MX-1 is designed to be the nerve center of your electronic music rig. It's a mixer you can play – and so much more.
more information : http://www.roland.com/aira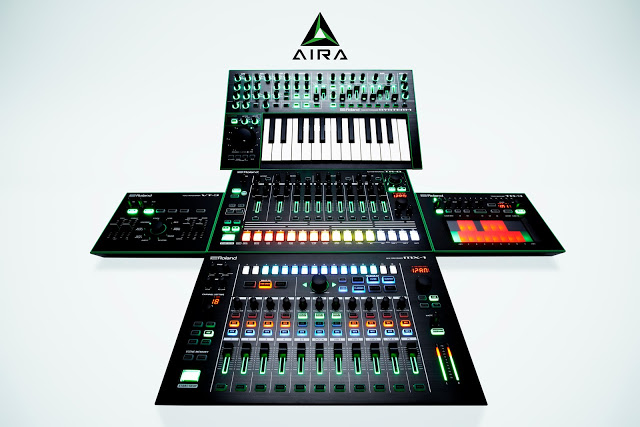 ROLAND UNVEILS MX-1 MIX PERFORMER
Performance-Ready Mixer for AIRA Instruments, DAWs, and Other Gear
Los Angeles, CA, January 22, 2015 — Roland is pleased to introduce the MX-1 Mix Performer, a performance-optimized mixing instrument for bringing together synths, drum machines, loops, DAW tracks, AIRA gear, and more. The MX-1 can mix up to 18 audio channels from a computer, and AIRA devices are able to communicate directly via USB alongside other analog and digital gear. With its versatile input selection, intuitive layout, and numerous tempo effects with step and real-time control, the MX-1 is a unique and powerful tool for delivering spontaneous, dynamic musical performances.
Designed to function as the nerve center for a modern electronic music rig, the MX-1 is perfect for working with AIRA devices such as the TR-8, TB-3, and SYSTEM-1, as well as other music equipment. Simple to use, the MX-1 provides high-quality sound at rates up to 96 kHz, plus a wealth of mixing features optimized for real-time creativity. Master tempo control (with fine and tap functions) synchronizes the MX-1's effects with all connected devices via USB and/or MIDI.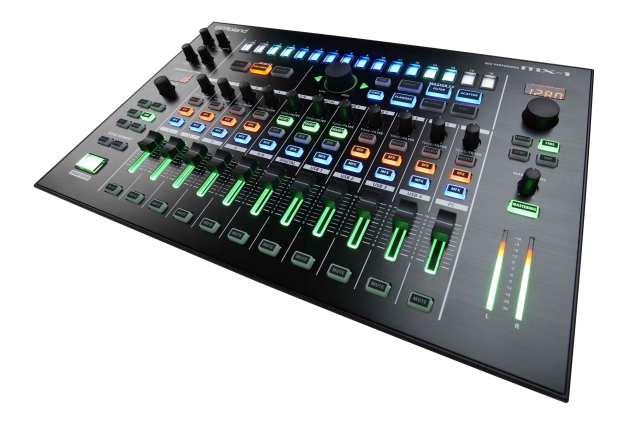 Up to four AIRA devices can be connected to the MX-1 via standard USB cables, making setup simple and quick. The AIRA Link USB connection provides both 96 kHz audio transfer and MIDI tempo sync information over just one cable. The MX-1 is also equipped with multiple analog inputs for connecting gear such as synths, drum machines, smartphones, tablets, and other various gadgets. A coaxial digital jack can be configured as either an input or output, and stereo send/return jacks are provided for connecting external effects units.
Each input channel on the MX-1 features a smooth level fader with six selectable volume curves, a Tone/Filter knob with ten different settings, and quick-access mutes that work with the LED-lit faders to clearly show their status, even in dark environments.
Scene memories allow users to instantly recall different mixer states that include all settings and effects configurations. The DJ-style cue function can be used to monitor input sources without affecting the main mix outputs.
With its integrated tempo-based effects, the MX-1 lets users enhance performances with dramatic, pulsing effects. Beat FX (Filter, Side Chain, and Slicer) can be applied to each channel independently, and the effect tempo is automatically synced to the clock master. The 16 TR-style step sequencer buttons allow the processing to be triggered at specific steps to create all sorts of interesting grooves. Master FX such as Scatter, Roll, Bit Crush, and others are included as well, and these can be quickly turned on or off per channel as desired.
The MX-1 integrates seamlessly with Mac and Windows computers, functioning as a high-performance, 18-channel 24-bit/96 kHz USB audio interface. MIDI over USB is also supported, allowing the MX-1 to send or receive tempo information and provide control surface functionality for music production software. Audio outputs from the computer can be mixed in the MX-1 alongside external devices to create a powerful and versatile software/hardware music system.
For more information about the MX-1 Mix Performer, visit RolandUS.com.
October 22, 2014 · Posted in
Uncategorized
·
Comments Off

on MiMiX preview – Mixer app for Audiobus
MiMiX is a mixer app for Audiobus. With MiMiX You can take total control of mixing of Your favourite Audiobus enabled apps' outputs in the most convenient way. Just insert MiMiX into the Output Slot of Audiobus, even into multiple chains to mix the sound of the connected input or effect apps. You can even insert MiMIX into the input slot to send the mix to an other app, like a DAV to record the mix. Coming soon to the App Store! Check details at http://ttrgames.hu/mimix/
October 24, 2013 · Posted in
Uncategorized
·
Comments Off

on Introducing Slate Digital's VIRTUAL MIX RACK
Here's just one of the many interesting new products introduced at the AES show over the weekend. It's the Slate Digital Virtual Mix Rack, an emulation of a 500 series rack starting off with 4 modules: a Neve-style EQ, an SSL style EQ, a VCA compressor and an FET compressor.
Slate Digital is pleased to announce a preview of the VIRTUAL MIX RACK plugin. The VMR is a modular channel strip that comes bundled with the most authentic recreations of classic analog EQ's and Compressors. Check out www.slatedigital.com for more information.
April 13, 2013 · Posted in
Uncategorized
·
Comments Off

on Huge software based mixer board at MusikMesse
The mighty Raven MTX at Frankfurt Musikmesse.
The RAVEN MTX is: – A state of the art touch screen display featuring the RAVEN MIXER – A powerful multitouch mixer that can control all major DAW's – And a flexible and user-customizable, multifunction TOOLBAR. The RAVEN also incorporates a full-featured analog monitoring section designed for today's audio engineer, with multiple speaker outs and input sources, smart phone connectivity, USB, multiple headphone send and cue options, and much more. But at the heart of the RAVEN MTX is the most important thing of all… Your DAW, right at your fingertips.
The Multi Touch Display
When we began to develop the Raven concept, we studied the touch screen industry for months and became experts in the various technologies. We realized something very quickly: to make a multi touch monitor suited for the pro audio industry, no "off-the-shelf" product would work; they were too slow, with thick, untreated glass and unusable parallax between your finger and the image. The screens themselves wouldn't look correct at the angle that we needed, the glass had a horrible friction to it, and there were no proper drivers to do real Mac and PC integration with professional DAWs. So we started from the beginning, and built the RAVEN touch display from the ground up, using brand new touchscreen technologies that were literally being introduced to the market as we were working. We build our own displays using commercial grade LED backlit screens and components from industry-standard display manufacturers. It's sharp, bright, and looks great at any angle. But one of the greatest achievements we made is in our custom made NANO GLIDE surface. This ultra thin 2mm glass is coated with a proprietary nano technology that makes the surface slick and smooth, even smoother than the famous touch tablet… and it allows you to work effortlessly. This is the Rolls Royce of touch screens… nothing on the market comes close in terms of performance, feel, and build quality.
The Raven Mixer
The Raven Multi Touch DAW control software puts your DAW right at your fingertips. A large-format multitouch mixer gives you complete access to faders, pans, mutes, solos, sends, automation, and even plugin inserts. Of course on a 46" screen, plugins become the size of 19" outboard gear – you can easily tweak the controls with your fingers. This is a world-first in DAW control. Having the DAW at your fingertips makes it easy to directly interact with the music.
April 10, 2013 · Posted in
Uncategorized
·
Comments Off

on Pioneer Mixer DJM-750
Pioneer's new DJM-750 four-channel digital mixer takes FX manipulation and software synergy to new levels, thanks to the new Boost Colour FX and a built-in 24-bit/96 kHz USB sound card.
Available in classic black and sleek silver, the DJM-750 is loaded with features to inspire creativity. The new Boost Colour FX adds a second effect to the Sound Colour FX in play, and lets DJs control the parameters of both FX with just one knob. The mixer boasts 13 Beat FX — including the new VINYL BRAKE — with a dedicated Level/Depth knob for tactile control of the wet/dry mix.
For more information visit, www.pioneerdj.com
Track used,
Artist : Si Begg
Title : bangON nuttersGROOVE
http://www.sibegg.com/
March 5, 2013 · Posted in
Uncategorized
·
Comments Off

on Expert Sleepers ES-7 CV To MIDI demo
September 13, 2012 · Posted in
Uncategorized
·
Comments Off

on Sneak Preview: Traktor's 2+2 Control DJ Mixer
Take a look at the world's first 2+2 channel DJ mixer and controller in this brand new video. Very soon, DJs will mix tracks, blend beats, and work effects in a whole new way. For all the latest Traktor news, stay tuned to www.native-instruments.com/traktor and subscribe to the NI YouTube channel.
Performance by: Eric Goldstein
Tracks being used in chronological order:
Addison Groove – Phantom (Tectonic)
http://www.facebook.com/addisongroove
http://www.facebook.com/TectonicRecordings
Eric Goldstein – Chapter XVII (unreleased)
http://www.facebook.com/GoldsteinMusic
MMM – DEX (MMM)
http://www.zentrale-mmm.de
Special thanks to Funktion-One
http://www.funktion-one.com/
August 13, 2012 · Posted in
Uncategorized
·
Comments Off

on Vermona Filter Lancet Fun
a threatening pattern from MIAMI drum machine heavily filtered with Vermona Lancert and Bassline straight into the mixer. Some fiddling on front panels and, special guest, Mario Bianco playing his wery own Bassline cutoff and resonance controls…
June 13, 2012 · Posted in
Uncategorized
·
Comments Off

on Deckadance Mobile for the iPad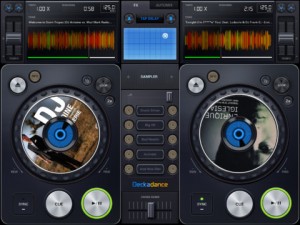 Image Line has released Deckadance Mobile for the iPad:
Load music from your iTunes library and mix, scratch or loop up a storm.
When you are ready to kick back, use the automix feature and let Deckadance mix up your playlists for you.
Key Features:
Beat detection and autosync – Tap the SYNC button on a deck to sync its tempo to that of the opposite deck.
Left / Right deck faders & Tempo control with nudge – Individual deck volume faders and X-fader.
Cue points – Add up to 4 cue points per-track per-deck. Select CUES from the mode window. Tap Rec and a cue memory slot to save the current playback cursor position. Alternatively, with the track stopped press the CUE button to set a cue point. When playing the CUE button jumps back to the cue point and pauses.
Automix – Select the AUTOMIX tab and music source to hear your selected music automixed.
Equalizer – From the EQ mode window adjust Low, Mid and High equalization.
Waveform view – Inspect beat alignment from the WAV mode window.
Loop – After Deckadance mobile automatically detects the beat, from the mode window select 32 to 1/32nd beat loops and tap the Loop button on the deck to engage.
Sampler – 5 assignable sampler slots per deck. Play from included sample libraries from the mode window.
Play effects – From the mode window hold Stutter, Turntable, Censor, Break or (back)Spin to add the effect.
X/Y effects – From the FX tab choose Ring-Mod, Lo-Pass, Hi-Pass or Tap-Delay effects and control them from the X/Y pad.
Deckadance Mobile is $3.99 in the App Store.
June 12, 2012 · Posted in
Uncategorized
·
Comments Off

on Yamaha O1v96i Digital Mixing Desk Review
Here's a video that takes a closer look at the compact console from Yamaha with built in 16 channel USB audio interface, 40 mix channels and new mic preamps.
The Yamaha 01V96i updates their iconic digital recording console with 16 channels of bi-directional USB audio streaming at an impressive 96kHz. With multi-track recording now de rigueur during live shows, Yamaha once again ups the ante by making recording and playback faster and easier, while supplying full integration with major ASIO and Core Audio DAWs – with just a single connection. Onboard, you get Yamaha's lauded Virtual Circuitry Modeling technology, giving you warm "analog" effects that are modelled on the actual circuitry of the original units. Bundled with Steinberg's Cubase AI, Yamaha's 01V96i is all you need.