StaffPad is a revolutionary new music notation application for Windows 8.1 and Surface.
StaffPad allows composers, musicians, students, teachers – anyone interested in music – to write notation by hand directly onto virtual manuscript. StaffPad features advanced handwriting recognition, and will convert your music into a beautifully typeset score. Experience the magic of writing with StaffPad by getting it exclusively from the Windows Store.
StaffPad features advanced handwriting recognition, and will convert your music into a typeset score. Simply write your music straight on to the screen, using your device's pen. As you move from bar to bar, StaffPad will convert your handwriting into an 'engraved' score. You can draw notes, beams, stems, articulations, accidentals, slurs, ties and more.
The developers describe it as 'the most natural way to write music on digital device, ever.'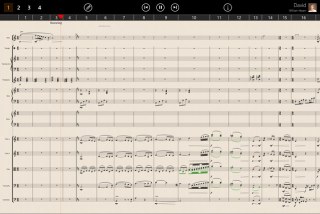 What You Score Is What You Hear
StaffPad contains a built-in playback engine, and an entire orchestra which has been recorded and programmed to play back your score. Multiple dynamics layers, multiple recorded articulations, repetition samples and smart playback rules ensure that what you see is what you hear. The entire symphony orchestra is represented, and more instruments are available to purchase from the in-app store.
Key Features:
The interface has been designed to reduce clutter, and is context sensitive – showing only the information you want, when you want it.
Use your finger to move around the score, and pinch to zoom – with butter-smooth scrolling. When you want to write music, just use the pen. Use your eraser button on the pen to remove both ink strokes and existing notation. You can also draw freehand on the score, using the sketch layer, to quickly brainstorm and leave notes/comments for yourself and others.
StaffPad will intelligently layout the score when it's time to print. You can print the entire score, as well as individual parts for each musician. StaffPad has smart collision avoidance and music layout rules which handle the reflowing of the music to a page-based layout automatically.
StaffPad allows you to easily share and export your work. You can export MIDI and MusicXML, should you wish to continue working on your score in other programs. You can also export your score to MP3/WAV format, or quickly email an MP3 of your work in just a couple of taps via the Windows 8.1 share charm. StaffPad also supports import of MusicXML and MIDI files.
StaffPad is always saving your score, and keeping track of versions – which you can return to at anytime. By saving your scores to OneDrive, you can ensure that your scores are kept in sync across all your devices. StaffPad also syncs your settings and preferences. You can also organise your scores into 'collections', meaning that your scores and projects stay neatly organised, for easy access. You can even pin frequently accessed scores straight to the Start Screen.
StaffPad is the first notation application which allows you to easily draw dynamics/music expression data right onto the staff. By toggling the expression layer, you can elegantly draw in additional dynamics detail, which can enhance the realism of playback without compromising the existing dynamics markings on your score.
StaffPad intelligently handles transposing instruments, allowing you to write in concert pitch and toggle to transposing when you're ready, or when printing. You can write music in multiple voices, transpose selections, reverse stem directions, quickly repeat bars and insert text intuitively via the quick input tiles. Quick symbols provide the easiest way to enter trills, tremolos, fermatas, rehearsal marks, pedal markings, hairpins and much more.
Compatibility:
StaffPad has been designed for Surface 3 and Surface Pro.
StaffPad requires a device with a digital pen (also known as an active digitiser) and multitouch capabilities in order to function as designed. If your device does not support pen and touch, the app will not function correctly. Support will not be available to users attempting to run StaffPad on an incompatible device.
Features
Music handwriting recognition
Designed for pen and touch
Realistic score playback
Score auto-layout
Beautiful, simple UI design
Full orchestral instrument library included
Print full score and individual parts
Sketch layer for freehand comments/markings
Expression layer
Smart articulation symbols
Import MIDI/MusicXML
Export to MIDI/MusicXML/MP3/WAV
Organise scores into collections
Sync scores with OneDriveMultiple voice layers
In-app store for more instruments
Featured articles and tutorials
Transposing score support
Easy editing capabilities
Quick start templates
StaffPad is available for a limited time for US $49.99 (normally $69.99).
Modern beat making without distraction
Download free from the App Store: http://appstore.com/auxy
Let us know what you think: feedback@auxy.co or https://twitter.com/auxyco
Introducing a new way to make electronic music. Create your own drums, bass lines, and synth melodies. Auxy is modern beat making without distractions.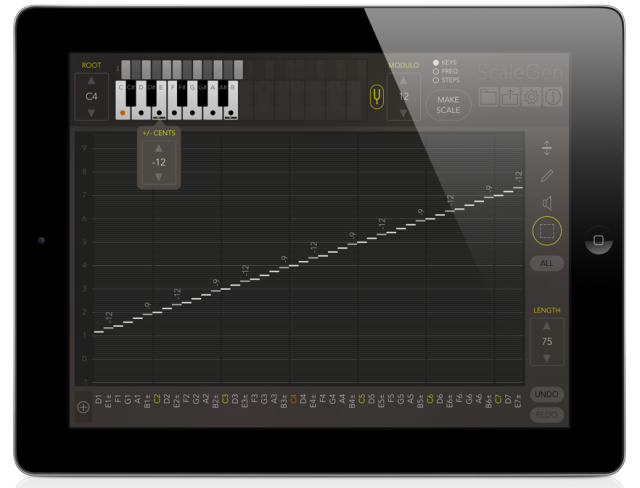 ScaleGen for iPad – described as 'the ultimate tool for musicians who want to explore new ways of thinking about music.'
ScaleGen is a tool for organizing pitches into custom scales and tunings. It lets you create and audition scales within the app, and then export it as a MIDI file or to their gestural music app Gestrument.
It goes far beyond mainstream types of scales, letting you experiment with up to 24 notes per octave, use historical and experimental microtonal tuning and even scales that are different in each octave, like the overtone series.
ScaleGen – musical scales redefined
https://itunes.apple.com/us/app/scale…
You think you know what a scale is – think again. In ScaleGen you can do all that you would traditionally imagine when it comes to scales and pitch organisation, and then much, much more.
This is the perfect tool for experimental composers in any genre as well as for musicians who want to explore new ways of thinking about music. The educational aspects of how pitches can be organised makes ScaleGen a must have for serious music students. But the directness of the app makes the learning both fun and artistically developing.
Define or change scales in the most detailed and intricate way. Audition the scales you make from within the app or export it as a MIDI file or use our iOS app Gestrument to try them out.
This is the tool for anyone who wants to go beyond the traditional tonalities in whichever genre you choose. ScaleGen comes with predefined scales of all kinds – from the traditional Western scales and early music scales to Asian scales from India, Indonesia and elsewhere.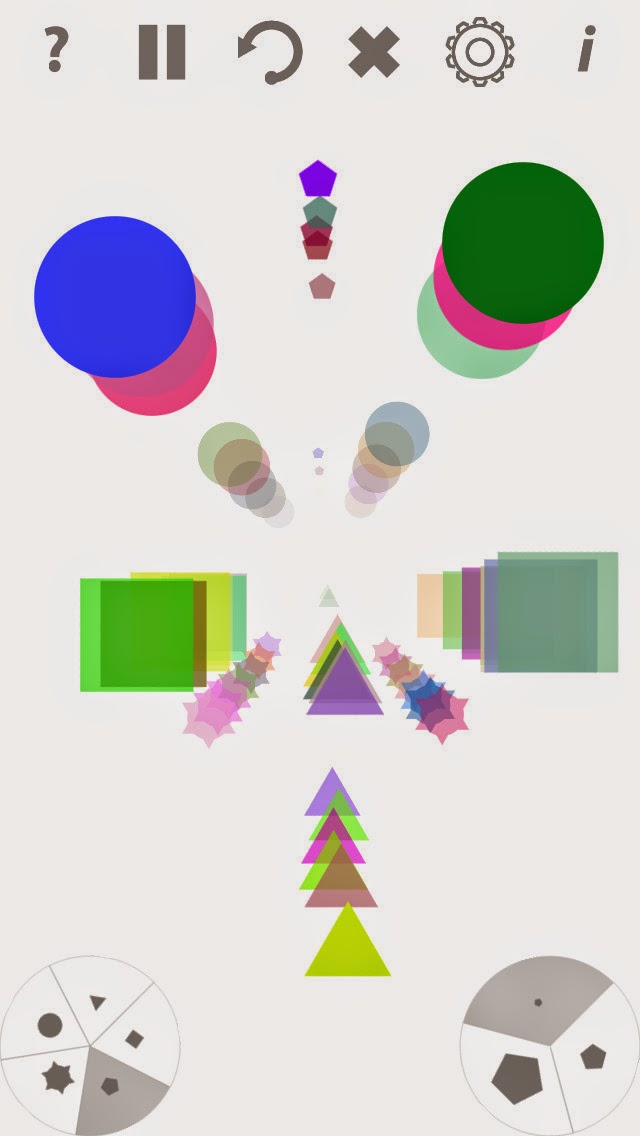 Shapes, colors, sound! Make music in seconds with Color Chime.

Tap to create a melodic sound collage. Includes simple controls for timbre, scale, tempo, delay, filter cutoff and filter resonance.

Color Chime is an amusement park for your fingers and a bubble bath for your ears.

And it's free too. 
A look into the creative process of producer Justen Williams using reason 7 & the rack extension Polar. #Jus10joy
Comment, subscribe, etc.
Thanks for watching,
God Bless!
www.Justenwilliamsmusic.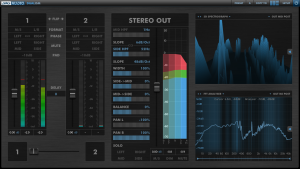 DMG Audio has released Dualism, a complete toolkit for stereo work, featuring a comprehensive audio visualisation suite. Used as a final stage in mastering and monitor control, and at the top and bottom of every channel, Dualism ensures absolute stereo mastery.
Overview:
Fully equipped stereo toolkit.
Input section for A/Bs, signal correction and gain structuring.
Stereo processing section with Width, Mid->Side and Side->Mid.
Extensive suite of visualisation options.
Windows VST, VST3 and AAX as 32+64-bit, RTAS 32-bit.
Mac VST, VST3, AU and AAX as 32+64-bit, RTAS 32-bit.
Sound:
Channelstrip input controls.
M/S encode and decode.
Extensive options for gain structuring.
High-pass filters for Mid and Side.
Comprehensive stereo field control.
Monitor controller functionality.
Supports dual inputs with crossfade and delay for A/B of signals.
Vision:
PPMs and Bendymeters.
Fully featured FFT Spectrum Analyser.
Octave, 1/3rd Octave and 1/12th Octave displays.
2D and 3D Spectrographs.
Lissajous and Oscilloscope displays.
Phase Meter and Correlation Meter.
1/3rd Octave RMS Analyser.
Phase Spectrum analyser.
Bit Scope.
ITU1770 Short-Term loudness history and histogram display.
Full ITU1770 / EBU r128 / ATSC A/85 loudness metering support.
Full-screen mode and PNG screenshots.
Price: £175. There is an introductory price of £160 until 15th August, 2014.
For more about Take:
http://www.propellerheads.se/take
Sing, rap, hum, strum. Take lets you capture your musical ideas – anytime, anywhere. Take combines the drop-dead simplicity of your voice memos with features custom-tailored to vocalists' needs. Record harmonies along with your voice, blend in effects to sweeten the sound and sing along to inspiring beats and rhythms.
Sing, hum, rap, strum. Take captures your musical ideas—anytime, anywhere. With a single tap you'll be recording, beatboxing, overdubbing, riffing, writing, trying out song ideas that you'll want to share with the world.

Feel the groove. Stay on the beat. Keep in time. Inspiring built-in clicks, loops and beats to kick start your creativity.

Add new parts, double them up, create harmonies, sketch out the song

Three tracks to build on your tune and flesh out your ideas

Surprise yourself with how good you sound.

Processing and effects that make your iPhone's mic shine.

Share on Facebook, Twitter, email.

Designed by Propellerhead Software—makers of Figure, Apple App of the Year 2012—Take is a creative recorder for musicians. It's got the same drop-dead simplicity you've come to expect with your voice memos, with features custom-tailored to vocalists' needs—like the ability to record harmonies along with your voice, blend in effects to sweeten the sound and sing along to an array of beats and rhythms. Take will soon become your go-to sketchpad for musical ideas.

Note: Take is optimized for the built-in microphone on your iOS device. Wear headphones to hear your backing tracks. Best results come from using headphones (the ones without an integrated microphone) and recording into your iPhone/iPod/iPad mic directly.
The Asus VivoTab Note 8 is an affordable Windows 8 tablet with a Wacom digitizer screen. The VivoTab Note 8 is also a very nice musical sketchpad because it can run just about any Windows software within it's 2 gigs of memory limitation. All in all, it's a great tablet for creative work on the go.
Created with MAGIX Video deluxe 2013
EigenD is a general purpose music performance environment that is now completely freely available and has been open-source for a few years. It has been created for the Eigenharp instruments, but was from the get-go designed as a common platform for all digital music instruments and controllers.
EigenD can be downloaded from:
http://www.eigenlabs.com/downloads/re…
The Eigenlabs forums are here:
http://www.eigenlabs.com/forum
Dmitry Morozov – a Russia media-artist, musician and 'engineer of strange-sounding mechanisms' – has created a new instrument that uses a tattoo for a score. Morozov creates experimental electronic music and advocates for circuit bending and DIY electronics in Russia, under the moniker ::vtol::.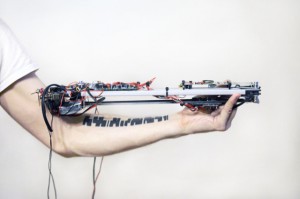 Here's what Morozov has to say about his instrument, 'Reading My Body':
this is a special instrument that combines human body and robotic system into a single entity, that is designed to automate creative process in an attempt to represent the artist and his instrument as a creative hybrid.
The device consists of a railing with comfortable hand holders and two parallel, but offset from each other black lines' sensors that move along the arm using a stepper motor. It is equipped with a 3-dimensional Wii remote controller that uses the OSC protocol in order to give a possibility of additional expression achieved by moving hand in space.
"The tattoo is designed to contain the maximum number of variable time slots between triggers. It is possible to manually control the velocity of sensors' movement, direction and step length, that altogether gives an infinite number of variations of reading patterns from hand," notes Morozov. "In addition, all control parameters and sensors' movements can be programmed to operate autonomously."
Technical details:
hand controller + Nord Modular G2 and Symbolic Sound Kyma X + OSCulator
black line sensors
stepper motor
arduino nano
wii remote