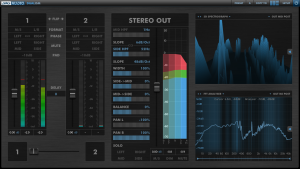 DMG Audio has released Dualism, a complete toolkit for stereo work, featuring a comprehensive audio visualisation suite. Used as a final stage in mastering and monitor control, and at the top and bottom of every channel, Dualism ensures absolute stereo mastery.
Overview:
Fully equipped stereo toolkit.
Input section for A/Bs, signal correction and gain structuring.
Stereo processing section with Width, Mid->Side and Side->Mid.
Extensive suite of visualisation options.
Windows VST, VST3 and AAX as 32+64-bit, RTAS 32-bit.
Mac VST, VST3, AU and AAX as 32+64-bit, RTAS 32-bit.
Sound:
Channelstrip input controls.
M/S encode and decode.
Extensive options for gain structuring.
High-pass filters for Mid and Side.
Comprehensive stereo field control.
Monitor controller functionality.
Supports dual inputs with crossfade and delay for A/B of signals.
Vision:
PPMs and Bendymeters.
Fully featured FFT Spectrum Analyser.
Octave, 1/3rd Octave and 1/12th Octave displays.
2D and 3D Spectrographs.
Lissajous and Oscilloscope displays.
Phase Meter and Correlation Meter.
1/3rd Octave RMS Analyser.
Phase Spectrum analyser.
Bit Scope.
ITU1770 Short-Term loudness history and histogram display.
Full ITU1770 / EBU r128 / ATSC A/85 loudness metering support.
Full-screen mode and PNG screenshots.
Price: £175. There is an introductory price of £160 until 15th August, 2014.
For more about Take:
http://www.propellerheads.se/take
Sing, rap, hum, strum. Take lets you capture your musical ideas – anytime, anywhere. Take combines the drop-dead simplicity of your voice memos with features custom-tailored to vocalists' needs. Record harmonies along with your voice, blend in effects to sweeten the sound and sing along to inspiring beats and rhythms.
Sing, hum, rap, strum. Take captures your musical ideas—anytime, anywhere. With a single tap you'll be recording, beatboxing, overdubbing, riffing, writing, trying out song ideas that you'll want to share with the world.

Feel the groove. Stay on the beat. Keep in time. Inspiring built-in clicks, loops and beats to kick start your creativity.

Add new parts, double them up, create harmonies, sketch out the song

Three tracks to build on your tune and flesh out your ideas

Surprise yourself with how good you sound.

Processing and effects that make your iPhone's mic shine.

Share on Facebook, Twitter, email.

Designed by Propellerhead Software—makers of Figure, Apple App of the Year 2012—Take is a creative recorder for musicians. It's got the same drop-dead simplicity you've come to expect with your voice memos, with features custom-tailored to vocalists' needs—like the ability to record harmonies along with your voice, blend in effects to sweeten the sound and sing along to an array of beats and rhythms. Take will soon become your go-to sketchpad for musical ideas.

Note: Take is optimized for the built-in microphone on your iOS device. Wear headphones to hear your backing tracks. Best results come from using headphones (the ones without an integrated microphone) and recording into your iPhone/iPod/iPad mic directly.
The Asus VivoTab Note 8 is an affordable Windows 8 tablet with a Wacom digitizer screen. The VivoTab Note 8 is also a very nice musical sketchpad because it can run just about any Windows software within it's 2 gigs of memory limitation. All in all, it's a great tablet for creative work on the go.
Created with MAGIX Video deluxe 2013
EigenD is a general purpose music performance environment that is now completely freely available and has been open-source for a few years. It has been created for the Eigenharp instruments, but was from the get-go designed as a common platform for all digital music instruments and controllers.
EigenD can be downloaded from:
http://www.eigenlabs.com/downloads/re…
The Eigenlabs forums are here:
http://www.eigenlabs.com/forum
Dmitry Morozov – a Russia media-artist, musician and 'engineer of strange-sounding mechanisms' – has created a new instrument that uses a tattoo for a score. Morozov creates experimental electronic music and advocates for circuit bending and DIY electronics in Russia, under the moniker ::vtol::.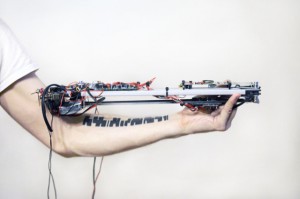 Here's what Morozov has to say about his instrument, 'Reading My Body':
this is a special instrument that combines human body and robotic system into a single entity, that is designed to automate creative process in an attempt to represent the artist and his instrument as a creative hybrid.
The device consists of a railing with comfortable hand holders and two parallel, but offset from each other black lines' sensors that move along the arm using a stepper motor. It is equipped with a 3-dimensional Wii remote controller that uses the OSC protocol in order to give a possibility of additional expression achieved by moving hand in space.
"The tattoo is designed to contain the maximum number of variable time slots between triggers. It is possible to manually control the velocity of sensors' movement, direction and step length, that altogether gives an infinite number of variations of reading patterns from hand," notes Morozov. "In addition, all control parameters and sensors' movements can be programmed to operate autonomously."
Technical details:
hand controller + Nord Modular G2 and Symbolic Sound Kyma X + OSCulator
black line sensors
stepper motor
arduino nano
wii remote
Product specialist Mike Greig popped in to show us just what can be done with Ableton's Push controller as the only interface. Did he succeed? Take a look.

SoundToys has announced the release of MicroShift, a micro pitch shifter effect plug-in that allows for widening of your sound.
MicroShift makes it wide. Be it vocals, synths, guitars, backing vocals or whatever you choose to run through it, MicroShift uses this classic studio trick to spread out, thicken up, or give a new space to any track you hit with it. Of course, the SoundToys spin takes it beyond the original with the new FOCUS knob that lets you push and widen specific ranges without affecting the rest of the track.

Amazing for adding "shimmer" to a vocal, or "air" to a guitar. Control of the detune amount, delay, and a mix knob let you tweak the effect to fit just right in the track. MicroShift combines the classic sound of the hardware with new advanced features, and an intuitive interface. Simply huge.
MicroShift for Windows and Mac (VST/AU/RTAS/AAX) is available to purchase for $89 USD. Users of MicroShift Little can upgrade for $49 USD, and MicroShift Little is also included with a purchase of MicroShift before March 4th, 2014.
Apparently it is coming soon to the iPad, so stay tuned for this promising app
The latest episode of the SoundWorks Collection video series takes a look at the sound of The Hobbit: The Desolation of Smaug, details below:
In this exclusive SoundWorks Collection sound profile we visit Park Road Post Studios in Wellington, New Zealand to talk with the sound team of Director Peter Jackson's The Hobbit: The Desolation of Smaug.
Featured interviews include Re-recording Mixer Michael Hedges, Re-recording Mixer Chris Boyes, Re-recording Mixer Michael Semanick, Re-recording Mixer Gary Summers, Composer Howard Shore, and Producer & Co-Screenplay Writer Philippa Boyens.
Locate a theater to experience The Hobbit in Dolby Atmos at dolby.com
For more exclusive videos check out SoundWorksCollection.com
Join the SoundWorks Collection Vimeo Channel: vimeo.com/channels/soundworkscollection
SoundWorks Collection Mailing List: bit.ly/15lOelU
Ryan McGee has released a new sound design app for iOS, VOSIS, that synthesizes sound based on the greyscale image pixel data from photos or live video input.
Description:
OSIS is an interactive image sonification interface that creates complex wavetables by raster scanning greyscale image pixel data.
Using a multi-touch screen to play image regions of unique frequency content rather than a linear scale of frequencies, it becomes a unique performance tool for experimental and visual music. A number of image filters controlled by multi-touch gestures add variation to the sound palette. On a mobile device, parameters controlled by the accelerometer add another layer expressivity to the resulting audio-visual montages.