Dmitry Morozov – a Russia media-artist, musician and 'engineer of strange-sounding mechanisms' – has created a new instrument that uses a tattoo for a score. Morozov creates experimental electronic music and advocates for circuit bending and DIY electronics in Russia, under the moniker ::vtol::.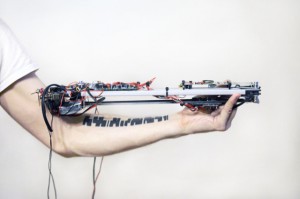 Here's what Morozov has to say about his instrument, 'Reading My Body':
this is a special instrument that combines human body and robotic system into a single entity, that is designed to automate creative process in an attempt to represent the artist and his instrument as a creative hybrid.
The device consists of a railing with comfortable hand holders and two parallel, but offset from each other black lines' sensors that move along the arm using a stepper motor. It is equipped with a 3-dimensional Wii remote controller that uses the OSC protocol in order to give a possibility of additional expression achieved by moving hand in space.
"The tattoo is designed to contain the maximum number of variable time slots between triggers. It is possible to manually control the velocity of sensors' movement, direction and step length, that altogether gives an infinite number of variations of reading patterns from hand," notes Morozov. "In addition, all control parameters and sensors' movements can be programmed to operate autonomously."
Technical details:
hand controller + Nord Modular G2 and Symbolic Sound Kyma X + OSCulator
black line sensors
stepper motor
arduino nano
wii remote
Product specialist Mike Greig popped in to show us just what can be done with Ableton's Push controller as the only interface. Did he succeed? Take a look.

SoundToys has announced the release of MicroShift, a micro pitch shifter effect plug-in that allows for widening of your sound.
MicroShift makes it wide. Be it vocals, synths, guitars, backing vocals or whatever you choose to run through it, MicroShift uses this classic studio trick to spread out, thicken up, or give a new space to any track you hit with it. Of course, the SoundToys spin takes it beyond the original with the new FOCUS knob that lets you push and widen specific ranges without affecting the rest of the track.

Amazing for adding "shimmer" to a vocal, or "air" to a guitar. Control of the detune amount, delay, and a mix knob let you tweak the effect to fit just right in the track. MicroShift combines the classic sound of the hardware with new advanced features, and an intuitive interface. Simply huge.
MicroShift for Windows and Mac (VST/AU/RTAS/AAX) is available to purchase for $89 USD. Users of MicroShift Little can upgrade for $49 USD, and MicroShift Little is also included with a purchase of MicroShift before March 4th, 2014.
Apparently it is coming soon to the iPad, so stay tuned for this promising app
The latest episode of the SoundWorks Collection video series takes a look at the sound of The Hobbit: The Desolation of Smaug, details below:
In this exclusive SoundWorks Collection sound profile we visit Park Road Post Studios in Wellington, New Zealand to talk with the sound team of Director Peter Jackson's The Hobbit: The Desolation of Smaug.
Featured interviews include Re-recording Mixer Michael Hedges, Re-recording Mixer Chris Boyes, Re-recording Mixer Michael Semanick, Re-recording Mixer Gary Summers, Composer Howard Shore, and Producer & Co-Screenplay Writer Philippa Boyens.
Locate a theater to experience The Hobbit in Dolby Atmos at dolby.com
For more exclusive videos check out SoundWorksCollection.com
Join the SoundWorks Collection Vimeo Channel: vimeo.com/channels/soundworkscollection
SoundWorks Collection Mailing List: bit.ly/15lOelU
Ryan McGee has released a new sound design app for iOS, VOSIS, that synthesizes sound based on the greyscale image pixel data from photos or live video input.
Description:
OSIS is an interactive image sonification interface that creates complex wavetables by raster scanning greyscale image pixel data.
Using a multi-touch screen to play image regions of unique frequency content rather than a linear scale of frequencies, it becomes a unique performance tool for experimental and visual music. A number of image filters controlled by multi-touch gestures add variation to the sound palette. On a mobile device, parameters controlled by the accelerometer add another layer expressivity to the resulting audio-visual montages.
In summer 2013, at Stanford University's Bing Concert Hall, keyboardist and jazz pioneer Herbie Hancock rolled out a concept he has been fascinated with for over 20 years. Using a multichannel surround system from Meyer Sound, Hancock brought the surround sound of movie theatres to a one-of-a-kind live concert experience that cannot be heard elsewhere.
To realize Hancock's vision, Meyer Sound set up a system with 45 loudspeakers and 28 channels. The heart of the system was the SpaceMap® multichannel surround panning technology, which allowed Hancock to pan sounds around the 800-seat concert hall in real time, controlling movement via a touch-screen tablet.
Watch Hancock and Jason Rauhoff, senior digital audio products specialist for Meyer Sound, discuss the artist's vision of surround sound in a concert setting and the technology that helped bring it to life.
Learn more about SpaceMap:
http://www.meyersound.com/products/d-…
Herbie Hancock official website:
http://www.herbiehancock.com/
An in depth behind the scenes look of Justen Williams using reason 7 to create a track from start to finish. Learn about his approach to track building, get some useful tips & tricks and see Parsec's vocoder feature in action!
www.JustenWilliamsMusic.com
Instagram/Twitter: @jus10_w
Facebook: Justen Williams
#justenjoy
BACK US ON KICKSTARTER: http://kck.st/17O9WOP
This is Palette. Palette is a freeform hardware interface. It offers hands-on control of your favorite software. Connect sliders, dials and buttons to create a controller that is made to fit you. Unlike a point and click interface or a glass touchscreen, these physical inputs give you precision and control that you can feel with your fingertips. Simply interact with Palette to adjust any feature within your software ranging from basic games to professional creative suites. Existing interfaces, assume that you work exactly the same as everyone else, but you design Palette to fit your unique workflow.
Setting up is as easy as plugging Palette into your laptop. It recognizes the software you're running and becomes a controller that will grow with your needs (–which means) matching your unique style no matter what gear you're using. Building Palette begins with the power module. Connect as many sliders, dials and buttons as you like and easily assign functions to them using the Palette Desktop App. You can load preset profiles or set them individually. This integration of hardware and software makes the platform easy for anyone to use. Palette connects you to your best work, in a way thats personal, and hands-on.
Try Parsec now: http://shop.propellerheads.se/product…
Download the .reason song file (requires Reason 7): http://cdn.propellerheads.se/products…
The Parsec Spectral Synthesizer is a sound designers dream. With two independent sound engines, up to 1024 oscillators per voice, a wide range of sound sculpting tools, built-in effects and free modulation routing, Parsec is capable of an incredibly wide range of sounds.
In this tutorial, product specialist Mattias shows you how to create a beautiful bell sound from scratch. If you want to go deeper with Parsec, this video is for you.