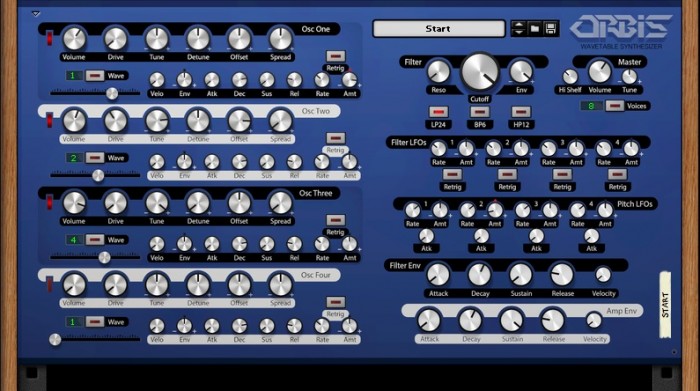 Skrock Music has released Orbis, a wavetable synthesizer Rack Extension for Propellerhead Reason.
Orbis Wavetable Synthesizer is a mono/poly wavetable synth. Orbis features 4 oscillators, each with a selection of 14 wavetables.
Orbis features
4 Oscillators with a selection of 14 wavetables each.
Oscillator 1/2/3/4 controls:

Volume, Drive, Tune.
Detune, Offset (wave start position).
Spread (Stereo spread depending on detune/offset setting).
Wavetable start position, Start velocity, Start ADSR, Start LFO. Pitch LFO (with attack control).

Filter Section:

LP24, BP6, HP12. All can be enabled simultaneously.
Filter ADSR, Filter LFO (OSC: 1,2,3,4).

Amp:

Master Volume, High Shelf, Amp ADSR.

Other:

Voices (Mono, 2, 4, 8), Master Tune.
Orbis is available for purchase at the Propellerhead Shop for 29 EUR.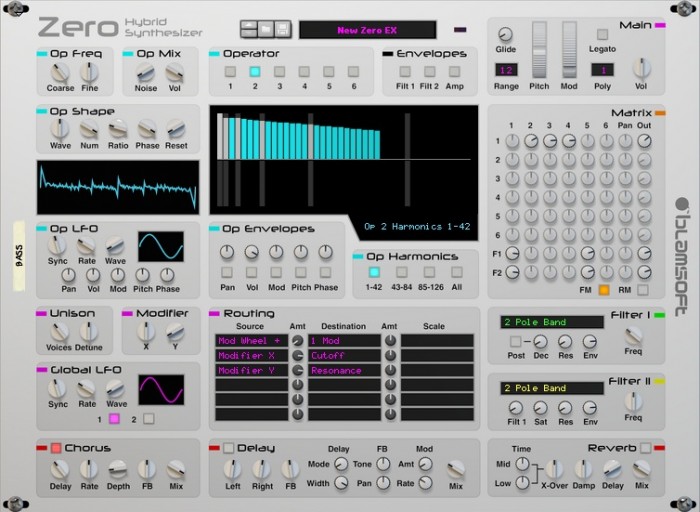 Blamsoft has launched Zero Hybrid Synthesizer, a Rack Extension synthesizer instrument for Propellerhead Reason.
Zero Hybrid Synthesizer brings modern FM synthesis to the Reason rack. Featuring six operators with tons of waveform possibilities, you can create unique FM sounds not previously possible in Reason.

But it's not just for FM.

Zero also packs additive, subtractive, and RM synthesis into one very flexible and powerful synth. Six additive waveform generators, called operators, can modulate each other through frequency or ring modulation. There are two multi-mode filters for subtractive synthesis. Low frequency modulation is available through dedicated LFOs and envelopes in the operators, two global LFOs, and a flexible mod matrix. Three high quality on-board effects; chorus, delay, and reverb, complete the signal path. Zero is a powerful beast, but still user friendly and fun for experimentation.

300 factory presets designed by Aiyn Zahev, eXode, and Navi Retlav Studio provide you quick access to a wide variety of sounds, like EDM plucks, lush pads, and aggressive bass.

Zero Hybrid Synthesizer is available as a Rack Extension that integrates seamlessly with Propellerhead Reason. Own Reason? Zero is available for free trial and purchase in the Propellerhead Shop.
Zero Hybrid Synthesizer is available for purchase for 99 EUR.

Kuassa has announced the release of Kratos 2 Maximizer, an updated version of the limiter/loudness maximizer effect plug-in for Windows and Mac.
The purpose of the original Kratos Maximizer VST / AU plugin was to make your mixes immediately LOUD.

In addition, the new Kratos 2 Maximizer also serves as a solid mix finalizer; aside from offering additional methods to manage your mixes' dynamics with Adaptive Mode, you can now push further than before without fear: Crank the Maximize knob, tune the unique Texture knob to taste, tweak Attack and Release for tighter or loose response, then adjust the Knee for harder / smoother limiting action.

Throughout, the signature Kuassa no-nonsense design will guide your hands, eyes, and ears, giving you the freedom to create your maximum sound.
Kratos 2 Maximizer features
Transparent, precision limiting / loudness maximizing.
Unique Texture knob for smooth or harder character.
Attack and Release parameter with the new adaptive option.
3 dithering options with 3 modes of bit depth to accommodate wide range of mastering needs.
Up to 4x oversampling mode.
CV Control Inputs.
Compact user interface, straightforward workflow.
Kratos 2 Maximizer for Windows and Mac (VST/AU/AAX) is available for purchase for $69 USD. Owners of Kratos Maximizer V1 can upgrade for $15 USD via the Member Area. A free upgrade is available for those who purchased the plug-in in March 2015 and after.
The Rack Extension Version is available via the Propellerhead Shop.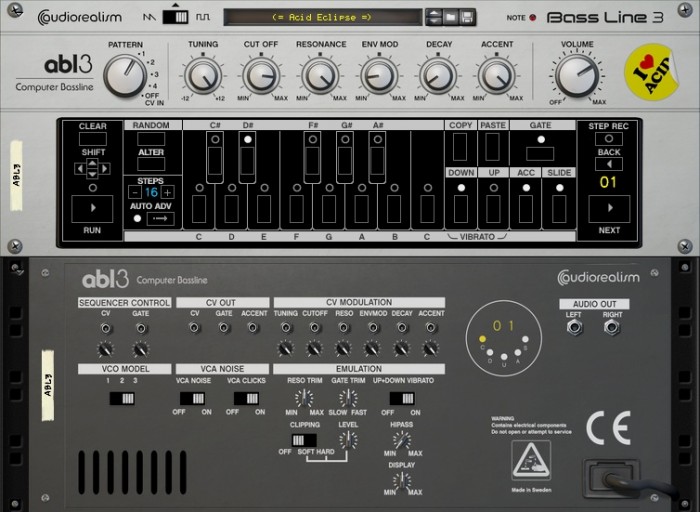 AudioRealism has announced the release of ABL3 Computer Bassline, a bassline instrument Rack Extension for Propellerhead Reason.
AudioRealism Bass Line 3 (ABL3) is an emulation of a classic pattern based bass machine from 1982.

The legendary silver box that is hallmark in electronic music has been recreated in ABL3 using analog modeling techniques to create a DSP-algorithm that accurately emulates every aspect of the original, from growling basses to hollow middles and beeping highs with metal rattling accents.

Patterns are composed in a fashion similar to the original using the integrated step sequencer with easy to use manipulation functions such as transpose and randomization.
ABL3 Computer Bassline features
Extremely authentic 303 emulation using our ABL3 engine.
Ultra natural knob response, scaled to match the original 303 precisely.
Built-in 303/Rebirth style step sequencer with 64 steps.
Hard sync to the host's transport.
Supports 4 patterns of 16 steps, 2 patterns of 32 steps or 1 pattern of 64 steps.
CV/Gate input to control the sound engine externally.
CV/Gate output to control other Reason devices from the step sequencer.
CV Modulation inputs for Tuning, Cut Off, Resonance, Envelope Modulation, Decay and Accent.
Resonance and Gate Time trimmers that allow tweaking the emulation.
Three different VCO Models.
Noise settings for VCA Clicks and VCA Noise.
Pattern modifiers with Random, Alter, Copy and Paste functions.
Unique vibrato which is activated by setting UP+DOWN on steps. This effect is one of the few extensions to the 303 that we are launching ABL3 with..
Full 48 and 96kHz support, which means the engine uses the full bandwidth of the project setting.
Step Record mode which allows recording patterns via MIDI or the On-Screen Piano Keys.
ABL3 Computer Bassline for Reason is available for purchase for the introductory price of 55 EUR (25% off regular).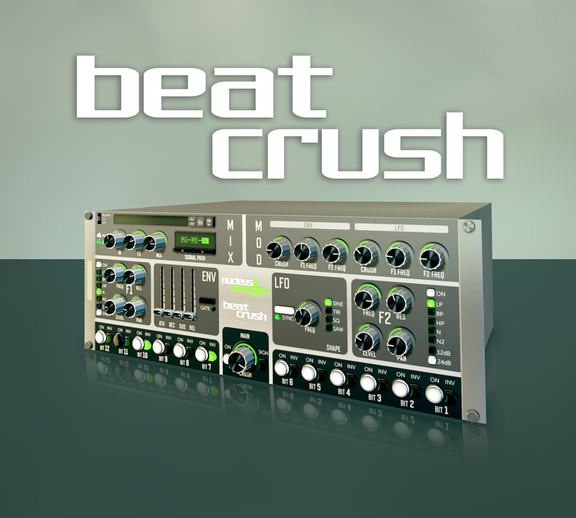 Nucleus SoundLab has announced the release of Beat Crush, a bit crusher Rack Extension for Propellerhead Reason.
Nucleus SoundLab has long been a leader in Reason ReFill market. With Beat Crush, they have finally brought their unique Reason expertise to Rack Extensions.

Nucleus SoundLab's first RE is Beat Crush – the ultimate bit crusher. By default Beat Crush adds a subtle 12-bit crunch to samples reminiscent of classic samplers. But it's also extremely flexible – users have access to each individual digital bit to create completely unique custom distortions!

Beat Crush is much more than just a lo-fi effect. Two very powerful multi-mode filters are onboard, and can be configured in a huge variety of ways courtesy of a semi-modular architecture. Using these features in combination, users will find easy access to crispy drumbeats, dirty dubstep basslines,creative vocal effects and more.
Beat Crush is available for purchase from the Propellerhead Shop for the introductory price of 39 EUR/$49 USD until January 16th, 2015 (regular 52 EUR/$65 USD)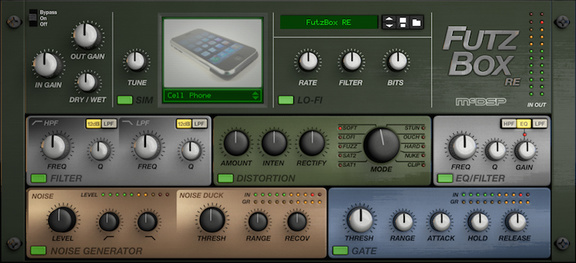 McDSP has announced it has released the FutzBox Rack Extension for Propellerhead Reason.
McDSP introduces one of the most popular music and post production tools for adding grit, distortion, and character to your audio for the Reason audio production platform!

The FutzBox Rack Extension plug-in is a collection of filtering, distortion, noise generation, and lo-fi effects, coupled with the ability to harness the sound from over 160 devices including walkie-talkies, telephones, radios, and more!
The FutzBox for Reason is available for purchase for $79 USD / 65 EUR through the Propellerhead Shop.
Hear how FutzBox RE by McDSP can inspire your creativity with distortion, filtering, bit crushing, gating, over 160 SIMs (Synthetic Impulse Models) and more!

All Soundcells Rack Extension based ReFills have been updated:
The main part of these updates is the replacing of all patches that were using the Line 6 devices. Besides this, the new versions contains new patches, minor changes in detail and in case of Viking Signature new backdrops.

And Soundcells has a special offer to all customers: Get a 50% COUPON for your next purchase!
• Existing owners of at least one of these ReFills will automatically receive their Voucher via email.
• New customers simply need to purchase one of these UPDATED products to receive the coupon.
This deal ends 

September, 14th 2014

. The individual coupon code is valid for 30 days after purchase.
For more information, please the website:
A short introduction to Euclid Rhythm Generator, Robotic Bean Creative's first Rack Extension for Propellerhead Reason.
Propellerhead Shop: https://shop.propellerheads.se/produc…
More information: http://roboticbean.com/creative/produ…
Euclid is rhythmical inspiration in a box. You can use it to spice up your existing songs, or to start building up new ones from scratch. It's a constant source of surprises and happy accidents for your productions. And there are plenty of presets included to help you get started or provide you with inspiration to build your own.
Euclid may seem simple on the surface, but it gets really deep once you start unlocking its secrets. You can automate and modulate basically every parameter, and each of the four gate outputs gives you a unique variation of the same pattern.
It comes with a big graphical display that visualizes your pattern in real time, including gate width, velocity, shuffle amount and current play position. The display also shows you all actual parameter values, taking CV modulation into account.

Features:
Euclidean gate sequencer with up to 32 steps
Patterns can be rotated up to 16 steps in both directions using the offset control
Advanced display that visualizes your pattern in real time
Individual mute buttons for each step, with support for click & drag
Always in sync with Reason's main sequencer, at user-selectable resolution
Everything can be automated, modulated and remote controlled (except for the mute buttons)
Four gate outputs provide unique variations of the same pattern
Reset input and output, quantized to the current resolution
Shuffle and slide controls, fully compatible with the corresponding controls in Reason's ReGroove mixer
Enable button to turn on/off all gate outputs
Euclid Rhythm Generator is available for US $29 in the Propellerhead store.
Chip64 brings the sound chips from vintage computers and video game consoles to the Reason rack.
Music by Tune Cooks.
Ochen K has released Chip64, described as a new synth Rack Extension that's an emulation of audio chips from vintage computer and video game consoles. 

A spokesperson told us, "Chip64 brings the sound chips from vintage computers and video game consoles to the Reason rack. Chip64 includes mathematical modeling of 5 chips: the TIA used in the Atari 2600, the SID chip used in the Commodore 64, the TA0x series used in the NES and Gameboy, the Vic-I used in the Vic 20, and the SN76489 chip used in the ColecoVision and Sega consoles. With an on-board sequencer, as well as a multi-mode filter, LFO, modulation envelope, and more, Chip64 brings true chip emulation to your rack."
Pricing and Availability:
Available at the Propellerhead shop.
€32.00
More information:

Synapse Audio has announced the release of Ninety, a Rack Extension software emulation of a legendary 1970s phaser.
What makes this phaser unique is the feedback path, which gives the sound a very distinctive character, unlike any other analog phaser. Our emulation employs a zero-delay feedback network, a technique popularized by recent synthesizers, and particularly well suited to emulate analog feedback loops.

The original unit is a mono-in mono-out device with only a Rate knob and a Color switch. The Ninety phaser adds stereo processing, a stereo LFO with adjustable spread and a dry/wet control. The color switch is replaced with a knob for increased versatility. The "Ultra" switch upgrades the network to a 6-stage phaser, allowing to create entirely new sounds not possible with the vintage original.
Ninety for Reason is available for purchase for 35 EUR.