ReDominator is an emulation of the classic Alpha Juno 1/2 (JU-1/2), a polyphonic DCO (digitally controlled oscillator) based synth from 1986. The JU-1/2 became popular in the early 90's techno and rave scene particularly by the classic Hoover sound (which ReDominator attempts to emulate accurately). But beyond those niche sounds there lays a versatile synthesizer that does bass, pads, leads, organs and a lot of other sounds waiting to be discovered!
Available at the Prop Shop:
https://shop.propellerheads.se/produc…
James Bernard introduces the Alias8 CV Controller Rack Extension, a virtual control surface for the Reason rack. https://shop.propellerheads.se/produc…
The Rack Extension features 16 knobs, 9 faders, 8 toggle buttons, and 8 momentary buttons, each with dedicated CV output sockets that allow you to directly modulate other devices populated in your Reason Rack. For complex rack systems that require dynamic real-time changes, the Alias8 CV controller provides a central performance hub controlling the synthesizers, samplers, and effects modules.
The Alias8 Rack Extension is modeled after the Livid Instruments Alias8 control surface, and is designed to integrate seamlessly when the controller is mapped to Reason. We have gone to great lengths to simplify the user experience in an intelligent manner that integrates control when used in conjunction with the Livid Instruments hardware.

Code Diggers has launched DQ, a band dynamics Rack Extension for Propellerhead Reason.
DQ is a band dynamic processor for vocal de-essing, drum punch reduction or accentuation, sidechain bass reduction and generic surgical band compression and expanding for creative and mixing purposes.
DQ features
Compression and expanding modes.
Steep 96 db/oct filters for precise detection range selection.
Configurable up to 20 ms lookahead time for sharp transient handling.
Sidechain input (with passthru output for convenience).
Intuitive preview modes.
Detector cv output and processor cv input for use with other devices.
64-bit internal processing and optional 2x oversampling.
The DQ Rack Extension costs 35 EUR.
Try Parsec now: http://shop.propellerheads.se/product…
Download the .reason song file (requires Reason 7): http://cdn.propellerheads.se/products…
The Parsec Spectral Synthesizer is a sound designers dream. With two independent sound engines, up to 1024 oscillators per voice, a wide range of sound sculpting tools, built-in effects and free modulation routing, Parsec is capable of an incredibly wide range of sounds.
In this tutorial, product specialist Mattias shows you how to create a beautiful bell sound from scratch. If you want to go deeper with Parsec, this video is for you.
New in the Propellerhead Shop—Red Queen 10 Band 3 Mode Equalizer. 10 Bands, 3 Modes, 9 filter types and various internal processing paths are at your disposal, plus the ability to record non-destructive MIDI automation with the additional Consort MIDI Recording Control Unit—Red Queen has far more to offer than most.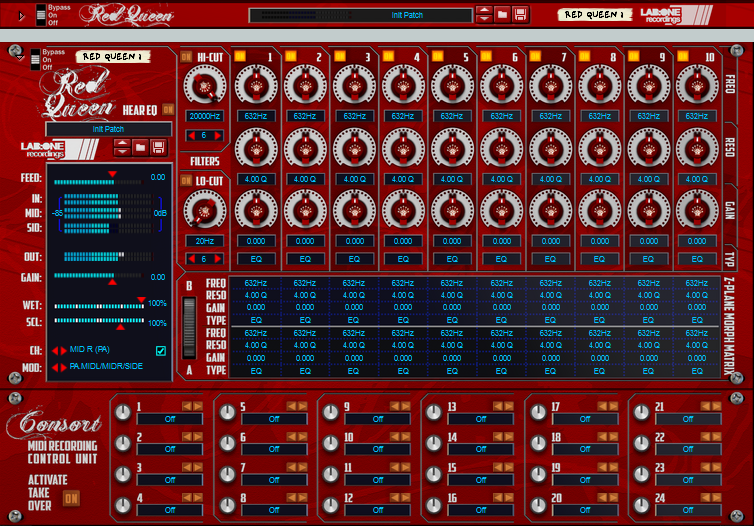 Red Queen 10-Band 3-Mode Equalizer, brought to you by LAB:ONE RECORDINGS, is a totally new powerhouse EQ for the rack; a unit designed to cover all your possible needs, including colouring your sound to give it character, surgical corrective work for those tricky frequencies, and to become a creative filtering device for those extra special effects.

10 Bands, 3 Equalizer Modes, 9 filter types, and up to 6* internal processing paths per EQ mode are at your disposal, plus the ability to record non-destructive MIDI automation with the additional Consort MIDI Recording Control Unit, Red Queen has far more to offer than most – totalling more than 800 controls under the hood, Red Queen is one for your toolbox, whatever you use her for – totally your freedom to colour, control and create.

SoundMod Tritone is a multiband waveshaper allowing you to split your signal into three separated band and apply an individual waveshaping algorithm with a sets of control available for each band thus creating rich overtones. Transform simple tones into complex one, add punch to your guitar and bass line, destroy drum beats, fatten up your synth sounds and create movement. This is what Tritone will do for you.
Intro Price.:
25.00 Eur, 29.00 USD til Nov.10th
32.00 Eur, 39.00 USD from Nov.11th til Nov.17th
Here is a quick description of the main features:
Input section:
-1 Input gain control
Crossover section:
-1 Low/Mid-Low control
-1 Mid-High/High control
Envelope follower modulator section:
-1 EF response control
-3 EF amount control (1 per band)
-3 EF target control (2 per band)
Waveshaper section:
-3 Drive control (1 per band)
-3 Algorithm selector(1 per band, 11 algorithm at this point)
-3 Asymmetry control(1 per band)
-3 Blend control(1 per band)
-3 Level control(1 per band)
Bandwidth limiter section:
-1 On/Off control
-1 Offset control

Quadelectra has launched CV Suite Parametrix, a Rack Extension for Propellerhead Reason that lets you control any CV Input signal as if it was a parameter.
CV Suite Parametrix is the third "child" of our CV Suite Line series…

This is a simple straightforward and very handy device that will turn any CV Input in an automatable parameter.
CV Suite Parametrix features
Four individual parameter to CV converters can be controlled per device.
You can select whether each parameter will expand across bipolar or unipolar range…
All parameters can be named by clicking to the label tapes next to the headings.
An additional dedicated CV Modulation Input is provided per parameter, the range (trim knob) and the appliance of which you can set and automate too from the front panel.
The Rack Extension is available to purchase for 7.50 EUR.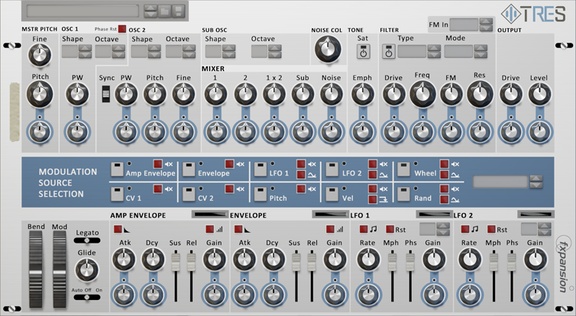 FXpansion has announced the release of Tres, a monosynth Rack Extension for Reason powered by DCAM analogue circuit-modelling technology.
Tres features our powerful TransMod modulation system and a wide variety of timbral flexibility and tone sculpting – a deep two-oscillator synth capable of deep basses, biting leads, strange drones, warped percussion and twisted SFX.

Tres' modelled VCOs can interact at audio rate to produce complex tones; a filtered noise generator and sub-oscillator round out the oscillator section. A keytracking, time-variant shelf-EQ allows you to emphasize or cut higher harmonics before a switchable multimode filter with huge resonance, self-oscillation, FM, adjustable drive and 3 distinct classic synth filter models. Tres' final output VCA provides a non-linear analogue drive stage for a variety of tonal colours from warm and smooth to gritty and aggressive.

Most of Tres' parameters can be modulated simultaneously by any of 10 available modulation sources including Tres' built-in dual envelopes and LFOs and external CV sources from elsewhere in your Reason project. You can also route external sources for audio-rate filter FM and use Tres' built-in envelopes and LFOs to modulate other devices within your session.

Tres comes with a comprehensive library of over 200 unprocessed and Combinator patches, developed in conjunction with Nucleus Sound Lab.
Tres is available to purchase for $49 USD / 39 EUR inc. VAT where applicable.
Introduction to AS-16 Analog Sequencer for Reason
Features:
16 CV channels with separate CV outputs
Skip, Jump and Pad features for each channel
Unipolar, Bipolar and Note output modes
Common musical scales, with selectable root note via UI or MIDI
Octave and range controls when in Note mode
Normal, One Shot and Random modes
Selectable slide
Pattern reverse and bounce modes
Synchronise with sequencer, external clock or free run
Swing control
Audio envelope and chopping facility
CV add and multiply
Chaining of devices for unlimited channels
Pricing and Availability:
€ 25.00
Available in the Propellerhead shop.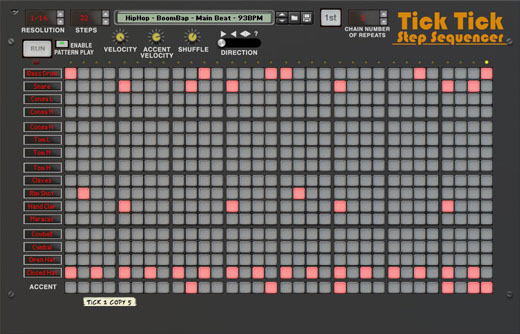 Josh Levy has released the Tick Tick Step Sequencer, a pattern sequencer Rack Extension for Reason.
Tick Tick is a polyphonic button-style step sequencer designed to control your BOOM 808 Percussion Synth as well as other Reason drum machines, and monophonically send notes to other Reason synthesizers and devices.

Chain multiple Tick Tick units together, each with its own pattern, to create complex combinations, and even entire songs.

Tick Tick includes a full beat pack by Reason Refill maker -008′. Also included are contributed demo beats, combis, and over 1,500 scales and modes.
Tick Tick Step Sequencer features
16 note polyphonic step sequencer, with editable names and assignable midi notes.
Up to 32 steps per pattern, from whole notes to 1/128th notes.
Shuffle control.
Forward, reverse, pendulum and random repeat modes.
Two velocity levels.
Chain multiple units together to create whole songs or complex patterns.
Automation and cv control for starting and stopping.
Individual cv outs for each instrument.
Massive beat pack by -oo8'.
More than 1,500 scale and mode patches for use as a note sequencer or arpeggiator.
Run and stop controls for previewing Tick Tick patterns.
The Tick Tick Step Sequencer is available to purchase at the Propellerhead Shop for 32 EUR.