A few sounds from the Emulator II sound libraries. Some of these sounds were popular in the '80s and have become classic.
An affordable classic early eighties sampler/workstation synthesizer. It's a sampler that sounds like an analog synth because it has analog filters! It samples at a low 8-bits (up to 17.6 seconds) so it's got that lo-fi sound which is great for some types of electronic music. Especially nice is its ability to create warm analog-ish pads and sounds. It uses those giant 5″ floppy disks for storage. Also on-board is a useful 8-track sequencer. It can be hooked up to a Mac for easier editing using software such as Digidesign's Sound Designer.
The Emulator II had many new features for its time. MIDI, SMPTE and computer control. Editing samples includes truncating, manual/auto looping, reverse, velocity switch cross-fading and splicing samples together. A great feature is the 24 dB/oct analog 4-pole low pass filter. There are eight separate LFO's and eight extra individual outputs for each voice. Make no mistake, the Emulator II was a long standing professional sampler of the mid-eighties for musicians and sound designers.
The Emulator II received numerous upgrades during its four year production run from 1984 to 1988. These included the Emulator II+ with double the sample memory and the Emulator II+HD which adds a 20MB internal hard drive.
A quick demo of one of 'SynthMania's' "vintage sampler" setups in his studio.
"The E-mu Emulator II is a classic '80s machine, and one of my favorite samplers. With a Macintosh SE and a Macintosh Classic running Sound Designer. Rhythms by LinnDrum. The effects are Lexicon model 200 reverb and AMS DMX15-80S delay. Tracked on a 1984 Soundcraft Series 1600 24ch. mixing console."
An '80s-style ditty showcasing a few classic sounds of three of the most iconic instruments of that era: Emulator II, DX7, and LinnDrum.
Emulator II: Marcato Strings, Choir, Strings Plus
DX7: Bass, Tubular Bells, Marimba
LinnDrum: drum & percussion patterns
"UNFORTUNATELY I inadvertently left an aux open on the mixer and the LinnDrum spilled on the tracks, causing the flanging effect

but it's still listenable. I will re-upload a better version when I have a chance."
Monark is Native Instruments latest Reaktor built synth aims to emulate thew classic Mini Moog Model D.
MONARK captures the pure organic sound of the undisputed king of monophonic analog synthesizers. Years of meticulous research capture every nuance of the synth at the center of four decades of popular music. The first choice for bass and lead sounds from electronic and hip hop to indie rock and beyond, no other synth comes close to this combination of power, richness, and musical tone. Delivering the true sound of a synth as famous as the artists who used it, MONARK is the holy grail of analog modeling.
Model-A Prototype – Built in 1969. This version more closely resembles the modular Moog's but in a very compact form. In its wood case, six Moog designed modules were internally hard-wired together and connected to a small keyboard. Many labels were typed out on paper and taped on to the front panel above the knobs.
Model-B Prototype – Built in 1970. In this version, the modular look was eliminated as the components were brought together by a pupose built front panel lay out. The three identical VCO sections were stacked on top of each other on the left. The right side held the Amplitude and Filter contour controls. The middle section held the Noise, Filter (cutoff, res) and master tuning controls. There was even a power switch on the front.
Model-C Prototype – Built in 1970. This version really begins to look like a Minimoog. The familiar left-to-right layout of Controllers, Oscillator Bank, Mixer, Modifiers and Output sections and the signature pop-up front panel had come to exist. The Model-C was photographed for the original Sales Flyer introducing the Minimoog, although in that flyer it was referred to as the Model-D.
Model-D Prototype – Built in 1970 almost immediately after the Model-C. A few more cosmetic tweaks to the front panel design brought about the last few final touches before readying for commercial production of the official Model-D.
Model-D – Built in 1971. A few more design tweaks (like adding some red rocker-switches and proper pitch-bend and mod wheels) and the Model-D was the Minimoog sold to the public. Interestingly, there are three versions of the Model-D, with some very minor and mainly cosmetic variations to each. Fortunately they can be distinguished from their name-plates.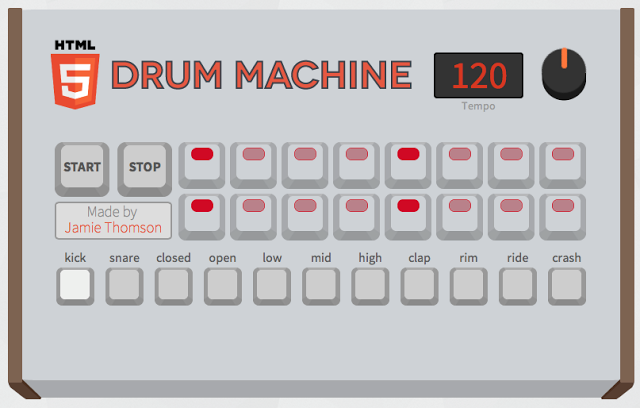 In celebration of the new(ish) html audio element, Jamie made a loose-emulation of everyone's favorite drum machine: the Roland tr-909. As the drum machine runs using html5 audio, it will, unfortunately, not work on older browsers. For best results, use Chrome and be sure to click the like buttons!
Try it out here: http://html5drummachine.com
Via Matrix
Remix of Gary Numans Down in the park by Stephen Donohue using only Synth magics ZOM ZOM Polymoog emulation for Kontakt.
ZOM ZOM available at www.synthmagic.co.uk
Industry expert Craig Anderton explains and demonstrates SONAR X2′s Console Emulator. Try SONAR X2 and the Console Emulator for free: http://www.cakewalk.com/Products/SONAR/Web-Trial.aspx
D16 Group has announced the availability of LuSH-101 (formerly known as SHIOITOR), the long awaited authentic sounding virtual synthesizer for Windows and Mac.
LuSH-101 is a synthesizer created from modules that can be found in many modern virtual synthesizers, all combined into a single compact and logically intuitive design. This basic simplicity combined with its multilayer architecture turns it into an easy-to-use but extremely powerful instrument that can be programmed and tweaked quickly.

The multilayer architecture guarantees that both the sound design possibilities and number of unique situations in which LuSH-101 can be used are virtually limitless. Any combination of keyboard splits, layers, and multitimbrality is possible with just a single instance of LuSH-101. Each layer working as an independent synthesizer with its own polyphony, parameters, enhanced arpeggiator, and a palette of eight insert effects.

LuSH-101 comes complete with a powerful built in mixer, complete with layer-independent parametric equalizers, compressors and three send effects: reverb, delay and chorus.

Innovative oscillator algorithms developed by D16 Group make LuSH-101 sound exactly like a sampled hardware analog synth. Filters with constant resonance across the entire frequency domain has natural warmth and character.

A generous factory library contains more than 1600 presets of every type, while intuitively designed preset browser keeps everything organized and easy to locate.
LuSH-101 for Windows and Mac (32 & 64bit VST/AU) is available to purchase for 149 EUR/$199 USD/£119 GBP incl. taxes (if applicable). LuSH-101 is now also included in the Total Bundle. Discounts are available to registered product owners from their User Area at the D16 Group website.
Here's a new video noodle session from SynthMania:
"A quick noodling session with Minimoog, Emulator, LinnDrum. Again, my audio interface is being exchanged and I'm using the computer's internal card, so apologies for the noise floor. The Emulator going out of tune in a couple of parts is because I inadvertently moved the pitch bend wheel with my elbow

"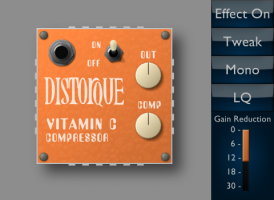 Distorque has released Vitamin C, a free emulation of an Orange Squeezer guitar compressor. It has added controls for tweaking or for completely reshaping the compression.
Vitamin C is not a studio compressor, it has the quirks and imperfections of the original Orange Squeezer that gave it its unique character.
The Orange Squeezer is a guitar compressor that was released in the 1970s as part of the Dan Armstrong effect line. It has been used prominently by artists like Mark Knopfler and Jeff Baxter for its smooth squish and sustain.
Features:
Switchable 2x oversampling.
32-bit and 64-bit versions.
Stereo and Mono operation.
Bass and Treble EQ.
Dry blend control.
Additional compressor controls: Attack, Release, Threshold, and Ratio.
Vitamin C is free and is available for 32- and 64-bit Windows as a VST effect plug-in.