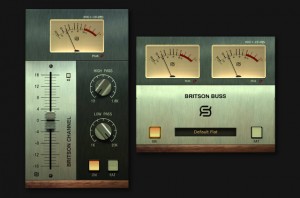 Britson is designed to emulate both the workflow and sonic character of analog mixing consoles. While inspired by a classic British 8014 console, Britson has a personality all of its own and was modelled to impart that classic warm, open, three-dimensional sound. Details below:
One of the most difficult tasks, in my humble opinion, is to recreate the saturation characteristic of analog equipment.
Copying the harmonic content of a particular piece of equipment is not enough to generate a nice, convincing, analog-like saturation. Many other factors have a far more influential impact on the final sound.
We at Sonimus believe that the key is to analyze – analyzea thousand times – the behavior of the equipment to be modeled (for harmonic contentat different levels; transfer function and dc offset, depending on amplitude and frequency; dynamic content; etc.). Finally, much listening is required — which is definitely the most important factor.
Britson, besides being a subtle saturator, can be very aggressive if volume is increased from the input. Just like with a real unit, THD (total harmonic distortion) is low at normal levels, but can easily reach the clipping point without loss of dynamics at normal levels.Britson's sound can be very aggressive without the need for a specific switch dedicated to that purpose.
We truly believe we have accomplished our goal of creating a product that will not only improve the sound of your mixes, but will also optimize and expedite your workflow, thanks to the "suitable" volume-leveling of your tracks possible throughBritson.
For this purpose, Britsonfeatures a carefully modeled VU Meter which behaves like a real VU Meter (It is fairly well known that VU Metering is much more useful than Peak Metering for the mixing process, since VU Meters behave in a fashion more similar to human hearing).
Britson features:
Flexibility to be used subtly or aggressively (to overdrive virtual or real instruments, for example)
Two Saturation Modes: Normal (subtle distortion, high dynamic range) and Fat (hotter signal, lower dynamic range)
Optional Stereo Crosstalk which lends a sense of depth and three-dimensionality to your mixes
Filters (both low and high pass). Britson's filters are tuned to sound sweet and pleasant to the ear
Saturation which can be disabled (when using Britson for trim and metering purposes exclusively)
Three EQ Color Mode options(on Britson Buss instance) for use on your master track: Default (no color), Master Loudness, and Master Bright
Zero latency and no group delay
Carefully optimized algorithm for low CPU consumption. Britson allows for a remarkably high number of instances per session.
Internal 64-bit floating point double-precision
Hassle-free installation. No activation or serial. Each buyer receives a personalized copy for use in the studio, on the laptop, etc.
Pricing and Availability:
$39
A Tour and Demo of this amazing simulation of the classic synth from EMS, the VCS 3.
Official EMS VCS3 emulator
The VCS3 was created in 1969 by Peter Zinovieff's EMS company. The electronics were largely designed by David Cockerell and the machine's distinctive visual appearance was the work of electronic composer Tristram Cary. The VCS3 was more or less the first portable commercially available synthesizer—portable in the sense that the VCS 3 was housed entirely in a small, wooden case.
The VCS3 was quite popular among progressive rock bands and was used on recordings by The Alan Parsons Project, Jean Michel Jarre, Hawkwind, Brian Eno (with Roxy Music), King Crimson, The Who, Gong, and Pink Floyd, among many others. Well-known examples of its use are on The Who track "Won't Get Fooled Again" (as an external sound processor, in this case with Pete Townshend running the signal of a Lowrey Organ through the VCS3's filter and low frequency oscillators) on Who's Next. Pink Floyd's "On the Run" (from The Dark Side of the Moon) made use of its oscillators, filter and noise generator, as well as the sequencer. Their song Welcome to the Machine also used the VCS3. The bassy throb at the beginning of the recording formed the foundation of the song, with the other parts being recorded in response. The VCS3 was also a staple at the BBC's Radiophonic Workshop, and was a regular (and most frightening) sound generator for the Dr Who TV series. Many fo the monsters and atmoshere;s created for the show came directly from the VCS3.
Description
The VCS3 has three oscillators (in reality, the first 2 oscillators are normal oscillators and the 3rd an LFO or Low Frequency Oscillator), a noise generator, two input amplifiers, a ring modulator, a 18dB/octave (pre-1974) or 24dB/octave (after 1974) voltage controlled low pass filter (VCF), a trapezoid envelope generator, joy-stick controller, voltage controlled spring reverb unit and 2 stereo output amplifiers. Unlike most modular synthesizer systems which use cables to link components together, the VCS3 uses a distinctive patch board matrix into which pins are inserted in order to connect its components together.
Keyboards controller
DK1 keyboard controller
Although the VCS3 is often used for generating sound effects due to lack of built-in keyboard, there were external keyboard controllers for melodic play. The DK1 in 1969 was an early velocity sensitive monophonic keyboard for VCS3 with an extra VCO and VCA. Later it was extended for duophonic play, as DK2, in 1972. Also in 1972, Synthi AKS was released, and its digital sequencer with a touch-sensitive flat keyboard, KS sequencer, and its mechanical keyboard version, DKS, were also released."
ReDominator is an emulation of the classic Alpha Juno 1/2 (JU-1/2), a polyphonic DCO (digitally controlled oscillator) based synth from 1986. The JU-1/2 became popular in the early 90's techno and rave scene particularly by the classic Hoover sound (which ReDominator attempts to emulate accurately). But beyond those niche sounds there lays a versatile synthesizer that does bass, pads, leads, organs and a lot of other sounds waiting to be discovered!
Available at the Prop Shop:
https://shop.propellerheads.se/produc…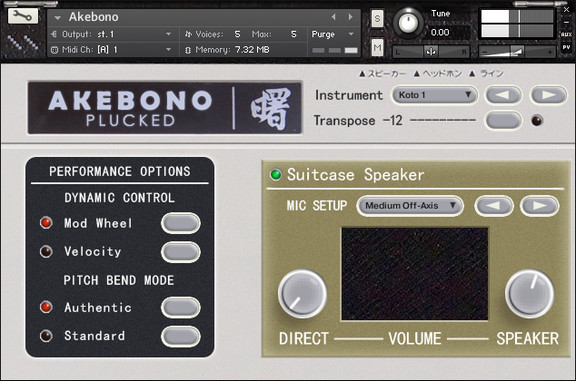 Icebreaker Audio has announced the Akebono Collection, a sample-based emulation of the Akebono Koto Synthesizer, a unique suitcase instrument from Japan.
Akebono was released exclusively in Japan some time in the 1980s. It was designed as a portable practice instrument for Koto players, and as such it features many unique features that are intended to make performing in the traditional style a lot easier than using a MIDI keyboard.

All sounds were meticulously sampled and integrated into in a custom Kontakt instrument that emulates the performance options available on the original hardware.
Akebono Collection features
All 15 instrument sounds and 13 percussion sounds sampled.
24-bit 48kHz sample quality.
Original performance features emulated with custom scripts.
7 impulse responses of the original speaker.
5 custom and easy-to-use effects: Amp, EQ, Mod, Echo, and Dynamics.
The Akebono Collection for Kontakt is available to purchase for £12.50 GBP. Requires full version of Kontakt 4 or 5.
A few sounds from the Emulator II sound libraries. Some of these sounds were popular in the '80s and have become classic.
An affordable classic early eighties sampler/workstation synthesizer. It's a sampler that sounds like an analog synth because it has analog filters! It samples at a low 8-bits (up to 17.6 seconds) so it's got that lo-fi sound which is great for some types of electronic music. Especially nice is its ability to create warm analog-ish pads and sounds. It uses those giant 5″ floppy disks for storage. Also on-board is a useful 8-track sequencer. It can be hooked up to a Mac for easier editing using software such as Digidesign's Sound Designer.
The Emulator II had many new features for its time. MIDI, SMPTE and computer control. Editing samples includes truncating, manual/auto looping, reverse, velocity switch cross-fading and splicing samples together. A great feature is the 24 dB/oct analog 4-pole low pass filter. There are eight separate LFO's and eight extra individual outputs for each voice. Make no mistake, the Emulator II was a long standing professional sampler of the mid-eighties for musicians and sound designers.
The Emulator II received numerous upgrades during its four year production run from 1984 to 1988. These included the Emulator II+ with double the sample memory and the Emulator II+HD which adds a 20MB internal hard drive.
A quick demo of one of 'SynthMania's' "vintage sampler" setups in his studio.
"The E-mu Emulator II is a classic '80s machine, and one of my favorite samplers. With a Macintosh SE and a Macintosh Classic running Sound Designer. Rhythms by LinnDrum. The effects are Lexicon model 200 reverb and AMS DMX15-80S delay. Tracked on a 1984 Soundcraft Series 1600 24ch. mixing console."
An '80s-style ditty showcasing a few classic sounds of three of the most iconic instruments of that era: Emulator II, DX7, and LinnDrum.
Emulator II: Marcato Strings, Choir, Strings Plus
DX7: Bass, Tubular Bells, Marimba
LinnDrum: drum & percussion patterns
"UNFORTUNATELY I inadvertently left an aux open on the mixer and the LinnDrum spilled on the tracks, causing the flanging effect

but it's still listenable. I will re-upload a better version when I have a chance."
Monark is Native Instruments latest Reaktor built synth aims to emulate thew classic Mini Moog Model D.
MONARK captures the pure organic sound of the undisputed king of monophonic analog synthesizers. Years of meticulous research capture every nuance of the synth at the center of four decades of popular music. The first choice for bass and lead sounds from electronic and hip hop to indie rock and beyond, no other synth comes close to this combination of power, richness, and musical tone. Delivering the true sound of a synth as famous as the artists who used it, MONARK is the holy grail of analog modeling.
Model-A Prototype – Built in 1969. This version more closely resembles the modular Moog's but in a very compact form. In its wood case, six Moog designed modules were internally hard-wired together and connected to a small keyboard. Many labels were typed out on paper and taped on to the front panel above the knobs.
Model-B Prototype – Built in 1970. In this version, the modular look was eliminated as the components were brought together by a pupose built front panel lay out. The three identical VCO sections were stacked on top of each other on the left. The right side held the Amplitude and Filter contour controls. The middle section held the Noise, Filter (cutoff, res) and master tuning controls. There was even a power switch on the front.
Model-C Prototype – Built in 1970. This version really begins to look like a Minimoog. The familiar left-to-right layout of Controllers, Oscillator Bank, Mixer, Modifiers and Output sections and the signature pop-up front panel had come to exist. The Model-C was photographed for the original Sales Flyer introducing the Minimoog, although in that flyer it was referred to as the Model-D.
Model-D Prototype – Built in 1970 almost immediately after the Model-C. A few more cosmetic tweaks to the front panel design brought about the last few final touches before readying for commercial production of the official Model-D.
Model-D – Built in 1971. A few more design tweaks (like adding some red rocker-switches and proper pitch-bend and mod wheels) and the Model-D was the Minimoog sold to the public. Interestingly, there are three versions of the Model-D, with some very minor and mainly cosmetic variations to each. Fortunately they can be distinguished from their name-plates.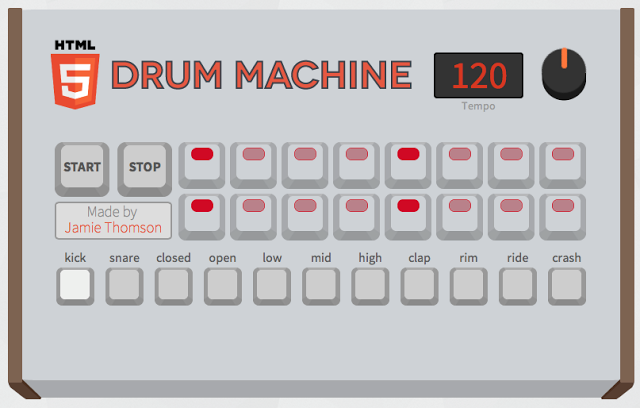 In celebration of the new(ish) html audio element, Jamie made a loose-emulation of everyone's favorite drum machine: the Roland tr-909. As the drum machine runs using html5 audio, it will, unfortunately, not work on older browsers. For best results, use Chrome and be sure to click the like buttons!
Try it out here: http://html5drummachine.com
Via Matrix
Remix of Gary Numans Down in the park by Stephen Donohue using only Synth magics ZOM ZOM Polymoog emulation for Kontakt.
ZOM ZOM available at www.synthmagic.co.uk