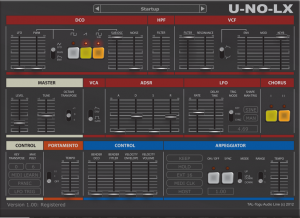 TAL-U-NO-LX is a fully rewritten emulation of the popular hardware with a new engine and GUI. Up to date zero feedback delay filters and carefully calibrated controls make this synth a good replacement for the analog device with all the advantages software plugins have. As an addition, the TAL_U-NO-LX also supports portamento and different filter LFO waveforms and some more useful features. An arpeggiator with different sync modes and hold function is also included. A very fast envelope with a smooth roll-off and emulated inaccuracy gives this synth the typical sound. The synth was calibrated after a hardware device that's property of TAL.
Special Features:
Self resonating zero feedback delay filter (24dB LP).
Filter range up to ~40kHz (depends on the sample rate).
Calibrated and tuned after TAL's hardware device.
Midi learn / automation for all controlls.
Improved alias free oscillators for an authentic sound also @ 44'100Hz sampling rate.
Arpeggiator with different sync modes (host, midi clock, not on).
Portamento and mono mode.
LFO manual trigger button.
Sustain pedal support.
Up to 12 voices.
New file based preset system for transparent preset management.
More than 300 factory presets by different sound designers (FMR, Particular – Sound, TAL).
Original hardware "Factory Bank A" included.
Demo / Full Version:
It's not possible to save presets in demo mode.
Price USD 35.00 70.00 – 50% introductory price for a limited time!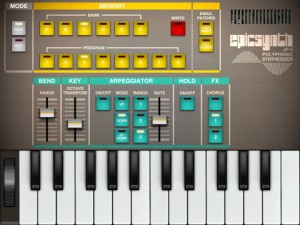 Epic Synth is a polyphonic synthesizer inspired by classic synths of the 1980s. Its beautiful and straightforward interface lets you focus on the essential: the pleasure of creating new sounds! The goal is to explore sound, not interface pages.
Epic Synth's simple and effective sound architecture stood the test of time. It's simple enough for beginners to learn about synthesis yet powerful enough to satisfy experienced sound modellers. Epic Synth's sound engine provides tons of room to create great sounds, from classic leads to juicy acid basses, from 8-bit-like effects to complex evolving sonic textures.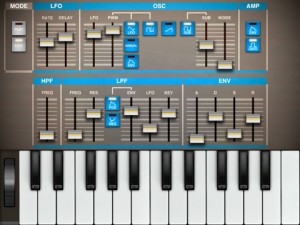 FEATURES INCLUDE
Universal all: works on iPhone, iPod and iPad
Takes advantage of the gorgeous Retina display on iPad and iPhone/iPod
Classic time-tested sound architecture
Five voices of polyphony (Six on the iPad)
Arpeggiator with key hold
Patch memory stores 6 banks of 8 programs
Single patch sharing via email
Full memory backup via email
Pitch bend on iPad and via MIDI
New from UNIVERS SONS (UVI), Emulation One is the sequel prequel to the now famous Emulation 2, presents you with the unbridled sonic imprint of this "nearly affordable and compact" sampler from 1981. Used by greats such as Vangelis, Herbie Hancock, David Bowie, Depeche Mode, Genesis, Kitaro, Jean-Michel Jarre, Stevie Wonder, Philip Glass, John Carpenter and more, this 8-bit classic will surely inspire you on new voyages of sound as you rediscover the magic character of this 80′s gem.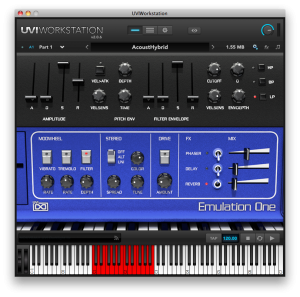 UVI prides itself in providing the highest quality instruments. Meticulous process is designed from the start to ensure the original character of these machines is preserved faithfully. Deep multi-sampling utilizing the very best analog and digital equipment is combined with industry-leading modeling tools to give you a hybrid instrument that's both genuine to the original and thoroughly customizable.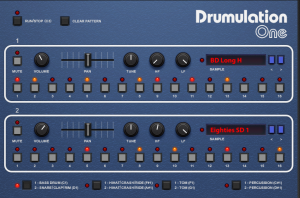 We carefully selected and recorded over 200 of the best sounds from a fully restored unit. Old-school drums, bass, choir-voices, fretted instruments, FX, keys, mallets, percussion, synths, strings, orchestral hits and more are all here.
Also included with Emulation One is the new Drumulation One – a beatbox and step sequencer loaded to the brim with vintage 8-bit drum and percussion sounds.
Add a piece of history to your musical arsenal and paint the future with the magic of the past–Get Emulation One today!
COMPATIBLE WITH ALL SEQUENCERS:
With the free UVI Workstation 2.0.6 (required version), UVI Emulation One can work:
• as a stand-alone instrument, compatible with Mac & PC
• as a VST, AudioUnit, RTAS and MAS plug-in. iLok required.
With MachFive 3 – make the most of all editing features included!
AVAILABLE NOW: US$99.
Info: http://www.uvisoundsource.com/all-products/emulati… .
Fabio performing Out The Water on an Emulator DVS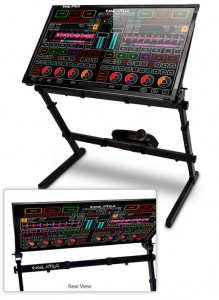 Emulator Dual View System (DVS) is the most revolutionary experience for on-stage performers in the last 30 years! Emulator DVS is the first REAL and USABLE Multi-Touch MIDI Control System that allows the crowd to see exactly what the artist is doing on a huge transparent touch screen. Whether you are a VJ, Lighting Programmer, Controlling Lasers or the DJ, you can use the Emulator DVS to control your software all while the audience watches in awe!

The art of performing on stage is now part of the clubs lightshow, this is the next level in performance!

The Emulator DVS can also be used as a multi-touch podium & presentation tool for meetings, conferences, lectures and any public address situations. Corporate events are made more interactive because the podium is transparent and the audience can see right through it while watching the presenter. Audience attention is increased, presenters feel enlivened with new technology!

What is the backbone of Emulator DVS?

Emulator is multi-touch midi control software for Musicians, DJ's, Lighting Designers, Video Editors, VJ's, Radio Broadcast Stations, Recording Studios and much more.
Our patent-pending technology allows you to make a custom multi-touch layout on top of any software you wish to control. Our easy to use control editor gives you unlimited options for how you create your dream midi interface. Emulator really is the best midi controller you will ever own. When new versions of your software come out, you can quickly and easily change your multi-touch controller so your hardware NEVER becomes obsolete (well, unless we invent something that doesn't require a screen).

Emulator Modular & Emulator for Traktor (FT) software come bundled with the DVS hardware.

Emulator for Traktor is a complete multi-touch midi controller software. Emulator for Traktor contains over 130 buttons, knobs and faders covering all common features of the underlying software. Emulator Modular includes a complete set of objects so you can completely custom design your own multi-touch interface with buttons, sliders, circular knobs, jog wheels and even your own custom graphics.

You have NEVER seen a crowd react to DJ equipment like this before.
The reaction is simply incredible.
A review of UVI's Darklight IIx library, compatible with their UVI Workstation application (VST/AU/RTAS/MAS) and available from www.uvi.net for $199.
Check out the full written review, along with audio demos at http://www.failedmuso.com/blog/?p=2864
Purchase the library at http://www.uvisoundsource.com/all-products/darklight-iix/product_info.php/cPa…
Here's the pitch:
Costing upwards of $100.000, the dream machine of the 80′s was unattainable by most. Used by countless prominent artists including: Peter Gabriel, David Bowie, Michael Jackson, Kate Bush, Herbie Hancock, Jean Michel Jarre, Thomas Dolby and many more, it remains a highly regarded and sought after instrument.
We took our obsession to the next level, creating a complete set of instruments, sounds and sonic tools deeply inspired by the original digital monster. A unique, hybrid process of exhaustive multi-sampling, analysis, and advanced audio processing allowed us to not only capture the original character of this machine but to enhance its ability with a host of today's most powerful analog modeled filters, LFOs, envelopes and effects–packaged beautifully in an old-school interface.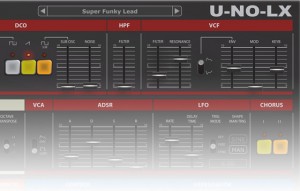 Togu Audio Line has announced the TAL-U-NO-LX, a new Juno-60 emulation with a fully rewritten new engine and GUI.
Up to date zero feedback delay filters and carefully calibrated controls make this synth a good replacement for the analog device with all the advantages software plugins have. It's even possible to recreate old Juno patches from an existing patch sheet. As an addition, the TAL_U-NO-LX also supports portamento and different LFO waveforms and some more useful features. An arpeggiator with different sync modes and hold function is also included.

This new version will also be available as 64bit OSX AU and VST plugin. It was hard to calibrate a synth that has different envelope times on every voice, but we even copied this to some degree
TAL-U-NO-LX will be available to purchase within a few weeks. People who donated $17 USD or more (up to June 11th, 2012) will get a free license.
http://youtu.be/uhXrk_5Wua0
Boog Minotaur Analog Modeling Bass Synthesizer VSTi
Made by SynthEdit
Now Available!
and
Free!! (Donation ware)
http://www3.kcn.ne.jp/~kaitop/
Get ready for some real old school sample nostalgia as Russ takes a look at the UVI Emulator and Drumulator sound libraries.
This is an extended review which should hopefully help those considering making the investment/
"Icebreaker Audio have recently released HandySynth – a sample based emulation of a custom circuit-bent Yamaha HandySound.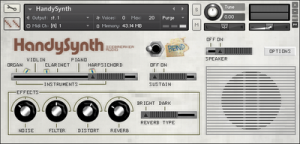 Key Features include:
All original instrument sounds chromatically sampled at 24-bit 48kHz
8 circuit-bent sound variations
Convolution based emulation of the original speaker at various microphone positions
Authentic emulation of the HandySound volume envelopes and tuning via custom scripts
Additional Effects: Distortion, Filter and Spring Reverb
Download also includes a copy of C-Bent Kit for Battery
Available now from the Icebreaker Audio website for £5 (€6/$8 approx.)"
Rhythmic Robot have released three new instruments for Kontakt 4.2.3 and later:
Doctor 55: a sampled recreation of the Boss DR55 analogue drum machine.
Magnus: a reed organ emulating a 1950s Bakelite Magnus organ and a 1970s plastic version.
StyloDrum: a glitchy drum machine with four kits sampling scratches, crackles, pops and squeals from vintage Stylophones which have been pitched, looped and trimmed to form electronic drum sounds.
Doctor 55 costs £4.95. Magnus and StyloDrum cost £3.95.
Doctor 55 is a Kontakt version of the Boss DR55 analogue drum machine. It samples the original with great precision at 24-bit. Each of the four original kit pieces (kick, snare, hats and rimshot) are covered, plus an additional "hidden" snare sound that only showed up on the original during programming. This additional snare has been given its own Attack and Decay parameters, hidden on the rear panel, which allow the user to create brushed snare sounds or snares with long decay tails.
Additionally, as usual with Rhythmic Robot drum machines, multiple samples have been taken through the entire travel of the DR55′s "Accent" control. These differently-accented samples can then be accessed either by tweaking the "Accent" control on the GUI panel, or by velocity from a MIDI keyboard (or by drawing velocity automation straight into a DAW lane). Accent amounts change the tonality of the kit pieces considerably, and can be dialed in on a per-kit-piece basis, which of course was not possible on the original instrument (where Accent functioned globally).
The Doctor 55 rounds things out with a Tone control, plus effects control over tube saturation, bit-crushing effects, Drive distortion and an output compressor / limiter for "gluing" and pumping effects.
Features:
All the sounds of the DR55 captured through the entire travel of the Accent control.
Kit pieces individually adjustable for level, pan and Accent.
New "hidden" snare sound sampled, and adjustable for attack and decay.
Velocity Retrofit button allows incoming velocity to vary the Accent level dynamically (for humanised beats).
Bitcrusher, tube saturation, distortion and compression / limiting on the outputs.
Magnus is a reed organ instrument sampled from two vintage Magnus reed organs: a Bakelite model from the 1950s, and a red plastic model from the 1970s. The Bakelite model was Magnus Organs' first ever model and is extremely rare.
Magnus allows the user to blend the "Bakelite" and "Plastic" samples to taste via the front panel controls, and adds Tone and "Electrify" — which brings in tube harmonic distortion to the sound. Attack and Release controls are available for the amplitude envelope, and longer release times invoke a slight pitch drop-off as the sound decays, which mimics the behaviour of a real reed organ having its keys very slowly let up (air pressure through the reeds drops, and the pitch falls as a result). Stereo spread, chorus and phaser effects are available on the rear panel.
Magnus is designed for unusual organ sounds and breathy pad textures.
Features:
Bakelite 1950s and Plastic 1970s samples can be blended to taste.
"Electrify" control for adding harmonic distortion; Tone control for high-end roll-off.
Attack and Decay parameters.
Original pitch drop-off emulated on long ADSR release settings.
Stereo spread, chorus and phaser controls on rear panel.
StyloDrum is an analogue drum machine built from sampled scratches, bleeps, bloops, fizzes, noises, crackles, thumps and glitches — all taken from vintage Stylophones. These have been pitch-shifted, looped, trimmed and fiddled with as necessary to turn them into old-school-style analogue hits. StyloDrum incorporates four kits spread over four octaves, each with at least two kicks and two snares. Most have hats, some have crashes, toms, claps or other "classic" sounds. Interspersed are a lot of random scratches, glitches and other Stylophone-based weirdnesses.
Kit pieces can be adjusted in level and pan position, and there's a comprehensive effects section with Saturation, Drive and "Pump" compression to really kick things into gear. StyloDrum is a unique source of left-field electronic sounds for any genre, with a glitchy, grainy edge.
Features:
Four kits built entirely of Stylophone scratches, glitches, squeaks and squeals.
Pan and level controls.
Tube saturation, Drive distortion and "Pump" compression.
Unique and unusual electronic elements for any genre.