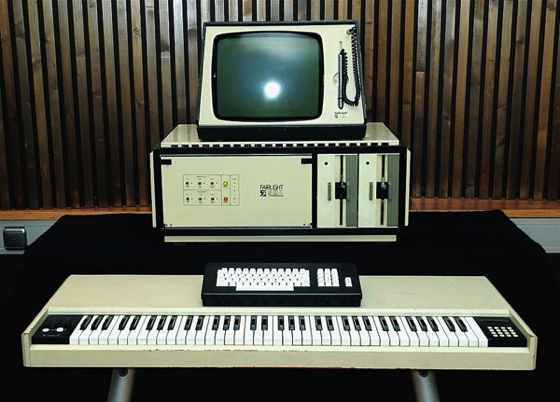 Nord has announced a major addition to the Nord Sample Library, the sounds of the legendary Fairlight digital sampler.
The Fairlight was the first commercially available polyphonic sampler when launched back in 1979 and it opened up the doors of sampling to many artists and producer during the 80′s.
The 300+ sounds in this collection were all sampled from a newly overhauled Fairlight CMI System IIx, with detailed mapping to capture the characteristic Fairlight sound. The Nord Sample Library is compatible with the Nord Wave, Nord Electro 3/4, Nord Piano 2 and Nord Stage 2.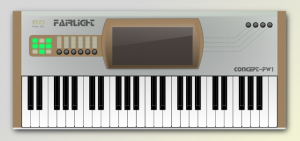 "Success of a product strongly depends on how well the Product Design was elaborated before even starting to work on the first prototype. We help you by immediately turning your ideas into visual realistic sketches, like for example illustrated below."
Here's a link to the source >>
Magneticring rips the new Korg MS-20 Mini with Fairlight CVI.
This is part one of side A of the original Fairlight CMI 2x demo tape. And a pic of an aged 2x
Free Ableton Live Pack featuring CMI Fairlight sampled instruments. 3 different sounds to bring back the early 80s.
Free Download: http://bit.ly/freesynth93
Sampled by: http://sonicbloom.net
Visit his site for more stuff like this, including Live Instrument downloads, tutorials and music! http://www.afrodjmac.com
A simple demo of the Fairlight voicetracker, built by Fairlight (the CMI makers).
It is a razorfast pitch recognition system and realtime pitch conversion unit that translates any pitch and timbre to control signals, both MIDI as CV Gate, totally ahead of it's time and superceded by nothing.
There is even a basic 2 vco synth in the unit.
I demo the functionality of the display, which in my case is done by the former monitor (that i modified) of my CMI series 3, that runs in color on vga now..
This is a demo and tutorial for the Vogel CMI..A sim of the iconic and classic Fairlight CMI, one of the most famous keyboards ever..
Examples of reading and writing from the 8" floppy drive and Flash drive. More information soon on =- mustudio.fr -=
Background video description:
This is "Fair Light" – original composition by Andy Barrow on the Fairlight IOS App. First attempt at sampling, sequencing and creating my own instrument inside the Fairlight App from Peter Vogel Instruments – the creator of the legendary Fairlight CMI 1 – 3. And now up for grabs is the latest CMI 30AX – upgraded from the 30A. still an expensive tool, but no where near as much as its predecessors (approx $60,000 or more… ish maybe, give or take a few cents, pennies Gold Bullion…quite a few years ago…1980′s)
So, first time at really getting to grips with this IOS App, I sampled my Voice into the Fairlight, adjusted the trim, saved the sample and imported that into my New instrument in the App, Then set about playing with Page R – yep the Sequencer. Once you get used to the way it is laid out in the app, its fairly easy to use.
Recorded into Garageband and added the Orchestra Hit as a latter addition to the track. This is available as a download from my Soundcloud Channel should you desire.
Please note, all the images were taken from Screenshots on My iPad 3 and imported into the video editor. This is an original composition by me.
If you get a feeling that the Voice beat sounds familiar, I remembered a certain group of Gentlemen, who did a Soundtrack for Ferris Bueller's Day off…remember that.???..
Sadly I do, however, the app also contains a certain Racing Car engine sound from another Track that "Yello" Did.."The Race" yes the sound is in there…I am not going to try and recreate that…they used real Fairlight equipment, sadly I have about as much chance as owning a Fairlight as I have Angels flying out of my ass…
So, until such time that I see a winged creature of heavenly persuasion flying from the darkest regions of me, I will have to make good with the IOS App… Enjoy
Music and Video is sole property of ©2013 Andy Barrow
Synth designer Peter Vogel, creator of the groundbreaking Fairlight CMI synthesizer, is featured in a new article in Australia's Sydney Morning Herald. Along with the print article, there is also a short video, embedded above, about the Fairlight and its influence on popular music since its debut in 1979.
For a certain kind of music nerd, or a music nerd of a certain age, Australian Peter Vogel is a messiah figure. To them, he is the "man who changed the world".

With an old school friend called Kim Ryrie, Vogel invented a strange and important musical instrument (of sorts) called the Fairlight in 1979. The ungainly keyboard, huge processor and clunky old green-screen monitor was hailed as the world's first sampler – a digital sampling synthesiser.

Its full name was the Fairlight CMI, with those letters standing for "computer musical instrument". The pair developed it in Ryrie's grandmother's house in Point Piper, Sydney. And it was popularised by the household names of international pop music through the 1980s: Peter Gabriel, Duran Duran, Devo.
Full article can be found here >>