Background video description:
This is "Fair Light" – original composition by Andy Barrow on the Fairlight IOS App. First attempt at sampling, sequencing and creating my own instrument inside the Fairlight App from Peter Vogel Instruments – the creator of the legendary Fairlight CMI 1 – 3. And now up for grabs is the latest CMI 30AX – upgraded from the 30A. still an expensive tool, but no where near as much as its predecessors (approx $60,000 or more… ish maybe, give or take a few cents, pennies Gold Bullion…quite a few years ago…1980's)
So, first time at really getting to grips with this IOS App, I sampled my Voice into the Fairlight, adjusted the trim, saved the sample and imported that into my New instrument in the App, Then set about playing with Page R – yep the Sequencer. Once you get used to the way it is laid out in the app, its fairly easy to use.
Recorded into Garageband and added the Orchestra Hit as a latter addition to the track. This is available as a download from my Soundcloud Channel should you desire.
Please note, all the images were taken from Screenshots on My iPad 3 and imported into the video editor. This is an original composition by me.
If you get a feeling that the Voice beat sounds familiar, I remembered a certain group of Gentlemen, who did a Soundtrack for Ferris Bueller's Day off…remember that.???..
Sadly I do, however, the app also contains a certain Racing Car engine sound from another Track that "Yello" Did.."The Race" yes the sound is in there…I am not going to try and recreate that…they used real Fairlight equipment, sadly I have about as much chance as owning a Fairlight as I have Angels flying out of my ass…
So, until such time that I see a winged creature of heavenly persuasion flying from the darkest regions of me, I will have to make good with the IOS App… Enjoy
Music and Video is sole property of ©2013 Andy Barrow
Synth designer Peter Vogel, creator of the groundbreaking Fairlight CMI synthesizer, is featured in a new article in Australia's Sydney Morning Herald. Along with the print article, there is also a short video, embedded above, about the Fairlight and its influence on popular music since its debut in 1979.
For a certain kind of music nerd, or a music nerd of a certain age, Australian Peter Vogel is a messiah figure. To them, he is the "man who changed the world".

With an old school friend called Kim Ryrie, Vogel invented a strange and important musical instrument (of sorts) called the Fairlight in 1979. The ungainly keyboard, huge processor and clunky old green-screen monitor was hailed as the world's first sampler – a digital sampling synthesiser.

Its full name was the Fairlight CMI, with those letters standing for "computer musical instrument". The pair developed it in Ryrie's grandmother's house in Point Piper, Sydney. And it was popularised by the household names of international pop music through the 1980s: Peter Gabriel, Duran Duran, Devo.
Full article can be found here >>
Here's how to use the Octatrack to draw custom audio waveforms like can be done on the classic Fairlight CMI. You can then use your custom-drawn waves in the Octatrack, Monomachine, or other audio gear.
To see the original Fairlight making custom waveforms:
Example of creating visually understand the "light pen" (wand) and a sound change some parameters or effects.
More info here : http://mustudio.fr
http://youtu.be/AGQC7_ikZ-s
Series III Fairlight CMI playing back Pet Shop Boys "It's a Sin." Song sequence and instruments were recovered from an old CMI streamer tape.
Description:
The Australian Fairlight Computer Music Instrument (CMI) is a vintage but state-of-the-art Synthesizer/Sampler workstation. An incredible sampler with 28 megabytes or more of memory! One or two full 73 note velocity sensitive keyboards! Complete synthesis and editing of digitally sampled sounds. Three different on-board SMPTE Sequencers and storage to various disk mediums. The processor itself is housed in a 24″ module. It was also the first digital sampler to hit the market back in 1979 and has endured throughout the eighties and nineties.
From 1979 to 1985 several versions of the Fairlight were produced, with the Series III being the last of them. Each new series added updates to the Fairlight as technology developed through the early eighties. The Fairlight 1 and 2 had only 16 kByte of Memory per voice, and only eight voices but expanded to several megabytes and double the polyphony by the Fairlight III. The IIx was the first Fairlight to offer MIDI. The Series III added aftertouch capability to the keyboard. They all had pitch/mod wheels, an 82-key alphanumeric keyboard, 15 function keys, a Graphics Tablet for drawing sounds and a Video Monitor for seeing what you're doing while editing.
The sampler is the heart of the Fairlight. It's a 16-bit resolution digital sampler with variable sample-rates up to 100kHz! Original Fairlight models used two standard 8 bit 6800 processors, updated to the more powerful 16 bit 68000 chips in later versions (the IIx had updated 6809 processors, which is what designated it a IIx over a II, and raised the sampling resolution to 32kHz, from the I & II's 24kHz). In the Fairlight III, sample memory (RAM) comes in 28MB chunks per 16 voices of polyphony – wow! That's plenty of room for creating stereo or mono samples. Edit them using various hi-tech functions and at a 'microscopic' level using the large Monitor screen. Samples can be looped, mixed and re-sampled with processing for sweetening. As for synthesis, create your own waveforms by sampling and applying Fast Fourier Transform and Waveform editing functions. Storing samples and synthesized waveforms can be done to Hard Disk or 8″ floppy disks.
As for sequencing, there are three sophisticated methods. There's CAPS (Composer, Arranger, Performer Sequencer), an 80-track polyphonic sequencer. The complicated MCL (Music Composition Language) is like a text-based step time sequencer. And finally the Rhythm Sequencer which functions like a classic drum-machine style sequencer. All sequencer's are SMPTE syncable.
The Fairlight is a horribly expensive Music Production Center and is rivalled only by the NED Synclavier. Although current samplers, sequencers and synths can blow away the Fairlight at a fraction of the cost – the Fairlight is an historical, prized piece of Vintage Digital Synthesizer and Sampler technology. It still holds up today, over twenty years later and is still a high quality and professional instrument. The facilities provided by it benefit hardcore synth programmers, wealthy musicians, sound designers, film composers and wealthy Vintage Synth collectors.

Here's what they have to say:
"A facelift for Fairlight Instruments. Fairlight Instruments Pty Ltd is changing its name in anticipation of the release of some exciting new products. The new name, Peter Vogel Instruments, reflects the company's transition from building on the past to inventing the future.
I am delighted to announce that we will be unveiling some amazing new products over the coming year, under the new brand. These are now in development and all I will say is that we are working hard to make the new products accessible to the average musician, unlike the Fairlight CMI which back in 1979 cost more than the average house.
The CMI-30A, which we released last year as an homage to the original Fairlight CMI, will continue to be our prestige flagship product. A major upgrade now in the works will become available later this year to existing 30A owners free of charge.
The iOS app has been rebranded and has been withdrawn from the app store pending Apple's approval. Existing app owners will see an update offered shortly. In response to customer requests, significant new functionality is being developed for release as a free update later this year.
We are also developing an entirely new keyboard product, quite unlike anything previously made by Fairlight — or anyone else.
All will be revealed at NAMM in 2013.
Exciting times!
Peter Vogel"
A review of UVI's Darklight IIx library, compatible with their UVI Workstation application (VST/AU/RTAS/MAS) and available from www.uvi.net for $199.
Check out the full written review, along with audio demos at http://www.failedmuso.com/blog/?p=2864
Purchase the library at http://www.uvisoundsource.com/all-products/darklight-iix/product_info.php/cPa…
Here's the pitch:
Costing upwards of $100.000, the dream machine of the 80's was unattainable by most. Used by countless prominent artists including: Peter Gabriel, David Bowie, Michael Jackson, Kate Bush, Herbie Hancock, Jean Michel Jarre, Thomas Dolby and many more, it remains a highly regarded and sought after instrument.
We took our obsession to the next level, creating a complete set of instruments, sounds and sonic tools deeply inspired by the original digital monster. A unique, hybrid process of exhaustive multi-sampling, analysis, and advanced audio processing allowed us to not only capture the original character of this machine but to enhance its ability with a host of today's most powerful analog modeled filters, LFOs, envelopes and effects–packaged beautifully in an old-school interface.
Yesterday we all had the chance to grab a free virtual version of the VERY expensive MiniMoog via Arturia's website. Another expensive piece of equipment is the Fairlight, and although not free in its virtual version now you have the chance to discover this classic synth:
UVI Darklight IIx is the latest UVI product, inspired by the most mythical Computer Music Instrument of the 80's.

Costing upwards of $100 000, the dream machine of the 80's was unattainable by most. Used by countless prominent artists including: Peter Gabriel, David Bowie, Michael Jackson, Kate Bush, Herbie Hancock, Jean Michel Jarre, Thomas Dolby and many more, it remains a highly regarded and sought after instrument.
Nearly thirty years later, no one has accurately captured the essence of this digital monster.
Today, UVI is proud to say all of that is about to change… Introducing UVI Darklight IIx.
We took our obsession to the next level, creating a complete set of instruments, sounds and sonic tools deeply inspired by the original digital monster. A unique, hybrid process of exhaustive multi-sampling, analysis, and advanced audio processing allowed us to not only capture the original character of this machine but to enhance its ability with a host of today's most powerful analog modeled filters, LFOs, envelopes and effects–packaged beautifully in an old-school interface.
Darklight IIx offers several 'Pages', each an instrument on its own :
PAGE P  – "Organic" Digital Sound
• Immediate access to hundreds of sounds and instruments including: Bass, Brass, Bells, Strings, Guitar, Orchestral Hits, Synth, Drums, Percussion, FX, Keys, Piano, Organs, Winds, Reeds and Voices
• Efficient and versatile control set allows for everything from quick tweaks to deep sonic exploration
• Accurate reproduction of aliasing characteristics
• More than 250 ready-to-play presets
• A multitude of effects, including the new UVI SparkVerb™, allow you to create sounds like the original machine and process them to sound like your favorite cult records from the 80's or something totally new!
PAGE B  – Digital Drum Machine
• 80's-style beatbox with step sequencer
• Hundreds of authentic vintage drums and percussion sounds
PAGE U  – Creative Multi-Phraser
• UVI exclusive multi-phraser; 3 parts with 3 sounds and 3 smart step sequencers
• Create 3-track arrangements or moving drones, let your imagination run!
All of these combine to present you with the authentic sound and soul of this mythical machine. Packaged in an easy-to-use interface with modern controls for enhanced expression and musicality, Darklight IIx gives you control over one of the most coveted computer musical instruments ever.
Download • http://bit.ly/darklight-iix_download
Buy DVD • http://bit.ly/darklight-iix_DVD
Further info, artwork & audio demo • http://bit.ly/uvi-darklight-iix
A simple explanatory video about the first setup for using the Fairlight CMI series 3. Because there were no video's or other explanatory material about using this infernal machine i thought it would be helpful for newbie users.
The video covers the setup and loading sounds for playback and mixdown.
It also covers the configuration of the 24 channel router / mixer and assigning monophonic or polyphonic output busses.
At the end is a demo from an external sequencer (the magic Atari TT030 with Cubase 3.0 Atari) and the loading of a pre-programmed instrument line-up
Here's a cool video featuring Cierra and the Fairlight Refill:
Sneak preview! Michael Moog has produced a brand new track for the 17 year old TMG Recording artist Cierra Ramirez exclusively using the Bitley™ Fairlight Platinum ReFill for Reason 6. He contacted us about it and gave us exclusive rights to publish a sneak preview of the video in order to be able to spread the word on the refill, which he adores. This video is not listed publicly on YouTube.
Cierra Ramirez will be starring in the Lionsgate feature movie (motion picture) Girl In Progress with Eva Mendez going up on cinemas May 11, 2012. The track (and this video) will be official sometime after this.
The track is a response to Echoes Of Silence by The Weekend.
Michael Moog will possibly be providing a RPS version of the track which will be provided to all Fairlight Platinum license owners. Michael Moog is also currently producing the 90s pop act No Mercy and the Fairlight Platinum ReFill is being used there as well.
Directed by: Michael Moog. Director of Photography: Eric Roundtree. Lightning / Grip: Calvin Gaines. Edited by Eric Roundtree, Siji and Timmy Temper. Published by Temper Music Group. Song copyrighted by The Weekend, 2012. Preview published by Bitley with exclusive, written permission.
The Fairlight Platinum ReFill is available from the Bitley website, http://bitley.laconicsounds.net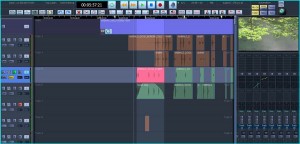 NAB is on next week in Las Vegas, and Fairlight will be showing the new versions of both its Dream software range and EVO post/production consoles.
Solo – the new mouse-based editing software for Fairlight's Dream platform
Dream v4 will be shipped with all new Fairlight systems from June this year and provided to existing customers covered by Fairlight's software support contract.
Version 4 reportedly contains many new features, options, and enhancements along with over 100 improvements suggested by Fairlight customers. Key features include:
•    Sound Design Software (SDS) – an integrated sampler designed for Post Production
•    Mouse-based editing enhancements
•    Dedicated single-screen GUI design for compact installations
•    Speed increase and new features; for the Audiobase sound FX database
•    Improved dynamics attack range, plus side-chains and MaxLinking across groups
•    Customizable Surround Formats including AudioWorks-3D
•    More VCA groups with more features
•    Audition sound from Windows Explorer, directly on the project timeline
•    In context replacement of audio in P2 files
•    Mixer UI updates
•    Import of selected mix automation data from other projects
•    Support for remote control via tablet apps.
Fairlight's Version 4 Dream software will be on view at NAB 2012 on a 5-bay EVO console at the Fairlight booth, SL14305. Fairlight also announced today they will be releasing a range of new options for the flagship EVO series of post production consoles.
The most significant addition here is a music keyboard bay "harking back to the roots of Fairlight in sound sampling," explains Fairlight CTO, Tino Fibaek.
Mechanically, the EVO changes are ergonomic improvements and modifications to allow a greater degree of user installation customization, including:
•    A chassis-less configuration, for mounting in customer's own furniture.
•    Variable monitor viewing angles – screens can moved in a 20 degree range
•    Speaker and utility shelves mounted at the rear of the console
•    Multiple variations in console raking and elevation
The mechanical changes now support a range of new electronic options including:
•    A music keyboard bay accommodating either 25 or 61 notes integrated with the new Dream II v4 Sound Design and Sampling software.
•    An optional video sub-panel for use in applications such as metering and monitoring
•    A sophisticated Ethernet based GPI/O system, either in-console or externally mounted.
For more information on the Dream software and EVO post-production systems, visit au.fairlight.com.