October 1, 2015 · Posted in
Uncategorized
·
Comments Off

on OP-X PRO-II – new virtual Oberheim OB-X synthesizer instrument
SonicProjects has launched Mac and x64 version of OP-X PRO-II, a virtual Oberheim OB-X synthesizer instrument.
We are very proud to announce that after two years of development work we now finally can offer our flagship synth OP-X PRO-II with full native Mac and 64bit support to you! It offers future proof support for the newest VST3 interface and too for the established VST2 and AU interfaces and full native 64bit compatibility on both platforms.

The new x64 and Mac versions offer all of the synth's unique features and furthermore include the complete so far available sound library offering more than 2'500 awesome sounds!
The OP-X PRO-II is on sale for 85 EUR until October 4th, 2015.
August 18, 2015 · Posted in
Uncategorized
·
Comments Off

on Sirius – new powerful virtual analogue synthesizer incorporating a Moog Filter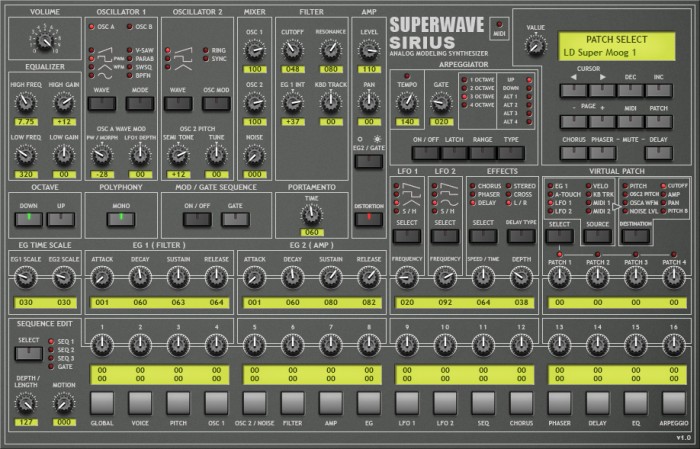 SuperWave has announced the release of Sirius, a powerful virtual analogue synthesizer incorporating a Moog Filter for that nostalgic warm and fat analogue sound.
If you're looking for a synthesizer capable of huge leads, pads, strings and basses, then you must check out the Sirius. The Sirius features much of the technology used in the Tarkus synthesizer, but has a Moog 4-Pole 24dB Filter instead of a State Variable Filter. In short, think of the Sirius as a Mini Moog Synthesizer using the Korg MS2000 Block diagram for the sound structure.

The Sirius features four sixteen step Sequencers, Arpeggiator and Multi-Effects which include Chorus, Phaser, Delay, Distortion and EQ. If you're lucky enough to own a Korg MS2000, then you can use the MS2000's control surface to edit most of the Sirius's common control parameters.
Sirius for Windows (VST) is available for purchase for £14.99 GBP.
March 5, 2015 · Posted in
Uncategorized
·
Comments Off

on Thales Model I – a new virtual instrument feat the sound of early sixties computers

Sampleism has introduced Thales Model I – a new virtual instrument for Windows VST (32bit & 64bit), Mac OS X VST and AU. The instrument features the sound generated by early sixties computers.
The sounds have been sourced in public domain films, which means that they are not clean: tape noises and background hisses are part of the sound. Acording to Parenteau,, Thales Model I's tone is reminiscent of the Mellotron, as a result.
There's a free fully functional version of the plugin available at archive.org. The full version of the plugin is available for £6.99 at Sampleism.
June 2, 2014 · Posted in
Uncategorized
·
Comments Off

on Formula 1 – first virtual piano featuring "transgene" technology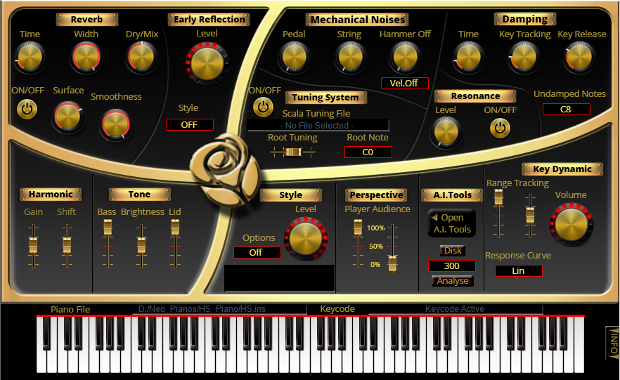 Formula 1 is the first virtual piano which made by some kinds of "transgene" technology. It is a combination of famous piano timbre such as Steinway, Bosendorfer, Fazioli and Bluthner. It has a unique tone which you could find apart in above great pianos, but not all in real world.
Usually, people love Steinway because its famous singing tones. So every great piano has its own timbre which you cannot find anywhere else. Such idea like "I want bass from Bosendorfer and highs from steinway" is always a dream that is impossible in real world.
Sound Magic spent over 5 years in study how these unique timbre relate with harmonics and how human ears can sense this timbre, finally, we found a way to create timbre through harmonic shaping technology, it is like "transgene" technology which could reshape a plant's shape and characteristics. By using this technology, we turn the dream into reality.
After breaking several technology barriers, Sound Magic successfully extract the timbres from several great pianos and combine them together with harmonic shaping technology, which also used in our hybrid modeling technology. The final result is amazing.
Formula 1 will be release on November of this year. Combined with our new Neo Piano Hybrid Modelling Engine, it will be the piano you can expect.
For more information, find relative products, please visit www.supremepiano.com
May 10, 2014 · Posted in
Uncategorized
·
Comments Off

on Digital Revolution – new virtual drum machine instrument for Kontakt Player
Wave Alchemy has announced the release of Digital Revolution, a virtual drum machine instrument for Kontakt Player which is inspired by the classic digital drum machines of the 1980's.
Imagine having instant access to the world's most sought-after retro drum machines in a single virtual instrument plugin, being able to mix and match drum machines, creatively process and sequence sounds in a unique, easy-to-use virtual environment.
Digital Revolution faithfully captures the sound of 9 digital (and 3 analogue) drum machines spanning from 1980 to 1989, including all sample variations and parameters of the original drum machines; tune/pitch, decay and various other settings.
12 iconic drum machines, 15,000+ samples, custom interface and sequencer, real-time tone-shaping and much more.
Price: £84.95. Full version of Kontakt is NOT required.
May 7, 2014 · Posted in
Uncategorized
·
Comments Off

on Virtual ANS Universe
Virtual ANS is a software simulator of the unique Russian synthesizer ANS – photoelectronic microtonal/spectral musical instrument created by Russian engineer Evgeny Murzin from 1938 to 1958.
The app is cross-platform and available for iOS, Android, Windows, Linux and OSX.
More info: http://warmplace.ru/soft/ans
Key features:
• unique Virtual Analog sound engine;
• unlimited number of pure tone generators;
• powerful sonogram editor – you can draw the spectrum and play it at the same time;
• any sound (from a WAV file or a Microphone/Line-in) can be converted to image (sonogram) and vice versa;
• MIDI Input;
• supported file formats: WAV, PNG, JPEG, GIF, VNS (Virtual ANS 1.x);
• Jack and Audiobus support;
• iTunes File Sharing;
• Wi-Fi Export/Import;
• more functions in the next Virtual ANS updates…
April 11, 2014 · Posted in
Uncategorized
·
Comments Off

on LA-50 – new virtual instrument based on the classic Roland D-50 keyboard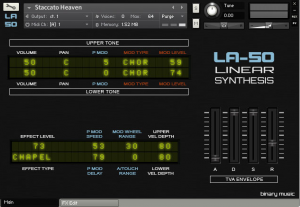 Binary Music has released LA-50, a new virtual instrument based on the classic Roland D-50 keyboard.
The upper and lower tones of each patch were sampled separately and their levels, pans and modulation can be adjusted independently. In total there are 100 instruments made from 2,486 samples – 2GB uncompressed.
The samples were recorded dry, then carefully matched reverb impulses were created using a Roland SRV3030. All samples were recorded in 24 bit at 44.1 kHz.
Released in 1987, the D50 was Roland's answer to the Yamaha DX7. Although much easier to program, many of the presets found their way unedited straight onto hits during the late '80s and early '90s. Sounds such as Digital Native Dance, Soundtrack, Pizzagogo, Staccato Heaven and Fantasia, (all included in LA-50) became staples of many producers. The D50 features on albums by artists as diverse asMichael Jackson, Seal, 808 State, Duran Duran, Foreigner, Enya and Vangelis.
The D50 used a combination of PCM samples and a form of synthesis called Linear Arithmetic, which was actually quite analogue sounding. It was also the first synth to include an onboard digital reverb. On the D50 the reverb had to be switched off on a per patch basis, but on the rack mount D550 it could be switched off globally. By recording the tones dry, it's possible to use a third party reverb instead of the included impulses.
March 29, 2014 · Posted in
Uncategorized
·
Comments Off

on Earhoof – new exciting virtual instrument for iPad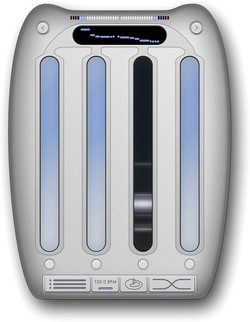 Psicada has launched Earhoof, a virtual instrument for iPad.
A sophisticated instrument creation tool, it allows you to layer multiple audio files and combine them with high quality digital signal processing. By continuously changing the sound parameters along the length of your device, Earhoof allows you to create highly expressive playable surfaces.

Its innovative internal rhythm engine allows you to easily play this surface, switching seamlessly between complex rhythms while remaining in complete control of the generated sounds. The result is a playing experience unlike any other, blurring the line between sequencer and instrument.
Psicada features
Includes over 80 carefully crafted presets, each one a unique multi-sample instrument.
Intuitively draw curves to modulate DSP parameters for Gain, Pitch, Pan, Filters, Delay and more.
Easily import your own WAV and AIFF files with iTunes File Sharing.
Record or manually create your own rhythms.
Audiobus and Inter-App Audio support allows Earhoof to interact with other music apps.
Record your performances as audio files without ever leaving the app.
In-app help manual will help you quickly learn the ins and outs of the program.
The app is available from the iTunes App Store for $4.99 USD.
February 28, 2014 · Posted in
Uncategorized
·
Comments Off

on Teaser: iVCS – virtual version of the EMS VCS3 synthesizer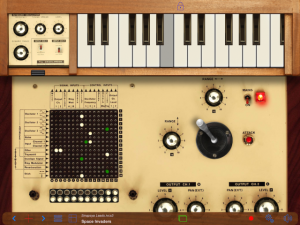 The original VCS3 is a very rare monophonic synthesizer, introduced in 1969. It offers a 3 VCO/VCF/VCA/ subtractive synth architecture, and includes a flexible patching matrix and some interesting control options, including a joystick.
iVCS comes from Densitygs, creators of Density asynchronous granular synthesizer for Mac & Win, Pulsaret microsound granular synth for Mac & Win, and iPulsaret and iDensity for iOS.
Specifications and pricing/availability details are to be announced.
Description:
The VCS3 has three oscillators (in reality, the first 2 oscillators are normal oscillators and the 3rd an LFO or Low Frequency Oscillator), a noise generator, two input amplifiers, a ring modulator, a 18dB/octave (pre-1974) or 24dB/octave (after 1974) voltage controlled low pass filter (VCF),[citation needed] a trapezoid envelope generator, joy-stick controller, voltage controlled spring reverb unit and 2 stereo output amplifiers. Unlike most modular synthesiser systems which use cables to link components together, the VCS3 uses a distinctive patch board matrix into which pins are inserted in order to connect its components together.
Keyboards controller
Although the VCS3 is often used for generating sound effects due to lack of built-in keyboard, there were external keyboard controllers for melodic play. The DK1 in 1969 was an early velocity sensitive monophonic keyboard for VCS3 with an extra VCO and VCA. Later it was extended for duophonic play, as DK2, in 1972.] Also in 1972, Synthi AKS was released, and its digital sequencer with a touch-sensitive flat keyboard, KS sequencer, and its mechanical keyboard version, DKS, were also released.
Related models
The VCS3's basic design was reused by EMS in many other of their own products,[citation needed] most notably in the EMS Synthi 100 (1971), and the Synthi A (1971) and AKS (1972) (essentially a VCS3 housed in a plastic briefcase). The AKS also has a sequencer built into the keyboard in the lid.
Also an earlier agent of EMS in the United States, Ionic Industries in the Morristown, New Jersey, have released portable-keyboard version of VCS3 clone. The Ionic Performer in 1973 was designed based on VCS3's circuit, replaced patch board matrix with over hundred of push-buttons, and added built-in keyboard and effects units.
February 7, 2014 · Posted in
Uncategorized
·
Comments Off

on The CaSYNTHerette – new virtual instrument library for Kontakt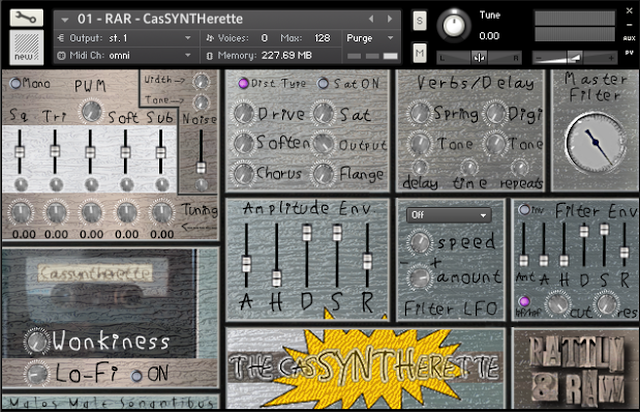 Rattly and Raw has announced the release of The CaSYNTHerette, a virtual instrument library for Native Instruments Kontakt.
TWO synths, one using waveforms from classic synthesisers sampled from a very rare, stable, full range cassette recorder with loads of character and the other using waveforms sampled using the dirty, noisy Cassamplerette recording mechanism.

Whilst the Cassamplerette was looped and single shot recordings of real instruments, the CasSYNTHerette is a fully functional synthesis instrument using waveforms from some classic synth oscillators recorded and looped onto different cassette tape systems.
The CaSYNTHerette features
FOUR cassette tape-based waveform oscillator faders: Square, Triangle, PWM and Soft (a combination wave from a classic synth).
Additional SUB oscillator fader!
Tape cassette noise fader with stereo and tone controls.
Individual waveform tuning via tape speed controls!
Individual waveform pans.
HP/LP Filter + lfo + envelope.
Amplitude envelope.
x2 custom convolution reverbs with tone control. One very rare cranky vintage spring verb and one old spacey hardware digital verb!
Fully controllable delay.
Two state distortion control with 'soften' control.
Saturation control.
LoFi (Bitcrush) control.
Chorus and Flanger controls.
Wonkiness control – magnify the cassette tape wobbliness!
Switchable MONO/POLY.
Loads of PRESETS!
The library is available to purchase for £20 GBP.