LA-50 – new virtual instrument based on the classic Roland D-50 keyboard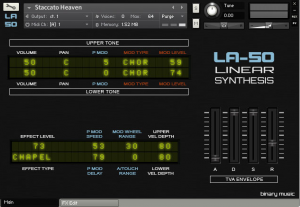 Binary Music has released LA-50, a new virtual instrument based on the classic Roland D-50 keyboard.
The upper and lower tones of each patch were sampled separately and their levels, pans and modulation can be adjusted independently. In total there are 100 instruments made from 2,486 samples – 2GB uncompressed.
The samples were recorded dry, then carefully matched reverb impulses were created using a Roland SRV3030. All samples were recorded in 24 bit at 44.1 kHz.
Released in 1987, the D50 was Roland's answer to the Yamaha DX7. Although much easier to program, many of the presets found their way unedited straight onto hits during the late '80s and early '90s. Sounds such as Digital Native Dance, Soundtrack, Pizzagogo, Staccato Heaven and Fantasia, (all included in LA-50) became staples of many producers. The D50 features on albums by artists as diverse asMichael Jackson, Seal, 808 State, Duran Duran, Foreigner, Enya and Vangelis.
The D50 used a combination of PCM samples and a form of synthesis called Linear Arithmetic, which was actually quite analogue sounding. It was also the first synth to include an onboard digital reverb. On the D50 the reverb had to be switched off on a per patch basis, but on the rack mount D550 it could be switched off globally. By recording the tones dry, it's possible to use a third party reverb instead of the included impulses.
Comments