Sampleism has introduced Thales Model I – a new virtual instrument for Windows VST (32bit & 64bit), Mac OS X VST and AU. The instrument features the sound generated by early sixties computers.
The sounds have been sourced in public domain films, which means that they are not clean: tape noises and background hisses are part of the sound. Acording to Parenteau,, Thales Model I's tone is reminiscent of the Mellotron, as a result.
There's a free fully functional version of the plugin available at archive.org. The full version of the plugin is available for £6.99 at Sampleism.
MFB-522 drumcomputer sound demo
No processing , recorded thru mackie 820i into ableton @ 100bpm
http://acidoo.com
Bassdrum + Snare/RS separate out
Instruments stereo out
The BBC Microcomputer System, or BBC Micro, was a series of microcomputers and associated peripherals designed and built by the Acorn Computer company for the BBC Computer Literacy Project, operated by the British Broadcasting Corporation. Designed with an emphasis on education, it was notable for its ruggedness, expandability and the quality of its operating system…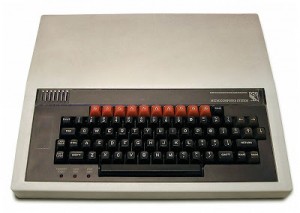 Background video description:
In the late 80s I amused myself with my BBC model B and the Hybrid Music 5000 software. It was an amazing program at the time. I have not had as much fun with any computer music program since. It could be persuaded to do both interesting and silly things.
The mighty GRP A4 Synthesizer receives audio out from MIAMI Acidlab; signal goes into RingMod (with VCO 2), Env Foll (for VCFs articulation and Gate extraction). A small touch of AutoPan for animation…
MIAMI is an analog drumcomputer based on the circuits of the 808.
Background video description:
With the CAPTURE Series, Roland once again raises the performance standard for computer-based audio production.
VS STREAMING compatible models:
– STUDIO-CAPTURE: http://www.roland.com/products/en/STU…
– OCTA-CAPTUR: http://www.roland.com/products/en/UA-…
– QUAD-CAPTURE: http://www.roland.com/products/en/QUA…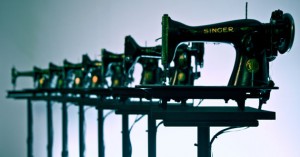 I attended this experimental concert yesterday evening – a half hour performance where Martin Messier from Canada is using 8 sewing machines to produce massive noise, beats and almost modular synth madness with his Singer 😉 sewing machines in action. Martin told me afterwards that he's using Ableton Live and Max for Live to control them. One wasn't allowed to film it but found this clip on Vimeo of the show, enjoy
"Messier doesn't sew : he resuscitates old singers put asleep years ago in order to release, in some magical ways, the luminous and sonorous presence of the past. he carries his public in a dreamlike universe where each machine, as singular subject, is magnified. after years of silence, sewing machine orchestra is giving speech to these surviving objects of the industrial era.
this creation was made possible with the support of the canada council for the arts."
audio, light, performance : martin messier
electronic: samuel st-aubin
NOISEPAD
Noisepad is a user friendly drum computer, sequencer and beat creator made specifically for live performances and instant result.
It has been designed to give you the most functionality and fun without having to go through a steep learning curve. After installation you'll find 5 preloaded soundbanks of 12 samples each, ready to start the beat making. You'll be bouncing your head within 5 minutes, that's a promise!
The onboard sequencer allows you to program up to 12 patterns on-the-fly, each with their own duration (1 — 99 bars). Switching between patterns is seamless; the sequencer makes sure the next pattern starts when the current has finished. Apply effects to the pattern, mute samples or have them playing solo on your command. Adjust the Beats Per Minute with precision or by tapping at the speed of the beat and add a bit of swing to make the beat feel just right.
It adds a new dimension to your live-sets, parties and all places where you want to make noise. Synchronize the BPM with the music you're playing and add a little bit of your own flavor to it, or simply trigger the samples by hand. Real-time effects such as pitch, delay, cut-off, phase, reverb and bit-crush will bring your noise to life.
Organize the samples into your own custom soundbanks using the built-in organizer. Once you're done playing with the packaged samples, the in-app shop provides additional soundpacks to discover or you can load your own samples using iTunes File Sharing for unlimited possibilities.
Noisepad v1.0 was released in 2011 by iPhonk a division of MediaGROE BV
WHAT'S NEW
version 2.0
Organize samples
– Organize samples into Soundbanks, drag 'n drop them onto buttons and swap them around
– Create as many Soundbanks as you like
– Overview of all Soundbanks, purchased Soundpacks and custom samples
– Rename or remove Soundbanks
– Rename user samples
Sequencer / Record
– Real-time sequencer: record your beats on the fly
– Record up to 12 patterns, each with own variable length (1 – 99 bars)
– Export pattern to WAV file
– Erase single instrument from pattern or the whole pattern at once
– Switch seamlessly between patterns: the next pattern is started after the current finishes
– Copy / Paste patterns to other slots by holding the pattern button
– Configurable BPM and Swing
– Tap button to adjust BPM easilly
– Toggle FX: effects applied to both pattern + tap pads or only tap pads
– Jam with the tap pads while the pattern repeats
New Soundpacks in the shop
– Bong-ra Hardcore
– Bong-ra Drum 'n' Bass
– Bong-ra Dubstep
– Loopbased We Love 808
– Loopbased Dirty South Flava
Other
– Two new *free* preloaded soundpacks
– Hold: press down starts sample, release stops it
– Set the volume of each sample individually
– Mute individual samples or let one sample play solo with a single button press
FEATURE LIST
Soundbanks
- Each bank holds 12 samples
– Load unlimited samples, switching between banks doesn't stop samples
– User samples: Use file sharing in iTunes
( .caf / .wav / .mp3 / .aif audio files, 22khz / 44khz / 48khz, stereo/mono )
– Organize samples into Soundbanks, drag 'n drop them onto buttons and swap them around
– Create as many Soundbanks as you like
– Overview of all Soundbanks, purchased Soundpacks and user samples
– Rename or remove Soundbanks
– Rename user samples
Shop
- Buy Sound Packs from various artists / producers for just $ 0,99 cent per pack.
Sequencer
- Play: real-time sequencer
- Rec: Record your beats on the fly
– Metronome: keeps you on-beat while recording
- Effects: Toggle effects on/off for patterns
- Pattern: Record up to 12 patterns, each with own variable length (1 — 99 bars)
- Erase: Single instrument or pattern
– Hold patterns for 2 sec. to copy and / or paste pattern

Rhythm settings
- BPM: Set BPM manually
- Tap: Tap button for BPM
- Bars: Each pattern has variable length (1-99 bars)
- Swing: Set amount of swing (0% – 100%)
Export/Import
– Export individual patterns to a .wav file
– Share samples/patterns between apps with AudioCopy/Paste
Sample settings
– Cut: Triggered sample cuts previous sample
- Hold: Press down start / release stop sample
- Volume: Set the volume for each sample
- Mute: Mute individual samples
- Solo: Play a sample solo
- Mic-in: Record mic-in audio for sample *soon available*
Effects panel
- Pitch: Slide bar from 0% to -100% or +100%.
- Delay: Slide bar from 0% to 100%
- Reverb: Slide bar from 0% to 100%
- Cut-off: Slide bar from 0% to 100%
- Phase: Slide bar from 0% to 100%
- Crush: Slide bar from 0% to 100%
- Dry / wet: Set effect strength from 0 t
Go drifting.
The new Livewire Chaos Computer is an expandable system using complex mathematical functions to produce multiple chaotic CV outputs.
CORE CHAOS ENGINE
The heart of the system is the Core Chaos Engine, which utilizes dual 32-bit Chaos Processing Units (or 'CPU's) and a x-modulo feedback parity tree to produce 2 sets of 4 related but distinctly unique random stepped voltage outputs. The randomness of the outputs (ranging from cyclical conformity to total anarchy) is controlled by 16 probability switches, which determine the structure of the x-modulo parity tree. Each of the 8 outputs varies based on coefficients determining specific weighting and distribution.
RANDOM GATES
The Random Gate expansion module provides addtional 16 outputs (8 per CPU) each with unique random gate patterns. This module would be very useful in triggering rhytmically related random events. Up to 8 Random Gate expanders can be added for up to 64 distinctly separate outputs.
ANALOGUE COMPUTATION
The Analogue Computation expansion module selects 2 variables, 1 each from the 4 random stepped voltages of both Core Chaos Engine CPUs. These variables are then processed through 8 mathemathical operators providing a further 8 related, but unique random CV outputs.
In this video:
Here again is the prototype Livewire Chaos Computer eurorack module, this time with the highly respected Livewire Audio Frequency Generator and FrequenSteiner modules. We have the Chaos Computer synced with the Metasonix D-1000 for some sweet analog rhythm.