Sismo Lito is the fusion of three of our machines, special design to celebrate our first year anniversary.
A combination of our Qadrox (square wave oscillator), TwinT (sine wave oscillator) and the small Qad4 (square, pulse and lfo) increasing with filter section (connected to square) built in two analogue sequencer (one connected to sine by gate and the other connected to the square triangle by cv).
Specifications
Polyphony : monophonic
Oscillators : 4 (1x sine – 2x square – 1x triangle
Control : Internal 2x eight step sequencer (1 gate -1 cv)
External 2x cv in, 1x sync in – 3x sync out
Current draw: 12 Volts (center positive)
Weight: 450g
Dimensions: 15cm (H) x 12,5cm (D) x 13cm (W)
IMPORTANT SAFETY CONSIDERATIONS!
– Do not exceed a 15VDC wall wart
– Make sure the wall wart has at least 300 to 1000mA capacity
Futursonus has launched a Kickstarter project to fund production of Parva – a new polyphonic analog synthesizer that combines an all-analog signal chain with the modern convenience of digital control.
The Parva can be configured as a monosynth all the way up to an 8-voice poly synth. Each synth voice offers three analog oscillators, dual multi-mode filters, four 4-stage envelopes, 4 LFOs, sample and hold and 40+ modulation destinations.
Features:
ANALOG – From the oscillators and wave-shapers to the voltage-controlled filters (VCF) and snappy OTA-based voltage-controlled amplifiers (VCA), Parva's signal path is 100% analog. There's no DSP here.
DIGITAL – Parva's digital controls enable you to save and recall patches instantaneously, change parameters via MIDI, and route LFOs and envelopes to more than 40 destinations in the modulation matrix.
POLYPHONY – Parva can be configured for up to eight note polyphony. Extremely flexible voice assignment allows you to stack as many voices as you like for more complex sounds, split the keyboard up to eight ways, or both in any combination.
CONTROL – With its smooth analog potentiometers, Parva gives you direct access to all of the most commonly used parameters. Plus, each section of the synth has additional settings displayed on a high-visibility OLED, so the perfect patch is never more than a click away.
CONNECTIVITY – Parva is the first analog synthesizer to feature a USB Master port, which allows you to connect any class-compliant USB MIDI keyboard — or other controller — directly, without the need for a computer. Of course, standard MIDI DIN in and out connections and a "normal" USB port are also included, as well as individual outputs for each voice, and a stereo headphone jack.
CONSTRUCTION – Parva was designed with working musicians in mind, and features an aluminum enclosure, custom-machined aluminum knobs & sturdy panel-mounted pots,
Specifications
Parva can be configured as an expandable monophonic synthesizer, or as an eight-note polyphonic, eight-voice multi-timbral synth.
Each voice contains the following:
OSCILLATORS
3 Digitally-controlled analog oscillators
Sawtooth, triangle, and PWM waveforms
New Feature: Variable-width saw waves
Tunable +/- 5 octaves
Hard Syncable
Independent level controls
FILTERS
2 serial-connected multi-mode filters
24db or 12db low-pass or high-pass modes
12db bandpass mode
Self-oscillating
Filter FM
ENVELOPES
4 4-stage (ADSR) envelopes
Exponential curves for punchy attack and natural decay
Linear mode also available
New Feature: Loopable envelopes
Routable to >40 destinations
MODULATION
4 LFOs
Sine, sawtooth, triangle, and square waveforms
Random sample-and-hold
New Feature: Stepped LFOs
Free-running or key-synced
Routable to >40 destinations
Connectivity
New Feature: Individual 1/4″ stereo line-level outputs for each voice
1/4″ left and right main outputs
Stereo 1/4″ headphone jack
MIDI DIN input and output
USB MIDI port
USB Master port for direct connection of USB MIDI controllers
The Parva is available to project backers, starting at $499 for the monosynth and $999 for an 8-voice version. See the project site for details.
Scotsman Ken Macbeth was the inventor of the probably biggest analogue synthesizer of nowadays, his model M5. His latest masterpiece – the ELEMENTS as introduced 2014 on the european Musikmesse in Frankfurt is now nearly done and will be finished with some first models at least in 2015. Here he is giving a statement of the status of production and a few examples of the sound for this smart desktop synth. it will be produced probably in very limited numbers as all of his products and will end up as a luxury smart synthesizer with lots of Character. Get an impression now.
XXL Demo from the fantastic soviet Vintage analogue Stringsynthi,
made in the USSR in the Year 1987.
Elektronika Sounds pure and with external Effects.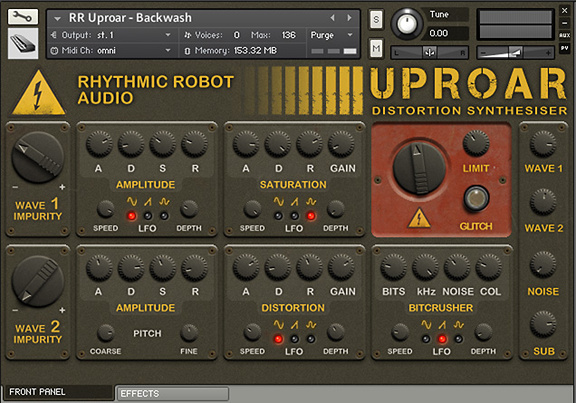 Rhythmic Robot has announced the release of Uproar, a unique distortion-based analogue synthesizer instrument for Native Instruments Kontakt.
Continuing our campaign to rid the world of same-sounding soft synths, we bring you Uproar – a machine that turns traditional analogue synthesis on its head. Instead of filtering harmonically rich waves, Uproar distorts and energises smoother waveforms until they break free of their restraints and go rampaging through downtown New York, smashing everything in their way.

Uproar doesn't just add distortion – it puts that distortion under the control of ADR envelopes and dedicated LFOs, so that you can create evolving synth patches full of movement and character. Want your pad to have a slowly-building glow of saturation at the same time that its bit depth is spiralling up and down via a sinewave LFO? Want your lead to scream and then subside as its Distortion gain is automatically reduced? Want your synth lines to emerge gradually from a burbling fizz of reduced bits? We've got you covered.

Uproar doesn't just do angry. It can also take trad subtractive synth staples and give them a new lease of life, giving you classic sounds with a fresh twist. It's great for adding air and harmonic overtone to your sound (with no filters, you never lose that high-frequency breathiness). It can be surprisingly subtle at times (but ssshh, don't tell it). The base waveforms blend between smooth sines and more complex, erratic waves which we made by eBowing an electric guitar strings: great for more organic, uneven sounds.
Uproar features
Twin detunable waveform generators: blend between pure sines and erratic, complex eBow guitar strings.
Three independent distortion types under LFO and envelope control for moving, shifting, evolving harmonic spectra.
Perfect for high-energy, aggressive synth sounds, or subtler tones with an unusual, airy edge.
Uproar is available at an introductory 15% discount until March 13th, 2015, after which it will be £20 GBP plus VAT.
Improvised live session with composer and synth aficionado Jon Ekstrand, filmed in his studio in Stockholm, Sweden. Jon is using the new MIDI feature in Auxy to sequence his Tempest drum machine, Moog Voyager, Eurorack modular system, and Virus Indigo. Download Auxy free from the App Store: http://appstore.com/auxy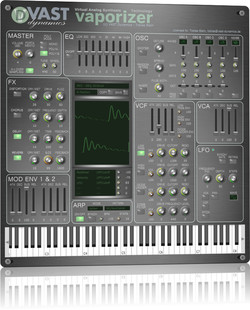 VAST Dynamics has launched Vaporizer, an analogue/subtractive synthesizer plug-in for Windows and Mac.
The intention of this development is to combine a fat virtual analog sound with low system CPU resource usage. And all this with an unbeatably low pice (factor 10 lower than usual synths in that category).

Even though this synth basically follows a traditional subtractive analog synthesis model, we believe that is has it's own character and sound that needs to be explored. A main focus was laid on modelling fat supersaw-like sounds with various unison and detune models. VAPORIZER does not want to be smooth and gentle. It has sharp edges and can also be brutal. Check it out.
Vaporizer features
Innovative virtual analog synthesis model that allows an almost unlimited number of oscillators per voice (e.g. 96 saw-tooth oscillators).
Three modes – 16 and 4 voice polyphony plus monophonic mode.
Full stereo – all generators, effects and chains.
Full effect bank with high quality oversampling effects (distortion, chorus, delay, reverb, comb filter and parametric EQ).
Old school UI with real analog feeling.
Everything at sight – no hidden tabs or menus.
Eye-catching retro-style oscilloscope for immediate visual feedback.
Monophonic and polyphonic portamento in all modes including ARP.
More than 50 presets with many different styles.
Completely alias free oscillators (6 different waveforms).
Up to 97 parallel oscillators per voice (4 unison / detune banks with max 24 plus 1 noise oscillator).
16 voice polyphony with a maximum number of 1552 oscillators per plug-in at a time.
Vaporizer for Windows and Mac (VST/AU) is available for purchase for 24.90 EUR (+VAT within EU).
The very first Erebus demo, made with the prototype unit on a standard 24 midi key.
For more info please visit
http://www.dreadbox-fx.com/erebus-syn…
you can also download the manual at
http://www.dreadbox-fx.com/support.html
The Nova Drone is an open source, analog experimental sound and light synth.
It it can be used to create effects ranging from slowly fading drones to chaotic harmonic sequences. It also functions as a complex visual pattern generator when combined with a digital/phone video camera. See the video below for an example of the color patterns generated by holding a camera up to the LED.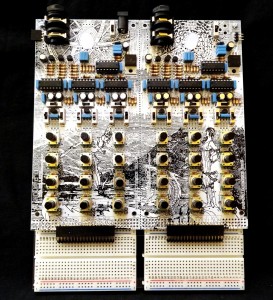 The Nova Drones offers 12 potentiometers, 10 switches, 6 oscillators, 9 oscillator sync inputs, 6 frequency modulation inputs and an epic 15 voltage outputs as well as 3 high current outputs for controlling external LEDs. All of the ins and outs have been routed to a prototyping breadboard at the bottom of the unit which allows for liberal experimentation and development of custom circuits. The prototyping area is especially useful for syncing the oscillators of 2 or more Nova Drones together.
I have quite a few analog synths running in this video. First the Roland MC-909 is sequencing the Roland D-550, MKS-50, and Gray SH-101 (via Kenton Pro Solo) on top. The drums are running from the Boss RC-300 Loop Station on the floor. I am playing the Synth FX using the red Roland SH-101 and the Oberheim Matrix 1000 triggered by the Fantom X6. I then add a Roland Juno-106 synth part. Other than the sequenced parts, the entire groove is improvised. Enjoy!