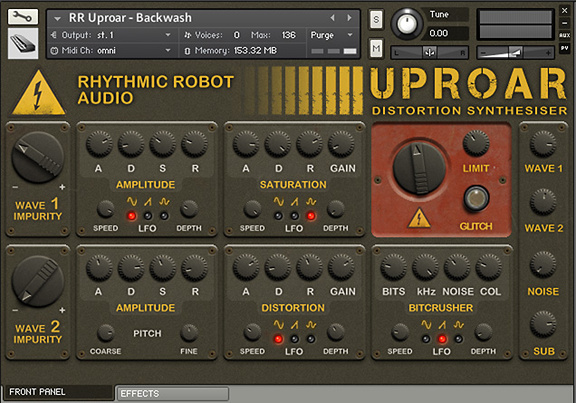 Rhythmic Robot has announced the release of Uproar, a unique distortion-based analogue synthesizer instrument for Native Instruments Kontakt.
Continuing our campaign to rid the world of same-sounding soft synths, we bring you Uproar – a machine that turns traditional analogue synthesis on its head. Instead of filtering harmonically rich waves, Uproar distorts and energises smoother waveforms until they break free of their restraints and go rampaging through downtown New York, smashing everything in their way.

Uproar doesn't just add distortion – it puts that distortion under the control of ADR envelopes and dedicated LFOs, so that you can create evolving synth patches full of movement and character. Want your pad to have a slowly-building glow of saturation at the same time that its bit depth is spiralling up and down via a sinewave LFO? Want your lead to scream and then subside as its Distortion gain is automatically reduced? Want your synth lines to emerge gradually from a burbling fizz of reduced bits? We've got you covered.

Uproar doesn't just do angry. It can also take trad subtractive synth staples and give them a new lease of life, giving you classic sounds with a fresh twist. It's great for adding air and harmonic overtone to your sound (with no filters, you never lose that high-frequency breathiness). It can be surprisingly subtle at times (but ssshh, don't tell it). The base waveforms blend between smooth sines and more complex, erratic waves which we made by eBowing an electric guitar strings: great for more organic, uneven sounds.
Uproar features
Twin detunable waveform generators: blend between pure sines and erratic, complex eBow guitar strings.
Three independent distortion types under LFO and envelope control for moving, shifting, evolving harmonic spectra.
Perfect for high-energy, aggressive synth sounds, or subtler tones with an unusual, airy edge.
Uproar is available at an introductory 15% discount until March 13th, 2015, after which it will be £20 GBP plus VAT.
Improvised live session with composer and synth aficionado Jon Ekstrand, filmed in his studio in Stockholm, Sweden. Jon is using the new MIDI feature in Auxy to sequence his Tempest drum machine, Moog Voyager, Eurorack modular system, and Virus Indigo. Download Auxy free from the App Store: http://appstore.com/auxy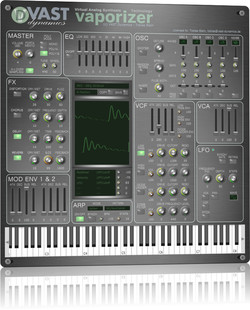 VAST Dynamics has launched Vaporizer, an analogue/subtractive synthesizer plug-in for Windows and Mac.
The intention of this development is to combine a fat virtual analog sound with low system CPU resource usage. And all this with an unbeatably low pice (factor 10 lower than usual synths in that category).

Even though this synth basically follows a traditional subtractive analog synthesis model, we believe that is has it's own character and sound that needs to be explored. A main focus was laid on modelling fat supersaw-like sounds with various unison and detune models. VAPORIZER does not want to be smooth and gentle. It has sharp edges and can also be brutal. Check it out.
Vaporizer features
Innovative virtual analog synthesis model that allows an almost unlimited number of oscillators per voice (e.g. 96 saw-tooth oscillators).
Three modes – 16 and 4 voice polyphony plus monophonic mode.
Full stereo – all generators, effects and chains.
Full effect bank with high quality oversampling effects (distortion, chorus, delay, reverb, comb filter and parametric EQ).
Old school UI with real analog feeling.
Everything at sight – no hidden tabs or menus.
Eye-catching retro-style oscilloscope for immediate visual feedback.
Monophonic and polyphonic portamento in all modes including ARP.
More than 50 presets with many different styles.
Completely alias free oscillators (6 different waveforms).
Up to 97 parallel oscillators per voice (4 unison / detune banks with max 24 plus 1 noise oscillator).
16 voice polyphony with a maximum number of 1552 oscillators per plug-in at a time.
Vaporizer for Windows and Mac (VST/AU) is available for purchase for 24.90 EUR (+VAT within EU).
The very first Erebus demo, made with the prototype unit on a standard 24 midi key.
For more info please visit
http://www.dreadbox-fx.com/erebus-syn…
you can also download the manual at
http://www.dreadbox-fx.com/support.html
The Nova Drone is an open source, analog experimental sound and light synth.
It it can be used to create effects ranging from slowly fading drones to chaotic harmonic sequences. It also functions as a complex visual pattern generator when combined with a digital/phone video camera. See the video below for an example of the color patterns generated by holding a camera up to the LED.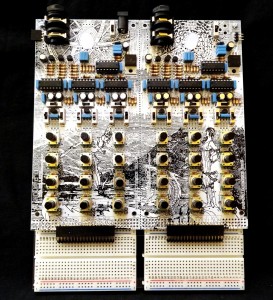 The Nova Drones offers 12 potentiometers, 10 switches, 6 oscillators, 9 oscillator sync inputs, 6 frequency modulation inputs and an epic 15 voltage outputs as well as 3 high current outputs for controlling external LEDs. All of the ins and outs have been routed to a prototyping breadboard at the bottom of the unit which allows for liberal experimentation and development of custom circuits. The prototyping area is especially useful for syncing the oscillators of 2 or more Nova Drones together.
I have quite a few analog synths running in this video. First the Roland MC-909 is sequencing the Roland D-550, MKS-50, and Gray SH-101 (via Kenton Pro Solo) on top. The drums are running from the Boss RC-300 Loop Station on the floor. I am playing the Synth FX using the red Roland SH-101 and the Oberheim Matrix 1000 triggered by the Fantom X6. I then add a Roland Juno-106 synth part. Other than the sequenced parts, the entire groove is improvised. Enjoy!
Testing OCTO.PULSE DIY ANALOG SYNTH
– 2 VCO ( 4 wave type )
– 1 LFO ( 4 wave type, high and ultra low rate )
– 1 VCF ( 3 filter type )
– 1 SAMPLE & HOLD module
– White noise generator
– PWM control and Skew mod
– Full interaction between every module
– Full analogue concept and vintage cabinet
– 220 volt cable ( no power supply )
INFO : info@exagonal-rooms.com http://www.exagonal-rooms.com
Video demo of the MFB Dominion 1 monophonic/paraphonic analog synthesizer. The video is to give an impression of the user interface, functions, and diversity sounds. Hopefully it can also help new owners who may not be too familiar with subtractive synthesis.
The Dominion is the latest and greatest in the MFB line of Dominion synths, this one being their first with a keyboard. MFB on the Dominion 1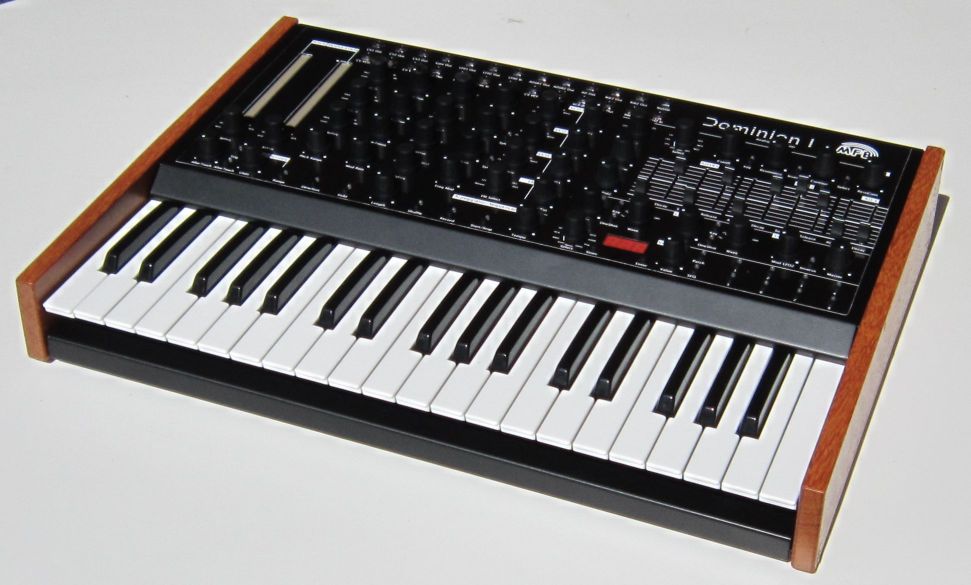 MFB-DOMINION 1
* Programmabele Analog Synthesizer with 3 Octave Keyboard
* 2 Ribbon Controls, Arpeggiator/Sequencer, Velocity&Aftertouch
* 3 VCOs with Waveshaping, Analog&Digital Ringmodulator
* Dual-Sync and dynamic FM, Noisegenerator
* 12 fold redesigned four stages SED Multimode Filter
* Huge Patchfield to speak with world of Modulars and CV/Gate
* Velocity-Routingmatrix with 12 destinations
* 3 LFOs, 2 with One-Shot-Function and Reset
* 3 Envelopes with 70mm Faders
* Intuitive Handling and Quality Hardware, internal Power Supply
* Midi Dump, In, Out, Thru
Vintage synthesizer demo track featuring the Moog Prodigy
all sounds: Moog Prodigy Analog Synthesizer (1979)
drums: LinnDrum (1982)
recording: multi-track without midi
sequencing: Doepfer DarkTime step sequencer
Background video info (Googlish):
The purchase …
http://www.nintendo.co.jp/3ds/eshop/j …
http://www.detune.co.jp/korg_dsn12_jp …
Nintendo 3DS download software analog synthesizer KORG DSN-12. For those of you "I bought, but if I do …" and "? Can be any play on earth", series video Sano electromagnetic Inc. DETUNE is a producer director to convey the fun, the first times are.
KORG DSN-12 series for the first time
https://www.youtube.com/playlist?list …
ご購入は…
http://www.nintendo.co.jp/3ds/eshop/j…
http://www.detune.co.jp/korg_dsn12_jp…
ニンテンドー3DSダウンロード用アナログシンセサイザーソフトKORG DSN-12。「買ってみたけどどうしたらいいのか・・・」「いったいどんな遊び方が­できるの?」という方のために、プロデューサーディレクターである株式会社DETUN­Eの佐野電磁がその楽しさをお伝えするシリーズ動画、第1回です。
はじめての KORG DSN-12 シリーズ
https://www.youtube.com/playlist?list…