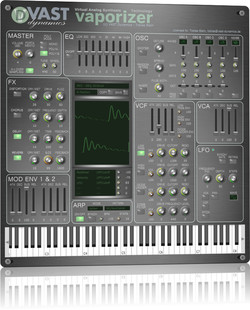 VAST Dynamics has launched Vaporizer, an analogue/subtractive synthesizer plug-in for Windows and Mac.
The intention of this development is to combine a fat virtual analog sound with low system CPU resource usage. And all this with an unbeatably low pice (factor 10 lower than usual synths in that category).

Even though this synth basically follows a traditional subtractive analog synthesis model, we believe that is has it's own character and sound that needs to be explored. A main focus was laid on modelling fat supersaw-like sounds with various unison and detune models. VAPORIZER does not want to be smooth and gentle. It has sharp edges and can also be brutal. Check it out.
Vaporizer features
Innovative virtual analog synthesis model that allows an almost unlimited number of oscillators per voice (e.g. 96 saw-tooth oscillators).
Three modes – 16 and 4 voice polyphony plus monophonic mode.
Full stereo – all generators, effects and chains.
Full effect bank with high quality oversampling effects (distortion, chorus, delay, reverb, comb filter and parametric EQ).
Old school UI with real analog feeling.
Everything at sight – no hidden tabs or menus.
Eye-catching retro-style oscilloscope for immediate visual feedback.
Monophonic and polyphonic portamento in all modes including ARP.
More than 50 presets with many different styles.
Completely alias free oscillators (6 different waveforms).
Up to 97 parallel oscillators per voice (4 unison / detune banks with max 24 plus 1 noise oscillator).
16 voice polyphony with a maximum number of 1552 oscillators per plug-in at a time.
Vaporizer for Windows and Mac (VST/AU) is available for purchase for 24.90 EUR (+VAT within EU).
The very first Erebus demo, made with the prototype unit on a standard 24 midi key.
For more info please visit
http://www.dreadbox-fx.com/erebus-syn…
you can also download the manual at
http://www.dreadbox-fx.com/support.html
The Nova Drone is an open source, analog experimental sound and light synth.
It it can be used to create effects ranging from slowly fading drones to chaotic harmonic sequences. It also functions as a complex visual pattern generator when combined with a digital/phone video camera. See the video below for an example of the color patterns generated by holding a camera up to the LED.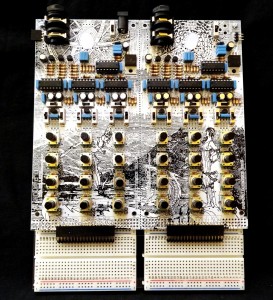 The Nova Drones offers 12 potentiometers, 10 switches, 6 oscillators, 9 oscillator sync inputs, 6 frequency modulation inputs and an epic 15 voltage outputs as well as 3 high current outputs for controlling external LEDs. All of the ins and outs have been routed to a prototyping breadboard at the bottom of the unit which allows for liberal experimentation and development of custom circuits. The prototyping area is especially useful for syncing the oscillators of 2 or more Nova Drones together.
I have quite a few analog synths running in this video. First the Roland MC-909 is sequencing the Roland D-550, MKS-50, and Gray SH-101 (via Kenton Pro Solo) on top. The drums are running from the Boss RC-300 Loop Station on the floor. I am playing the Synth FX using the red Roland SH-101 and the Oberheim Matrix 1000 triggered by the Fantom X6. I then add a Roland Juno-106 synth part. Other than the sequenced parts, the entire groove is improvised. Enjoy!
Testing OCTO.PULSE DIY ANALOG SYNTH
– 2 VCO ( 4 wave type )
– 1 LFO ( 4 wave type, high and ultra low rate )
– 1 VCF ( 3 filter type )
– 1 SAMPLE & HOLD module
– White noise generator
– PWM control and Skew mod
– Full interaction between every module
– Full analogue concept and vintage cabinet
– 220 volt cable ( no power supply )
INFO : info@exagonal-rooms.com http://www.exagonal-rooms.com
Video demo of the MFB Dominion 1 monophonic/paraphonic analog synthesizer. The video is to give an impression of the user interface, functions, and diversity sounds. Hopefully it can also help new owners who may not be too familiar with subtractive synthesis.
The Dominion is the latest and greatest in the MFB line of Dominion synths, this one being their first with a keyboard. MFB on the Dominion 1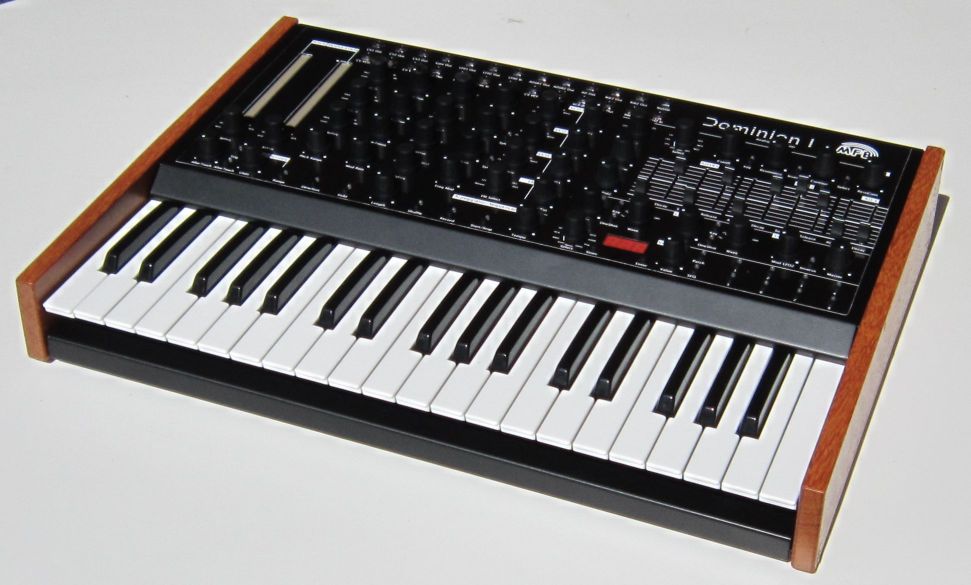 MFB-DOMINION 1
* Programmabele Analog Synthesizer with 3 Octave Keyboard
* 2 Ribbon Controls, Arpeggiator/Sequencer, Velocity&Aftertouch
* 3 VCOs with Waveshaping, Analog&Digital Ringmodulator
* Dual-Sync and dynamic FM, Noisegenerator
* 12 fold redesigned four stages SED Multimode Filter
* Huge Patchfield to speak with world of Modulars and CV/Gate
* Velocity-Routingmatrix with 12 destinations
* 3 LFOs, 2 with One-Shot-Function and Reset
* 3 Envelopes with 70mm Faders
* Intuitive Handling and Quality Hardware, internal Power Supply
* Midi Dump, In, Out, Thru
Vintage synthesizer demo track featuring the Moog Prodigy
all sounds: Moog Prodigy Analog Synthesizer (1979)
drums: LinnDrum (1982)
recording: multi-track without midi
sequencing: Doepfer DarkTime step sequencer
Background video info (Googlish):
The purchase …
http://www.nintendo.co.jp/3ds/eshop/j …
http://www.detune.co.jp/korg_dsn12_jp …
Nintendo 3DS download software analog synthesizer KORG DSN-12. For those of you "I bought, but if I do …" and "? Can be any play on earth", series video Sano electromagnetic Inc. DETUNE is a producer director to convey the fun, the first times are.
KORG DSN-12 series for the first time
https://www.youtube.com/playlist?list …
ご購入は…
http://www.nintendo.co.jp/3ds/eshop/j…
http://www.detune.co.jp/korg_dsn12_jp…
ニンテンドー3DSダウンロード用アナログシンセサイザーソフトKORG DSN-12。「買ってみたけどどうしたらいいのか・・・」「いったいどんな遊び方が­できるの?」という方のために、プロデューサーディレクターである株式会社DETUN­Eの佐野電磁がその楽しさをお伝えするシリーズ動画、第1回です。
はじめての KORG DSN-12 シリーズ
https://www.youtube.com/playlist?list…
modulus.002 takes British synth power polyphonically to world stage, the press release below:

BRISTOL, UK: breakthrough British electronic musical instruments manufacturer Modulus is proud to announce availability of modulus.002 — the first analogue/digital hybrid polysynth to have been designed, developed, and manufactured in the UK for four decades — as of July 10…

Even though the technology for mass-market synthesisers was patently pioneered in the UK in the leafy London suburb of Putney at the tail end of the Swinging Sixties, the last time that a polyphonic/multitimbral analogue synthesiser was designed, developed, and manufactured in the UK — actually within Wales — was way back in the late Eighties. It is with utmost pride, therefore, that Bristol-based Modulus has not only succeeded in bringing back that pioneering spirit to Blighty with the mighty modulus.002 but has admirably succeeded in doing so by creating an amazing modern-day musical instrument that truly represents one giant leap for 'synthkind' with a sizeable number of notable new features to its innovative name. No easy task in climatically cynical conditions during an era of increasingly shortened attention spans, synth-wise or otherwise. Been there, done that, bought the (Moog) T-shirt, some might cynically say!



Yet surely soothsaying is a better bet in this case? Why? Well, modulus.002 even sports some world firsts! So what makes modulus.002 tick, then, and what, exactly, is it that makes it so special in comparison to today's commercial and 'boutique' offerings from other manufacturers, both bigger and smaller? Let's look at some straightforward facts for starters…

As an analogue/digital hybrid keyboard synthesiser (using an aftertouch-enabled premium Fatar semi-weighted, five-octave key mechanism), modulus.002 provides 12 discrete voices of polyphony with full multitimbrality if so desired. As such, it features two NCOs (Numerically-Controlled Oscillators) per voice for exceedingly high resolution and stability with wide-reaching waveform selections, together with two sub-oscillators, individually (and uniquely) switchable from a traditional square wave to having the same waveform as the main NCO to effectively produce four oscillators per voice; a Modulus-designed 24dB/octave four- pole transistor ladder filter featuring some very unusual morphing or 'polesweeping' effects, enabling ear-opening transitions from 24dB/octave four-pole to 6dB/ octave one-pole filtering and anywhere in between; one LFO per voice as well as a global LFO; wide-ranging modulation options, all accessible directly via the front panel — no navigating convoluted and confusing menus; a pure analogue signal path from the oscillators right the way through to the combined XLR/TRS balanced/unbalanced outputs (with all 12 voices individually available for external processing via a dedicated D-Sub connector); two audio inputs enabling internal audio processing from the VCF onwards… and that's only scratching the surface. Not literally, of course!

While all voice control parameters are accessible via a well-thought-through front panel that is both attractive and intuitive in use thanks to sticking to traditional synthesiser workflow, what lies beneath is really remarkable. Radically departing from the norm, modulus.002 is blessed with an unrivalled user interface based around a high-quality 4.3-inch screen with wide viewing angle. It is context sensitive, whereby the control parameter of any control knob touched by the user is immediately displayed onscreen. Synthesiser savants and audio aficionados will surely unite in their appreciation of the sonic depths that this well-specified speedy dream machine can deeply dive into!

Forget about an analogue renaissance here, however; let's talk truly revolutionary design features for a moment. modulus.002 represents a unique approach to synthesiser design, taking traditional analogue circuitry combined with modern, reliable digital developments and marrying it all to a completely new control platform. Phenomenally, modulus.002 brings cloud functionality to a synthesiser for the first time! The Ethernet port means modulus.002 can be connected to a network to enable updates via the Internet — no more MIDI SysEx dumps to get you down in the dumps — and access to the modulus.cloud means user profile settings, sound patches, sequences, and other content can be easily replicated to a cloud-based server platform to enable rapid resynchronisation to another modulus.002, regardless of whether it is owned by the same user or a collaborator at a remote location. Let's be honest here. We're well into the 21st Century now, so why not provide modulus.002 users with data management features that are expected as the 'norm' in modern consumer technology devices, yet have hitherto eluded the electronic musician? Makes sound sense to the Modulus team, that's for sure! And we're sure it will make sound sense to modulus.002 users, too.

So what other notable modulus.002 features are worth making a song and dance about? An inbuilt MIDI-sync-able 16-track, 12-row, 32-step sequencer with 16 front panel-positioned step-time editing controls can give any hardware rivals already out there a serious run for their money. For sequences can not only be transposed dynamically while running but sophisticated so-called 'mini arpeggiator sequences' created using the arpeggiator's Hold mode can be speedily saved as sequences for latter recall and editing using the sequencer. Moreover, modulus.002's Animator allows any control to be sequenced, enabling complex filter transitions, waveform changes, and modulation matrix changes to be sequenced. Lest we forget, 12 'quick recall banks' are accessible directly from dedicated front panel buttons. Build up set lists of presets, sequences, and animations, making modulus.002 a live performance partner par excellence.

Plain and simple? Far from it, it seems! So who better qualified, then, to explain the whys and wherefores of taking a truly thrilling synthesiser design from the drawing board to an equally enthralling production-ready product launch like this in under a year than company co-founder and principal designer Paul Maddox, a top-tier talent with proven production pedigree, best known within the synthesiser industry for his well-received MonoWave, a limited-run, 19-inch rack-mountable, MIDI- controllable monosynth inspired by Germany's legendary PPG Wave series — arguably amongst the most coveted high-end synthesisers of the early Eighties — featuring two digital oscillators with 256 samples per waveshape and an analogue 24dB transistor ladder filter, as well as his more recently-released VacoLoco range of 'pocket synth' designs. Do tell. Why now? Why the big step up to the brave new world of modulus.002? Muses Maddox: "This came about because I've had a long-held dream to build a polysynth since I was knee high. I've nearly got there several times, but it was a golden opportunity in July last year when my business partner, Philip Taysom, and myself sat together and said, 'Now is a good time to do it.' Both Philip and myself are passionate about synthesisers, and we feel that the synthesiser market has been neglected for a long time in terms of high-end, pro — in quality and feel — instruments. I quite often equate this to a PRS guitar. There is nowhere in the synthesiser industry that I'm aware of where you can go and buy the equivalent of a PRS. That's what we're aiming at — top quality, top to bottom."

So there you have it, folks. With top-quality components sourced and designed throughout its robust, road-ready construction coupled with upmarket design flourishes like leather-bound end cheeks — quite possibly another world first, modulus.002 is a fighting force to be musically reckoned with. British synth power is alive and kicking, and Modulus has just fired its impressive opening synth salvo that more than lives up to its Machines for Musicians tagline. It's aim is true, so watch this space…

modulus.002 is available to purchase for £2,995.00 GBP (plus VAT). EU pricing — correct at time of writing — is €3,795.00 EUR (plus VAT). US pricing — correct at time of writing — is $5,200.00 USD (plus local sales tax). Contact California-based agent Geoff Farr (geoff@modulusmusic.co.uk) for all United States sales enquiries. All other enquiries relating to the rest of the world should contact info@modulusmusic.co.uk.
Feel free to visit www.modulus.me for more detailed modulus.002 information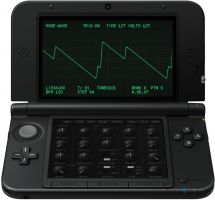 Detune Ltd. and Korg Inc. have introduced the KORG DSN-12 Analog Synthesizer, exclusively for the Nintendo 3DS. This new, powerful software provides twelve monophonic synthesizers–each one offering three effects (choose from delay, chorus, flanger, compressor, kick, and reverb) –for a broad range of sounds not typically found in a gaming device. The KORG DSN-12 software features user-friendly operation that utilizes the Nintendo 3DS stylus pen, enabling everyone to enjoy serious sound-creation and song production with analog synthesizers.
With unlimited access to synthesizers and their corresponding sequences, players can create songs in real time while performing in a DJ-like manner, as well as exchange song and sound creations with other players.
Players can create up to 64 patterns of sequences, and then chain them together. In order to deepen interest and understanding of sound creation, Detune Ltd. also offers the world's first 3D display oscilloscope screen for Nintendo 3DS software.
The KORG DSN-12 software will be available for download in early September 2014 exclusively from the Nintendo eShop in North & South America, as well as Europe. This software is downloadable only for Nintendo 2DS/3DS/3DS XL.
Detune Ltd, a software synthesizer vender in Tokyo, Japan, has previously collaborated with Korg Inc. for such products as the KORG M01 for Nintendo DS, KORG M01D for Nintendo 3DS downloads, and the KORG iMS-20.