Korg's latest analog baby is actually something we've seen before (in 1977!) The MS20 Mini is an exact replica of the classic monosynth – lets see how it compares.
Background video description:
Using the QMVS-48 S-Trig cable from Synthesizers.com for the Gate ( with a Mono 1/4 to mono 1/8 adapter since the minibrute uses minijacks) and a ad infinitum cable for the pitch to control a 1976 MiniMoog. Works pretty well and sequences well from Ableton.
Being able to use hardware with a DAW opens things up.
also the sequence at the end is a NIN bassline from SIN. I did not adjust for for latency.
Any comments or something i missed or are totally ignorant about please let me know
Background video description from Sonic:
Novation were keen to give us another opportunity to see the new analog monosynth in the flesh in the altogether calmer and more forensic environment of our own studios. An extra bonus being we got time with Nick Bookman, a long time Novation guy who is also deep into the development of the instrument, and knows it intimately.
Bass Station II is an analogue mono-synth based on the classic original Bass Station but re-worked for the 21st century. It has two filters, two oscillators plus a third sub-oscillator, patch save and a fully analogue effects section. Add a step sequencer, arpeggiator, full sized keys and a powerful modulation section and you have the makings of a synth that is built for bass, but capable of so much more.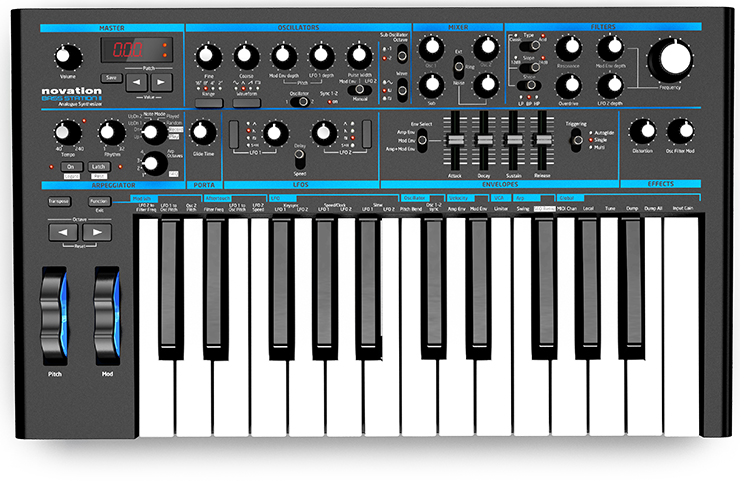 Bass Station II is an analogue mono-synth with a talent for bass, but a sound-engine that is versatile enough to kick out sharp leads and crisp arpeggios. It brings the best elements of the original Bass Station into a brand new design with re-worked modulation, effects, filters and more; like the Bass Station, but a much much bigger sound.
The signal path is pure analogue – including the effects section. The hardware has been laid out in modules with dedicated pots, switches, sliders and buttons for all major parameters. Critically, you can store and recall patches on Bass Station II. It comes with 64 killer factory presets, space for 64 of your own sounds on the hardware, and you can store more on your computer.
The key-mech consists of 25 full sized keys that are velocity sensitive with assignable aftertouch. It has been developed as a 'synth-action' keyboard, where each key is individually sprung so it is light to the touch and highly responsive to the synth engine. Bass Station II is a fully class compliant MIDI device with MIDI I/O on 5 pin din ports – for connecting to other MIDI outboard – and with your computer over USB. You can even connect an external instrument and run it through Bass Station II's analogue filter and effects.
The Korg 770 is a great little monophonic synth from 1976. It has 2 Oscillators, 2 Filters, Ringmod, White & Pink Noise, Scale Noise, 2 LFOs and external signal input. Small but very flexible!
"I played the Korg 770 along with a Lexicon MPX 500 for reverbs and a Roland DEP-5 for delays."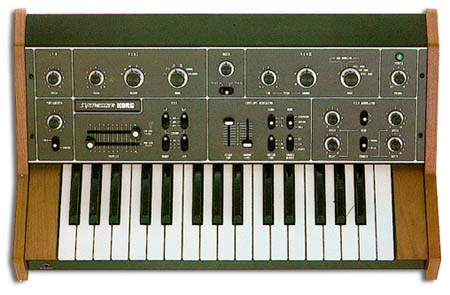 An ancient synthesizer from Korg. Aside from being very old, there isn't much else to say about the 770. It was released in 1976, is monophonic, very limited in design, flexibility and sonic possibility. It can make some weird noises largely due to its retro-cool ring modulator. You can also run external sounds through it. Bass, string and lead sounds are ok. It's got a fast envelope, auto bend, and LFO re-trigger too. An ole' classic that's fun to play with and useful if you're in the mood for buzzy analog sounds.
In this tutorial, Ableton Certified Trainer Michael Hatsis a.k.a. !banginclude, shows how to make dance music leads in Ableton Live 9 using Live's built-in synth instrument Analog. These kinds of synth leads are useful for many different types of club music from dutch house and moombahton to trap and beyond. In a step-by-step process, Hatsis explains and demonstrates how to shape and transform the basic preset/default sound of Analog into an effective and customizable dance music lead that you can control and tweak to your liking.
The Analog Four is a 4-voice analog synthesizer with digital controls and sequencing.
More info: http://www.elektron.se/products/analog
The Machinedrum SPS-1UW+ MKII combines drum synthesis and gritty 12-bit sampling with expressive sequencing.
More info: http://www.elektron.se/products/machi…
The Monomachine is a digital synthesizer featuring numerous finely-tuned synthesis methods as well as sequencing capabilities.
More info: http://www.elektron.se/products/monom…
The Octatrack is a radical 8-track dynamic performance sampler and sequencer.
More info: http://www.elektron.se/products/octat…
Vintage synthesizer track by RetroSound
"Apperception"
lead and fx sounds: Oberheim OB-X Analog Synthesizer
bass sounds: Moog Taurus 1 bass pedal
pad sounds: Roland Juno-60 Analog Synthesizer
arp and sample sounds: Korg MicroX
recording: multi-tracking without midi
fx: reverb and delay
more info: http://www.retrosound.de and
http://www.facebook.com/pages/RetroSo…
Well its all in Japanese but still worth watching

MS-20 mini:http://www.korg.co.jp/Product/Dance/M…
アナログ・シンセサイザー MS-20 mini のハウトゥをご紹介。Part1「ノーマル・セッティング」編
In Googlish: Introducing HOWTO of analog synthesizer MS-20 mini. Part1 "Normal setting" Hen
Check out this fun take on multi-track recording using only an MS-20 Mini as the sound source (and an iPad for drum triggering over the MS-20 Mini's USB MIDI).
For more information, please visit
http://www.korg.com/MS20mini or
http://www.korg.co.jp/Product/Dance/M…
It is a comparison of the sound of the MS-20 mini and MS-20.
Can you find the difference in sound??