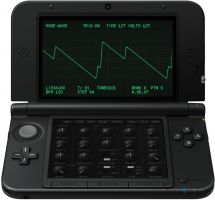 Detune Ltd. and Korg Inc. have introduced the KORG DSN-12 Analog Synthesizer, exclusively for the Nintendo 3DS. This new, powerful software provides twelve monophonic synthesizers–each one offering three effects (choose from delay, chorus, flanger, compressor, kick, and reverb) –for a broad range of sounds not typically found in a gaming device. The KORG DSN-12 software features user-friendly operation that utilizes the Nintendo 3DS stylus pen, enabling everyone to enjoy serious sound-creation and song production with analog synthesizers.
With unlimited access to synthesizers and their corresponding sequences, players can create songs in real time while performing in a DJ-like manner, as well as exchange song and sound creations with other players.
Players can create up to 64 patterns of sequences, and then chain them together. In order to deepen interest and understanding of sound creation, Detune Ltd. also offers the world's first 3D display oscilloscope screen for Nintendo 3DS software.
The KORG DSN-12 software will be available for download in early September 2014 exclusively from the Nintendo eShop in North & South America, as well as Europe. This software is downloadable only for Nintendo 2DS/3DS/3DS XL.
Detune Ltd, a software synthesizer vender in Tokyo, Japan, has previously collaborated with Korg Inc. for such products as the KORG M01 for Nintendo DS, KORG M01D for Nintendo 3DS downloads, and the KORG iMS-20.
Vintage synthesizer demo track featuring the Pro-One
all sounds: SCI Pro-One Analog Synthesizer (1981)
drums: LinnDrum (1982)
recording: multi-track without Midi
The Sequential Pro One is a wicked little monosynth! It comes from the same period and genre as the Roland SH-101 and Moog Prodigy. The Pro One was basically Sequential's attempt at taking their legendary Prophet 5 poly-synth and packing it into a compact, inexpensive, monophonic analog synth! It has two VCOs, a great 4-pole lowpass filter, two ADSR envelopes (one for filter), and a compact three-octave keyboard. With a Pro-One, you can easily create punchy analog bass-lines and leads or quirky analog synth effects.
The Pro One is an extremely flexible synth with lots of modulation possibilities (ie: the filter, VCO B and LFO can modulate VCO A or B frequencies or pulse widths, or the VCF). There's also an onboard sequencer, something common on many Sequential synths but not often found on other monosynths of the time. It is very basic, however, storing only two patterns and up to 40 notes max. Also, only pitch info is recorded (and in step time only); you can not assign a note duration to any notes. So it's basically a short melodic sketch-pad…but useful. Also onboard is an arpeggiator which has UP and UP/DOWN patterns.
Happy Birthday Analogue Style! 

Here's an all-analogue Happy Birthday tune featuring various analogue synthesizers and the Oberkorn step sequencer by Analogue Solutions (x 3).

http://www.analoguesolutions.com
http://www.soundofscience.org

Analogue Solutions
Demo of my Kontakt collection sampled from REwire's best analog synths over the years. The biggest sounds each one made. Raw and stacked oscs in a custom synth interface that lets you shape each patch into many others. Many of these in polyphonic mode are massive!

Only $40 at http://www.rewiremusic.com
For full details visit: http://www.timespace.com/product/AW2-…
Dark Ambient is the second in the series of Analogue Workshop sample libraries from renowned sound designer Ian Boddy. Featuring 300 samples and over 500 Kontakt patches culled from his collection of vintage and analogue modular synths, these sounds dwell very much in the darker realms of ambience and electronic music.
The patches run the full gamut from subsonic drones, evolving pads and haunting modulations to weird, surreal atmospheres. The one-shot section contains a range of crunchy, deep, weird short percussive sounds and FX that can be used to spice up any drum kit or add impact to key moments in your musical compositions.
A new custom designed graphical interface has been scripted in Kontakt to provide even more variation & programming opportunities in the way the sounds are presented. This is rounded out by a set of impulse responses for the convolution reverb taken directly from analogue modules such as spring reverbs & bucket-brigade delays to further enhance the overall sound character.
Showing the capabilities of this neat little synthesizer on it's own.
Check out my original music at these links:
(Electronic Music ) https://soundcloud.com/the-helix-1
(Band Project) https://soundcloud.com/vitalsigns13
(Experimental) https://soundcloud.com/stars-falling-…
The Moog Sub 37 Tribute Edition is a limited edition paraphonic analog synthesizer built on the award winning Sub Phatty sound engine. Its panel features 40 knobs, 74 switches, and has a dedicated LCD display, placing each critical sound creation element and live performance tool quickly at your command.
The Sub 37's new features include Duo Mode, which allows oscillator 1 and oscillator 2 to be played independently, programmable arpeggiator/step sequencer, two modulation busses with assignable source and destination options, access to 256 presets, and a 37-note velocity sensitive keyboard with aftertouch.
New Media Art and Sound Summit (NMASS) 2014 Kickstarter exclusive! This hand-crocheted ghostly friend with custom light-sensitive analog synthesizer circuit and vintage Apple IIc joystick controller can be yours when you pledge here before May 18th, 2014:http://kck.st/1mE1h9P
Homemade analog synthesizer, partly built with minimoog model d circuits. VCF circuit here http://www.diodenfilter.de, which produced the synthi sounds (and drumbox V1.0).
Selbstgebauter analoger Syntheiszer, teilweise aus Minimoog Modell D – Schaltungen aufgebaut. VCF-Schaltung hierhttp://www.diodenfilter.de, welches die Synthie-Klänge produzierte (und Drumbox V1.0).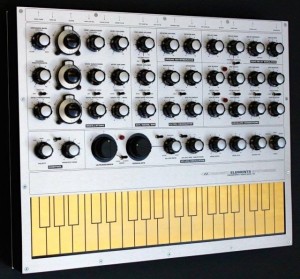 MacBeth shared this sneak preview of theMacBeth Elements Synthesizer – a new 'no compromise synth'.
Specifications are still to come – but check out the images below for a preview of MacBeth's latest analog sytnh.