John Keston explores the Bass Station II, below his report:
I have recently been trying out a Novation Bass Station II monophonic analogue synthesizer. I am quite impressed with this big sounding synth in a small package. While digitally controlled, Novation have focused on packing in proper synthesis features rather than trying to gloss over the sound with onboard effects. For example, as I have illustrated in the video, the filter self oscillates nicely with a clean sine wave that can be modulated in unique ways especially with distinct features like oscillator slew.
The video starts with the self oscillating filter getting modulated by LFO 2 using the triangle wave. After that I switch to using the sample and hold setting creating the well-known 60s computer sound of random notes. Here's where it gets interesting though. Once I switch the LFO to sample and hold I start turning up the oscillator slew I mentioned earlier. What this does is variably smooth the wave shapes created by the LFO. You'll hear this come in at 0:28. It sounds like portamento. At 0:35 I switch the LFO to the square wave, but with the slew on it sounds more like a sine. As I reduce the amount of slew the square wave regains its recognizable character. Next I switch it to the saw tooth wave. The nice thing here is that the LFO amount can go into negative values allowing the saw to be reversed.
Another distinctive feature is the oscillator filter mod setting. This modulates the filter with oscillator 2. Since the oscillators range from subsonic to almost supersonic this feature offers modulation effects that are not possible with the LFOs. At 1:29 you will start to hear the oscillator filter mod come in using a pulse waveform. What makes this interesting is that while oscillator 2 is modulating the filter it can also have the pulse width modulated by LFO 1. This can cause bit-reduction-like effects that can be heard between 1:49 and 2:19. At 2:20 I start tapping the octave and waveform buttons on oscillator 2 illustrating what happens when the modulation source is instantly shifted an octave at a time. After a bit more messing around I added a final, manual filter sweep at 3:20.
http://audiocookbook.org/novation-bas…
BRANDNEW WALDORF PULSE 2
1st Encounter Session Outtake
ARPEGGIO
Pulse 2 Analog Synthesizer is proof positive that good things can come to those who wait. For ever since this high-quality synthesizer developer discontinued its original rack-mountable Pulse and Pulse+ programmable analogue monosynths boasting ballsy bass tones and legendary leads beyond compare, those Nineties electronic music dominating sounds have been severely sought-after by those in the know. Which was exactly what drove us into development overdrive to produce an all-new Pulse fit for the 21st Century.
As an all-new, all-analogue synthesizer design, Pulse 2 flawlessly delivers exactly what synth connoisseurs around the world have been truly craving for quite some time — three analogue oscillators living in perfect harmony with a VCF (VoltageControlled Filter), yet we did not stop there: the fresh filter circuits in the Pulse 2 now offer 12dB Highpass and Bandpass modes in addition to 24dB/12dB Lowpass for strengthened sound-sculpting flexibility, while we added analogue Filter FM, two Overdrive circuits, and Ring Modulation from OSC 3, together with Paraphonic and Unison modes allowing up to eight-voice chords — a fantastic feature found on our recently-released Rocket Synthesizer.
Analog Monophonic Synthesizer
3 analog oscillators + 1 noise generator
Pulse width modulation
Hard sync
Filter FM from Oscillator 3
Ring Modulation from Oscillator 3
XOR Osc Mode
8/4 Voice Paraphonic modes
Cascade Filter
24dB/12db Lowpass, 12db Highpass/Bandpass filter modes
Powerful Arpeggiator
8-slot Modulation Matrix
USB
MIDI
External analog signal input
Stereo line out
Headphone out
Backwards compatible with classic Pulse
128×64 character backlit LCD
8 stainless steel knobs
500 Sound Programs
Electron-absorbing black case
Quick groove sound check of custom & stock sounds on Korg's R3 Virtual Analog Synthesizer
The R3 is marketed as a "Synthesizer/Vocoder", and the included gooseneck mic lets you take full advantage of its 16-band vocoding capabilities right out of the box. Simply enter Vocoder mode for access to all of the vocoder's variables that work with an internal or external carrier signal. It also lets you record up to sixteen 7.5-second Formant Motion sequences, allowing you to play saved phrases—albeit at a fixed tempo—through the vocoder without external input. Whether you're looking to channel the spirits of sci-fi robots, make a guitar do backing vocals or are in need of some unconventional choral accompaniment, the R3′s pro-grade vocoder earns its place in both the mix and the title.
Each of the 128 editable patches can contain up to two timbres, sharing the somewhat meager polyphony between them. These can be layered or divided across the keyboard and can be assigned to individual MIDI channels. Each of these two timbres contain all the capabilities listed, so despite being well suited for mono and lead styles it's possible to get surprisingly complex, evolving pads which belie its 8-note polyphony. This is best displayed when using each timbre's modulation sequence, which lets you record a variable's knob changes and can yield complex changes in a single key press. There's also a 6-mode arpeggiator with a toggle button and latch control to further animate the sound.
Every timbre consists of two LFOs, two oscillators, a wave-shaper with sub-oscillator options, two insert effects, and three envelope generators for filter, amp, and one for assignment using the Virtual Patch system. This feature lets you define up to six additional routings, giving the unit a fitting touch of modular dynamics which can add subtle dynamics or make sounds spiral off into mayhem. Unfortunately the routings are limited, but most of the logical sources and destinations are included. The two oscillators cover a wide range of traditional analog waveforms with some useful extras (osc1 includes 64 DWGS preset waveforms and the vowel-like Formant wave) and allow a number of interactions between them: ring mod, VPM and unison, among others. External signals can also be processed through the filters, gates and effects. All of this is wrapped up with one master effect and a variable 2-band EQ with some other fine-tuning mods to polish the finished sound.
All of this programming demands an intuitive interface, and although it involves some menu-diving, this is handled by selecting the category with a rotary encoder and then editing individual variables with the 4 main pots. Though it isn't "per-knob" editing, each pot is encircled by a slick-looking LED halo which shows the value regardless of the knob's current position. Each knob also has its own small LCD screen which can show the variable or its value by hitting the shift key. This combination along with the Original Value light takes much of the drudgery and guesswork out of building your own patches, but it's recommended to load up the included software editor since some sub-variable and effects tweaks can seem cryptic at first.
Some sounds taken from Arturia´s new baby – the MicroBrute. A very tiny 100% analog synthesizer with the same sound like his big brother MiniBrute. There are several new features like the Stepsequenzer and the Patchfield with CV for some Modulations. The very good sounding Steiner-Parker-Filter with HP, BP and LP is also present. The MicroBrute is the perfect complement to his Big Brother or a Modular-System. More info at:
http://www.arturia.com/evolution/en/p…
MAIN FEATURES:
Monophonic synthesizer
100% Analog Audio Signal Path
Steiner-Parker Multimode Filter (LP, BP, HP)
Voltage Controlled Oscillator with new Overtone Sub-Osc
Oscillator Mixer (Sub, Sawtooth, Square, Triangle)
LFO with 3 waveforms and destination attenuator
Brute Factor™ delivering saturation and rich harmonics
Ultrasaw generating shimmering sawtooth waveforms
Metalizer bringing extreme triangle harmonics
Fast Envelope Generator
25 note mini Keyboard
External Analog Audio Input (level pot on rear)
CV Inputs: Pitch, Filter, Sub-mod, Pulse, Saw animator, metalizer, gate in.
CV outputs: Pitch, Gate, Env, LFO
MIDI Inwith 5-Pin DIN connector
USB MIDI In/Out
1/4" Audio Output and 1/8" Headphone Output
Free Editor Software
Step Sequencer :

8 sequences stored on power down
Rate control
Sync to MIDI clock
Multiple modes (via software editor)

Tap tempo/rest insert
Background video description:
This is a recording from august when i got my mini.
I must say i love the Korg Ms-20 mini,
It have a warm and nice vintage sound and its very creative to play.
Keys.nois and build quality…..i dont have time to think about that when im in orbit


So this is me exploring the MS-20 mini next to the Moog Rogue
Of course our personal favorite is the last one featuring Matsutake from Logic System

Arturia's new baby – is 100% analogue with a lot of features for the money – see what we make of it.
Enjoy !!
+ a little Japanese bonus:
"Mogul, pine Takeshi analog synth love playing down analog synths Arturia, the MiniBrute.
I would connect you to their own "closet" to the (Moog Modular)." Googlish
ARTURIA MICROBRUTE ANALOGUE SYNTHESIZER
Every synth sound in this video was made on a MicroBrute.
Soundtrack by Pierce Warnecke based on "Song For A Junky" by the RocKandys.
Special thanks goes to Rike and the RocKandys for their appearance in this video.
http://therockandys.bandcamp.com/
Concept demo of assisted sound design on the Elektron Analog Four synthesizer.
Exploring sounds by outsourcing control to dedicated external software.
The app interactively sculpts new sounds by interpolating user sounds, combining them into kits and sending them to the analog synthesizer at screen refresh rate (60 kits per second) via MIDI SysEx.
All sounds are based on sounds a user has created and sent to the app, so there is no randomness, but human intervention with the app is a guarantee for very unexpected recombinations.
The Analog Four plays its own sequence, with the app being controlled via MIDI CC – in the case of this video, the faders react to knob tweaks and LFOs from a Machinedrum's MIDI sequencer, which is also synced to the Analog Four's sequencer. quite frankly this is a blast.
"My tonight grooves recorded on the Monomachine and Analog Four

Sorry for the poor video quality."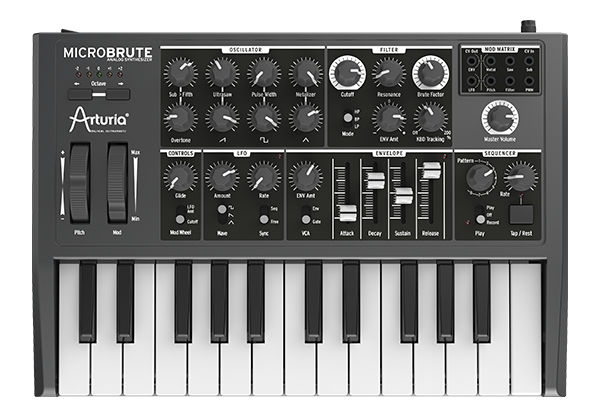 After yesterday's news with the new blurred out Arturia web site speaking of a new hardware synth – this image leaked on the net as well – it it the right things, most likely yes we believe. It appears this is also a one-oscillator synth, with an uncommonly complex oscillator section.
Anyone knows more – post your comments