Vintage synthesizer demo track featuring the Pro-One
all sounds: SCI Pro-One Analog Synthesizer (1981)
drums: LinnDrum (1982)
recording: multi-track without Midi
The Sequential Pro One is a wicked little monosynth! It comes from the same period and genre as the Roland SH-101 and Moog Prodigy. The Pro One was basically Sequential's attempt at taking their legendary Prophet 5 poly-synth and packing it into a compact, inexpensive, monophonic analog synth! It has two VCOs, a great 4-pole lowpass filter, two ADSR envelopes (one for filter), and a compact three-octave keyboard. With a Pro-One, you can easily create punchy analog bass-lines and leads or quirky analog synth effects.
The Pro One is an extremely flexible synth with lots of modulation possibilities (ie: the filter, VCO B and LFO can modulate VCO A or B frequencies or pulse widths, or the VCF). There's also an onboard sequencer, something common on many Sequential synths but not often found on other monosynths of the time. It is very basic, however, storing only two patterns and up to 40 notes max. Also, only pitch info is recorded (and in step time only); you can not assign a note duration to any notes. So it's basically a short melodic sketch-pad…but useful. Also onboard is an arpeggiator which has UP and UP/DOWN patterns.
Happy Birthday Analogue Style! 

Here's an all-analogue Happy Birthday tune featuring various analogue synthesizers and the Oberkorn step sequencer by Analogue Solutions (x 3).

http://www.analoguesolutions.com
http://www.soundofscience.org

Analogue Solutions
Demo of my Kontakt collection sampled from REwire's best analog synths over the years. The biggest sounds each one made. Raw and stacked oscs in a custom synth interface that lets you shape each patch into many others. Many of these in polyphonic mode are massive!

Only $40 at http://www.rewiremusic.com
For full details visit: http://www.timespace.com/product/AW2-…
Dark Ambient is the second in the series of Analogue Workshop sample libraries from renowned sound designer Ian Boddy. Featuring 300 samples and over 500 Kontakt patches culled from his collection of vintage and analogue modular synths, these sounds dwell very much in the darker realms of ambience and electronic music.
The patches run the full gamut from subsonic drones, evolving pads and haunting modulations to weird, surreal atmospheres. The one-shot section contains a range of crunchy, deep, weird short percussive sounds and FX that can be used to spice up any drum kit or add impact to key moments in your musical compositions.
A new custom designed graphical interface has been scripted in Kontakt to provide even more variation & programming opportunities in the way the sounds are presented. This is rounded out by a set of impulse responses for the convolution reverb taken directly from analogue modules such as spring reverbs & bucket-brigade delays to further enhance the overall sound character.
Showing the capabilities of this neat little synthesizer on it's own.
Check out my original music at these links:
(Electronic Music ) https://soundcloud.com/the-helix-1
(Band Project) https://soundcloud.com/vitalsigns13
(Experimental) https://soundcloud.com/stars-falling-…
The Moog Sub 37 Tribute Edition is a limited edition paraphonic analog synthesizer built on the award winning Sub Phatty sound engine. Its panel features 40 knobs, 74 switches, and has a dedicated LCD display, placing each critical sound creation element and live performance tool quickly at your command.
The Sub 37's new features include Duo Mode, which allows oscillator 1 and oscillator 2 to be played independently, programmable arpeggiator/step sequencer, two modulation busses with assignable source and destination options, access to 256 presets, and a 37-note velocity sensitive keyboard with aftertouch.
New Media Art and Sound Summit (NMASS) 2014 Kickstarter exclusive! This hand-crocheted ghostly friend with custom light-sensitive analog synthesizer circuit and vintage Apple IIc joystick controller can be yours when you pledge here before May 18th, 2014:http://kck.st/1mE1h9P
Homemade analog synthesizer, partly built with minimoog model d circuits. VCF circuit here http://www.diodenfilter.de, which produced the synthi sounds (and drumbox V1.0).
Selbstgebauter analoger Syntheiszer, teilweise aus Minimoog Modell D – Schaltungen aufgebaut. VCF-Schaltung hierhttp://www.diodenfilter.de, welches die Synthie-Klänge produzierte (und Drumbox V1.0).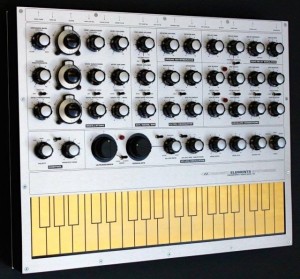 MacBeth shared this sneak preview of theMacBeth Elements Synthesizer – a new 'no compromise synth'.
Specifications are still to come – but check out the images below for a preview of MacBeth's latest analog sytnh.
Introducing the Nord Lead A1R rack mountable tabletop version of the Nord Lead A1 analog modeling synthesizer!
Be the first to check it out at Booth B90, Hall 5.1 at the Frankfurt Musikmesse March 12-15th 2014!
nordkeyboards.com/a1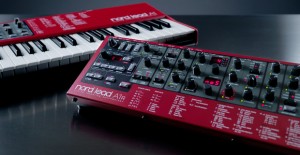 ANALOG MODELING
The Lead A1 and A1r are equipped with an all new analog modeling sound engine. As the original inventors of virtual analog, this is our next-generation analog modeling, capable of reproducing the character and nuances of the vintage synths of your dreams with breathtaking accuracy. 24-voice polyphonic and four part multi-timbral, the Lead A1 and Lead A1r are flexible choices for either stage or studio, delivering a stunningly rich and versatile palette of sounds.
THE NEED FOR SPEED
The Lead A1 and A1R also introduce an innovative new front-panel user interface designed by Clavia to make programming quick and easy, while retaining hands on flexibility.
"We've been thinking about and honing this interface for a number of years in response to what we hear from many professional players regarding the ever-increasing time pressures in creating sounds for stage or studio." says Hans Nordelius, CEO and head designer at Clavia.
One of the main features of the new interface is the Oscillator section, where Oscillator configuration shortcuts allow patches to be created and edited far quicker than is usually possible for synthesis of this complexity. The new waveform engine generates 47 different waveforms from classic analog to digital harmonic and inharmonic waves.
Using a single LFO and simplified Modulation Envelope with intuitive controls on the front panel, it is also very quick to experiment with modulations, always with a clear overview of the structure of the patch.
FILTERS
The on-board filters include Low Pass, High Pass and Band Pass, along with new stunningly accurate modeled Ladder M and Ladder TB filters introduced in the Lead 4.
EFFECTS
The A1's effects section introduces two new impressive vintage Chorus and Ensemble models.  Delay, Reverb, Drive, Phaser and Flanger complete the effects line-up, all with independent settings for each of the four slots.
Nord's acclaimed Morph function via Velocity or the Mod Wheel (Mod Wheel Morph via MIDI cc on A1R) is also included, allowing multiple parameters to be morphed in real time and with exceptionally easy control.
Additional functions include an independent arpeggiator for each of the four slots, Master Clock sync of the LFO, delay and Arpeggiator, MIDI over USB, and four independent outputs.  The Lead A1 and A1R are compatible with the Nord Sound Manager software patch librarian.
Like all Nord products, the Lead A1 and A1R are handmade in Sweden with meticulous attention to detail and quality control.
AVAILABILITY
Nord Lead A1: April 2014 priced at 1459€
Nord Lead A1R: June 2014 priced at 1259€
For more information please visit www.nordkeyboards.com/a1.