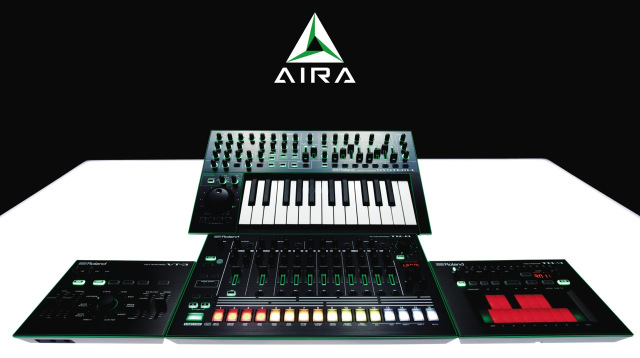 Roland has officially announced its new series of AIRA products:
The AIRA TR-8 Rhythm Performer – a $499 drum machine;
The AIRA TB-3 Touch Bassline – a $299 bassline synth;
The AIRA VT-3 Voice Transformer – a $199 vocal effects processor and vocoder; and
The AIRA System-1 Plug-Out Synthesizer – a $599 virtual analog synthesizer that can transform into a variety of classic synth, and act as a hardware controller for a new line of software synthesizers.
The AIRA series is based on Roland's newly-developed Analog Circuit Behavior (ACB) which the company says faithfully captures the sound of some of Roland's most revered classics. In developing the AIRA line, Roland modeled classic circuits, using original design specs, consultation with original product engineers, and a detailed part-by-part analysis of each analog circuit, using pristinely-archived Roland drum machines and synthesizers.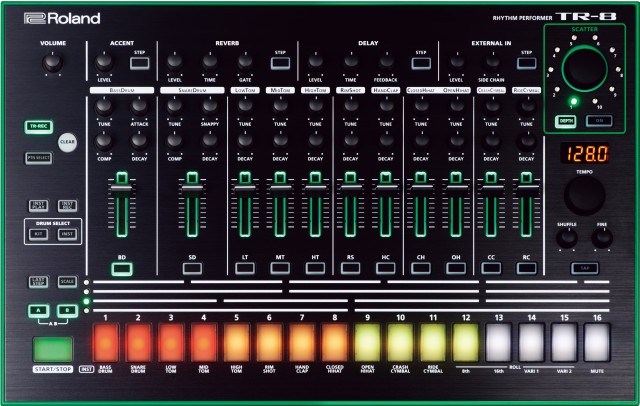 The TR-8 Rhythm Performer is a 'performance rhythm machine'. It offers the sounds of Roland's classic TR-808 and TR-909, 4 audio outputs and greater tweakability than the originals.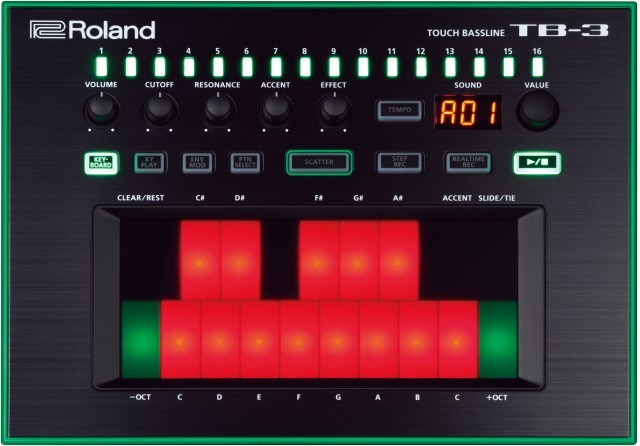 The TB-3 Touch Bassline is based on the classic Roland TB-303.
The new TB-3 Touch Bassline uses Roland's ACB modeling to recreate the classic bassline sound and offers controls that will be familiar to users of the original. But the TB-3 also offers a large touch control surface that streamlines sequence programming and introduces new performance options.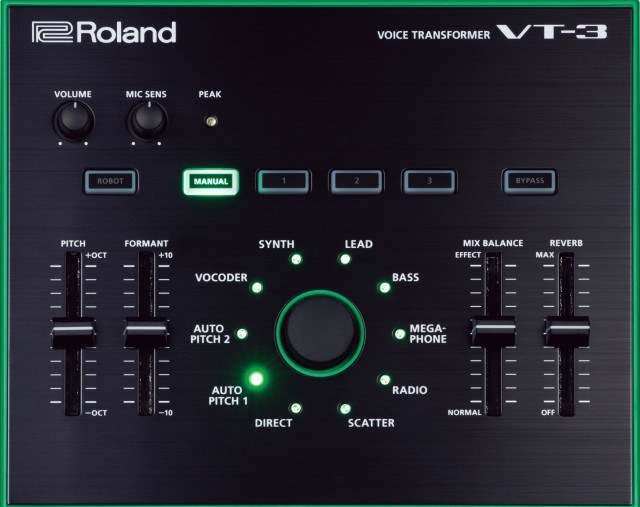 The VT-3 Voice Transformer is designed for creating heavily processed vocal sounds, with pitch and formant shifting, vocoder effects and more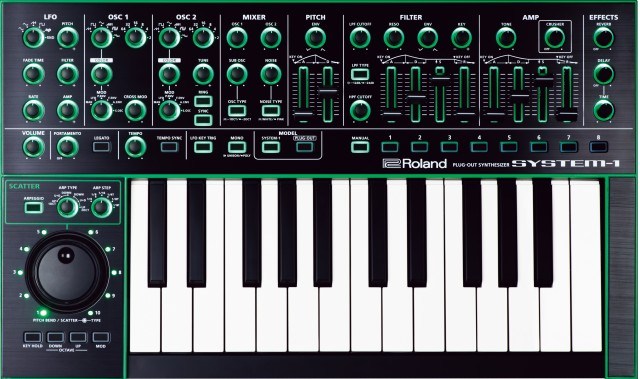 The System-1 Plug-Out Synthesizer is a new keyboard that can transform into a variety of types of synths.
It's very hands-on and knobby, but the key feature is the synth's Plug-Out technology, which lets the System-1 control – and even host – software recreations of classic Roland synths, with no computer connected.
Videos:
Pricing and Availability:
The TR-8 Rhythm Transformer will retail for a street price of $499;
the TB-3 Touch Bassline has a street price of $299;
the VT-3 street price will be $199; and
he System-1 Plug-Out Synthesizer will retail for $599.
Roland AIRA products will be shipping by the end of second quarter 2014
Gino Robair, tech editor, checks out the all-discrete analog BoomStar boxes from boutique analog synth maker Studio Electronics.
Time for a new vintage machine demo, additional details below:
You can buy these patches – read the description for further details.
Synthesizer demo of the analog synthesizer Roland JX-3P from 1983.
In this movie I play some of my own sounds – on some sounds I used a small amount of digital delay from a Roland DEP-5 (my favourite unit for delays). In the intro I used the sequencer of the JX-3P.
The JX-3P has a flexible sound architecture with 2 DCOs, oscillator synch, ring modulation and more LFO waveforms. Just one ADSR, like the Juno series. It also has chorus (just one setting).The JX-3P has not many sliders and knobs… you get them if you buy the programmer PG-200 from Roland.
________________________________________­_____________
THE SOUND PROGRAMS IN THIS MOVIE:
Do you own a Roland JX-3P or a MKS-30 and want to get these fantastic sounds for your synth?
The brandnew "ANALOGAUDIO1 JX-3P PATCH BANK" costs 12,99 Euros and includes 64 great patches (two banks with 32 patches) fat analog pads, great retro sounds, fantastic basses, sequencer sounds and funky leads (in one word: all you hear in the video and some more).
As an experienced synth player and composer I created these patches for professional use. This patchbank gets the most out of your Roland JX-3P. Also included is a patch list (PDF), to find the right sounds quickly. The sounds are not available anywhere else.
The patchbank will only work with the JX-3P and with the MKS-30 Planet S (which is the rack format of the JX-3P).
After payment through PayPal you will get the patchbank as a sound file (wav) for the built in tape interface of your JX-3P and a patchlist (list with names of the patches) via email.
If you want to buy the "ANALOGAUDIO1 JX-3P PATCHBANK", send a message to ceramic-man@gmx.de (and check your spam folder, I answer quickly).
________________________________________­__________
I also offer ANALOGAUDIO1 patchbanks for the following synths:
KORG POLY-800 http://www.youtube.com/watch?v=K6bG8P…
KORG POLY-800 II http://www.youtube.com/watch?v=fPrp8a…
KORG POLY-61 http://www.youtube.com/watch?v=9R0bva…
KORG DW-6000 http://www.youtube.com/watch?v=cOoF7T…
KORG DW-8000 http://www.youtube.com/watch?v=9Bh_xr…
KORG POLYSIX http://www.youtube.com/watch?v=Bc0uMD…
ROLAND JUNO-60 http://www.youtube.com/watch?v=GaTLk6…
ROLAND JUNO-106 https://www.youtube.com/watch?v=Gdsuc…
Honestly not sure if this is something we'll ever 'stock' or be able to sell you, but it was too cool not to post! The second part of this video features direct stereo sound in from the 8 Voice.
The Elektron Keys builds on the already superb Elektron Analog Four and gives it 61 keys making an already amazing classic a solid performance tool.
Playing around with the new Moog Sub37 Analog Synth at NAMM 2014!
Here's a presentation of the new Moog Sub 37 at the NAMM Show 2014.
Enjoy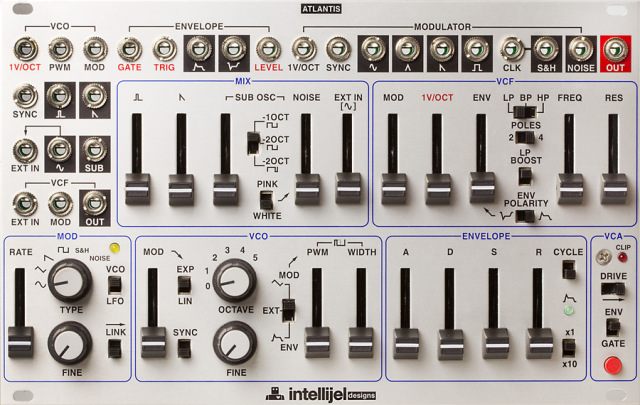 Intellijel has introduced the Atlantis – a fully patchable dual oscillator analog subtractive synth voice in Eurorack format.
The Atlantis is heavily inspired by the architecture and sound of the classic Roland SH-101. However, the Atlantis uses triangle core VCOs (based on the Dixie core) instead of Saw core, which respond much more musically to FM. The modulation oscillator can be used as an LFO or VCO (audio rate) and both track very precisely over 8 or more octaves.
The Intellijel Atlantis
In the mixer section you can adjust the balance of the primary oscillators waveforms including a sinewave which is normalled to the EXT IN jack. You could also patch in one of the modulation oscillators waveforms into this channel and be able to operate the Atlantis as a proper two oscillator synth. There is a switch labelled ?LINK? which enables the modulation vco pitch to be based as an offset of the primary VCO. This is useful when using it as a stacked dual vco or when you have the mod VCO acting as the linear FM source for the primary vco and wish to maintain the ratio.
The filter section is a Roland style cascaded 4 pole multimode filter with LP, BP and HP modes. The LP Boost switch engages a special mode useful for the LP that produces a much fatter and prominent sound that is not drowned out by resonance (unlike the original SH-101). The filter self-oscillates to produce a very clean sine wave which also tracks 1V/Oct. Between the Mod VCO, Primary VCO, Sub Oscillator and resonating filter it is possible to layer up to four different pitches at one time.
The envelope section is an ADSR with a dual range switch. It also can be set to a looping mode which can be gated on/off externally.
The output VCA feeds into a two level output clipping circuit that you can use to get a much ballsier/dirtier sound.
Features:
Modulation VCO: triangle core with Hard Sync and Link switch to connect pitch to primary
Primary VCO: triangle core with Hard Sync, Octave switches, Linear/Exp FM and PWM
Global modulation bus with four VCO waveforms, noise and S&H options
Cascaded 4-Pole multimode filter
Looping ADSR with range switch, manual gate, and external level (velocity) control.
Three position output clipping circuit
27 jacks for creative and complex patching options
Header on back of pcb that allows it to be linked (normalled) to the Intellijel Metropolis sequencer
Skiff Friendly
Summary of enhancements/differences over the SH-101 core:
Discrete triangle core vcos (with far better tracking and Hard sync) instead of CEM based IC.
Primary vco has linear FM (not just exp)
MOD VCO can be linked to the primary VCO pitch CV.
Modulation oscillator switchable from LFO to VCO
Filter is multimode, 2/4pole switchable and has a special LP boost mode
Filter allows for selection of inverted ADSR mod source
Mixer section includes and external source which is normalled to a sinewave
Filter has built in soft clipping
Envelope has looping option, re-trigger and selectable time range
Output VCA has two stage clipping circuit
Patch points for every synthesis section
The Intellijel Atlantis is priced at $699 and is available now.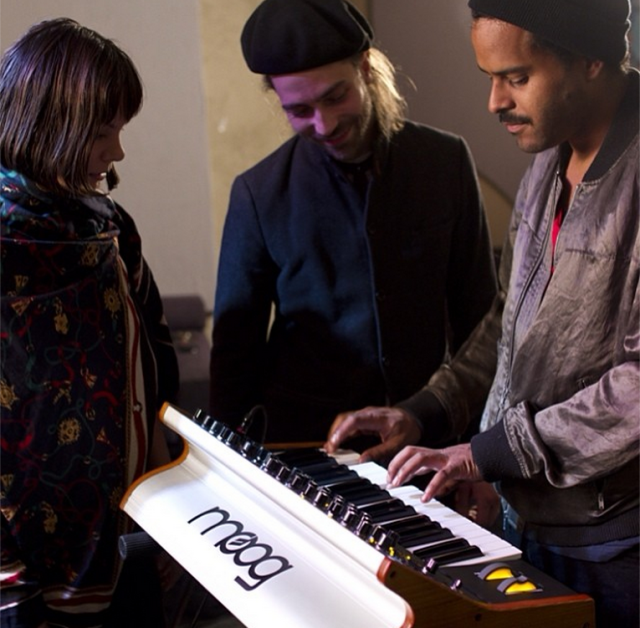 Moog Music shared this teaser image of what looks like it could be the new Moog Sub 37 Paraphonic Analog Synthesizer.
More details will be provided as soon as we get them 😀
All sounds from the 1976 Yamaha CS-50 !
The Yamaha CS-50 is the baby brother to the mighty CS-80. Actually it has almost exactly the same Voice cards as the CS-80. However the baby brother has only 4 Voice cards where the CS-80 has 16 ! Also the CS-50 is lacking the velocity polyphonic aftertouch keyboard so even though the core sound is similar the CS-80 has a more organic and dynamic sound because of the better keyboard. The Kenton MIDI gives the CS-50 the ability to play with MIDI velocity for example controlling the filter depth. Unfortunately you can´t assign MIDI aftertouch to the CS-50 Touch Response section but only to the modulation section.
All sounds coming from The mighty 1977 Yamaha CS-80 analog synthesizer.
The song is called Ode To The Holy Grail Part II composed by Firechild.
The CS-50 was released just ahead of its famous big brothers, the CS-60 and CS-80. The CS-50 looks like a scaled-down version of the monstrous CS-80, and it is! This will benefit those who crave the famous classic Yamaha synth sound without the struggle of lugging around the 215 pound CS-80! The CS-50 weighs in at about 100 pounds. The CS-50 is also just 4-voice polyphonic, and lacks the quality weighted 61-note keyboard of the CS-80. The CS-50 has just a 49-note standard keyboard. It does feature pressure (aftertouch) sensitivity route-able to several destinations, however.
The CS-50's sound is unmistakably related to other classic CS-series synthesizers. At just four voices with one osc. per voice and lacking warm filters (at just 12dB/oct) the CS-50's sound can be thin. There are 13 preset sounds of various instruments and synth sounds but, unfortunately, no on-board memory storage for your edited presets. At its low street price, the CS-50 makes a great way to get your hands on these classic sounds without going broke! It's too bad their tuning is just as unstable as the other CS-series synths. It's housed in a built-in travel-case like the other (big) CS-synths
Background video description:
My reaction and playing around with the Minibrute. Also included is a quick look at the preset templates. Check out this awesome analog synth!