Testing sounds (stock and non stock), modulations, filters and general ooomphh on Korg's virtual analog synthesizer.
Recorded in 24bit/48Khz uncompressed wave – enjoy!
Details about the Korg R3:
Occupying the middle ground in Korg's MMT lineup between the flagship Radias and the ultra-portable microKorg XL, the R3 delivers sophisticated virtual analog power in a compact yet sturdy package. Its 37 full-sized, velocity-sensitive keys and four assignable knobs make it a lightweight yet flexible performance instrument for shaping classic modeled sounds with a synthesis engine in the spirit of the MS2000.
The R3 is marketed as a "Synthesizer/Vocoder", and the included gooseneck mic lets you take full advantage of its 16-band vocoding capabilities right out of the box. Simply enter Vocoder mode for access to all of the vocoder's variables that work with an internal or external carrier signal. It also lets you record up to sixteen 7.5-second Formant Motion sequences, allowing you to play saved phrases—albeit at a fixed tempo—through the vocoder without external input. Whether you're looking to channel the spirits of sci-fi robots, make a guitar do backing vocals or are in need of some unconventional choral accompaniment, the R3′s pro-grade vocoder earns its place in both the mix and the title.
Each of the 128 editable patches can contain up to two timbres, sharing the somewhat meager polyphony between them. These can be layered or divided across the keyboard and can be assigned to individual MIDI channels. Each of these two timbres contain all the capabilities listed, so despite being well suited for mono and lead styles it's possible to get surprisingly complex, evolving pads which belie its 8-note polyphony. This is best displayed when using each timbre's modulation sequence, which lets you record a variable's knob changes and can yield complex changes in a single key press. There's also a 6-mode arpeggiator with a toggle button and latch control to further animate the sound.
Every timbre consists of two LFOs, two oscillators, a wave-shaper with sub-oscillator options, two insert effects, and three envelope generators for filter, amp, and one for assignment using the Virtual Patch system. This feature lets you define up to six additional routings, giving the unit a fitting touch of modular dynamics which can add subtle dynamics or make sounds spiral off into mayhem. Unfortunately the routings are limited, but most of the logical sources and destinations are included. The two oscillators cover a wide range of traditional analog waveforms with some useful extras (osc1 includes 64 DWGS preset waveforms and the vowel-like Formant wave) and allow a number of interactions between them: ring mod, VPM and unison, among others. External signals can also be processed through the filters, gates and effects. All of this is wrapped up with one master effect and a variable 2-band EQ with some other fine-tuning mods to polish the finished sound.
All of this programming demands an intuitive interface, and although it involves some menu-diving, this is handled by selecting the category with a rotary encoder and then editing individual variables with the 4 main pots. Though it isn't "per-knob" editing, each pot is encircled by a slick-looking LED halo which shows the value regardless of the knob's current position. Each knob also has its own small LCD screen which can show the variable or its value by hitting the shift key. This combination along with the Original Value light takes much of the drudgery and guesswork out of building your own patches, but it's recommended to load up the included software editor since some sub-variable and effects tweaks can seem cryptic at first.
Overall, the R3 is a fun, good quality, affordable synth for anyone who enjoys sculpting sounds using traditional subtractive synthesis, and offers enough complex features and character to earn its place in the mix. Great to program and built with portability in mind, the R3 has what it takes to rock the stage!
This is the first video aimed to demonstrate the diverse capabilities of the three oscillator desktop sized MacBeth X-Series Micromac-D analogue synthesizer. In this video, I briefly explain the functionality of the unit.
This is a quick demo of the Sub Phatty's presets and basic features. This is not a musical statement, but an exhibition of the sound and control of the synth.
Quick demo of the patches in the "Lead" category posted at elektron.se, the authors own opinions of the patches below:
"None of these sound very useful for my uses but I thought someone may like to hear them. For most patches I play a few keys and then adjust the mod wheel and pitch bend to see what effect – if any – has been programmed."
Alesis Andromeda A6 analog synthesizer step sequencer keyboard demo. Performing live ambient space music on Alesis A6 Andromeda analogue synth keyboard using the built-in step sequencer. Created using 2 oscillators, LFOs, filter / envelope adjustments, portamento, unison detune, delay effects on vintage Alesis A6 Andromeda analog synthesizer keyboard. Performed live, no external processing. Excerpt from a longer session.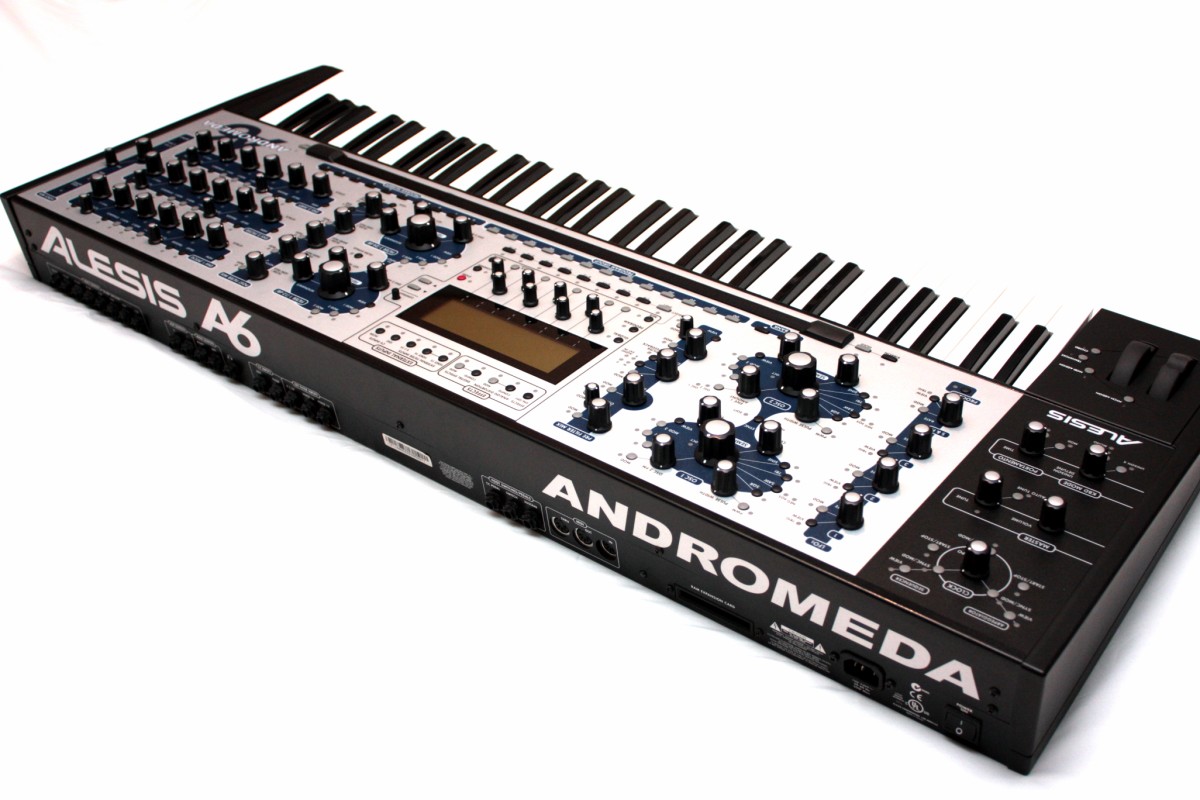 The Andromeda A6 is a true analog synthesizer using two analog oscillators per voice, sub-oscillators, hard and soft sync and more! It features 16-voice polyphony. With the Andromeda, you'll find a huge range of tonal possibilities: searing leads, warm pads, fat bass lines, extreme sound effects and more. And of course there are plenty of knobs (72) and buttons (144), even an assignable ribbon controller for addictive hands-on real-time control! The large high-resolution LCD display is excellent and shows you actual rather than relative values of parameters. Andromeda will integrate seamlessly into any studio with its total MIDI control and sync, individual voice outputs, stereo outputs and several audio inputs.
Andromeda is completely analog – no emulation! It features two analog filters per voice that sound great! They are a multimode 2-pole and a 4-pole lowpass. External audio can be routed through these filters too (three 1/4″ jacks)! As for modulation, Andromeda has three LFOs, each with six waveforms and they can be synced to MIDI clock. And there are three 7-stage envelopes with very creative and flexible functions. Also onboard is an extensive mod matrix for enormous freedom in configuring Andromeda's sounds!
No analog synth would be complete without a set of classic effects and features. Andromeda also offers Portamento with nine slopes and legato functions. A built-in arpeggiator and analog-style sequencer are available, with MIDI sync! There are also some high quality digital effects such as reverbs, chorus, echo, distortion and more! Andromeda comes with 256 breathtaking preset patches plus 128 user. A PCMCIA-format memory card slot allows for additional programs and mixes. Andromeda is pure analog bliss, with all the features, stability and widgets of modern digital synths.
Drums: LXR, all the rest: Waldorf Pulse II
i tried to use some unusual sounds for a monophon analog synth, like Sax, Piano, Bells, String-Pad, Brass (all paraphonic)…
This is the new star of analog monophonic synthesizers…the brandnew WALDORF PULSE 2.
An amazing sounding mashine with tons of good features. More than 16 modulationslots are available, 3 real analog oscillators for a rich sound, an analog multimodefilter and a very easy userinterface and 500! presets. It allows you to syncronize an older synthesizer like the Roland SH 101 or older Moog Synthesizer with its built in CV/Gate Interface via Midi. Very nice feature. And you can play with paraphonic modes up to eight voice chords.
The Waldorf Pulse is built like a tank, it´s Made in Germany.
Enough words now…just listen to the raw sound without any effects on it. Have fun and if you like it…buy one.
http://www.waldorf-music.info/en/prod…
Close look at a classic machine
Selection of pads made on the Alesis A6 Andromeda analog synthesizer, full details below:
All patches played use all the 16-voices A6 can offer simultaneously.. No processing, just straight output from the A6. YouTube conversion kills the high-resolving analog sound quality and fatness, but hopefully this gives you a glimpse into the A6 inner life… All played are Alesis factory patches. I've only had the synth for a couple of days now so just barely scratching the surface of it – here's a proof that even with the much-chriticized factory banks you can make some good sounds. Use the "HD" quality mode button below to get the most out of it.
If anyone wonders, some pictures on the background are from our own Milkyway's massive cosmic neighbour Messier's catalog M31 Andromeda galaxy, one of the few galaxies that has blue-shift instead of red-shift like all other galaxies we see, meaning it comes towards us and with the "locked" gravitational pull our Milkyway Galaxy will collide and merge with the bigger brother Andromeda in a very distant future, forming a new galaxy. Hopefully the Solar system will not be thrown out into the vast emptyness of space or sucked into a black-hole due to the viscous gravitational play during the merging. The name for the synth is inspired from Andromeda – and I would say it's a very fitting name for it

A bit of live minimal electronica, video details below:
The Analog 4 (by Elektron) is clocking the Serge/NLC synth.
I'm using the Divine CMOS & Resonator filter
from Non-Linear Circuits (NLC) …. along with the odd Serge Wave shaper.
For the record:
VCOs used: NLC VCOs 1 & 2, Serge Precision VCO & NTO,
The master clock from the A4 is split with a Serge Pulse divider, and a NLC Great Divide.
They clock the various NLC & Serge sequencers.
A special mention about the Divine CMOS & Great Divide.
I'm using The Divine CMOS here as a harmonic divider.
This circuit takes two input signals and divides them down by /2, /4, /8 & /16.
I'm then re-mixing the divisions to create new & complex harmonics.
And the Great divide is a clock divider capable of dividing down to 1/16384 of the clock signal.
According to Andrew's manual, a 1Hz signal on the clock means the /16384 output will rise approx. every 4.5 hours.
Thanks to Andrew of Nonlinear Circuits
http://nonlinearcircuits.blogspot.com…
Filter panel:
http://nonlinearcircuits.blogspot.com…