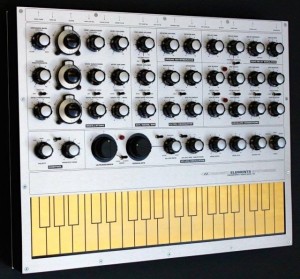 MacBeth shared this sneak preview of theMacBeth Elements Synthesizer – a new 'no compromise synth'.
Specifications are still to come – but check out the images below for a preview of MacBeth's latest analog sytnh.
Introducing the Nord Lead A1R rack mountable tabletop version of the Nord Lead A1 analog modeling synthesizer!
Be the first to check it out at Booth B90, Hall 5.1 at the Frankfurt Musikmesse March 12-15th 2014!
nordkeyboards.com/a1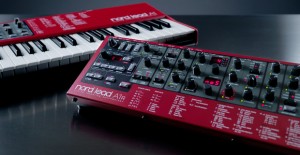 ANALOG MODELING
The Lead A1 and A1r are equipped with an all new analog modeling sound engine. As the original inventors of virtual analog, this is our next-generation analog modeling, capable of reproducing the character and nuances of the vintage synths of your dreams with breathtaking accuracy. 24-voice polyphonic and four part multi-timbral, the Lead A1 and Lead A1r are flexible choices for either stage or studio, delivering a stunningly rich and versatile palette of sounds.
THE NEED FOR SPEED
The Lead A1 and A1R also introduce an innovative new front-panel user interface designed by Clavia to make programming quick and easy, while retaining hands on flexibility.
"We've been thinking about and honing this interface for a number of years in response to what we hear from many professional players regarding the ever-increasing time pressures in creating sounds for stage or studio." says Hans Nordelius, CEO and head designer at Clavia.
One of the main features of the new interface is the Oscillator section, where Oscillator configuration shortcuts allow patches to be created and edited far quicker than is usually possible for synthesis of this complexity. The new waveform engine generates 47 different waveforms from classic analog to digital harmonic and inharmonic waves.
Using a single LFO and simplified Modulation Envelope with intuitive controls on the front panel, it is also very quick to experiment with modulations, always with a clear overview of the structure of the patch.
FILTERS
The on-board filters include Low Pass, High Pass and Band Pass, along with new stunningly accurate modeled Ladder M and Ladder TB filters introduced in the Lead 4.
EFFECTS
The A1's effects section introduces two new impressive vintage Chorus and Ensemble models.  Delay, Reverb, Drive, Phaser and Flanger complete the effects line-up, all with independent settings for each of the four slots.
Nord's acclaimed Morph function via Velocity or the Mod Wheel (Mod Wheel Morph via MIDI cc on A1R) is also included, allowing multiple parameters to be morphed in real time and with exceptionally easy control.
Additional functions include an independent arpeggiator for each of the four slots, Master Clock sync of the LFO, delay and Arpeggiator, MIDI over USB, and four independent outputs.  The Lead A1 and A1R are compatible with the Nord Sound Manager software patch librarian.
Like all Nord products, the Lead A1 and A1R are handmade in Sweden with meticulous attention to detail and quality control.
AVAILABILITY
Nord Lead A1: April 2014 priced at 1459€
Nord Lead A1R: June 2014 priced at 1259€
For more information please visit www.nordkeyboards.com/a1.
Youtube alias 'AnalogAudio1', takes a look at the vintage Sequential Circuits Six-Trak analog synthesizer, details below:
Synthesizer demo of the analog synthesizer SCI Six-Trak from 1984. It was the first multitimbral MIDI synth on the market (it came before Oberheim Xpander). The Six-Trak has that typical SCI and DSI hardware design – great, classic look with massive wooden end cheeks.
In this movie I play some of my own sounds – on some sounds I used a digital delay (Roland DEP-5) and reverb (Lexicon MPX-500). In the intro I used the sequencer of the Six-Trak.
The Six-Trak has 1 VCO per voice (6 voice polyphonic). It also has PWM, 3 ADSRs, 24 dB VCF, noise generator, LFO with different waveforms. It has a sort of "slimmed down polymodulation": VCF modulation by VCO for dirty and metallic timbres. Unison mode for fat, monophonic sounds. Great "stack mode" allows layering of six different patches. The Six-Trak also has a little 6 track sequencer and an arpeggiator built in.
I like the Six-Trak very much. I would wish it had multiple outputs and a chorus effect.

New Reason Rack Extension, Snakebite by DLD Technology is a hybrid digital analog synthesizer which is designed to make sounds that aren't possible using traditional virtual analog (VA) synth design. Sound creation begins with the triple oscillator bank where each tone can be morphed in real time. The sound is then passed through bit-crush, a screaming 18dB filter and finally digital distortion to create sounds not heard from tamer synths.
A retro BBD delay finishes the sound off, and can be modulated in real-time for crazy pitch shifting effects. Analog control is available to detune things a bit (or a lot) and the binaural system can be enabled to create sub audio bass and increase the stereo field. Plenty of external CV control is available, and the audio path can be broken to insert external audio or pre-filter effects.
Features
Triple oscillator with variable shape and morph controls
18db highly resonant low pass filter
Venom control for filter overdrive
Pre-filter bitcrush for extra harmonics
Bucket Brigade Device (BBD) delay
Binaural sub audio bass (8-15Hz)
Flexible matrix LFO / CV routing
Low DSP usage
Glowing snake eyes(!)
Pricing and Availability:
€25.00 in the Propellerheads shop.
Sebastiaan Vandevoorde aka Moonlight Matters explains why he loves his classic analogue synth, the Alesis Andromeda.
CREDITS
Producer: Chris Barker
Videographer: Will Seelig
Video Editor: Will Seelig
The Andromeda A6 is a true analog synthesizer using two analog oscillators per voice, sub-oscillators, hard and soft sync and more! It features 16-voice polyphony. With the Andromeda, you'll find a huge range of tonal possibilities: searing leads, warm pads, fat bass lines, extreme sound effects and more. And of course there are plenty of knobs (72) and buttons (144), even an assignable ribbon controller for addictive hands-on real-time control! The large high-resolution LCD display is excellent and shows you actual rather than relative values of parameters. Andromeda will integrate seamlessly into any studio with its total MIDI control and sync, individual voice outputs, stereo outputs and several audio inputs.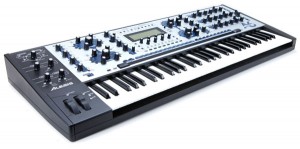 Andromeda is completely analog – no emulation! It features two analog filters per voice that sound great! They are a multimode 2-pole and a 4-pole lowpass. External audio can be routed through these filters too (three 1/4″ jacks)! As for modulation, Andromeda has three LFOs, each with six waveforms and they can be synced to MIDI clock. And there are three 7-stage envelopes with very creative and flexible functions. Also onboard is an extensive mod matrix for enormous freedom in configuring Andromeda's sounds!
No analog synth would be complete without a set of classic effects and features. Andromeda also offers Portamento with nine slopes and legato functions. A built-in arpeggiator and analog-style sequencer are available, with MIDI sync! There are also some high quality digital effects such as reverbs, chorus, echo, distortion and more! Andromeda comes with 256 breathtaking preset patches plus 128 user. A PCMCIA-format memory card slot allows for additional programs and mixes. Andromeda is pure analog bliss, with all the features, stability and widgets of modern digital synths.
Buy Dr. Blankenstein's devices here: http://goo.gl/WB9m49
This is a quick demo of the Endeavor, Illumiringer, and APC2600 (with a little reverb sometimes). Enjoy!
Dr Blankenstein's "Endeavour Space Line Generator" Analog Synth / Sequencer w/ Theremin Controls
Back from a long video uploading break with a new prototype demo… and many more to follow. What we have here is a 10 step analog sequencer, running a square wave oscillator. Each step of the bass line can be tuned via the 10 main sequence knobs. This unit is intended as a stand alone sound creation device, at has NO sync out or in… hence why it should be considered a "space line generator" 😉 Oh, and for added fun.. there is an ILLUMIRINGER put on the end of the signal chain for epic tweaking!
All of this is controlled via the 3 sections at the top of the unit… each section has the option to be either controlled via a knob, light sensor or pair of touch points (at the bottom of the unit.) First, we have the "SPEED" which will control the tempo of the sequence. Next, there is the "PITCH" controls.. and finally the "FILTER" which is tied into the effects section. The filter fx can be turned on and off via the switch to the left of the Knob / Sensor control switch on the right most control section.
The touch points are set up in pairs… from left to right… 1st Speed, 2nd Pitch, 3rd Voltage Drain, 4th Effect. They can be used in pairs OR in different configuration to get some really exciting expression out of the piece.
The light sensors on this thing are SICK! Massive range… super sensitive! So many way to jam on them… I couldn't include all of them in the video there were SO MANY… so use your imagination.
Unit can be turned on via a mission impossible style key start… or big red momentary button. 9v Power adapter power for maximum juice'ness (this thing is a bit of a beast). This is a solid PCB design, not perf board etc… so I would expect to see a few of these popping up on the website / eBay in coming days.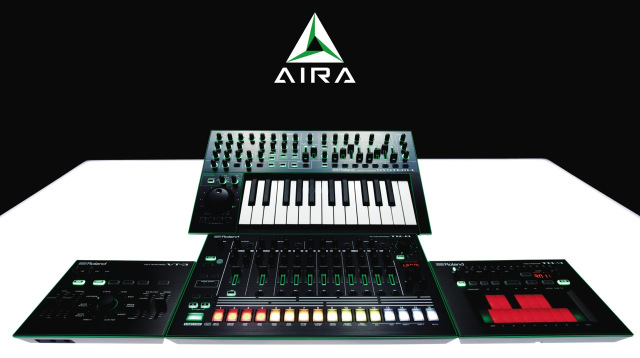 Roland has officially announced its new series of AIRA products:
The AIRA TR-8 Rhythm Performer – a $499 drum machine;
The AIRA TB-3 Touch Bassline – a $299 bassline synth;
The AIRA VT-3 Voice Transformer – a $199 vocal effects processor and vocoder; and
The AIRA System-1 Plug-Out Synthesizer – a $599 virtual analog synthesizer that can transform into a variety of classic synth, and act as a hardware controller for a new line of software synthesizers.
The AIRA series is based on Roland's newly-developed Analog Circuit Behavior (ACB) which the company says faithfully captures the sound of some of Roland's most revered classics. In developing the AIRA line, Roland modeled classic circuits, using original design specs, consultation with original product engineers, and a detailed part-by-part analysis of each analog circuit, using pristinely-archived Roland drum machines and synthesizers.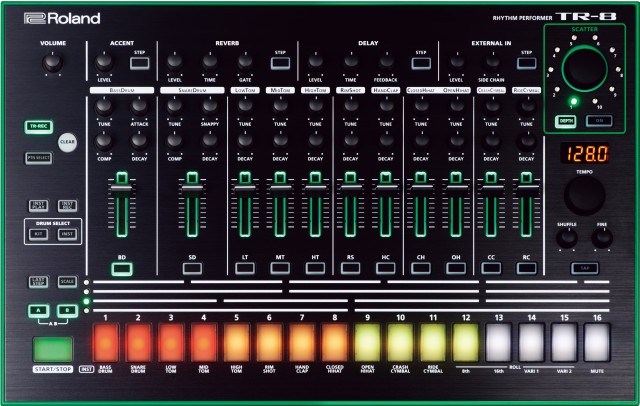 The TR-8 Rhythm Performer is a 'performance rhythm machine'. It offers the sounds of Roland's classic TR-808 and TR-909, 4 audio outputs and greater tweakability than the originals.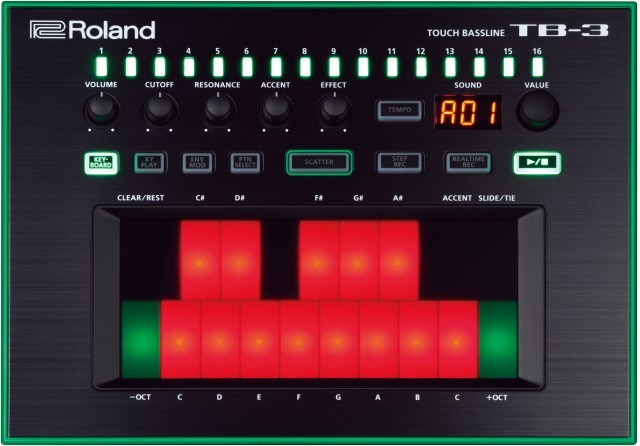 The TB-3 Touch Bassline is based on the classic Roland TB-303.
The new TB-3 Touch Bassline uses Roland's ACB modeling to recreate the classic bassline sound and offers controls that will be familiar to users of the original. But the TB-3 also offers a large touch control surface that streamlines sequence programming and introduces new performance options.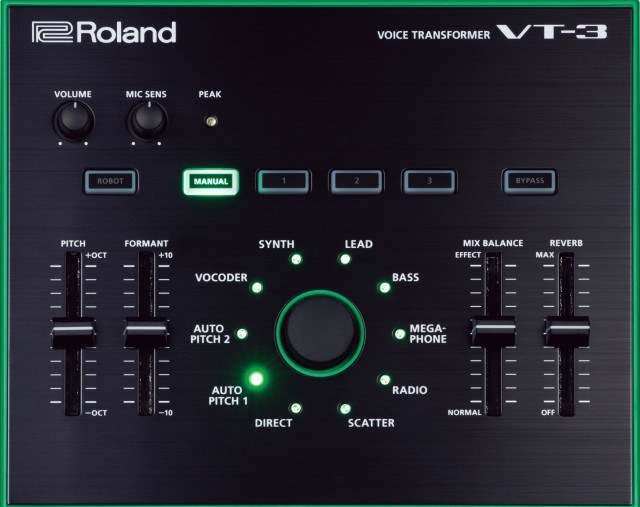 The VT-3 Voice Transformer is designed for creating heavily processed vocal sounds, with pitch and formant shifting, vocoder effects and more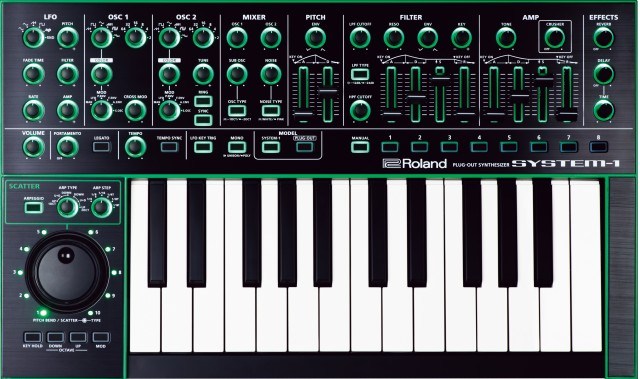 The System-1 Plug-Out Synthesizer is a new keyboard that can transform into a variety of types of synths.
It's very hands-on and knobby, but the key feature is the synth's Plug-Out technology, which lets the System-1 control – and even host – software recreations of classic Roland synths, with no computer connected.
Videos:
Pricing and Availability:
The TR-8 Rhythm Transformer will retail for a street price of $499;
the TB-3 Touch Bassline has a street price of $299;
the VT-3 street price will be $199; and
he System-1 Plug-Out Synthesizer will retail for $599.
Roland AIRA products will be shipping by the end of second quarter 2014
Gino Robair, tech editor, checks out the all-discrete analog BoomStar boxes from boutique analog synth maker Studio Electronics.
Time for a new vintage machine demo, additional details below:
You can buy these patches – read the description for further details.
Synthesizer demo of the analog synthesizer Roland JX-3P from 1983.
In this movie I play some of my own sounds – on some sounds I used a small amount of digital delay from a Roland DEP-5 (my favourite unit for delays). In the intro I used the sequencer of the JX-3P.
The JX-3P has a flexible sound architecture with 2 DCOs, oscillator synch, ring modulation and more LFO waveforms. Just one ADSR, like the Juno series. It also has chorus (just one setting).The JX-3P has not many sliders and knobs… you get them if you buy the programmer PG-200 from Roland.
________________________________________­_____________
THE SOUND PROGRAMS IN THIS MOVIE:
Do you own a Roland JX-3P or a MKS-30 and want to get these fantastic sounds for your synth?
The brandnew "ANALOGAUDIO1 JX-3P PATCH BANK" costs 12,99 Euros and includes 64 great patches (two banks with 32 patches) fat analog pads, great retro sounds, fantastic basses, sequencer sounds and funky leads (in one word: all you hear in the video and some more).
As an experienced synth player and composer I created these patches for professional use. This patchbank gets the most out of your Roland JX-3P. Also included is a patch list (PDF), to find the right sounds quickly. The sounds are not available anywhere else.
The patchbank will only work with the JX-3P and with the MKS-30 Planet S (which is the rack format of the JX-3P).
After payment through PayPal you will get the patchbank as a sound file (wav) for the built in tape interface of your JX-3P and a patchlist (list with names of the patches) via email.
If you want to buy the "ANALOGAUDIO1 JX-3P PATCHBANK", send a message to ceramic-man@gmx.de (and check your spam folder, I answer quickly).
________________________________________­__________
I also offer ANALOGAUDIO1 patchbanks for the following synths:
KORG POLY-800 http://www.youtube.com/watch?v=K6bG8P…
KORG POLY-800 II http://www.youtube.com/watch?v=fPrp8a…
KORG POLY-61 http://www.youtube.com/watch?v=9R0bva…
KORG DW-6000 http://www.youtube.com/watch?v=cOoF7T…
KORG DW-8000 http://www.youtube.com/watch?v=9Bh_xr…
KORG POLYSIX http://www.youtube.com/watch?v=Bc0uMD…
ROLAND JUNO-60 http://www.youtube.com/watch?v=GaTLk6…
ROLAND JUNO-106 https://www.youtube.com/watch?v=Gdsuc…
Honestly not sure if this is something we'll ever 'stock' or be able to sell you, but it was too cool not to post! The second part of this video features direct stereo sound in from the 8 Voice.