Background video description:
This is a recording from august when i got my mini.
I must say i love the Korg Ms-20 mini,
It have a warm and nice vintage sound and its very creative to play.
Keys.nois and build quality…..i dont have time to think about that when im in orbit


So this is me exploring the MS-20 mini next to the Moog Rogue
Of course our personal favorite is the last one featuring Matsutake from Logic System

Arturia's new baby – is 100% analogue with a lot of features for the money – see what we make of it.
Enjoy !!
+ a little Japanese bonus:
"Mogul, pine Takeshi analog synth love playing down analog synths Arturia, the MiniBrute.
I would connect you to their own "closet" to the (Moog Modular)." Googlish
ARTURIA MICROBRUTE ANALOGUE SYNTHESIZER
Every synth sound in this video was made on a MicroBrute.
Soundtrack by Pierce Warnecke based on "Song For A Junky" by the RocKandys.
Special thanks goes to Rike and the RocKandys for their appearance in this video.
http://therockandys.bandcamp.com/
Concept demo of assisted sound design on the Elektron Analog Four synthesizer.
Exploring sounds by outsourcing control to dedicated external software.
The app interactively sculpts new sounds by interpolating user sounds, combining them into kits and sending them to the analog synthesizer at screen refresh rate (60 kits per second) via MIDI SysEx.
All sounds are based on sounds a user has created and sent to the app, so there is no randomness, but human intervention with the app is a guarantee for very unexpected recombinations.
The Analog Four plays its own sequence, with the app being controlled via MIDI CC – in the case of this video, the faders react to knob tweaks and LFOs from a Machinedrum's MIDI sequencer, which is also synced to the Analog Four's sequencer. quite frankly this is a blast.
"My tonight grooves recorded on the Monomachine and Analog Four

Sorry for the poor video quality."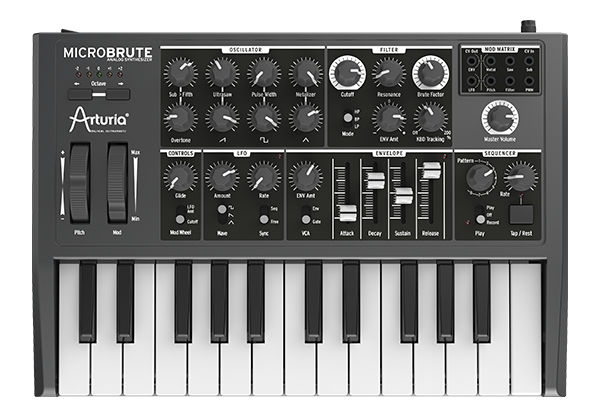 After yesterday's news with the new blurred out Arturia web site speaking of a new hardware synth – this image leaked on the net as well – it it the right things, most likely yes we believe. It appears this is also a one-oscillator synth, with an uncommonly complex oscillator section.
Anyone knows more – post your comments
Controlled by MFB Urzwerg CV/Gate step-sequencer. At 3.30 Ableton live's ping pong delay is added.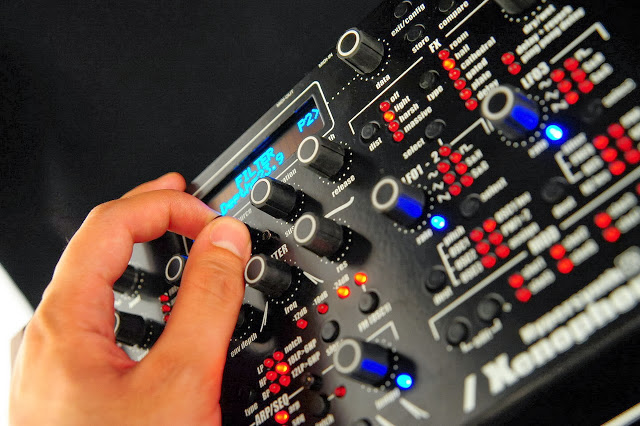 Here are all the details:
Synth-Engine:
Xenophone is an advanced analog mono-synth with 100% analog signal path. It has three oscillators, two subs, three ring modulators, one multimode VCF and analog distortion, all based on discrete analog circuits followed by a high quality stereo digital delay and reverb. The extensive modulation capabilities of the sound engine plus the warm and unique character of Xen's filter enriched by built-in analog distortion make it the best choice for creating deep basses, aggressive leads, transparent and crisp synth lines, acid sequences, complex arpeggios, punchy percussive sounds, extreme SFXs and more. Besides the synthesis capabilities, it can be used as a powerful audio processor to colorize an external input signal by analog filter, distortion and DFX.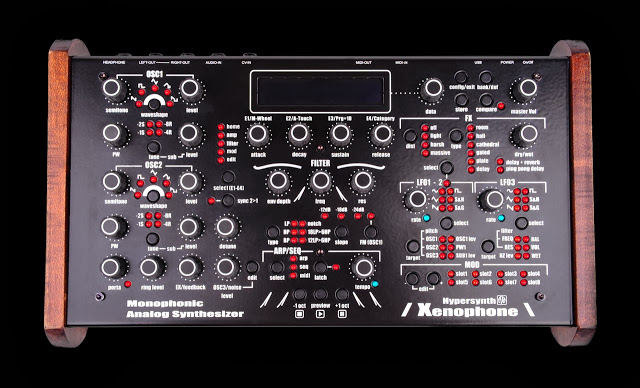 Control and User Interface:
26 encoders and 27 buttons put all the major parameters easily reachable with no menu diving. The Encoders smoothly turn and provide you 96 steps per rotation that mimic pot's feeling and sweep range. The layout is designed in a way to be simple and intuitive. Using 88 LEDs and a free-angle OLED display, it is easy to get the idea of the current preset at a glance. Master Tempo and all LFOs have blinking LEDs that show the BPM and rates. The presets can be previewed without external keyboard using 3 buttons in 3-octave range or pre-defined notes. User interface is easy to learn and creative with no useless bells and whistles. You can get a huge sound out of the box only with a few tweaks and changes.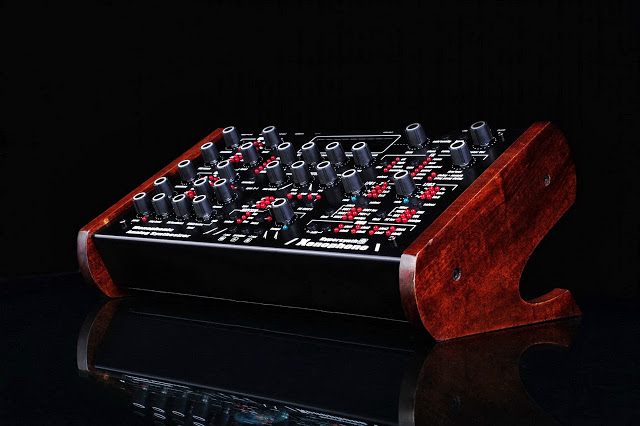 Enclosure and Connectivity:
Xenophone has a rigid Aluminum enclosure that comes with a pair of vintage style hand-made wooden side panel that made out of maple wood in two options: flat and tilted.
The box connects to the outside world using 2x balanced outputs (stereo), 1x headphone jack, 1x external input, 1x CV input, MIDI in/out, USB and DC power in.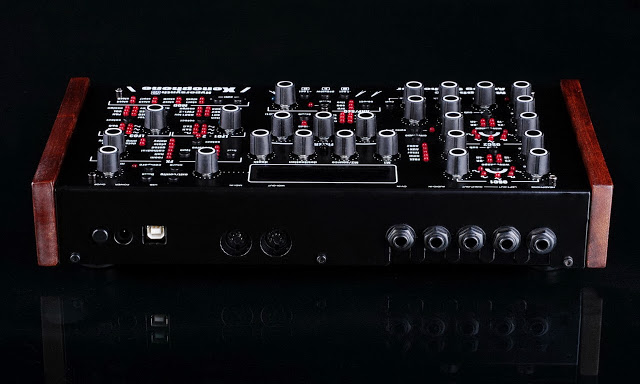 MIDI and DAW Integration:
Xenophone can function as a standalone instrument or fully programmable synth. It responds to the standard MIDI messages plus dedicated CC and NRPNs. The maximum implemented resolution in NRPN mode is 12bit, 4096 steps for filter frequency that provides super smooth sweep over the frequency range in compare to 127 steps CC standard!
The computer integration is an important feature of a modern synth that plays vital role in the studio. Xenophone comes with a software editor called: XEditor. Using this editor you can control and automate every parameter of the sound engine remotely via MIDI and storing your patches on your PC and vise-versa. It also helps you in deep and precise editing the patches. "XEditor" will be available as standalone and VST plug-in."
http://www.hypersynth.com/xenophone.html
Sequence is made with the Max for live mono sequencer, loop points are manipulated in real time using Korgs nanoKONTROL2. Whole sound is recorded live from Anyware-Instruments – TINYSIZER. No additional effects are added.
The TINYSIZER features
350 patch sockets, complete modular system.
ultra compact, fits to every notebook bag
flexible 12 volt – 5 w Goosenecklamp
mic preamp, audio gate, new and modular FX
special power management improves the sound and dynamics of filters and oscillators
including 40 patch cables, a tiny 12 volt powersupply and a flexible Touchscreenstand
compatible with all 1 volt / oct., 5 volt gate synthesizers and modular systems
And a whole lot more updated weekly with fresh and experimental electronica acts. Here's how the y describe themselves:
"All songs/tunes/music at THE CAVE is the result of one small team of song writers operating under the same umbrella. The common theme is all about the love of electronic music done by hardware and software synthesizers."
Follow their channel here >>
https://soundcloud.com/t-h-e-c-a-v-e
Teaser video below:
THE CAVE – a small team of electro enthusiasts has created this electro music portal to share their sounds to all fans of ambient, electro, synth pop, electronica, techno music. All sounds and music produced with analog synthesizers, drum machines, and fused through modern day music production environments. This video provides a snapshot of some of the sounds you can find in THE CAVE.