Analog Four OS 1.1. has finally arrived! This is a major OS upgrade, adding polyphony, resonance boost, MIDI multi map. Oh yeah, it also unlocks the pre-installed +Drive of all units. Head on over to http://elektron.se/support-and-downloads and upgrade today!
The Analog Four is a four voice polyphonic analog synthesizer. Analog oscillators and filters ensure the most organic sounds imaginable and the Elektron step sequencer caters for the innovative sound control. With sequencer features like parameter locks and variable length per track, intricate Analog Four compositions can be created quickly and efficiently. Add the completely new and incredibly well-crafted effects to the mix and experience the next chapter in analog sounds.
Elektron released OS 1.1 for Analog Four and Analog Keys adding polyphonic functions and increased strorage using +Drive. Here's my demonstration of some new (slightly altered) factory sounds.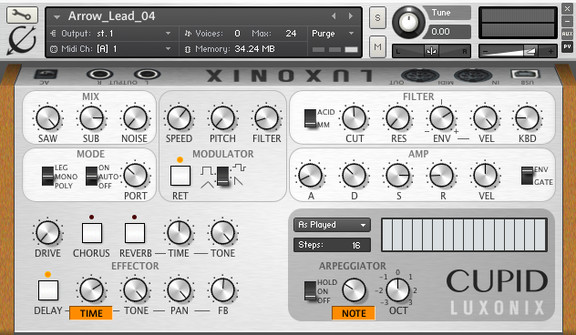 Luxonix has launched Cupid, a virtual analog synthesizer instrument for Native Instruments Kontakt.
Cupid is a sample library for Kontakt of a virtual analog synth. Cupid has easy to use user interface on one screen without a complex menu diving. So you can direct handling and quick sound making.

For good sound quality, we mapped perfectly looped high resolution 24-bit waves into all chromatic key map. So Cupid plays equal sound quality by each keys all octaves.
Cupid features
Easy to use user interface on one screen without complex menu diving.
Mapped high resolution 24-bit waves into all chromatic key map.
Can mix with three waveforms level – Saw, Sub oscillator, Noise.
Uniquely designed Sub oscillator wave.
Very wide value and extreme pitch range Modulator.
Switchable two low-pass filters.
Easy to control arpeggiator, unison and effectors.
166 .NKI / 85 .NKM Kontakt instrument presets for Kontakt 5.
186 samples, 24-bit / 44.1 kHz .NCW format samples (Lossless compression).
About 53 MB installed.
Cupid for Kontakt is available to purchase for the introductory price of $29.90 USD until December 31st, 2013 (regular $39.90 USD).
CUCKOO sharing his first impressions of the Elektron Analog Keys synthesizer. He also records a quick jam session, using the presets of the Analog Keys.
The Analog Keys is available now for US $1849.
I just took the brand new Analog Keys for a spin, and I like it. More in depth videos to follow. Subscribe and stay up to date.

Fore more on Cuckoo – subscribe
For downloads or throwing in some support head over to Patreon: http://www.patreon.com/cuckoomusic
Here is a demonstration of the sound and functionality of the Moog Minimoog being raffled by the Bob Moog Foundation. This synthesizer was modified by Rich Walborn, and signed by Gary Numan. It was purchased by the BMF as a fundraiser.
Read more about this amazing instrument and enter here to win here: http://bit.ly/19HihVg.
The Bob Moog Foundation is raffling a vintage Minimoog Model D synthesizer, serial number #4245, to raise funding for its educational initiative, Dr. Bob's Soundschool. The raffle ends on December 31, 2013 or when all 1200 tickets are sold. Tickets are $20 or six for $100. A winner will be drawn on January 6, 2013. At the date of this video launch, less than 350 tickets remain.
Here is part 2 of a demonstration of the sound and functionality of the Moog Minimoog being raffled by the Bob Moog Foundation.
Just going through some of the sounds in the Arp 2600 V2 Bank.
Going through yet more of the Arp 2600 V2 patches.
Analog Laboratory is an extremely powerful software synthesizer solution.
First of all, Analog Laboratory offers 4300 legendary classic synthesizer sounds from Arturia's vintage analog recreations: Mini V, Prophet V, CS-80, Jupiter-8, ARP, Prophet VS,Moog Modular V, Wurlitzer and Oberheim SEM V.
But Analog Laboratory goes further by offering a unique interface to tweak them all as well as the ability to edit each of them in depth, in the original synthesizer*.
With the addition of 200 scenes organized by genres, including drum loops, advanced arpeggiation melodies and ways to allocate sounds to different parts of your keyboard, Analog Laboratory is likely to become your favorite synth workstation, constantly feeding your creativity with inspiring ideas.
https://sellfy.com/p/HYhN/ 128 contempary and classic style drum and percussion sounds to load into your Elektron Analog Four, with the imminent +drive and 4000 available sound slots coming to the next A4 OS these will give you a great headstart when making drum sounds.
I designed all these sounds from scratch for the purpose of saving time, drum sounds need to be tuned very carefully to sound convincing, so as you can hear from this brief demo a large portion of this work has already been done for you.
The sounds themselves range from classic drum machine type sounds, to abstract and contempary, hand percussion, even a hang drum emulation and many more useable and useful sounds. Comes with full documentation.
This three oscillator analog with 8 voice paraphonic operation, has slipped under the radar a little with some of the other big monosynth releases this year. I think it deserves a closer inspection.
Waldorf Pulse 2, Analog Monophonic Desktop Synthesizer, 3 analog oscillators + 1 noise generator, Pulse width modulation, Hard thomann sync, 24dB/12db Lowpass, 12db Highpass/Bandpass filter modes, Arpeggiator, 8-slot Modulation Matrix, Connections: USB, MIDI, External analog signal input, Stereo line out, Headphone out, 128×64 character backlit LCD, Backwards compatible with classic Pulse, 8 stainless steel knobs, 500 Sound Programs
It's a Bigger Badder Mopho!
Mopho SE is the newest addition to DSI's revered line of analog subtractive synthesizers. Building upon the same award winning voice architecture of the Mopho and Mopho Keyboard, the Mopho SE boasts huge sound in an ideally sized, portable, and elegantly designed package. Use it to create huge basses, creamy leads, and maniacal sequences.
The Mopho Sings!
The Mopho SE voice is composed of two analog oscillators, two sub octave generators, selectable 2- or 4-pole famed Curtis low-pass filter, three 5-stage envelope generators, four LFOs, a re-latchable arpeggiator, and a 16 x 4 step sequencer. Its voice also comes packed with 20 modulation sources and almost 50 destinations!
FM the filter to create metallic bell-like sounds and use the feedback path to add subtle or destructive harmonic content to your sound. Process external audio through the Mopho's voice and add some analog warmth to any source. Mopho SE's 100% analog signal path is powerful, monstrous, and sonically dynamic!
Here one uses CV to link the Arturia MiniBrute and Microbrute analog mono synths together and show you some of the great features of combining these two great synths.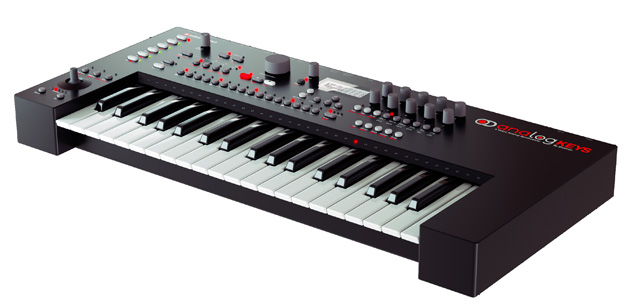 The Analog Keys is a four voice flagship analog synthesizer, conceived with the modern artist in mind. Fully analog signal path, digital controls, and unprecedented playability make it an instrument for the expressive musician.
Premium analog synthesizer
The Analog Keys is a four voice polyphonic analog synthesizer, capable of generating the finest basslines, chords, leads, and sounds imaginable. The warm and deep tone represents the pinnacle of analog synthesis and the acclaimed Elektron sequencer stands ready to arrange and warp the analog sounds in real-time. Complete the experience by treating the four voices with incredibly well-crafted master effects. A new world of sounds awaits.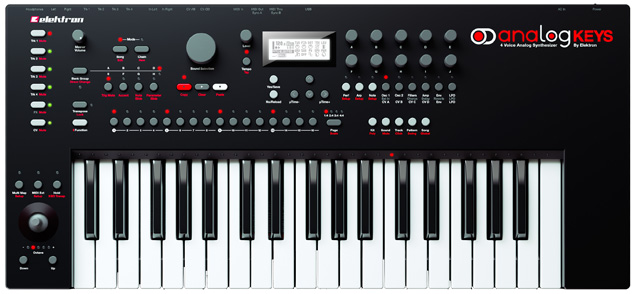 Performance optimized
The Analog Keys is tailor-made for the stage. The 37 semi-weighted keys of the keyboard give instant fingertip control of the analog tones. The special performance mode offers direct access to user-defined parameters, and the joystick, capable of controlling up to fifteen parameters, allows for extreme morphing of sounds. Improvising when playing live has never been this easy.
Heart of the rig
Compatibility with other instruments is well catered for. Simply press a button to transform the Analog Keys into a MIDI keyboard, ready to control external MIDI gear. Thanks to the dedicated CV sequencer and the CV/Gate and DIN sync outputs, analog instruments of both today and yesteryear can be played, sequenced, and controlled with precision. Use the multitude of control options to breathe new life in vintage and modern rigs alike.
Highlights
*100% analog signal path
*Four voices, each with 2 analog oscillators, 2 sub-oscillators, dual analog filters, analog overdrive per voice
*37 key semi-weighted keyboard with aftertouch
*+Drive storage hosting up to 4096 Sounds (+Drive Sound Library)
*Elektron sequencer with CV/Gate sequencing
*Parameter assignable joystick
*Extensive modulation possibilities
*Supervoid Reverb, Saturator Delay, Wideshift Chorus send FX
*Polyphonic, multitimbral, unison modes
*Dedicated MIDI controller mode
*1x headphones output, 2X main outputs, 4x stereo separate track outputs
*2x audio inputs
*MIDI IN/OUT/THRU with Din sync out
*2x dual CV/Gate outputs
*USB 2.0 port
The Analog Keys goes on sale December 5. Shipping starts Dec 9. List price: 1849$/1749?/1449£