Here is a demonstration of the sound and functionality of the Moog Minimoog being raffled by the Bob Moog Foundation. This synthesizer was modified by Rich Walborn, and signed by Gary Numan. It was purchased by the BMF as a fundraiser.
Read more about this amazing instrument and enter here to win here: http://bit.ly/19HihVg.
The Bob Moog Foundation is raffling a vintage Minimoog Model D synthesizer, serial number #4245, to raise funding for its educational initiative, Dr. Bob's Soundschool. The raffle ends on December 31, 2013 or when all 1200 tickets are sold. Tickets are $20 or six for $100. A winner will be drawn on January 6, 2013. At the date of this video launch, less than 350 tickets remain.
Here is part 2 of a demonstration of the sound and functionality of the Moog Minimoog being raffled by the Bob Moog Foundation.
Just going through some of the sounds in the Arp 2600 V2 Bank.
Going through yet more of the Arp 2600 V2 patches.
Analog Laboratory is an extremely powerful software synthesizer solution.
First of all, Analog Laboratory offers 4300 legendary classic synthesizer sounds from Arturia's vintage analog recreations: Mini V, Prophet V, CS-80, Jupiter-8, ARP, Prophet VS,Moog Modular V, Wurlitzer and Oberheim SEM V.
But Analog Laboratory goes further by offering a unique interface to tweak them all as well as the ability to edit each of them in depth, in the original synthesizer*.
With the addition of 200 scenes organized by genres, including drum loops, advanced arpeggiation melodies and ways to allocate sounds to different parts of your keyboard, Analog Laboratory is likely to become your favorite synth workstation, constantly feeding your creativity with inspiring ideas.
https://sellfy.com/p/HYhN/ 128 contempary and classic style drum and percussion sounds to load into your Elektron Analog Four, with the imminent +drive and 4000 available sound slots coming to the next A4 OS these will give you a great headstart when making drum sounds.
I designed all these sounds from scratch for the purpose of saving time, drum sounds need to be tuned very carefully to sound convincing, so as you can hear from this brief demo a large portion of this work has already been done for you.
The sounds themselves range from classic drum machine type sounds, to abstract and contempary, hand percussion, even a hang drum emulation and many more useable and useful sounds. Comes with full documentation.
This three oscillator analog with 8 voice paraphonic operation, has slipped under the radar a little with some of the other big monosynth releases this year. I think it deserves a closer inspection.
Waldorf Pulse 2, Analog Monophonic Desktop Synthesizer, 3 analog oscillators + 1 noise generator, Pulse width modulation, Hard thomann sync, 24dB/12db Lowpass, 12db Highpass/Bandpass filter modes, Arpeggiator, 8-slot Modulation Matrix, Connections: USB, MIDI, External analog signal input, Stereo line out, Headphone out, 128×64 character backlit LCD, Backwards compatible with classic Pulse, 8 stainless steel knobs, 500 Sound Programs
It's a Bigger Badder Mopho!
Mopho SE is the newest addition to DSI's revered line of analog subtractive synthesizers. Building upon the same award winning voice architecture of the Mopho and Mopho Keyboard, the Mopho SE boasts huge sound in an ideally sized, portable, and elegantly designed package. Use it to create huge basses, creamy leads, and maniacal sequences.
The Mopho Sings!
The Mopho SE voice is composed of two analog oscillators, two sub octave generators, selectable 2- or 4-pole famed Curtis low-pass filter, three 5-stage envelope generators, four LFOs, a re-latchable arpeggiator, and a 16 x 4 step sequencer. Its voice also comes packed with 20 modulation sources and almost 50 destinations!
FM the filter to create metallic bell-like sounds and use the feedback path to add subtle or destructive harmonic content to your sound. Process external audio through the Mopho's voice and add some analog warmth to any source. Mopho SE's 100% analog signal path is powerful, monstrous, and sonically dynamic!
Here one uses CV to link the Arturia MiniBrute and Microbrute analog mono synths together and show you some of the great features of combining these two great synths.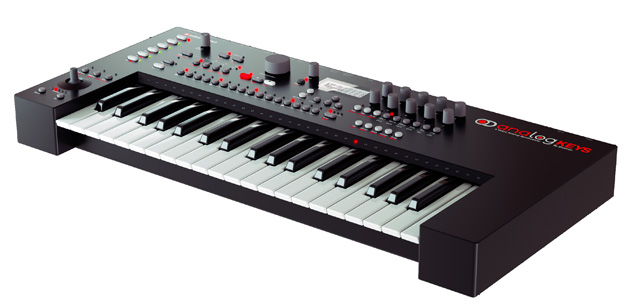 The Analog Keys is a four voice flagship analog synthesizer, conceived with the modern artist in mind. Fully analog signal path, digital controls, and unprecedented playability make it an instrument for the expressive musician.
Premium analog synthesizer
The Analog Keys is a four voice polyphonic analog synthesizer, capable of generating the finest basslines, chords, leads, and sounds imaginable. The warm and deep tone represents the pinnacle of analog synthesis and the acclaimed Elektron sequencer stands ready to arrange and warp the analog sounds in real-time. Complete the experience by treating the four voices with incredibly well-crafted master effects. A new world of sounds awaits.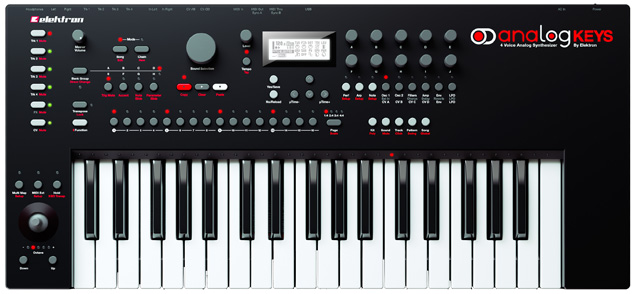 Performance optimized
The Analog Keys is tailor-made for the stage. The 37 semi-weighted keys of the keyboard give instant fingertip control of the analog tones. The special performance mode offers direct access to user-defined parameters, and the joystick, capable of controlling up to fifteen parameters, allows for extreme morphing of sounds. Improvising when playing live has never been this easy.
Heart of the rig
Compatibility with other instruments is well catered for. Simply press a button to transform the Analog Keys into a MIDI keyboard, ready to control external MIDI gear. Thanks to the dedicated CV sequencer and the CV/Gate and DIN sync outputs, analog instruments of both today and yesteryear can be played, sequenced, and controlled with precision. Use the multitude of control options to breathe new life in vintage and modern rigs alike.
Highlights
*100% analog signal path
*Four voices, each with 2 analog oscillators, 2 sub-oscillators, dual analog filters, analog overdrive per voice
*37 key semi-weighted keyboard with aftertouch
*+Drive storage hosting up to 4096 Sounds (+Drive Sound Library)
*Elektron sequencer with CV/Gate sequencing
*Parameter assignable joystick
*Extensive modulation possibilities
*Supervoid Reverb, Saturator Delay, Wideshift Chorus send FX
*Polyphonic, multitimbral, unison modes
*Dedicated MIDI controller mode
*1x headphones output, 2X main outputs, 4x stereo separate track outputs
*2x audio inputs
*MIDI IN/OUT/THRU with Din sync out
*2x dual CV/Gate outputs
*USB 2.0 port
The Analog Keys goes on sale December 5. Shipping starts Dec 9. List price: 1849$/1749?/1449£
This is a free Ableton Live Pack consisting of 2 instrument racks created from samples of the Casio CT-101 vintage synthesizer.
Download Link: http://bit.ly/freesynth96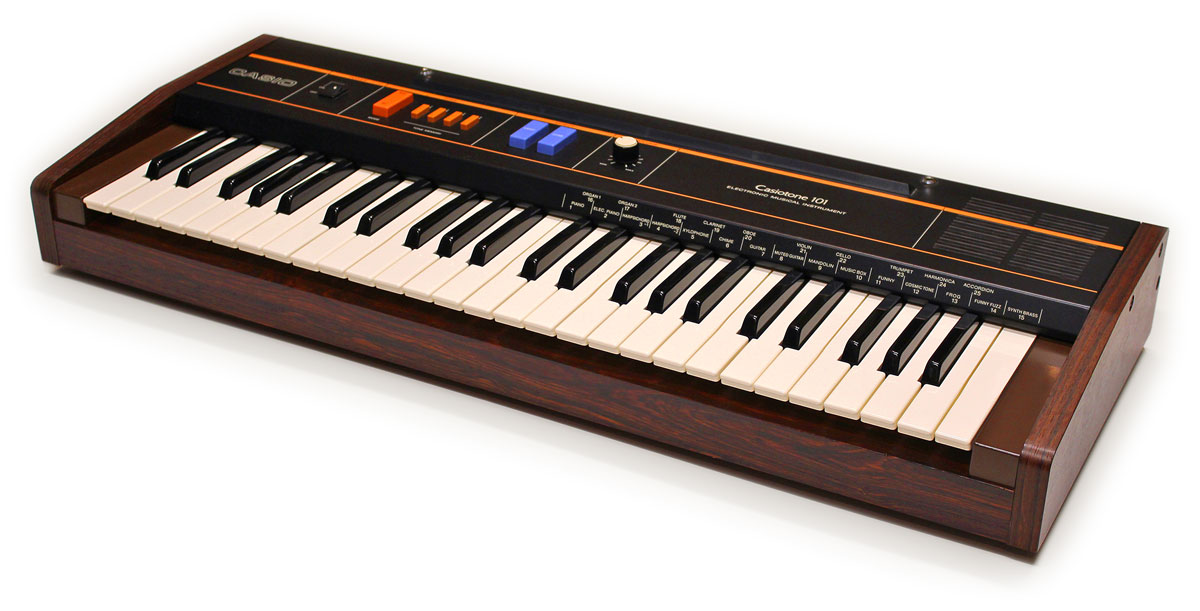 The CasioTone 101 (CT-101) is a VERY basic analog synth from Casio circa 1981. The keyboard has 49 full-size keys and is finished in satin black painted metal, has wooden end-cheeks and a wood grain finish underneath the front of the keys. It gives your studio a good analog/vintage feel. Most sounds are very basic and fairly unusable. However, its organ tones are pretty good as well as its 'Cosmic Tone' patch, which uses two oscillators tuned an octave apart, and as the keys are held down, the sound drops an octave as oscillator 1 fades up, and oscillator 2 fades down.
Background video description:
Cubasis Updated with Inter App Audio, and they have given us a brand new Mono Analogue VST Style stand alone Synth called Nanologue that also works with IAA.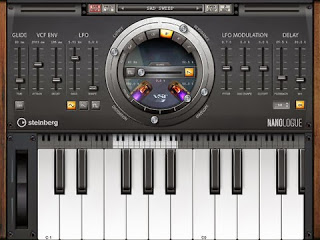 Nanologue boasts a wide scope of inspiring sounds and professional sound effects, sporting a straightforward multi-touch interface and a great-sounding monophonic synthesizer. Used stand-alone and in connection with your iOS host application via Inter-App Audio, Nanologue brings the power of VST 3 technology to the iOS platform.
❐ Buy UVX-10P : http://www.uvi.net/uvx-10p.html
❐ UVI Official Website : http://www.uvi.net
Tap into the power of 3 analog super-synths—the JX-10, MKS-70 and JX-8P. UVX-10P recalls the last true analog synthesizers from the famed masterminds behind the Juno and Jupiter series, delivering a lush and extravagant analog sound. A fully-programmable interface lets you dive in and craft your own patches—utilize our high-quality amp and multimode filter designs, multiple effects, LFO, step modulator and much more.
In 1985 the world was introduced to the JX-10, a 12-voice, 24-oscillator analog synthesizer par excellence and the last true analog synth of its lineage. Following in the footsteps of the JX-8P and JX-3P, the Super JX was fashioned with a sparse aesthetic. A lack of knobs made the system a bit of a chore to program but an external controller (the PG800) could be attached, cheerfully reuniting synthesists with the immediacy and rapid programming speed of the ever-popular Jupiter and Juno lines. The JX-10 is known for an immense and capable analog sound, even some digital textures; it's simply a magnificent synth. Programming capabilities were equally rich with independent control of 2 DCOs per voice, 2 EGs, 2 VCFs, onboard chorus and even a sequencer (albeit a limited one).
UVX-10P was designed to deliver on all of the strengths of the JX series with none of the weaknesses. We started with a pristine JX-10, MKS-70, and JX-8P and set off, tirelessly programming and sampling these beauties in high-resolution through a world-class signal chain. As with the UVX-3P we made every sample twice, with and without the built-in chorus, providing an authentic and versatile foundation. This sonic backbone paired with the UVI Engine results in a lush and extravagant analog sound; faithful to the hardware with a modern studio bite. UVX-10P delivers a fully-featured and fully-programmable interface sporting ADSR control of our high-quality amp and multimode filter designs, multiple effects, LFO and step modulator, a tediously crafted library of 150+ patches and even original wave samples for you to create your own programs with.
A perfect complement to UVX-3P, UVX-10P delivers a tremendous analog sound at an outstanding price. Add a piece of vintage synth history to your collection today!