This is a free Ableton Live Pack consisting of 2 instrument racks created from samples of the Casio CT-101 vintage synthesizer.
Download Link: http://bit.ly/freesynth96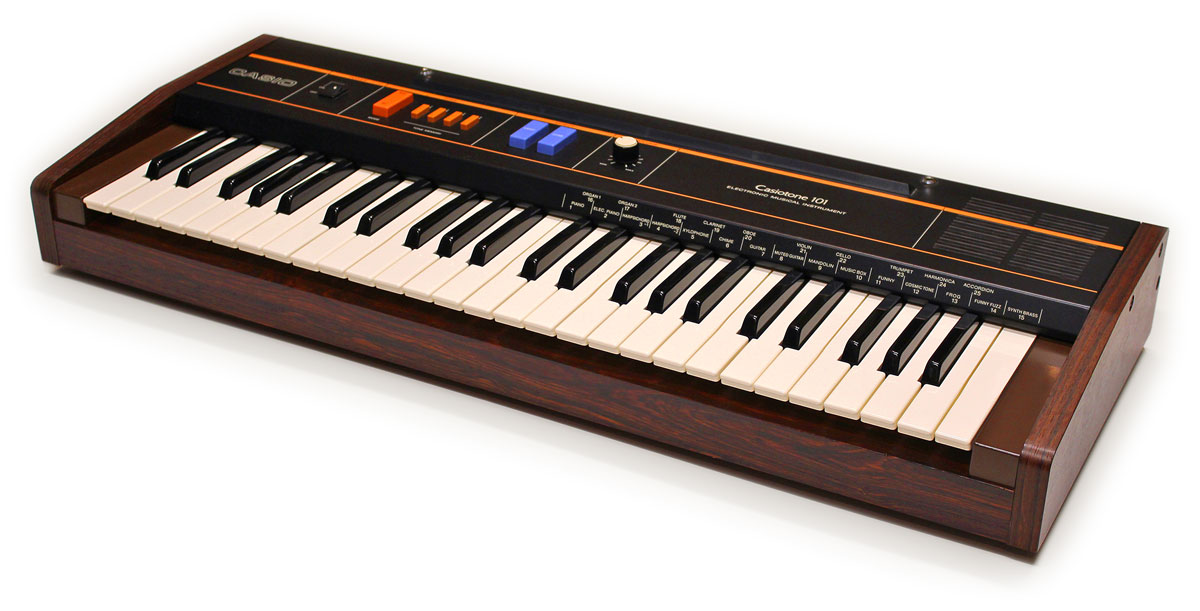 The CasioTone 101 (CT-101) is a VERY basic analog synth from Casio circa 1981. The keyboard has 49 full-size keys and is finished in satin black painted metal, has wooden end-cheeks and a wood grain finish underneath the front of the keys. It gives your studio a good analog/vintage feel. Most sounds are very basic and fairly unusable. However, its organ tones are pretty good as well as its 'Cosmic Tone' patch, which uses two oscillators tuned an octave apart, and as the keys are held down, the sound drops an octave as oscillator 1 fades up, and oscillator 2 fades down.
Background video description:
Cubasis Updated with Inter App Audio, and they have given us a brand new Mono Analogue VST Style stand alone Synth called Nanologue that also works with IAA.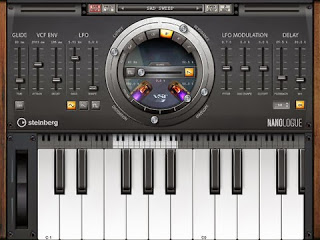 Nanologue boasts a wide scope of inspiring sounds and professional sound effects, sporting a straightforward multi-touch interface and a great-sounding monophonic synthesizer. Used stand-alone and in connection with your iOS host application via Inter-App Audio, Nanologue brings the power of VST 3 technology to the iOS platform.
❐ Buy UVX-10P : http://www.uvi.net/uvx-10p.html
❐ UVI Official Website : http://www.uvi.net
Tap into the power of 3 analog super-synths—the JX-10, MKS-70 and JX-8P. UVX-10P recalls the last true analog synthesizers from the famed masterminds behind the Juno and Jupiter series, delivering a lush and extravagant analog sound. A fully-programmable interface lets you dive in and craft your own patches—utilize our high-quality amp and multimode filter designs, multiple effects, LFO, step modulator and much more.
In 1985 the world was introduced to the JX-10, a 12-voice, 24-oscillator analog synthesizer par excellence and the last true analog synth of its lineage. Following in the footsteps of the JX-8P and JX-3P, the Super JX was fashioned with a sparse aesthetic. A lack of knobs made the system a bit of a chore to program but an external controller (the PG800) could be attached, cheerfully reuniting synthesists with the immediacy and rapid programming speed of the ever-popular Jupiter and Juno lines. The JX-10 is known for an immense and capable analog sound, even some digital textures; it's simply a magnificent synth. Programming capabilities were equally rich with independent control of 2 DCOs per voice, 2 EGs, 2 VCFs, onboard chorus and even a sequencer (albeit a limited one).
UVX-10P was designed to deliver on all of the strengths of the JX series with none of the weaknesses. We started with a pristine JX-10, MKS-70, and JX-8P and set off, tirelessly programming and sampling these beauties in high-resolution through a world-class signal chain. As with the UVX-3P we made every sample twice, with and without the built-in chorus, providing an authentic and versatile foundation. This sonic backbone paired with the UVI Engine results in a lush and extravagant analog sound; faithful to the hardware with a modern studio bite. UVX-10P delivers a fully-featured and fully-programmable interface sporting ADSR control of our high-quality amp and multimode filter designs, multiple effects, LFO and step modulator, a tediously crafted library of 150+ patches and even original wave samples for you to create your own programs with.
A perfect complement to UVX-3P, UVX-10P delivers a tremendous analog sound at an outstanding price. Add a piece of vintage synth history to your collection today!
The second video in series demoing the Alesis Andromeda A6 analog synth.
— Fx's Used —
DAW Fx: Synapse Audio Diffuse Delay
A6 Fx: Reverb, Analog Distortion
AnalogAudio1 plays the Roland SH-2000 with reverb effects from a Lexicon MPX-500 and delay effects from a Roland DEP-5.
The Roland SH-2000 is a preset monophonic analog synth with aftertouch. You can tweak the presets a bit with LFO and filter controls.
The SH-2000, introduced in 1973, is Roland's second synthesizer and is essentially a limited version of the SH-1000. Like the 1000, it is a single-oscillator monophonic analog Preset synthesizer designed to sit atop a home organ. It's got a great old analog sound but its lack of edit-ability and connectivity compared to the SH-1000 is what ultimately holds it back from being really great.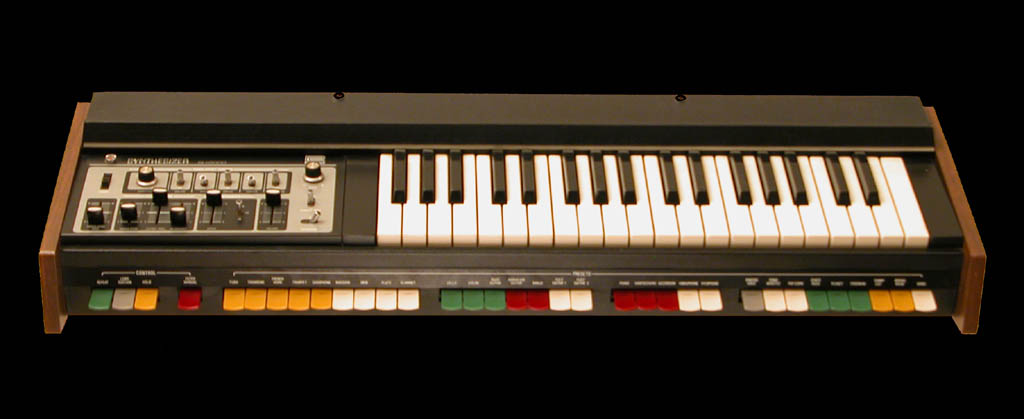 Its 37-note keyboard are several colorful tab switches which are used to select any one of its 30 Preset sounds. They range from the usual to the unusual: Tuba, Trombone, French Horn, Trumpet, Saxophone, Bassoon, Oboe, Flute, Clarinet, Cello, Violin, Bass Guitar, Hawaiian Guitar, Banjo, Fuzz Guitar I, Fuzz Guitar II; Piano, Harpsichord, Accordion, Vibraphone, Xylophone; Singing Voice, Song Whistle, Popcorn, Space Reed, Planet, Frog Man, Funny Cat, Growl Wow and Wind.
Left of the keyboard are the only editable controllers available on the SH-2000. They include the filter's cutoff, resonance and modulation sliders, LFO modulation rate, portamento, vibrato, pitch bend, volume and master tuning. The filter and LFO are severely limited and there are no ADSR envelope controls. However, the cool 'Growl' and 'Wow' effects and the Random Note Generator from the SH-1000 are here, which is nice. Amazingly, this 1973 synth has aftertouch, called the 'Touch Effect' which can be assigned to modulate the volume, Vibrato, pitch, 'Wow' and 'Growl' effects. A few other drawbacks to the SH-2000 is the total lack of CV/Gate for external communication and no user memory.
The SH-2000 is great for squeaky effects and growling bass notes. However the SH-1000 offers much more flexibility and a better sounding filter.
Alex from Sonic Sense Pro Audio demonstrates the new Arturia MicroBrute analog synthesizer.
MicroBrute is pure analog sonic powerhouse of a synth. Small in size but loaded with features, it follows in the footsteps laid by its big brother the MiniBrute.

Packed with mixable waveforms, a new sub oscillator design, the famous Steiner-Parker multimode filter, super fast envelope, syncable LFO and the new step sequencer, not to mention the patchable mod matrix the MicroBrute is a landmark new synth at an incredible price.
This video will provide instructional information on how to use the Envelope Generator onboard the Korg MS-20 mini.
For more information on the KORG MS-20 mini, head over to http://www.korg.com/ms20mini
This video will provide instructional information on how to use the Oscillators that are onboard the Korg MS-20 mini.
The 606 has been modded by Analogue Solutions.
Much punchier than my old one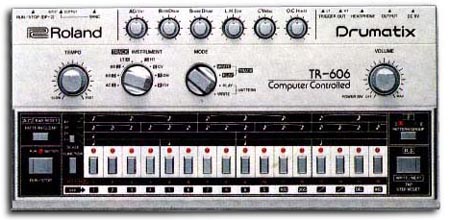 The 606 was the percussion side-kick to the TB-303. It even looks like the 303. It stores up to 32 patterns and 8 songs. The 606 allows switching between Pattern Play and Write mode while running – making the 606 the only drumcomputer in the X0X series that can be edited while performing and switching patterns. It is also possible to link up to 4 consecutive patterns in Pattern Play mode. There is only a mono audio output, however there are mods from Kenton Electronics and Analog Solutions that will add individual outputs for each drum tone.
The 606 has seven analog drum sounds which are simple, yet great! Kick, Snare, 2 toms, open hat, closed hat, cymbal, accent. The hi-hats are a very tinny electronic sound and its toms are great for soft tribal patterns.
John Keston explores the Bass Station II, below his report:
I have recently been trying out a Novation Bass Station II monophonic analogue synthesizer. I am quite impressed with this big sounding synth in a small package. While digitally controlled, Novation have focused on packing in proper synthesis features rather than trying to gloss over the sound with onboard effects. For example, as I have illustrated in the video, the filter self oscillates nicely with a clean sine wave that can be modulated in unique ways especially with distinct features like oscillator slew.
The video starts with the self oscillating filter getting modulated by LFO 2 using the triangle wave. After that I switch to using the sample and hold setting creating the well-known 60s computer sound of random notes. Here's where it gets interesting though. Once I switch the LFO to sample and hold I start turning up the oscillator slew I mentioned earlier. What this does is variably smooth the wave shapes created by the LFO. You'll hear this come in at 0:28. It sounds like portamento. At 0:35 I switch the LFO to the square wave, but with the slew on it sounds more like a sine. As I reduce the amount of slew the square wave regains its recognizable character. Next I switch it to the saw tooth wave. The nice thing here is that the LFO amount can go into negative values allowing the saw to be reversed.
Another distinctive feature is the oscillator filter mod setting. This modulates the filter with oscillator 2. Since the oscillators range from subsonic to almost supersonic this feature offers modulation effects that are not possible with the LFOs. At 1:29 you will start to hear the oscillator filter mod come in using a pulse waveform. What makes this interesting is that while oscillator 2 is modulating the filter it can also have the pulse width modulated by LFO 1. This can cause bit-reduction-like effects that can be heard between 1:49 and 2:19. At 2:20 I start tapping the octave and waveform buttons on oscillator 2 illustrating what happens when the modulation source is instantly shifted an octave at a time. After a bit more messing around I added a final, manual filter sweep at 3:20.
http://audiocookbook.org/novation-bas…
BRANDNEW WALDORF PULSE 2
1st Encounter Session Outtake
ARPEGGIO
Pulse 2 Analog Synthesizer is proof positive that good things can come to those who wait. For ever since this high-quality synthesizer developer discontinued its original rack-mountable Pulse and Pulse+ programmable analogue monosynths boasting ballsy bass tones and legendary leads beyond compare, those Nineties electronic music dominating sounds have been severely sought-after by those in the know. Which was exactly what drove us into development overdrive to produce an all-new Pulse fit for the 21st Century.
As an all-new, all-analogue synthesizer design, Pulse 2 flawlessly delivers exactly what synth connoisseurs around the world have been truly craving for quite some time — three analogue oscillators living in perfect harmony with a VCF (VoltageControlled Filter), yet we did not stop there: the fresh filter circuits in the Pulse 2 now offer 12dB Highpass and Bandpass modes in addition to 24dB/12dB Lowpass for strengthened sound-sculpting flexibility, while we added analogue Filter FM, two Overdrive circuits, and Ring Modulation from OSC 3, together with Paraphonic and Unison modes allowing up to eight-voice chords — a fantastic feature found on our recently-released Rocket Synthesizer.
Analog Monophonic Synthesizer
3 analog oscillators + 1 noise generator
Pulse width modulation
Hard sync
Filter FM from Oscillator 3
Ring Modulation from Oscillator 3
XOR Osc Mode
8/4 Voice Paraphonic modes
Cascade Filter
24dB/12db Lowpass, 12db Highpass/Bandpass filter modes
Powerful Arpeggiator
8-slot Modulation Matrix
USB
MIDI
External analog signal input
Stereo line out
Headphone out
Backwards compatible with classic Pulse
128×64 character backlit LCD
8 stainless steel knobs
500 Sound Programs
Electron-absorbing black case