Here is the introduction to a series of videos which demonstrate the sound and functionality of the new Korg MS-20 Mini.
All non-drum sounds in the theme were created by the MS-20 Mini
Jake Widgeon from Moog Music demonstrates the Moog Slim Phatty analog synthesizer at Kraft Music.
Jake Widgeon from Moog Music demonstrates the Moog Minimoog Voyager Rack Mount Edition analog synthesizer at Kraft Music.
Jake Widgeon from Moog Music demonstrates the Moog Little Phatty analog synthesizer at Kraft Music.
Enjoy
Some evening fun with the new Richard Divine soundpack for the Elektron Analog Four. As you can see, Chris also used a MeeBlip, a small modular, and the Maschine. All sequencing done on the Maschine and Analog Four.
KORG MS20 SN#141344 with original IC35 Filter Chip is extremely sensible at input distortion; it can produce really wild sounds when both VCOs are driven high in the Mixer (especially with a lot of Peak on both HPF and LPF). On this video, the MIAMI Drum Machine is severely distorted with Electro Harmonix MetalMuff. Just for fun, just for shaking neighborhood.

KORG MS-20 with IC35 under Doepfer Dark Time Step Sequencer Control; with a little effort, is it possible to set VCOs under exponential control from sequencer; the difference between Doepfer Gate and KORG Trig can be overriden – in a very rough way – narrowing at maximum the Doepfer Gate Pulse Width. On this video, some experiments with CV/Gate control on Pitch, on Cutoff, on re-triggering of envelope.
Live session of "Rundfunk" with Elektron Octatrack + Analog Four and Vermona DRM1 MKIII. Original track: https://soundcloud.com/ohrwert/ohrwer…
The Memorymoog was the last official synth, made back in 1982, to come from Moog before they eventually went bankrupt and out of business. As a result, it was never fully completed; as MIDI technology was just coming out, the Memorymoog never did get to fully implement MIDI capability. There were two versions of this synth: the Memorymoog and the Memorymoog Plus (the version can be determined via the Autotune feature). The Plus model added a basic MIDI implementation, a Sequencer, and it also had more stable oscillator control, making the Plus model more valuable to collectors than the standard model.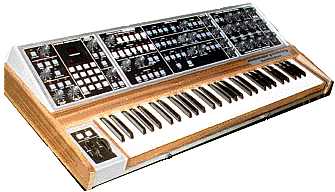 Due to the seemingly incomplete MIDI implementation as well as a less than perfect user-interface/operating system, some popular upgrades and retrofits have been produced and these days it is very common to find Memorymoogs with these retrofits. The most valuable upgrade is the Lintronics Advanced Memorymoog (LAMM), originally designed for the standard model, but also available for the Plus model. It provides a redesigned operating system, advanced MIDI functions and improved hardware components. Kenton Electronics produces MIDI retrofits for both the standard and Plus Memorymoog models (Kenton and Lintronics can even install these upgrades for you, considering the delicate nature and value of the Memorymoog). These upgrades can substantially increase the stability, MIDI functionality and value of the Memorymoog.
Background video description:
From my (eventually) upcoming Italo Dance / '80s Synth Pop album. This song is entirely made with a Memorymoog (all parts except the Simmons drums, of course).
The Minimoog was designed in response to the use of synthesizers in rock and pop music. Large modular synthesizers were expensive, cumbersome, and delicate, and not ideal for live performance; the Minimoog was designed to include the most important parts of a modular synthesizer in a compact package, without the need for patch cords. It later surpassed this original purpose, however, and became a distinctive and popular instrument in its own right. It remains in demand today, nearly four decades after its introduction, for its intuitive design and powerful bass and lead sounds.
The Minimoog is monophonic (only one note can be played at a time) and its three-oscillator design gave it its famous fat sound. Four prototypes were made over the years before a final design was decided upon to release as a commercial product. The Minimoog Model D adapted some of the circuitry (such as the filter section) from earlier modular instruments, but designed other circuitry (such as the oscillators and contour generators) from scratch. To produce a sound, the musician would first choose a sound shape to be generated from the VCO(s) and/or the type of Noise (White or Pink).
This video shows the result of using the Koushion step sequencer app and the Moog Multi-Pedal (in MIDI-to-CV conversion mode) to create a tempo-synced filter step sequence on the Moog Sub Phatty synthesizer. The analog CV out of the Multi-Pedal is connected to the filter CV input on the Sub Phatty.
Learn more at www.experimentalsynth.com
Electronic Music by RetroSound
two new albums now available for download
1. A Voyage Into The Hearth Of Analog Synthesizers (16 tracks)
available here: http://directpaylink.com/?id=1002LYKPV
used synthesizers:
Oberheim OB-X
Oberheim OB-Xa
Roland Juno-60
Roland Juno-106
Roland SH-101
Roland Jupiter-4
Roland VP-330
Roland SH-101
Korg Polysix
Korg Mono/Poly
Crumar Performer
Arp Odyssey
Moog Minimoog
Moog Taurus 1
Moog Source
SCI Pro-One
Logan SM2
TR-808
TR-606
2. A Voyage Into The Hearth Of Digital Synthesizers (16 tracks)
available here: http://directpaylink.com/?id=1003XMKNO
used synthesizers:
PPG Wave 2.2
PPG Waveterm A
SCI Prophet VS
Yamaha DX7 II
Roland JD-800
Roland D-50
Roland D-550
Korg Wavestation
Korg DW-8000
Korg Z1
Yamaha AN1x
Roland TR-707
SCI Drumtraks
more info about RetroSound:
http://www.retrosound.de and
http://www.facebook.com/pages/RetroSo…
The Roland Juno-60 is a popular analogue 61-key polyphonic synthesizer introduced by Roland Corporation in 1982 and a successor to the slightly earlier Juno-6. Like its predecessor, the Juno-60 has some digital enhancements, used only for clocking the oscillators and for saving and loading patches. This instrument was succeeded by the Roland Juno-106 in 1984.
Roland was losing market share with the Juno-6 in competition against the Korg Polysix. Related in features and price-class, the Polysix featured external control and patch memory, which the Juno-6 lacked. These features were quickly added to the Juno-6′s design, which sonically and architecturally did not change notably between the two versions, and then released as the Juno-60.